Be inspired
Nature and architecture: who influences who?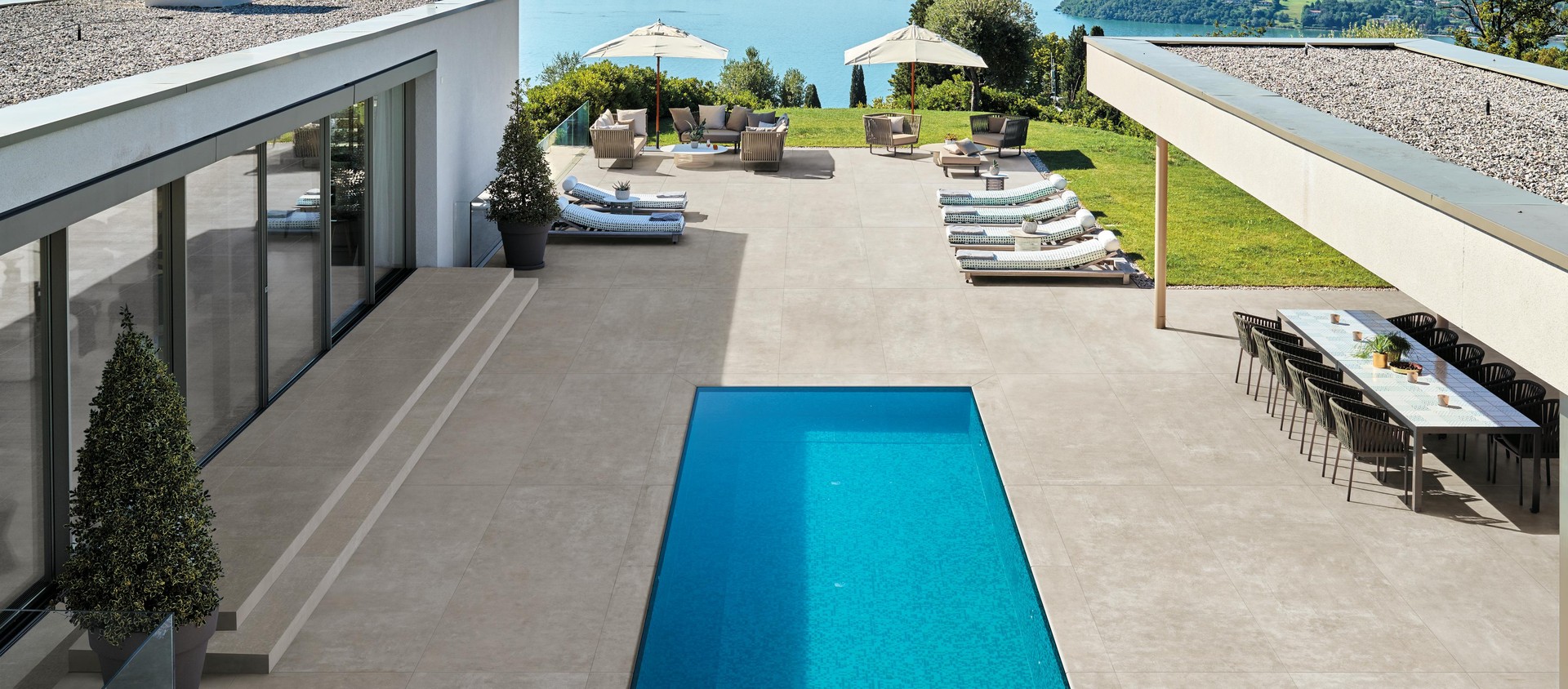 Sustainability, efficiency, and mimetic capacity: porcelain tiles for a renewed harmony between design and the surrounding landscape, between indoor and outdoor spaces.
What's landscape design?
The term has a broad meaning, as stated by Patrizia Pozzi, landscape architect: "All Architectural interventions in open spaces are Landscape design. From a balcony to major urban or territorial redevelopment projects, from the scenery for temporary events to the mitigation of industrial plants or highways."
Never before have these topics been so decisive for the future. Indeed the 2018 edition of the Architecture Biennale di Venezia entitled "Freespace" was dedicated to a study of the public dimension of each space as part of a shared landscape.
Architecture of equilibrium
In every age humanity has established a different relationship with nature and the landscape, as represented both in art and architecture.
Intervening in a landscape calls into question issues such as its vocation, respect for the natural environment, sustainability and the protection of the local resources over time.
Choosing a material like porcelain tiles means adding a balanced element to the project, because intervening in the landscape means introducing or modifying volumes, and the esthetic values of ceramic surfaces help to make the intervention harmonious thanks to the mimetic capacity of marble, wood, stone, metal, and concrete looks. Replicating natural elements allows creating a project in full harmony with their evocative force.
At a time when the topic of nature has acquired a renewed focus, porcelain tiles once again offer a solution capable of satisfying the desire to live in a natural setting by demonstrating their own qualities, including in terms of hygiene, durability, and maintenance.
Thanks to the extreme compactness resulting from the pressing, sintering, and firing processes that close all the pores, the tiles are incapable of emitting or retaining allergens, bacteria, or other toxic substances (e.g. VOCs and PVC). These same structural characteristics make porcelain tiles exceptionally resistant to weather conditions and temperature changes, which are essential advantages for outdoor use.
The value of the landscape
Architecture and the landscape need signs and words belonging to a shared language because they deal with common topics and materials: nature, plants, water, but also concrete, stone, wood, glass, metal and every element useful for construction.
A multidisciplinary approach is needed because we act at different levels: look and esthetics combined with the functional needs of a space, whether it's a home, professional, commercial, or public environment.
Therefore, shaping the landscape requires an overall view capable of defining a virtuous balance between humanity and nature. This confirms the view of those who from the dawn of modern 19th century urban planning to the present day have understood that skillful landscape design was the prerequisite for a high quality of life.
Landscape and architecture
"With architecture, what we create for private use becomes the structure of public space." These are the words of Paolo Baratta, president of the Architecture Biennale di Venezia from 1998 to 2020. An invitation to reflect and study the projects dedicated to the landscape, imagining a setting that will welcome habits, actions, and meetings. And in this search for harmony between humanity and nature, porcelain tiles assume the role of facilitator thanks to their balance of beauty and practicality. The detail that completes the picture is the possibility of extending the natural look of the interior outside, recreating the magic of the wood, stone, marble or concrete effect both indoors and out. The home's threshold thus becomes an increasingly nuanced boundary between indoor and outdoor spaces, determined by collections of outdoor ceramic surfaces in perfect stylistic symbiosis with the indoor tiles.
Stone Look: earthy, natural character for the landscape
Atlas Concorde's stone-effect porcelain tiles offer rich, earthy textures where the refinement and attention to graphic detail reproduce the best stones from all over the world with extreme fidelity.
Unique in form and eternal charm, Lims interprets the beauty of stone inspired by the most famous and sought-after materials: from French stones (Hauteville) to Portuguese (Moleanos), Belgian (Blue de Vix), German (Jura), and Italian (Vicenza).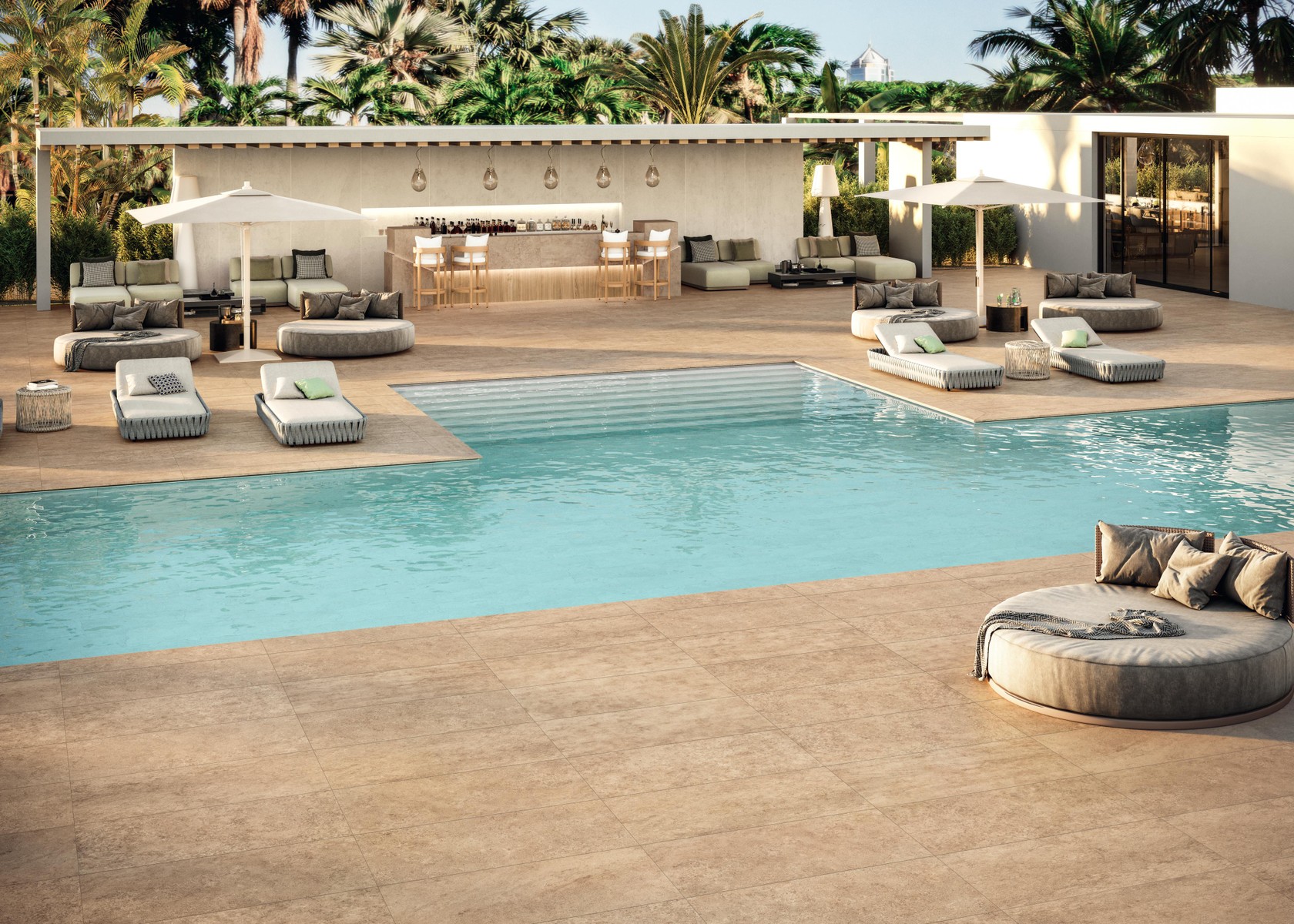 AtlasConcorde Lims 002 08 Desert-Ivory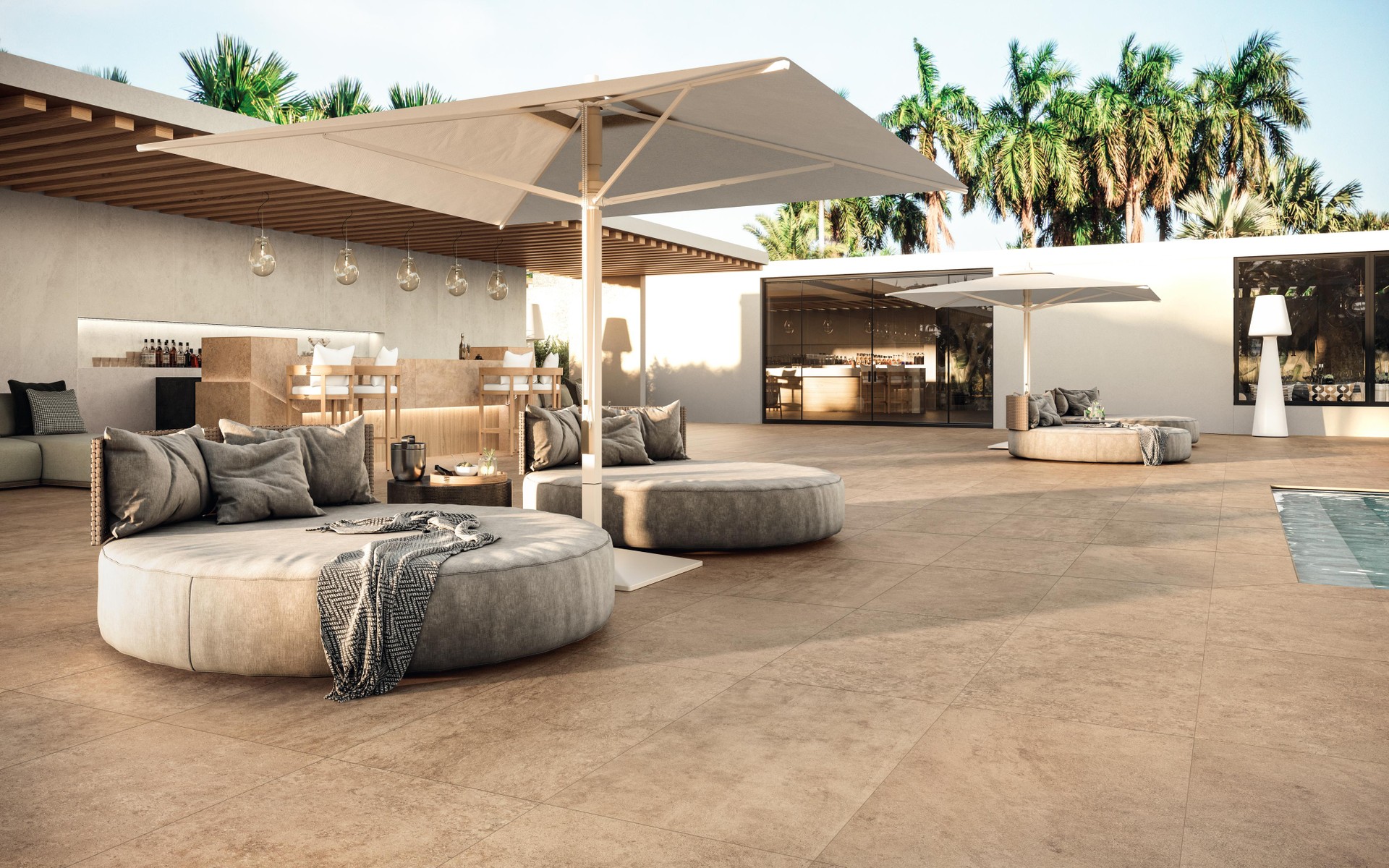 AtlasConcorde Lims 002 09 Desert-Ivory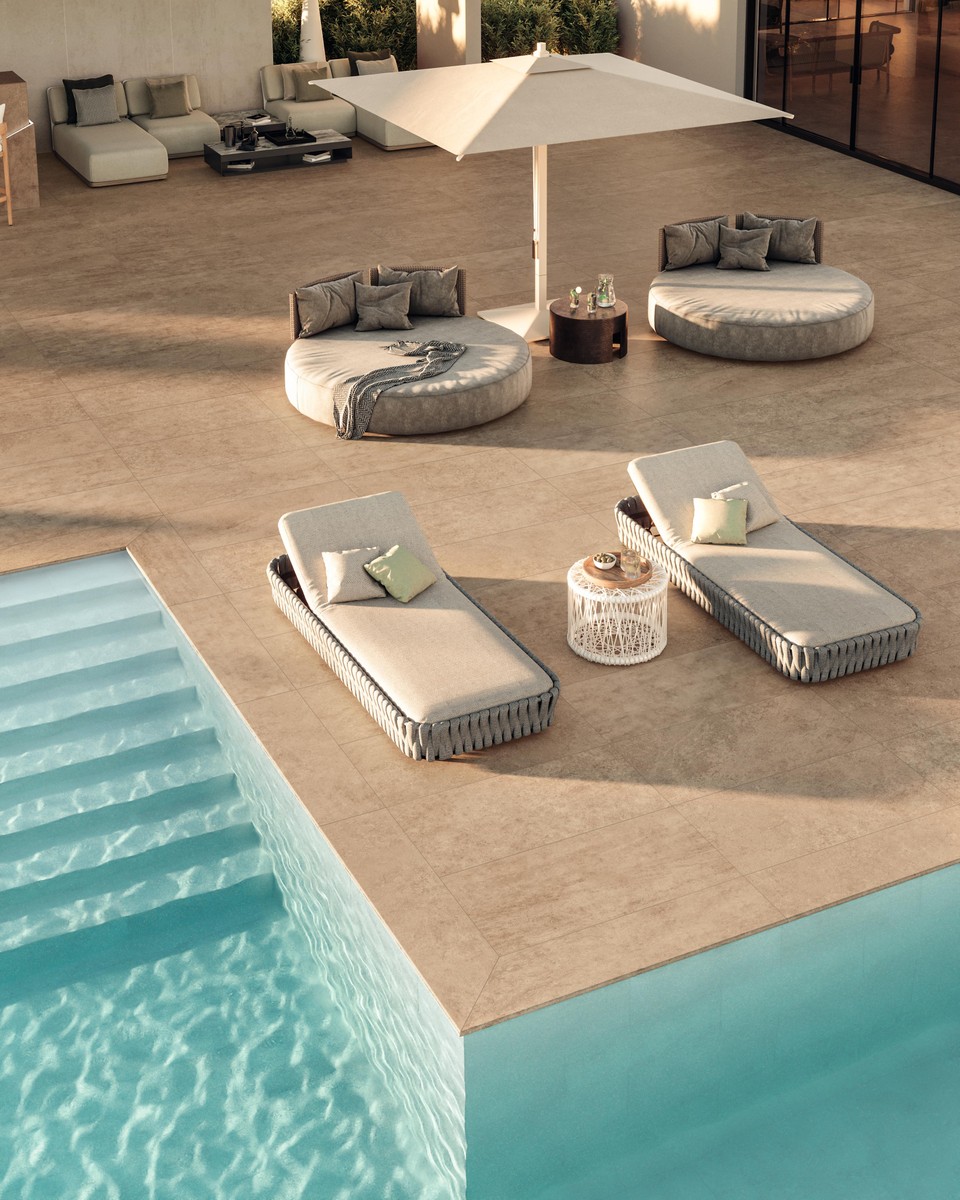 AtlasConcorde Lims 002 10 Desert-Ivory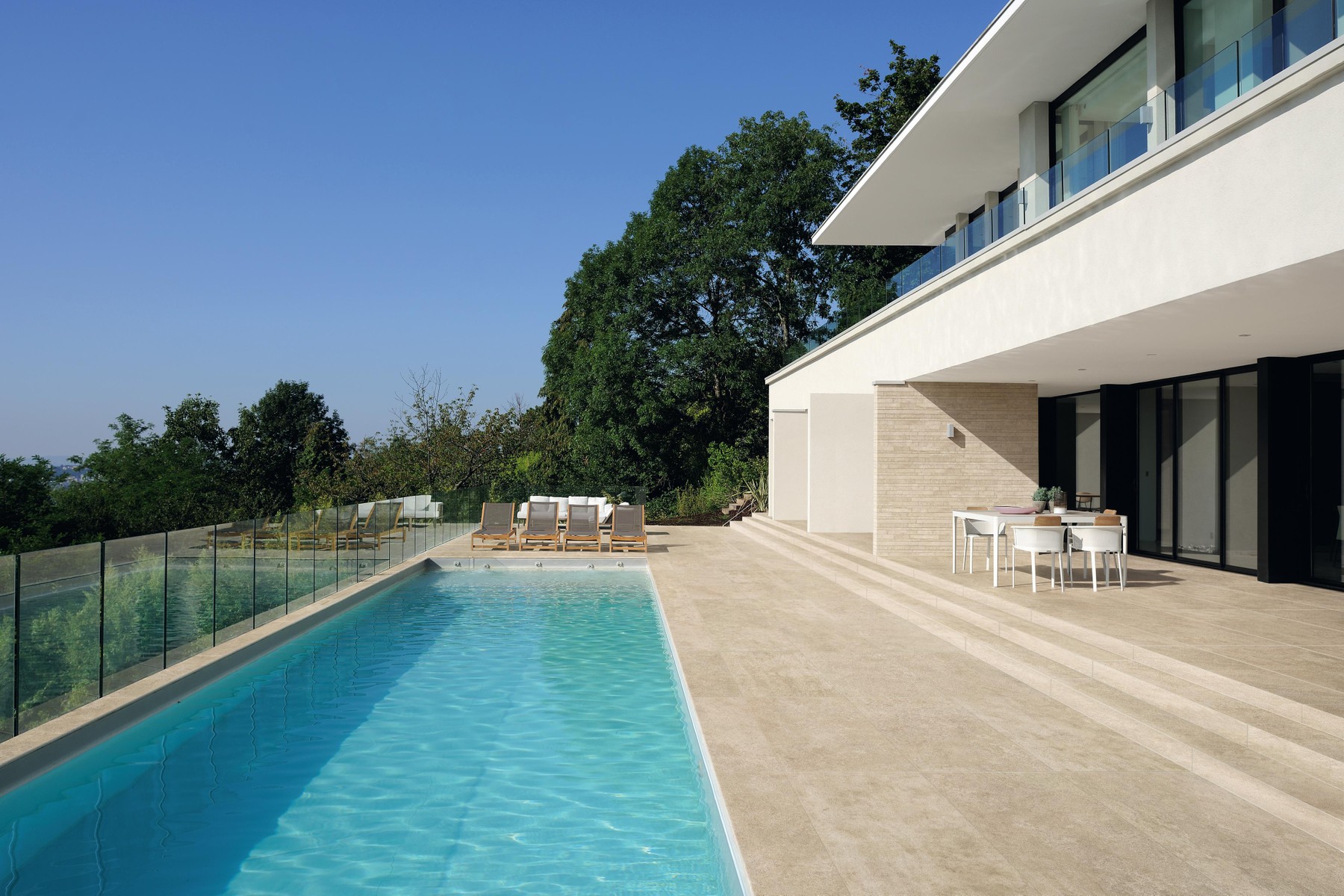 AtlasConcorde Lims 006 00 Beige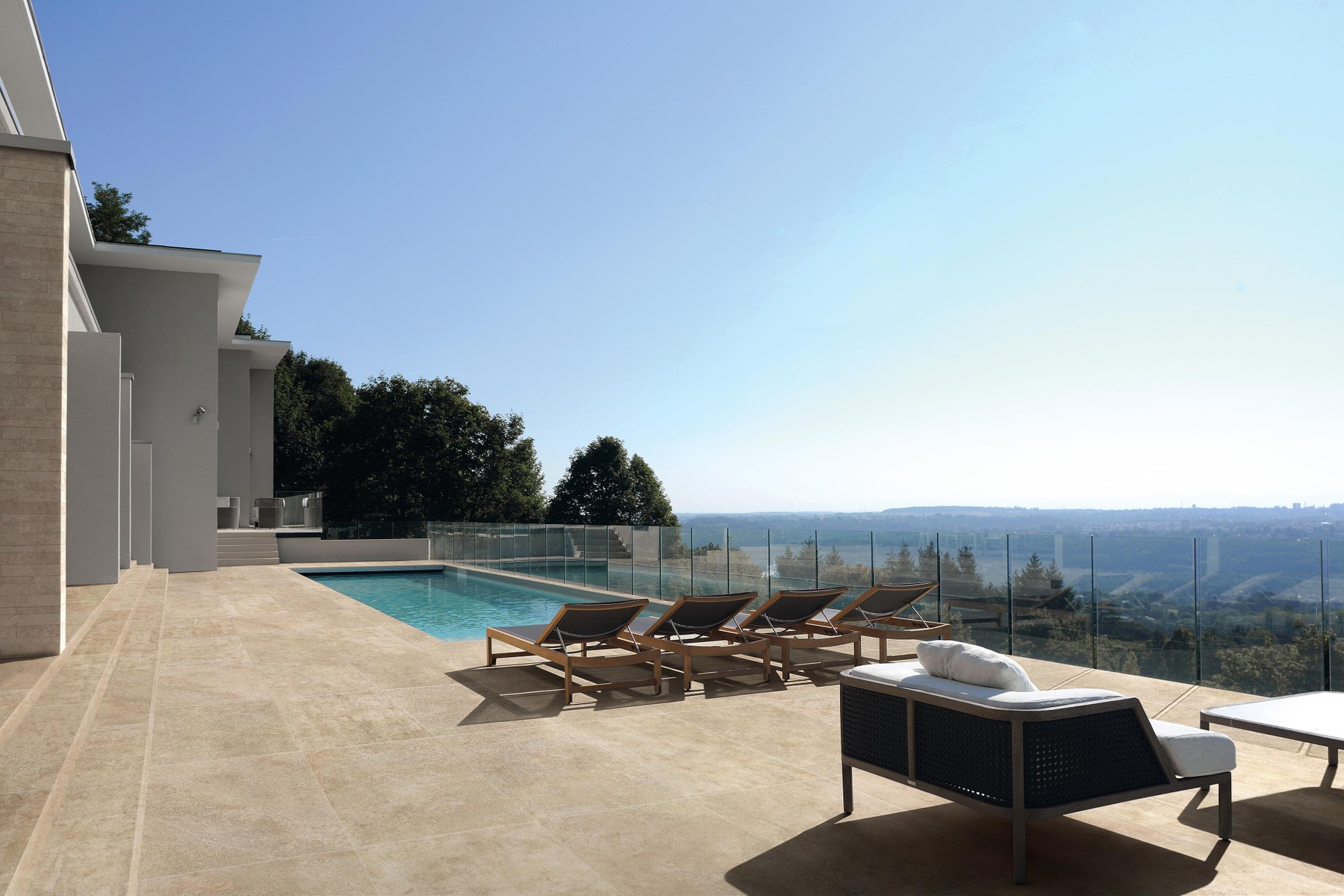 AtlasConcorde Lims 006 01 Beige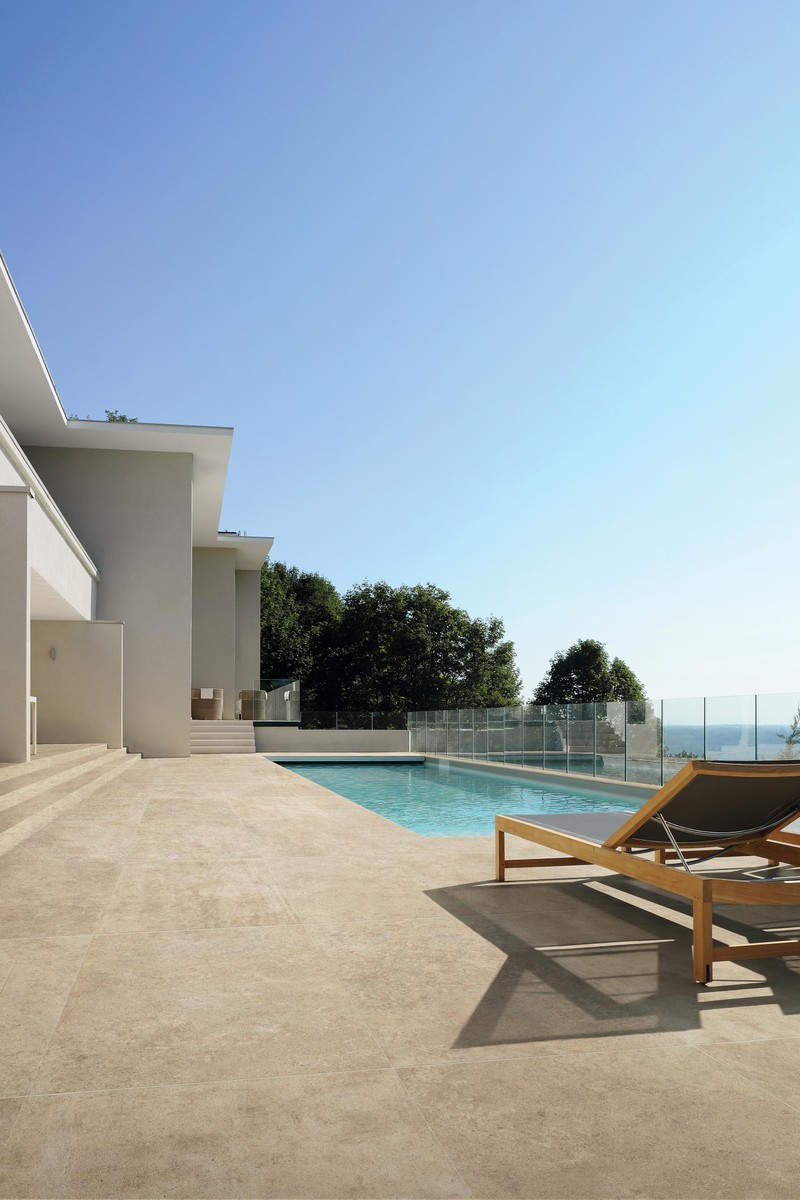 AtlasConcorde Lims 006 02 Beige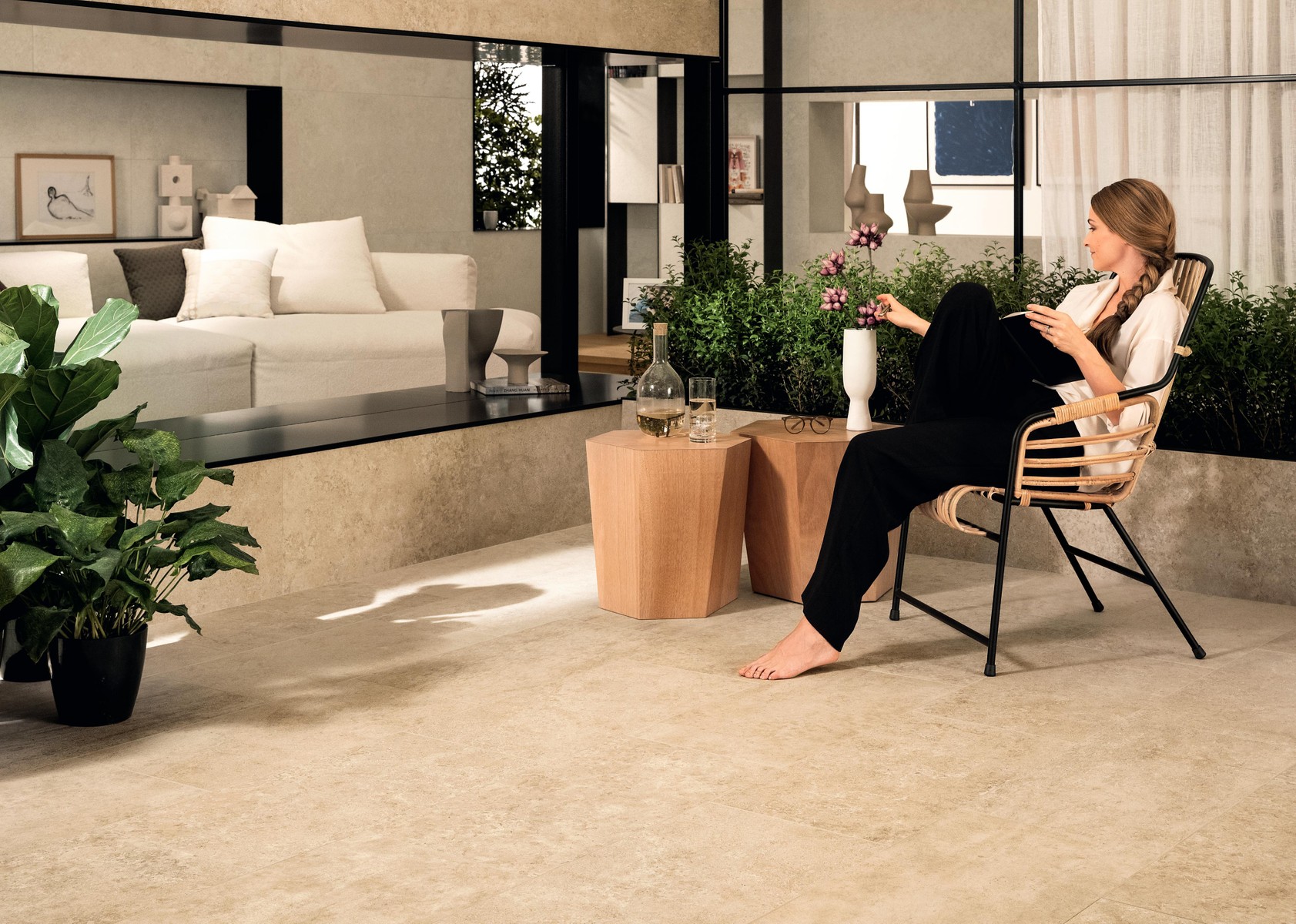 AtlasConcorde Lims M01 25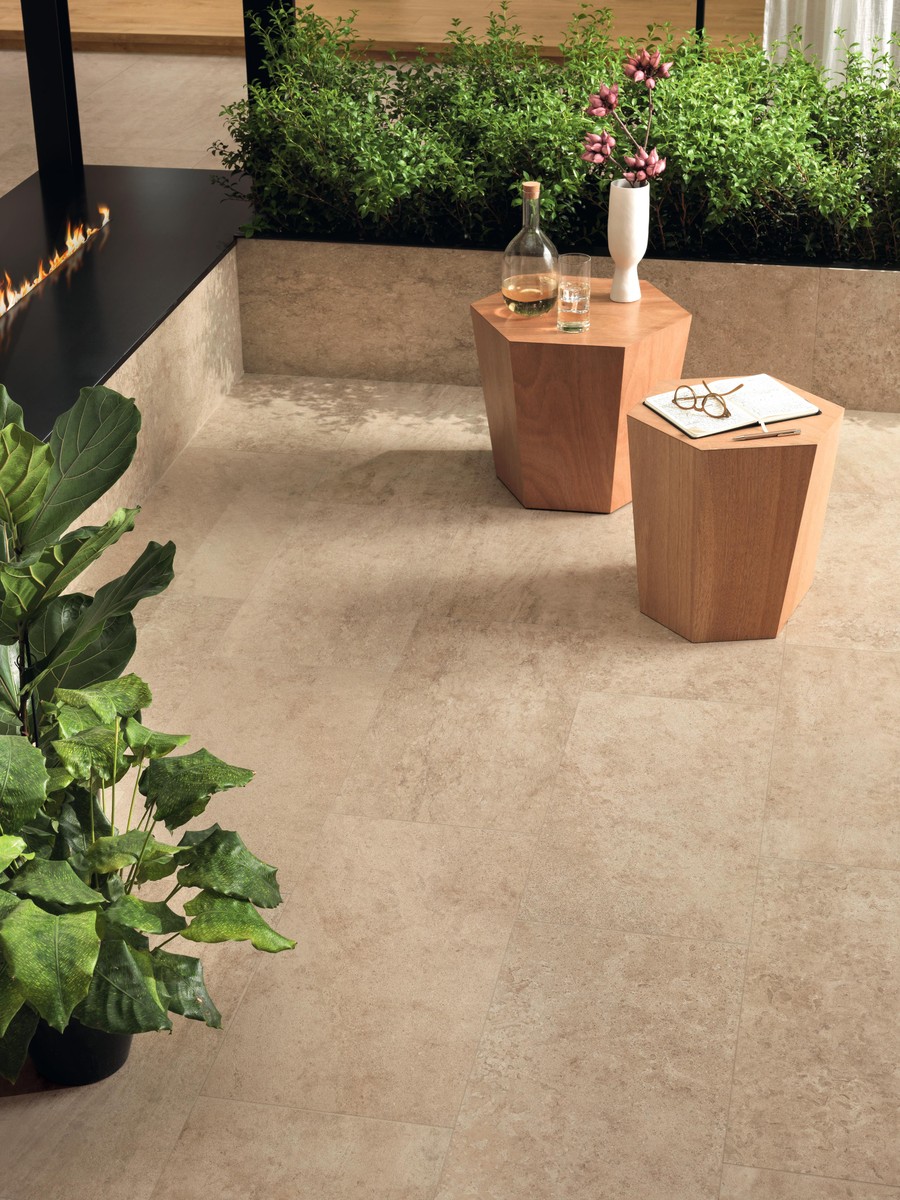 AtlasConcorde Lims 001 11 Beige
Dolmen Pro is the Atlas Concorde collection inspired by porphyry from Trentino Alto Adige, an icon of nature where the shapes and technical qualities give rise to evocative settings. The strong, earthy essence of this stone from the Atesina porphyry area is ideal for architectural projects that bring out the texture of the surface, characterized by natural imperfections.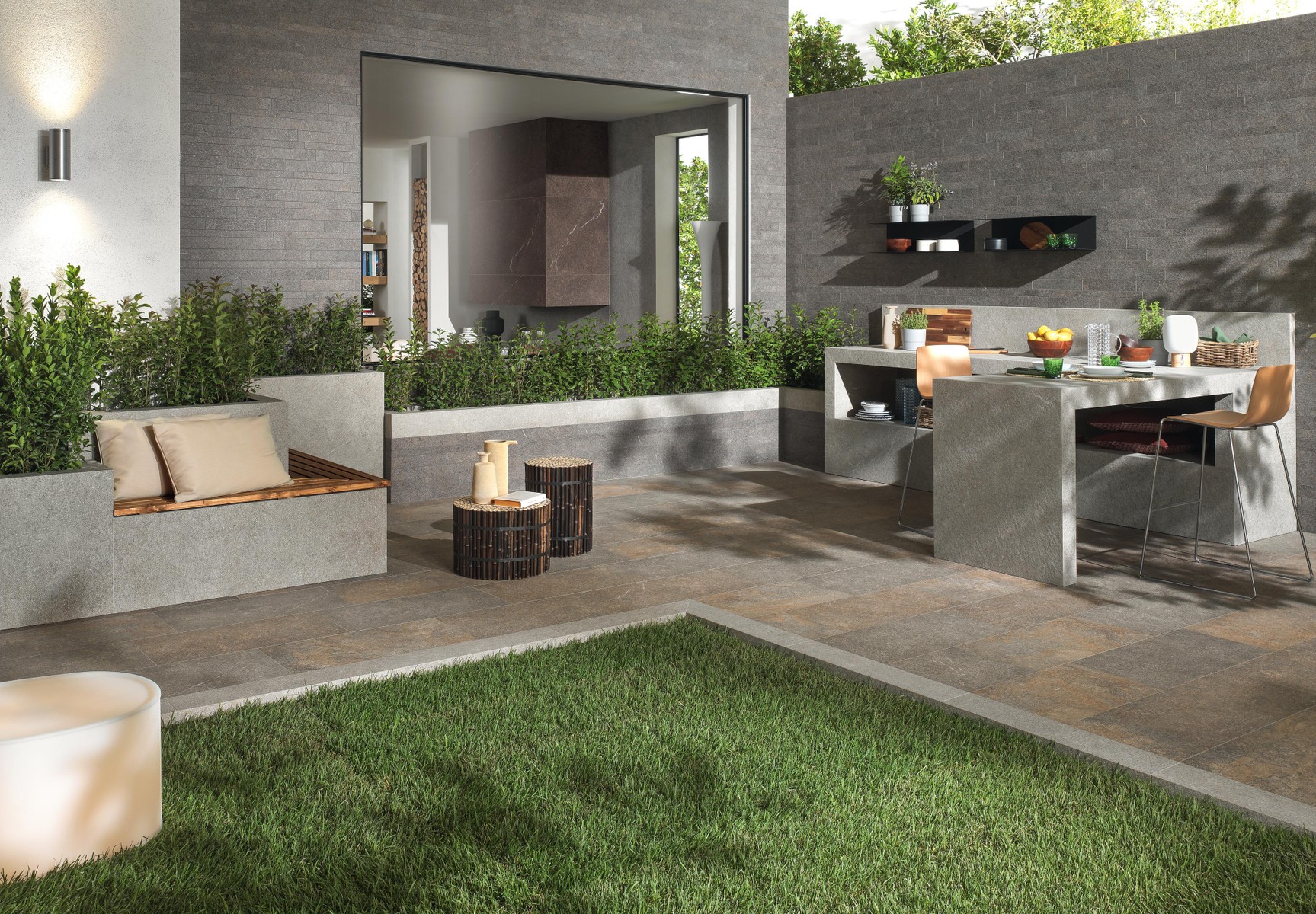 AtlasConcorde DolmenPro 001a 00 Mix-Grigio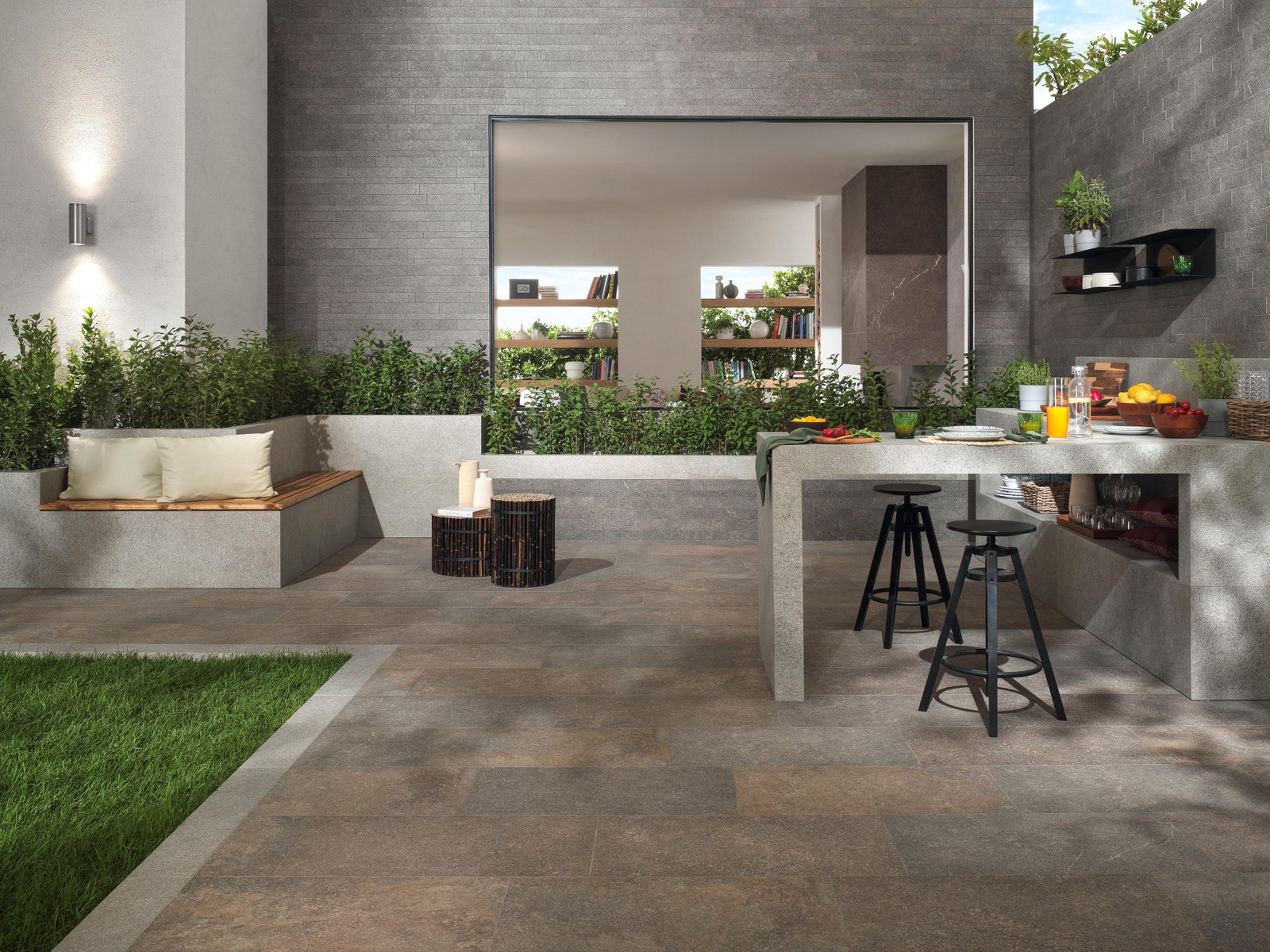 AtlasConcorde DolmenPro 001a 01 Mix-Grigio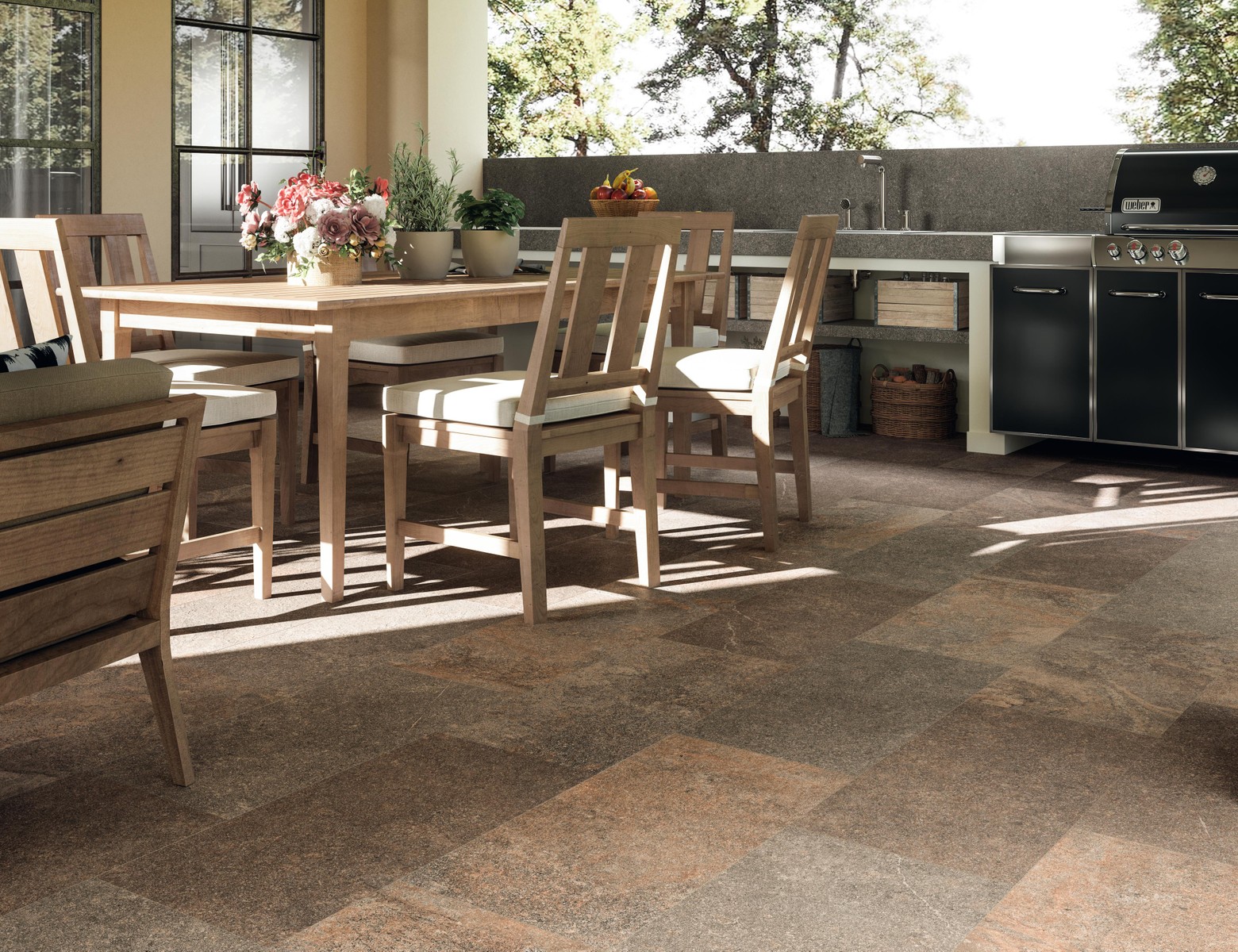 AtlasConcorde DolmenPro 004 05 Mix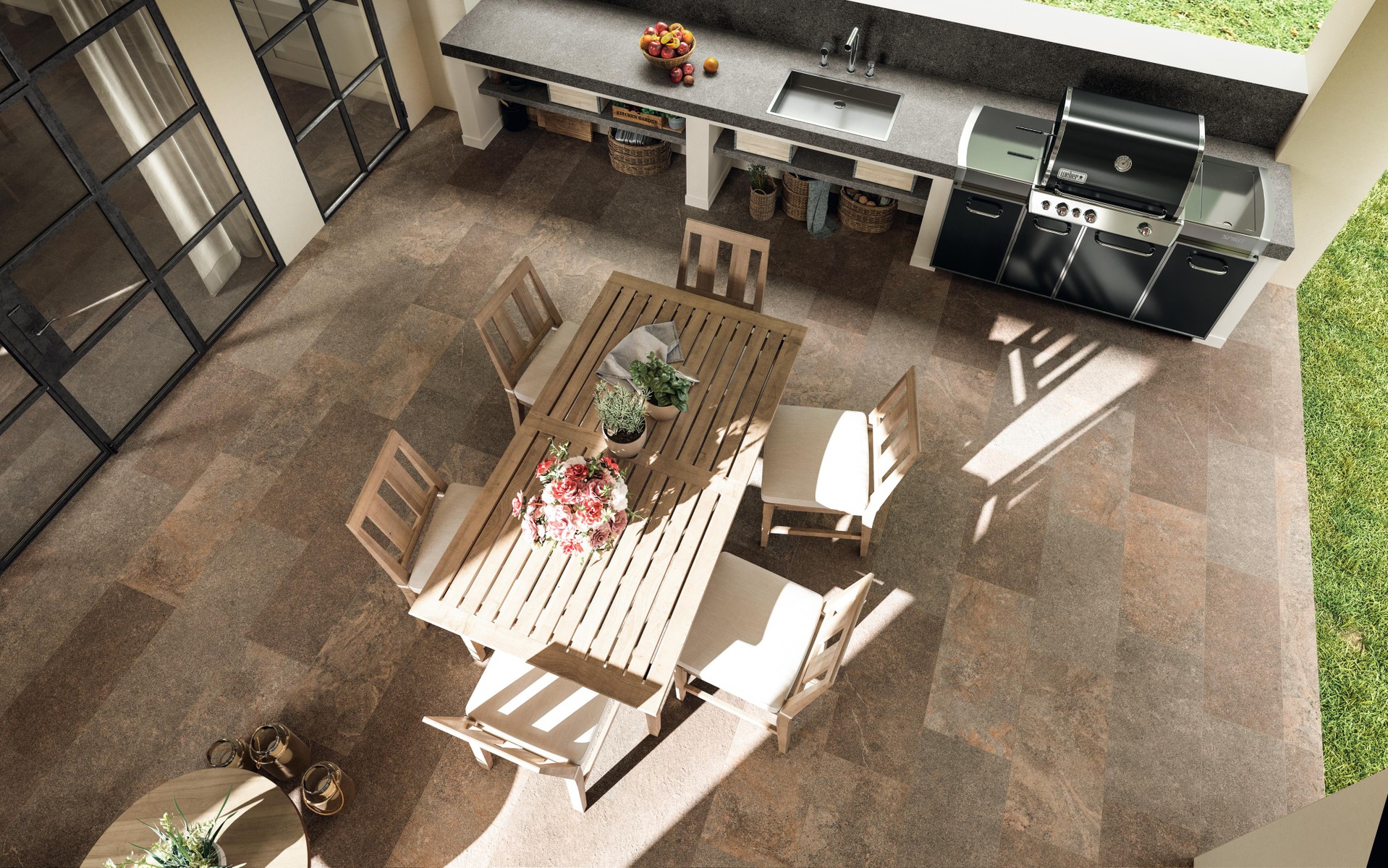 AtlasConcorde DolmenPro 004 06 Mix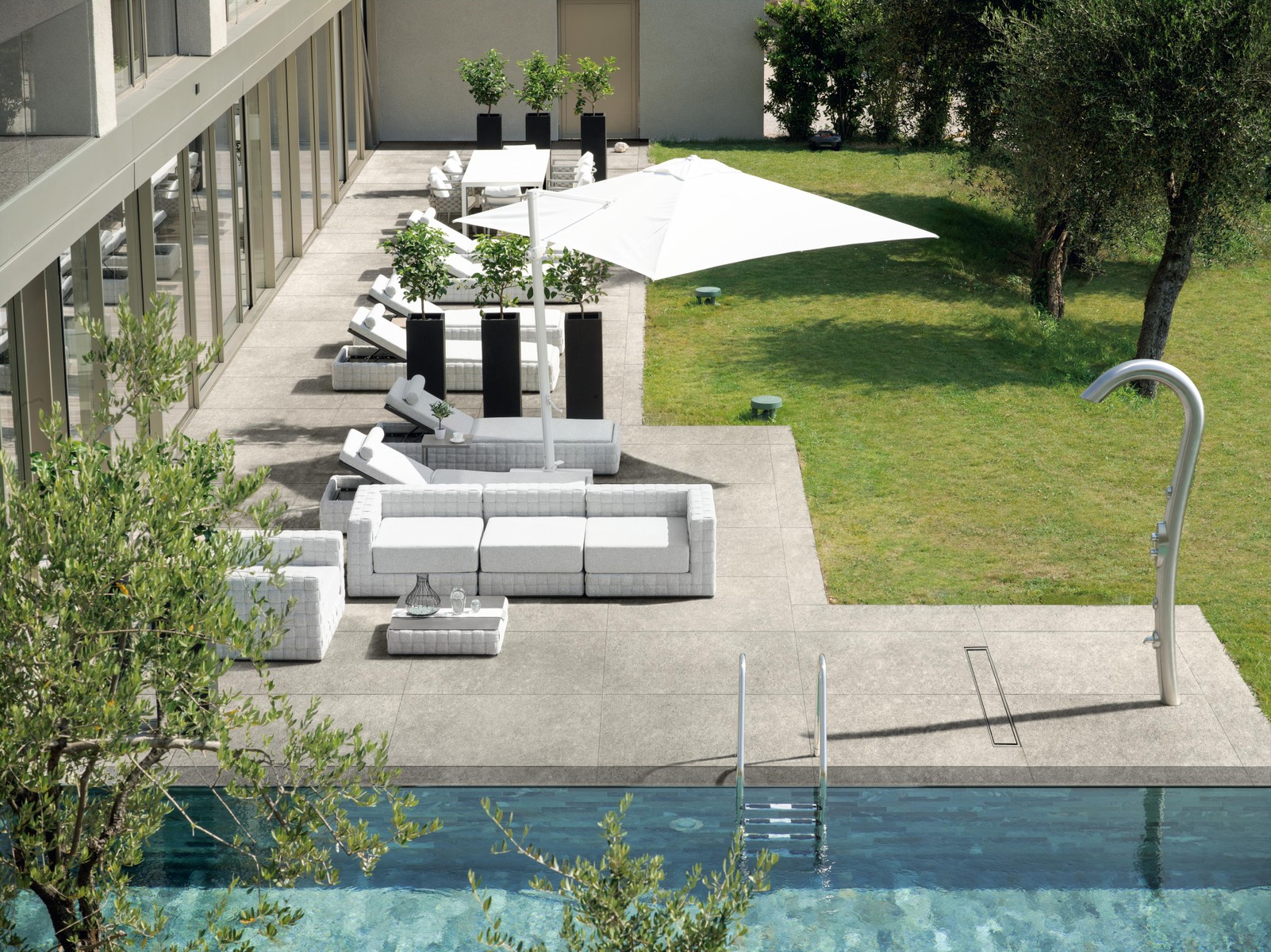 AtlasConcorde DolmenPro 005 00 Cenere-Grigio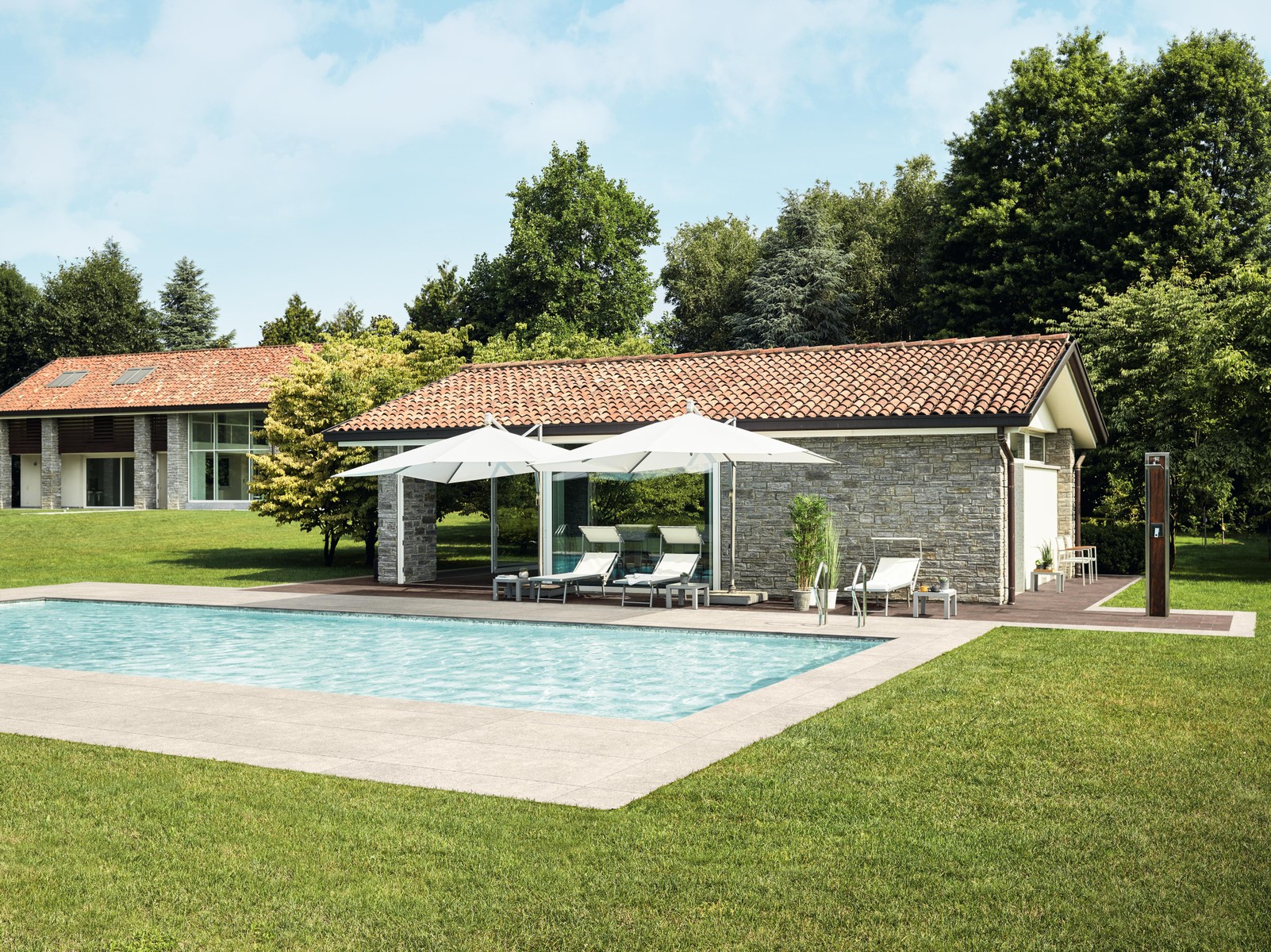 AtlasConcorde DolmenPro 006 00 Cenere-Rosso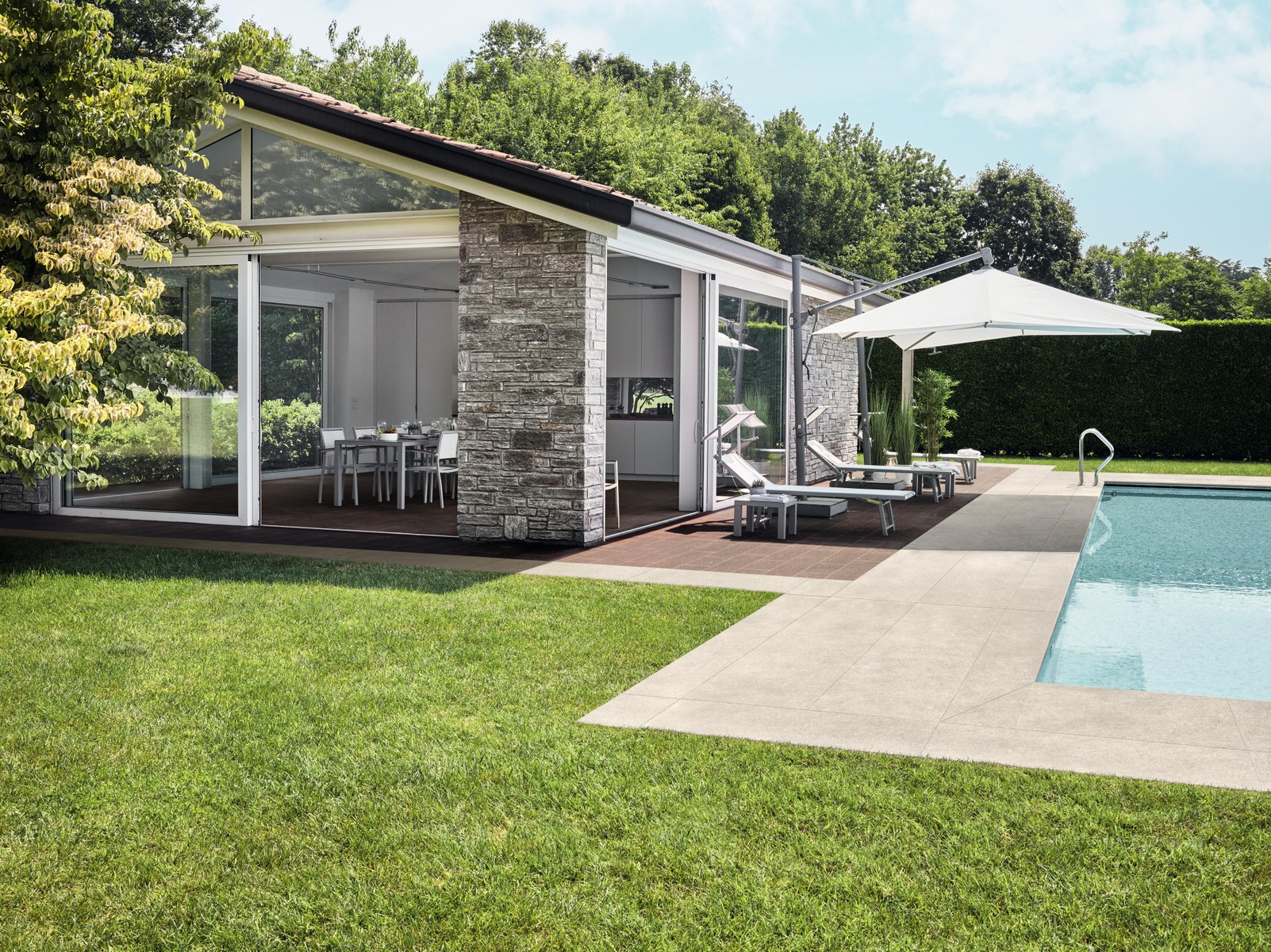 AtlasConcorde DolmenPro 006 02 Cenere-Rosso
The Brave collection of porcelain tiles interprets the beauty of rare natural stones, conveying a bold image rich in natural details like veins, inclusions, and colored shading. The effect surprises for its authenticity and, together with the technical performance of the tiles themselves, makes the collection suitable for contemporary interior and exterior design projects, creating a synergy between reliability and beauty.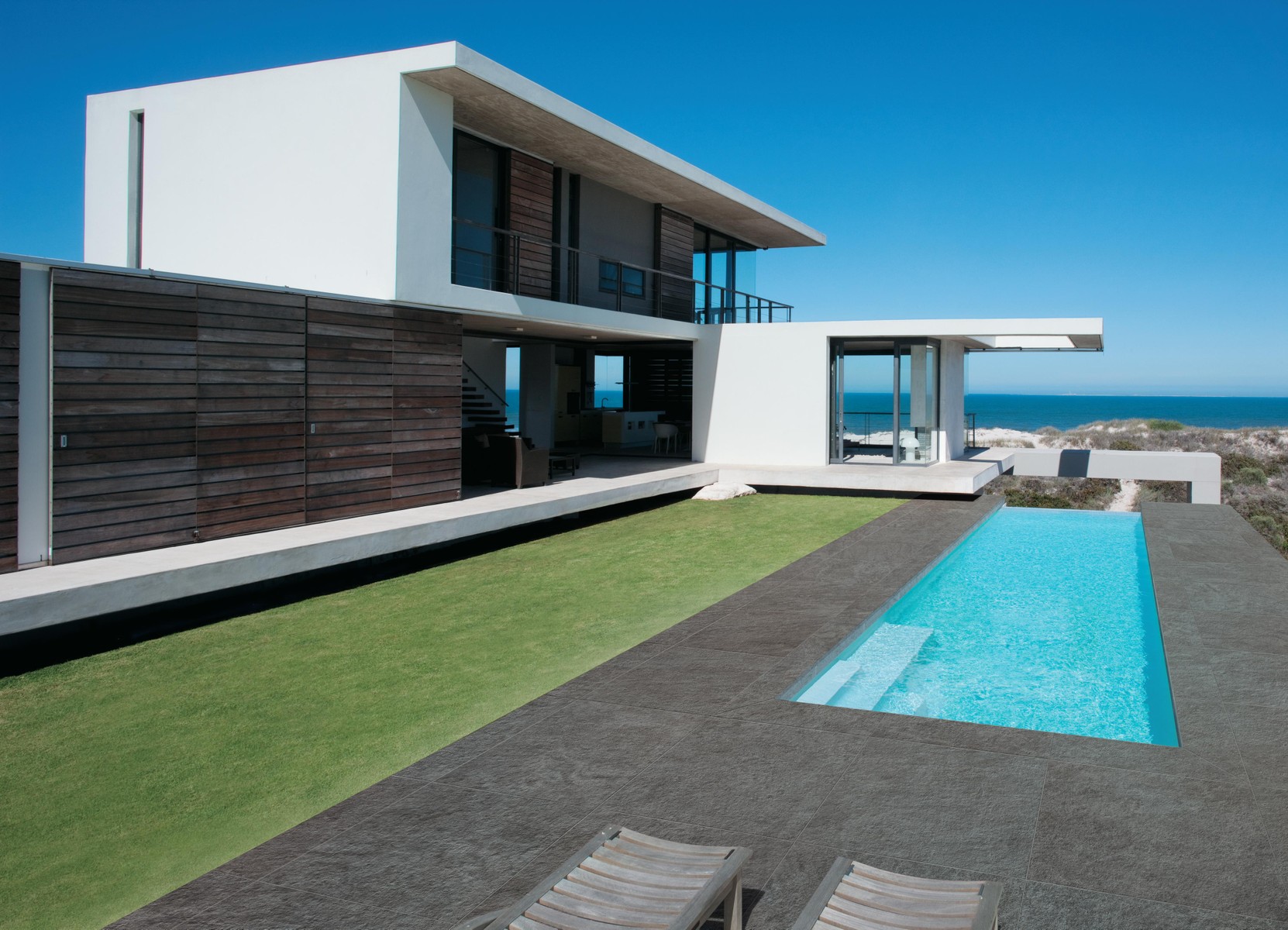 AtlasConcorde Brave 010 00 Grey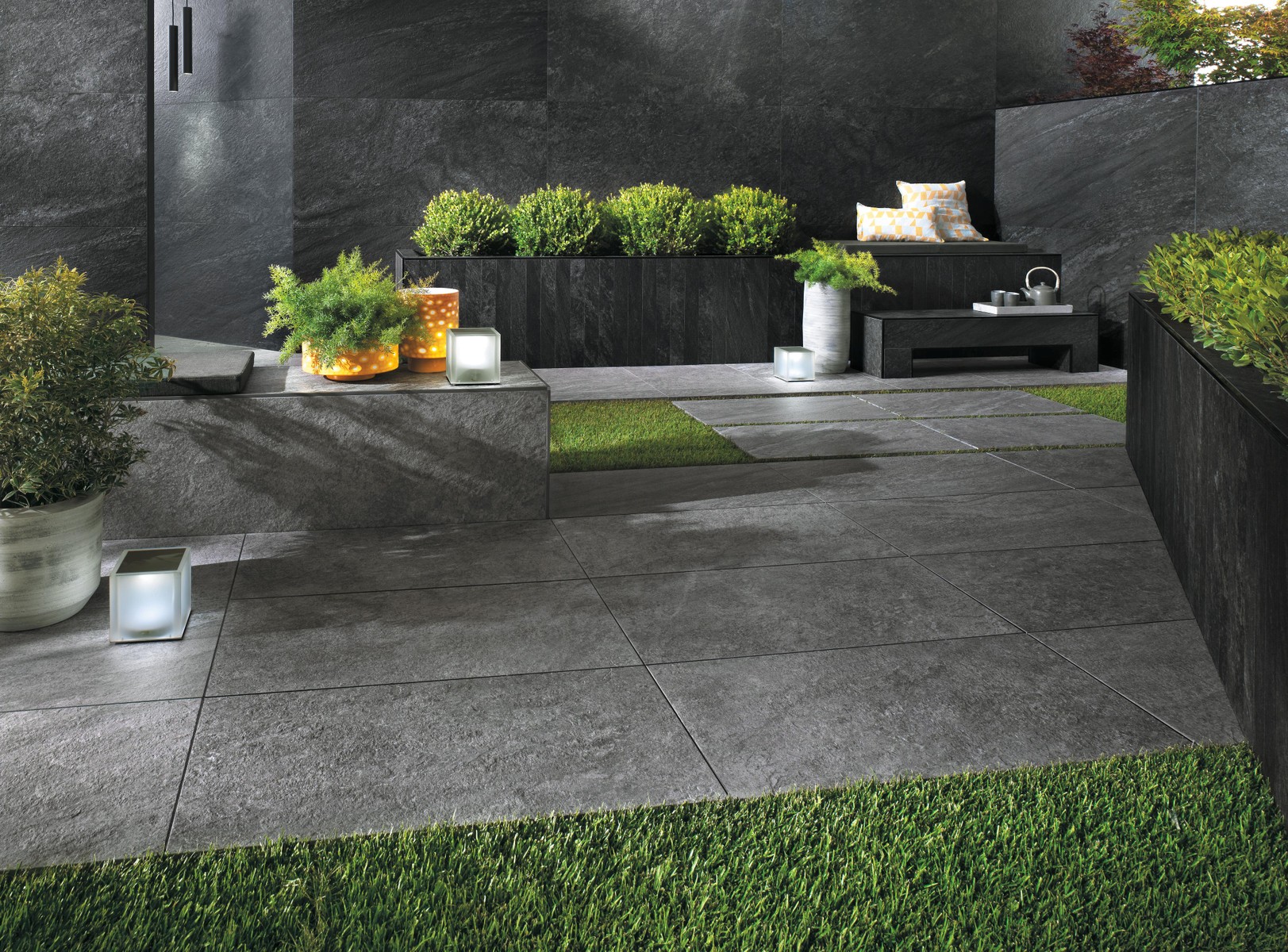 AtlasConcorde Brave 002 00 Grey-Coke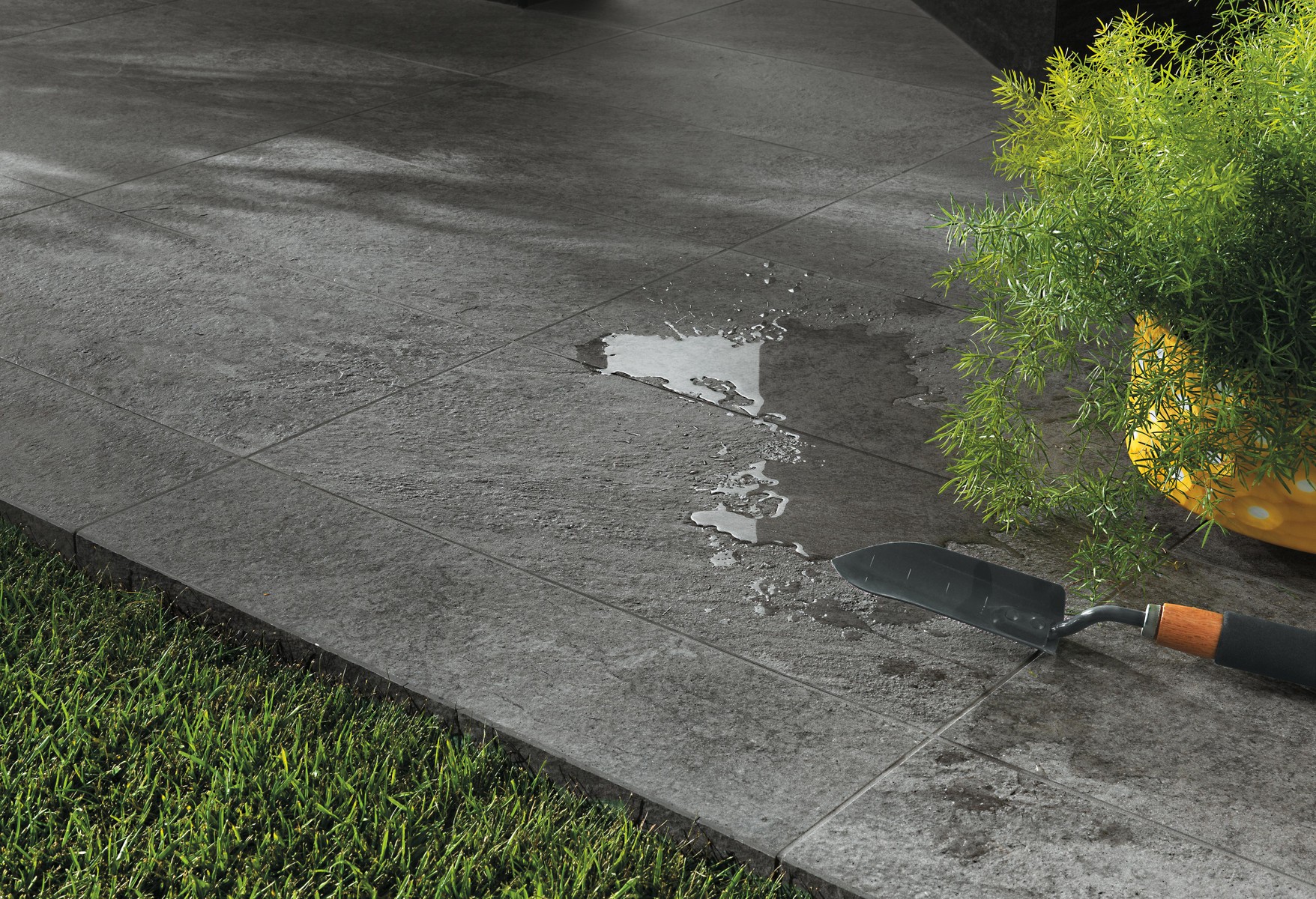 AtlasConcorde Brave 002 08 Grey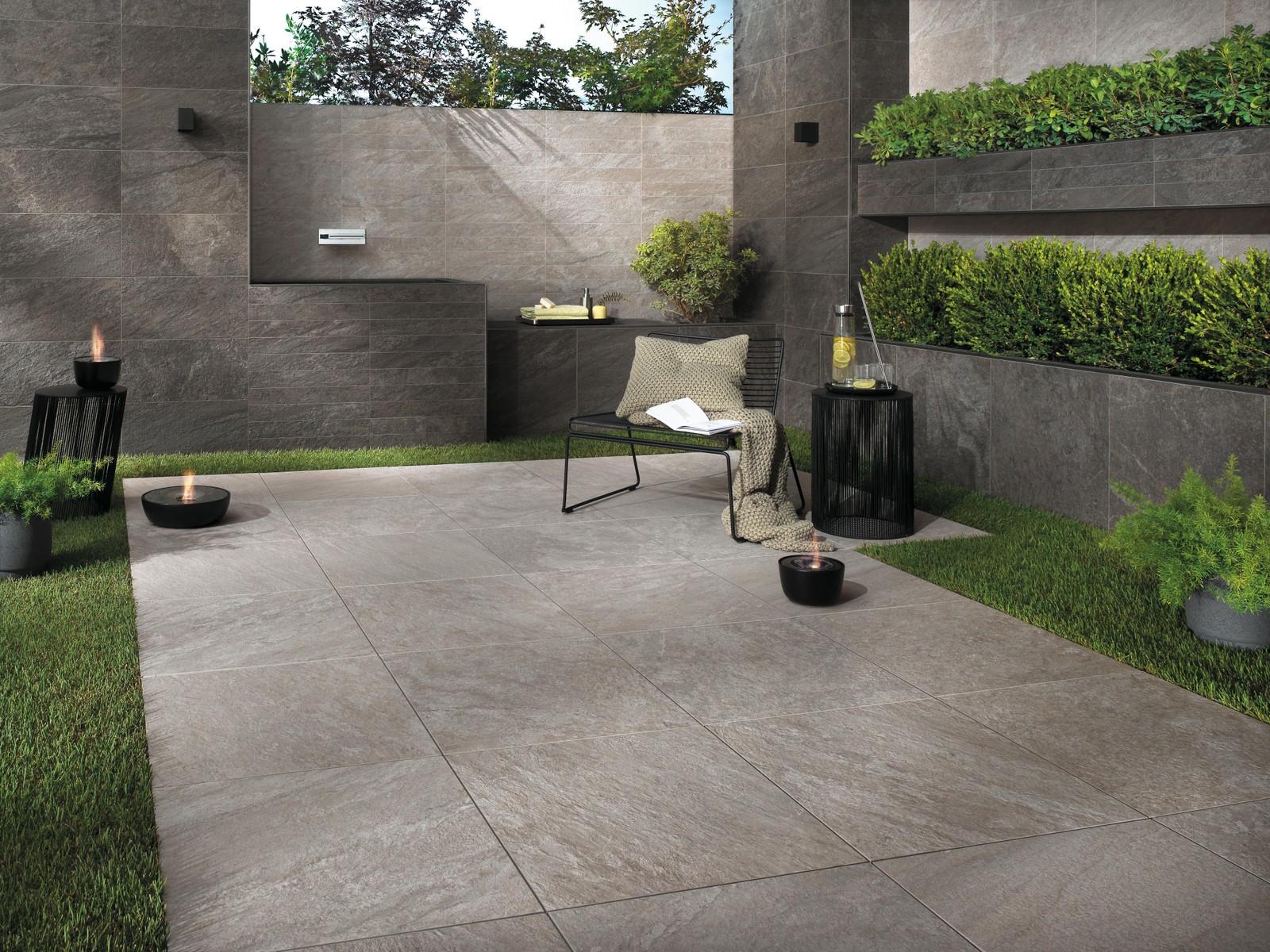 AtlasConcorde Brave 007 00 Pearl-Earth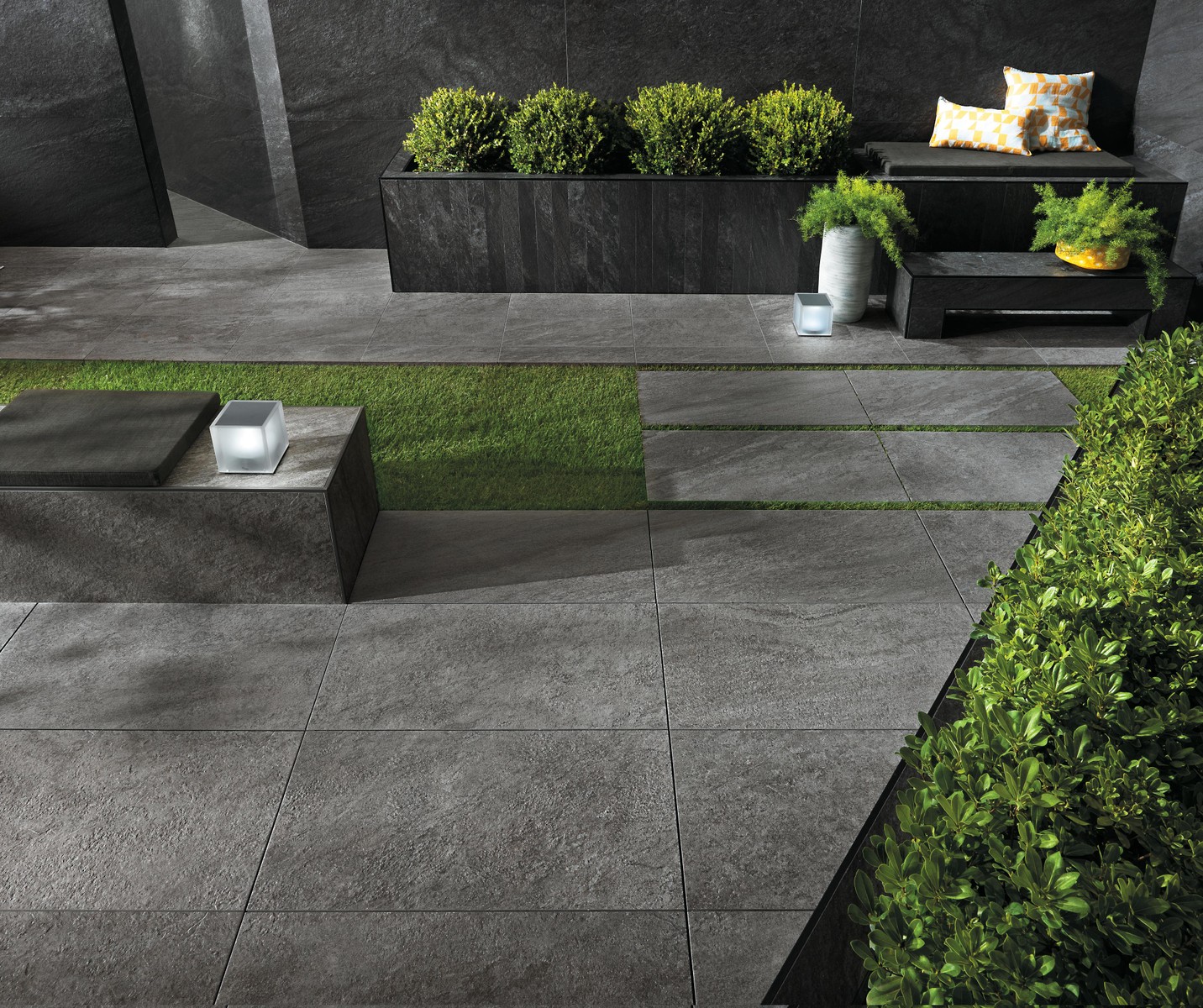 AtlasConcorde Brave 002 03 Grey-Coke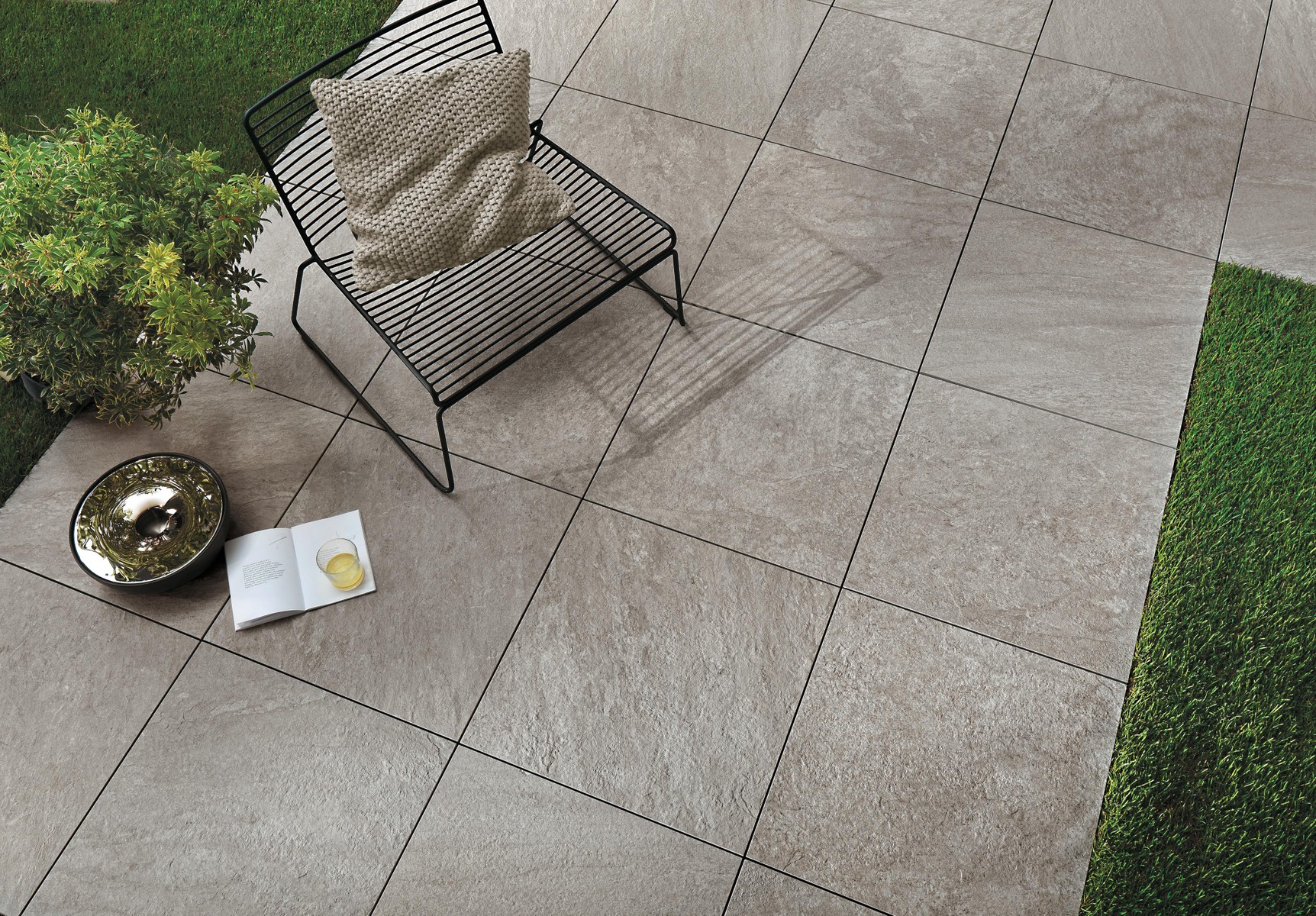 AtlasConcorde Brave 007 06 Pearl
Concrete Look: contemporary style for the metropolitan landscape
The concrete effect extends its simplicity to outdoor environments, thus ensuring a contemporary, exclusive look to the metropolitan landscape. Atlas Concorde's outdoor concrete look features a wide range of colors that includes warm and cool tones to suit every design need.
The concrete effect is lightly troweled, with the surface imperfections typical of manual workmanship.
The Boost and Boost Pro collections embody the two facets of the concrete effect: one more minimalist and industrial (Boost collection) and one warm and welcoming (Boost Pro collection). The wide range of colors and formats meets every design need for an effect of absolute continuity.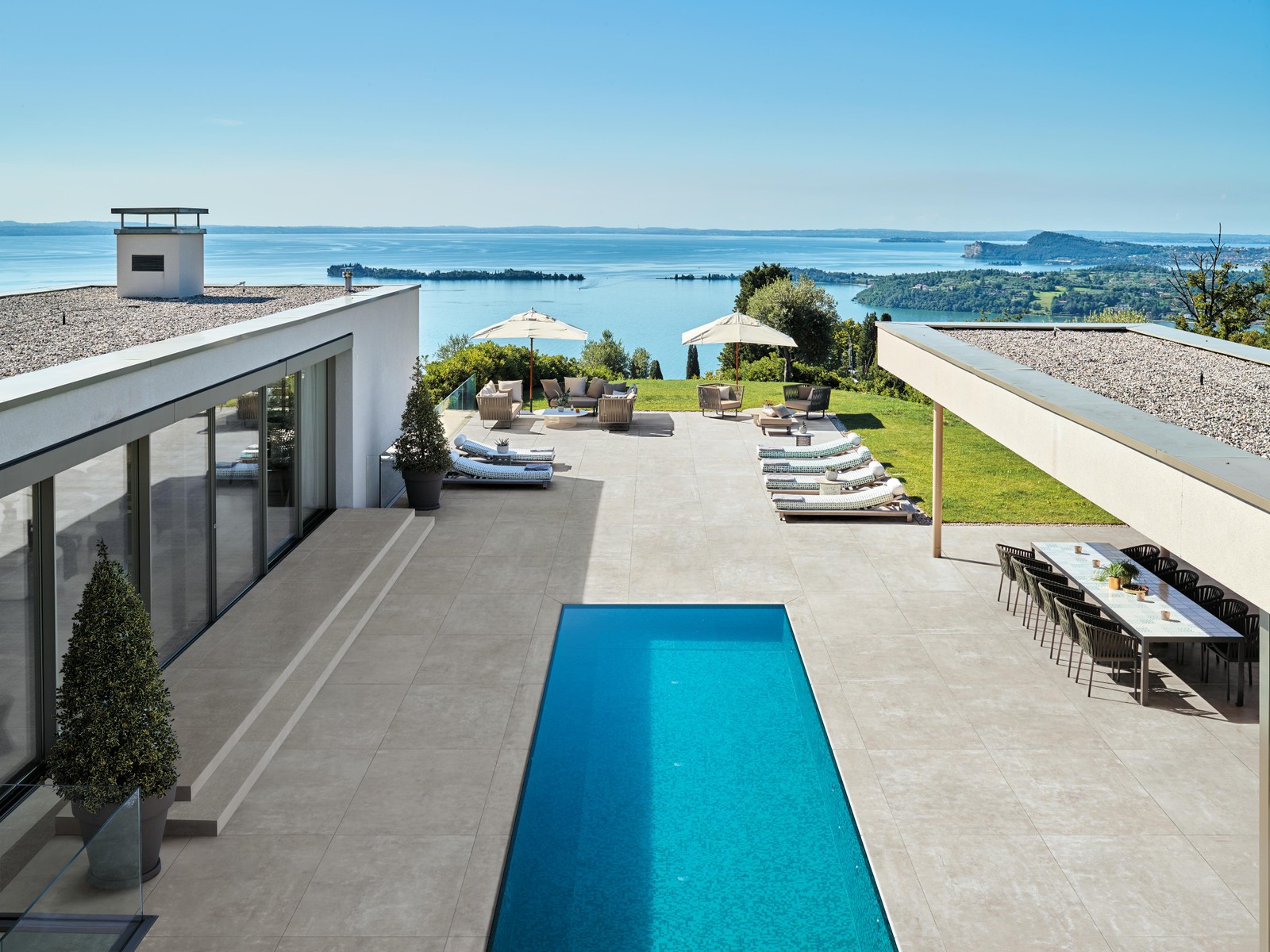 AtlasConcorde Boost 006 00 White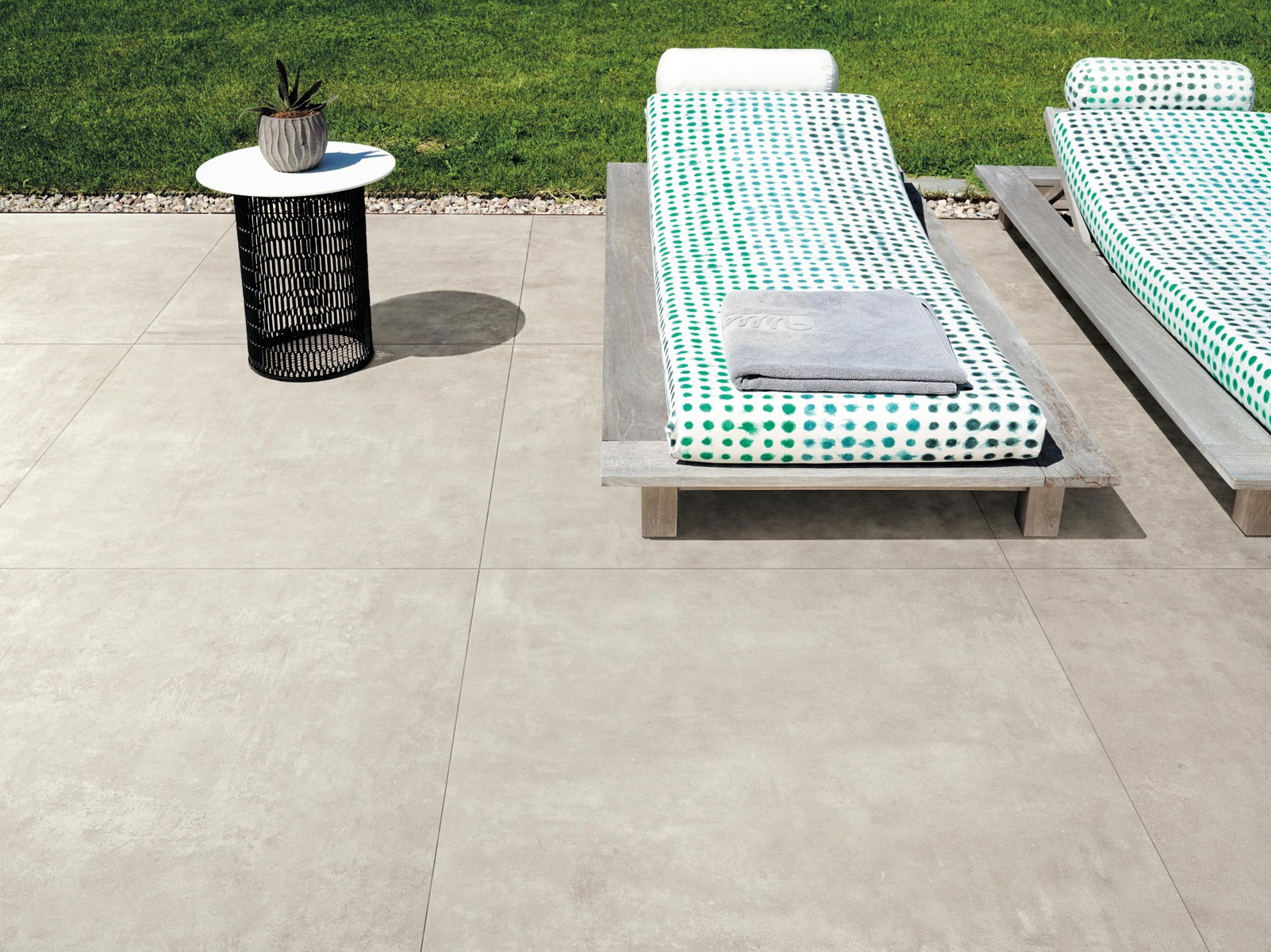 AtlasConcorde Boost 006 02 White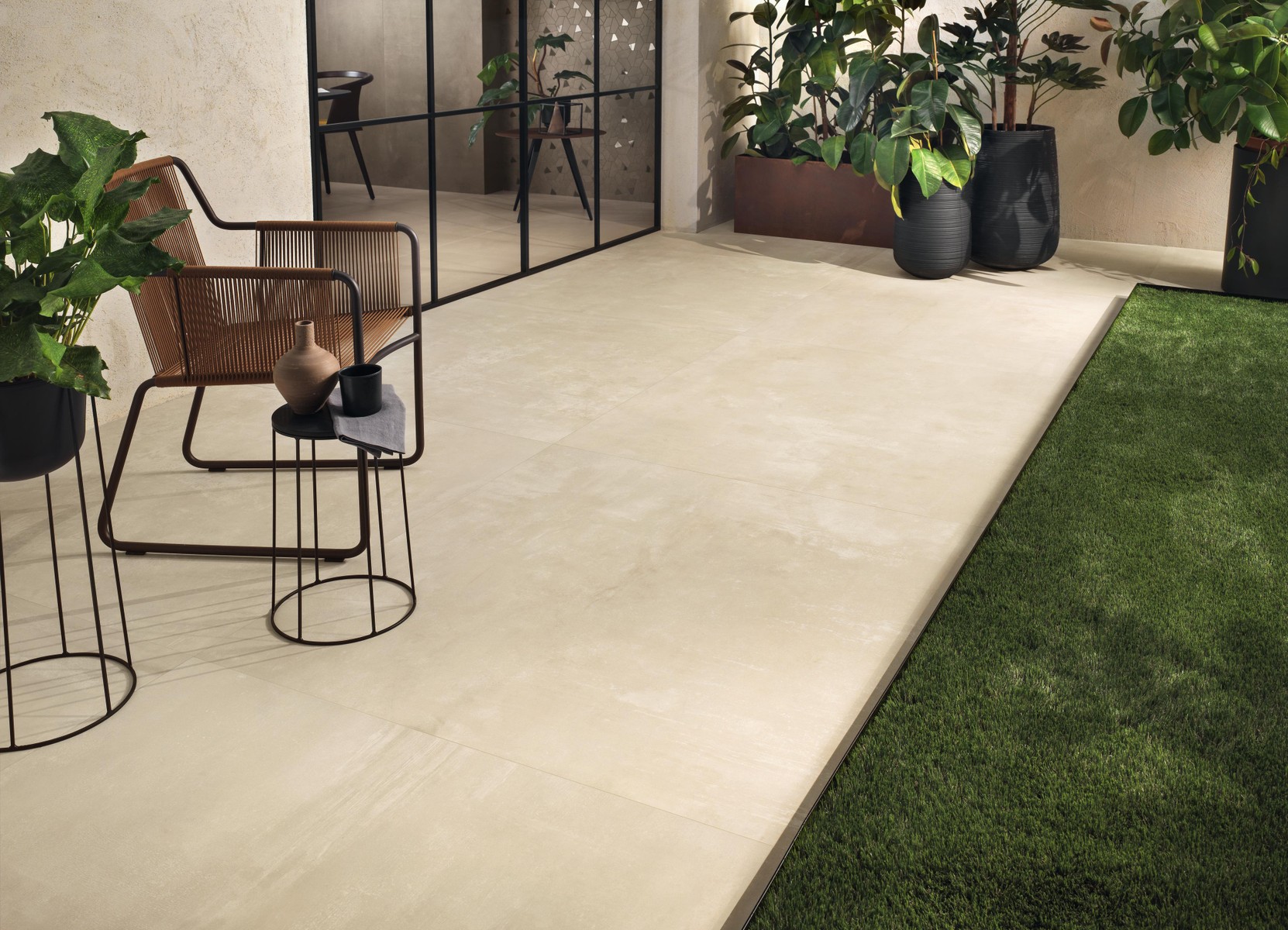 AtlasConcorde BoostPro 001 15 Ivory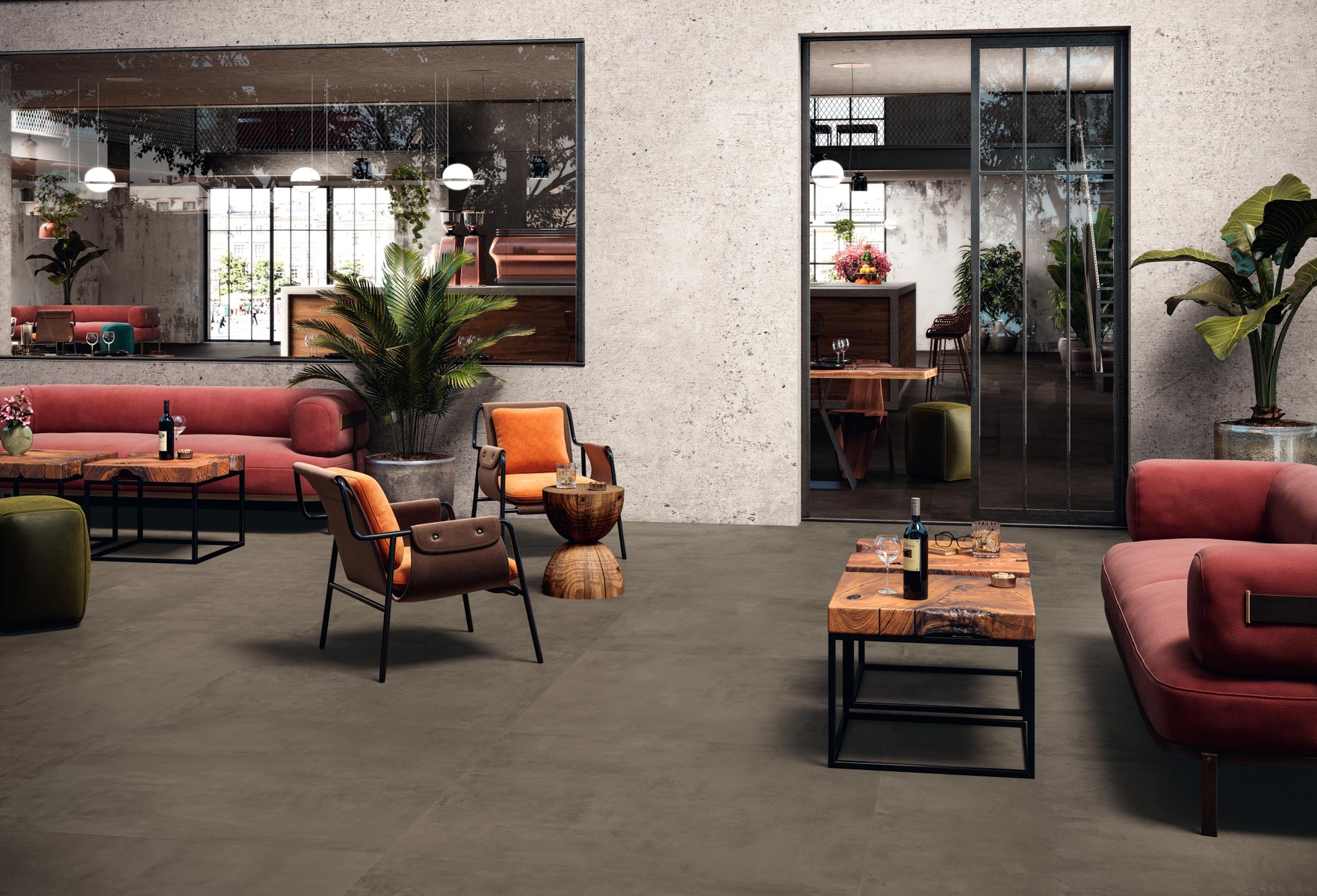 AtlasConcorde BoostPro 007 09 Taupe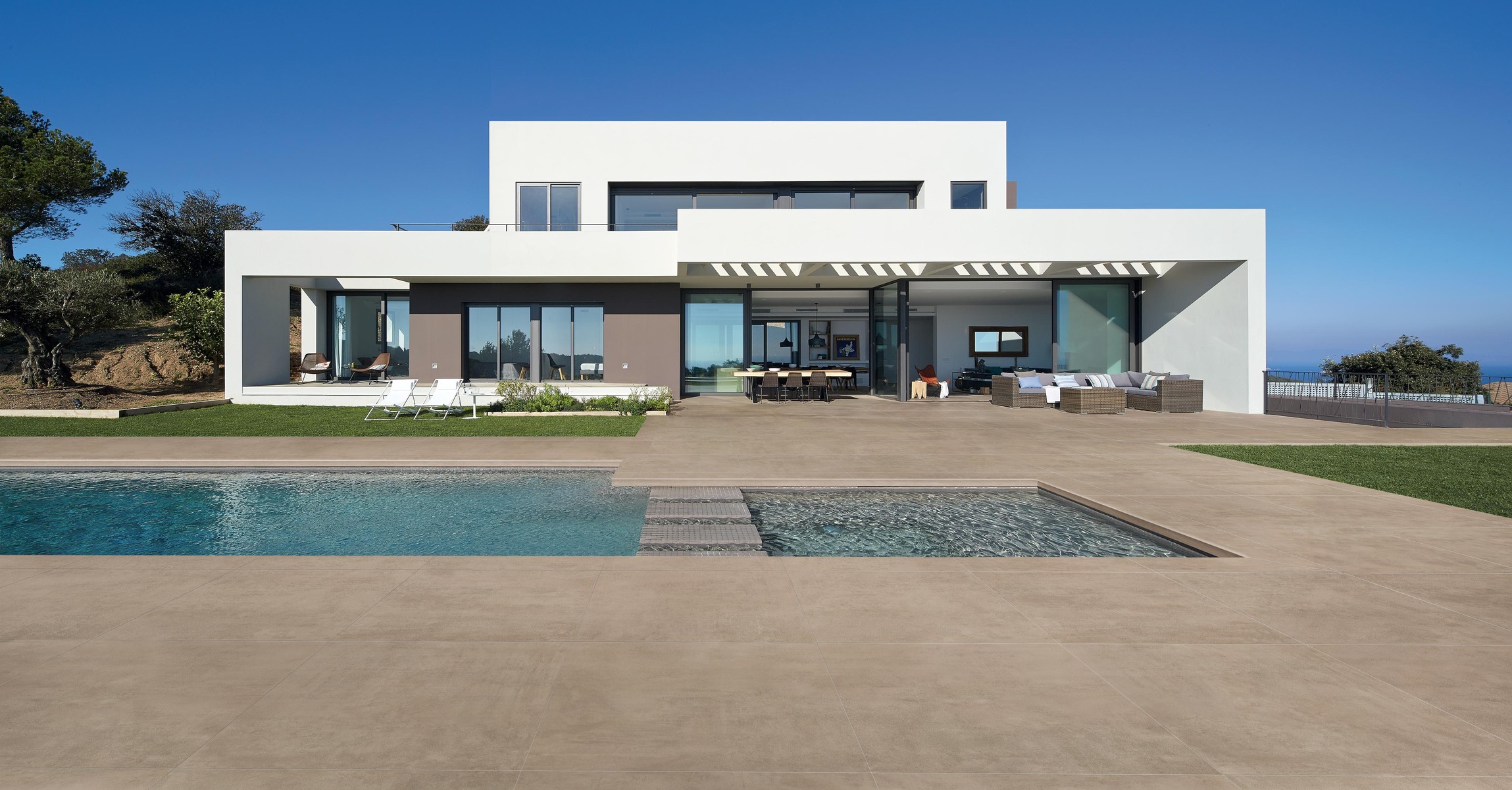 AtlasConcorde BoostPro 008 00 Clay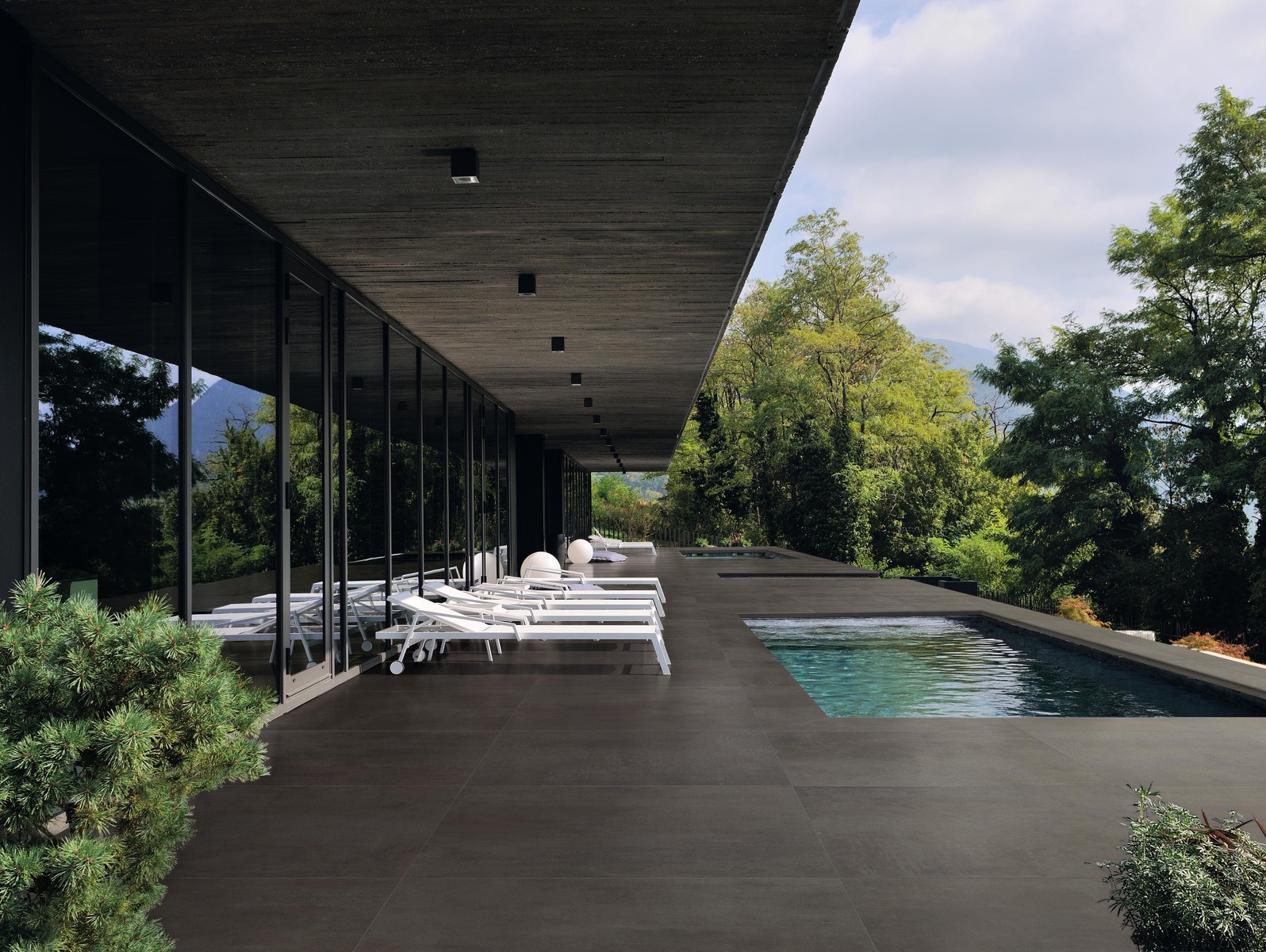 AtlasConcorde BoostPro 009 00 Tobacco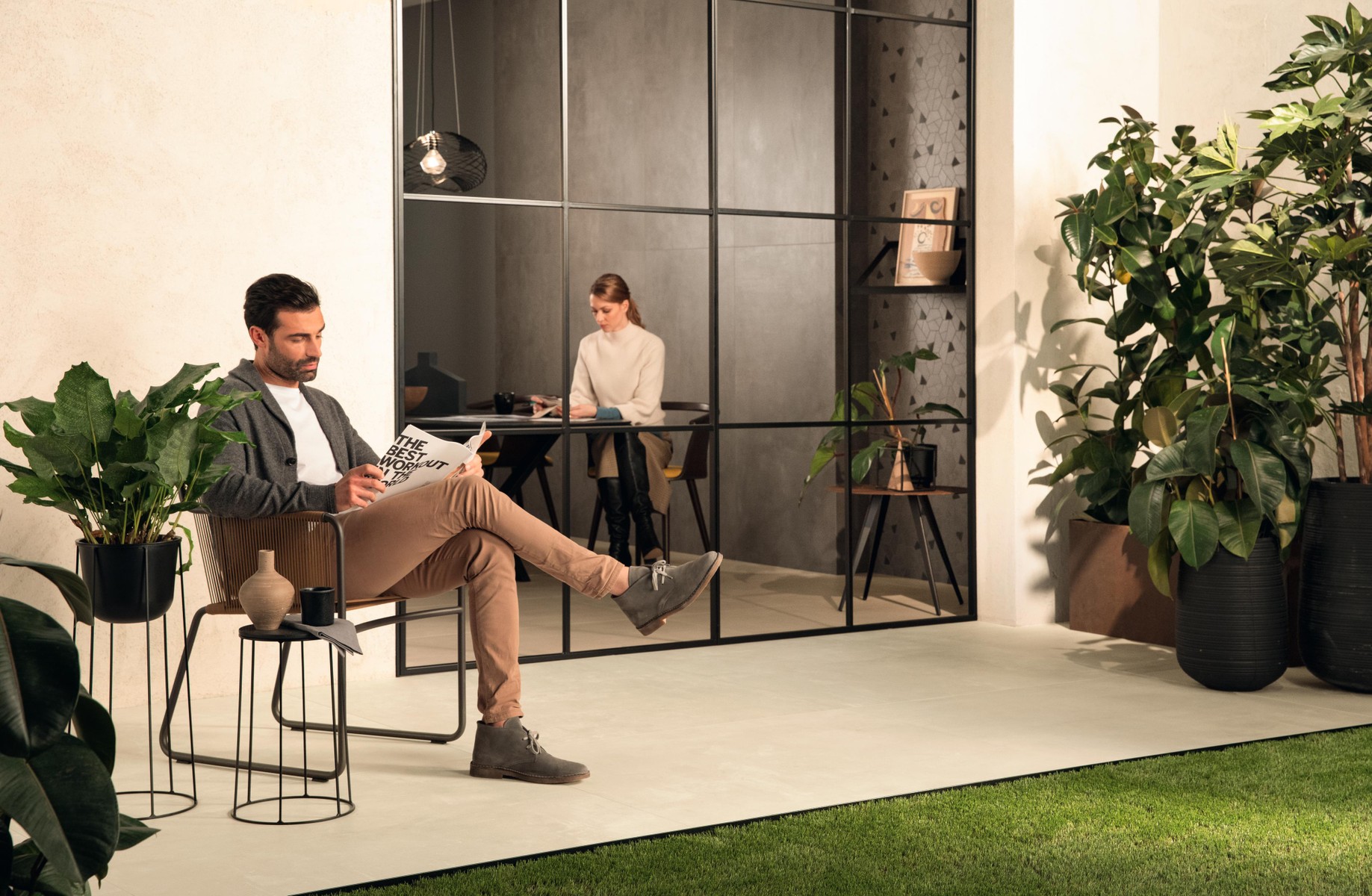 AtlasConcorde BoostPro M01 25
The Raw collection interprets ruined surfaces in a delabrè style, like worn plaster walls that practically become ornamental surfaces where the signs of time become memories and stylistic details.
The earthy look of the product interacts with the contemporary appearance of concrete, creating a bridge between contemporary and reclaimed.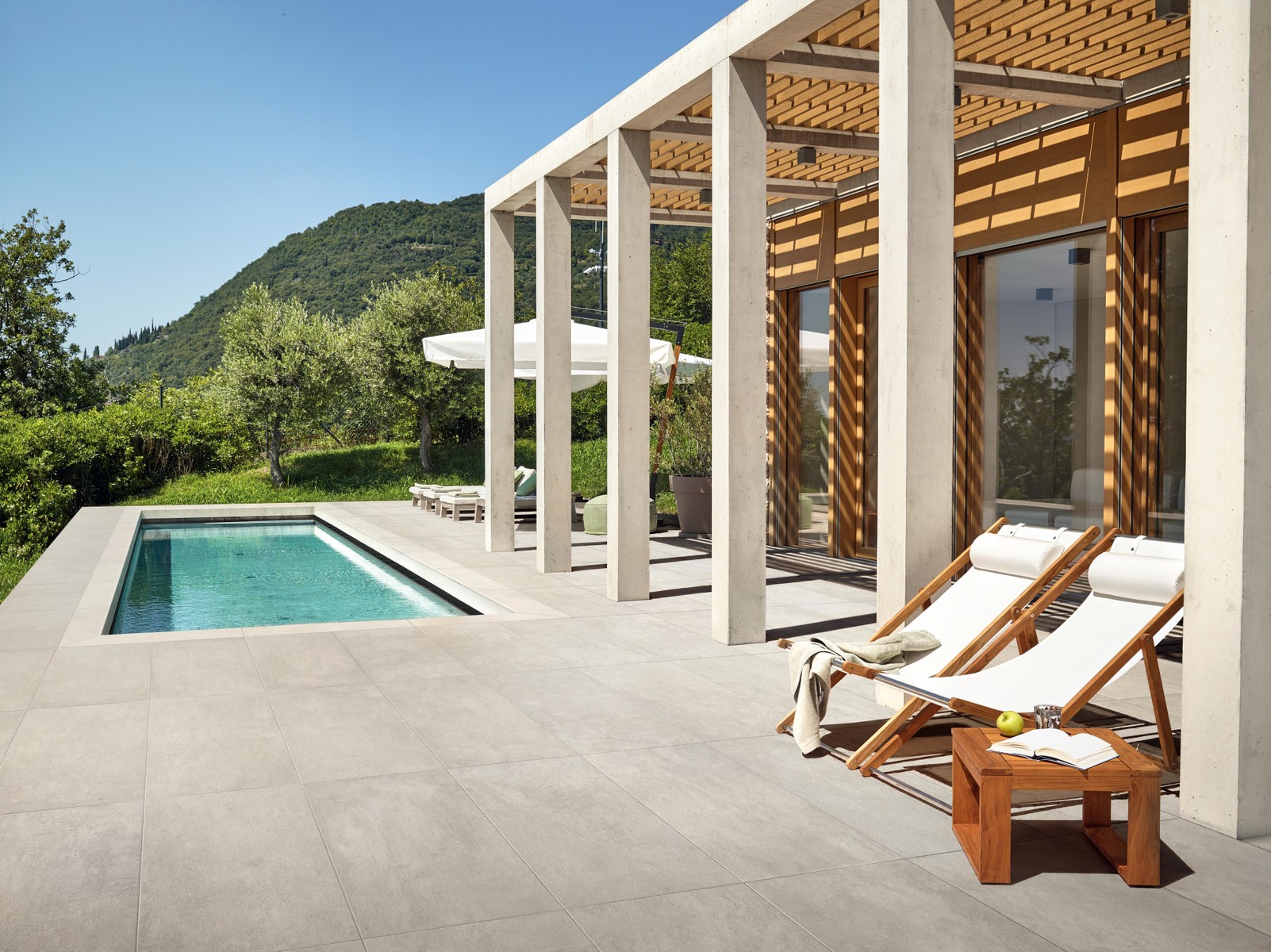 AtlasConcorde Raw 008 00 Pearl-White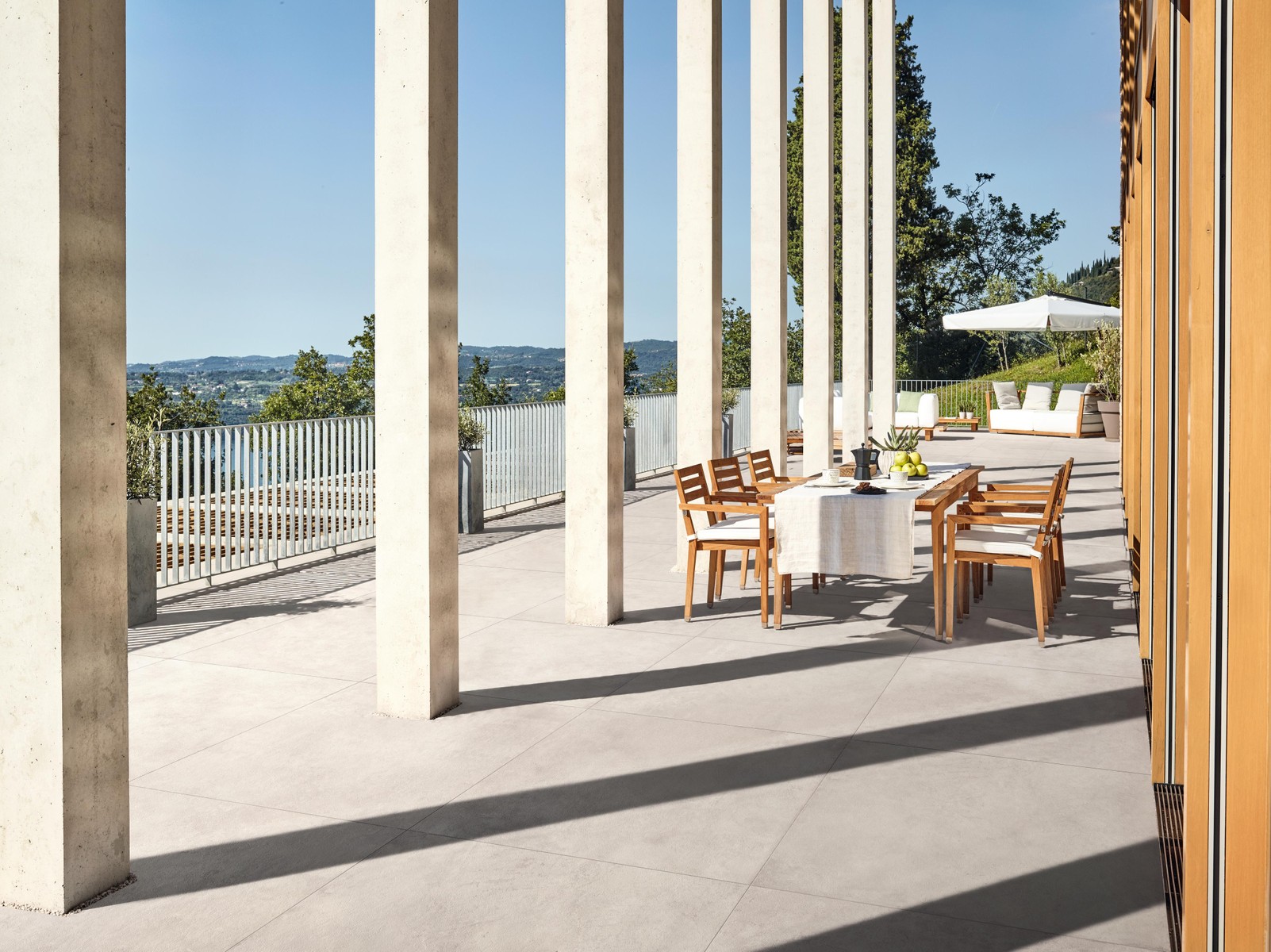 AtlasConcorde Raw 008 02 White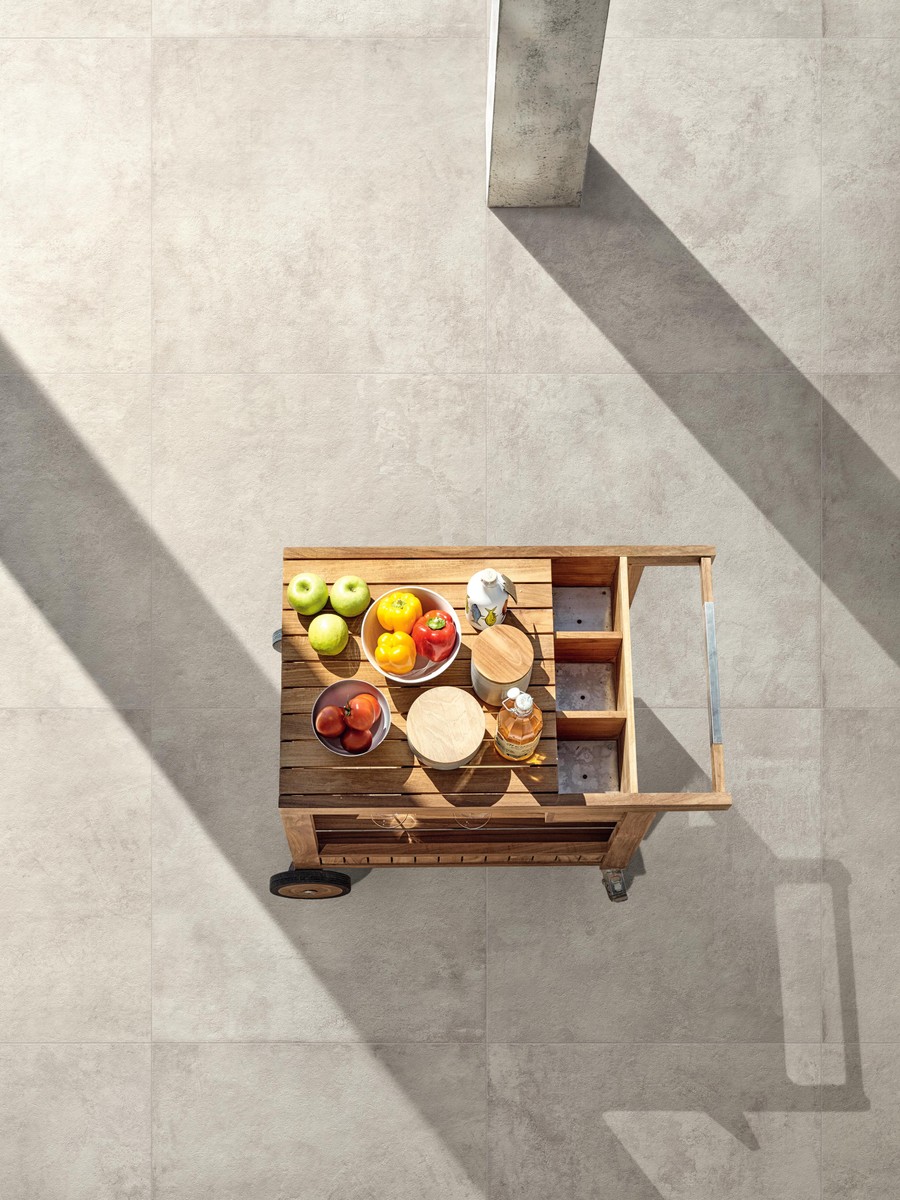 AtlasConcorde Raw 008 04 White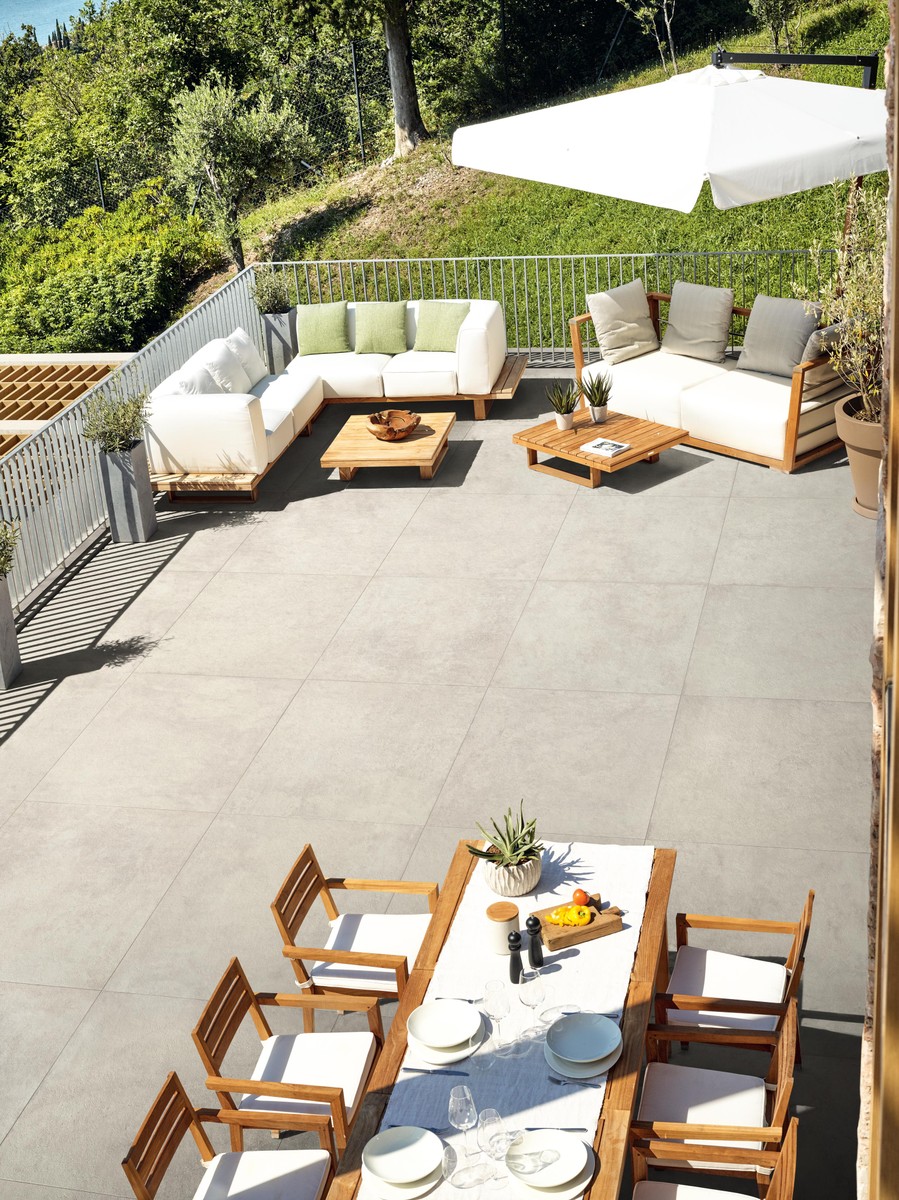 AtlasConcorde Raw 008 03 White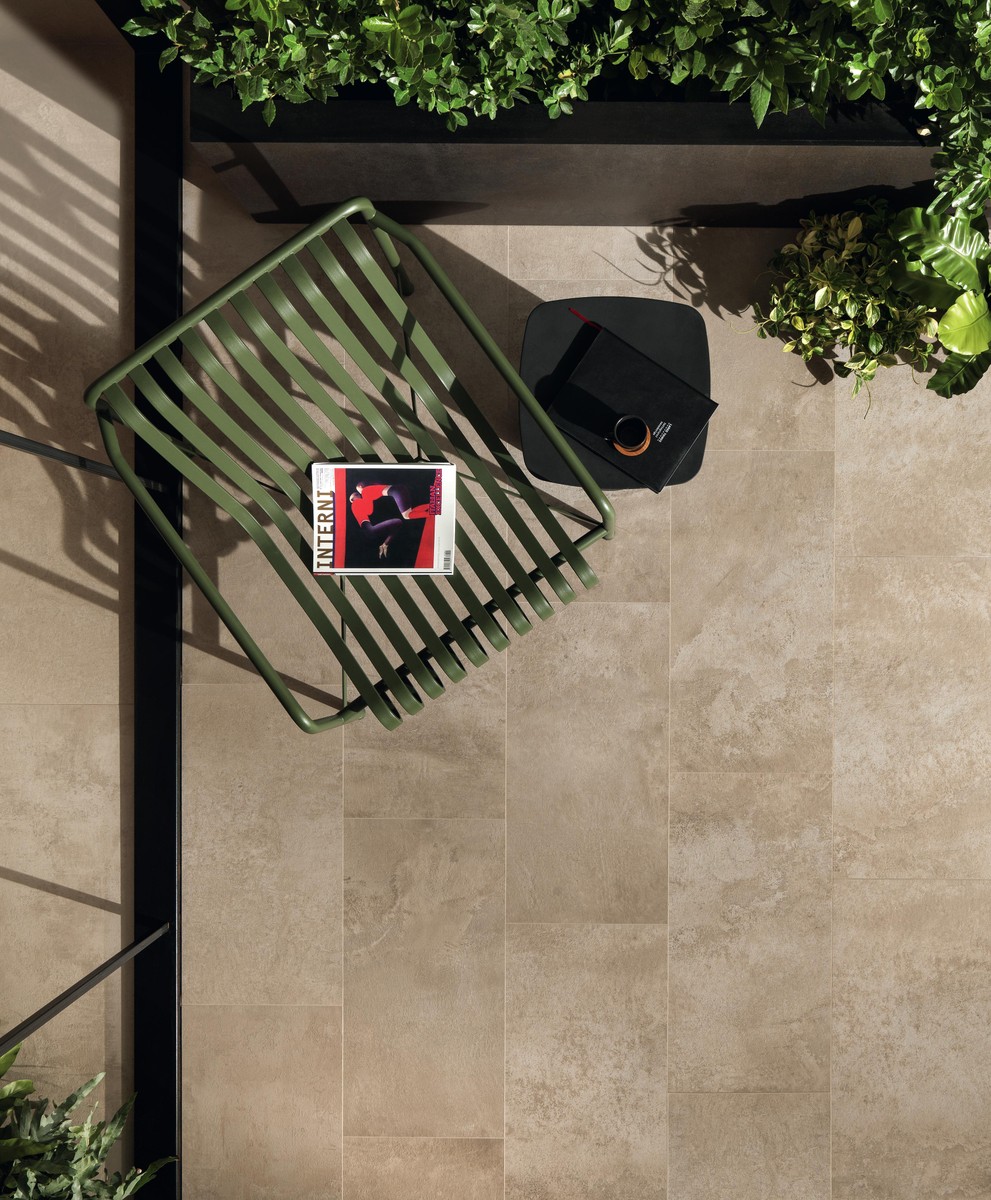 AtlasConcorde Raw 001 14 Sand
Metal Look: a new frontier for outdoor flooring
Over the past few years, corten metal has become quite popular in the landscape, acting as contemporary scenery capable of enhancing the naturalistic aspects and artistic accents of the urban setting. Atlas Concorde's Blaze metal-effect collection expands the possibilities of the metal look by bringing it to the floor for a bold, metropolitan effect with the highest technical performance
It's a stylistic choice centered on the value of design, which Atlas Concorde has impressed on Blaze using a mix of distinctive details that provide a snapshot of the metal oxidation process at the peak of its beauty.
The personality of oxidized metal on the floor thus becomes a contemporary, innovative look that complements the superior technical performance of porcelain tiles.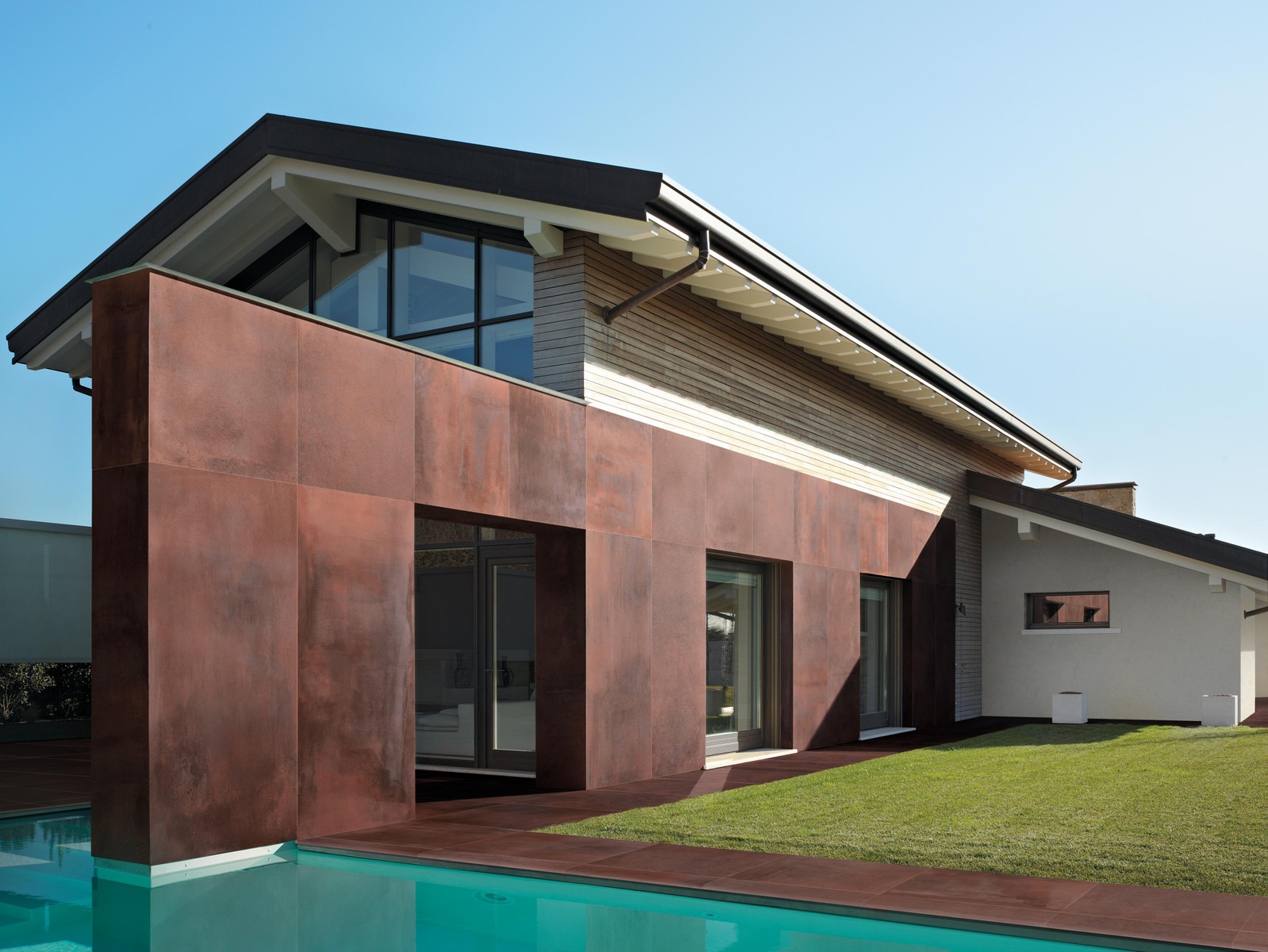 AtlasConcorde Blaze 007 00 Corten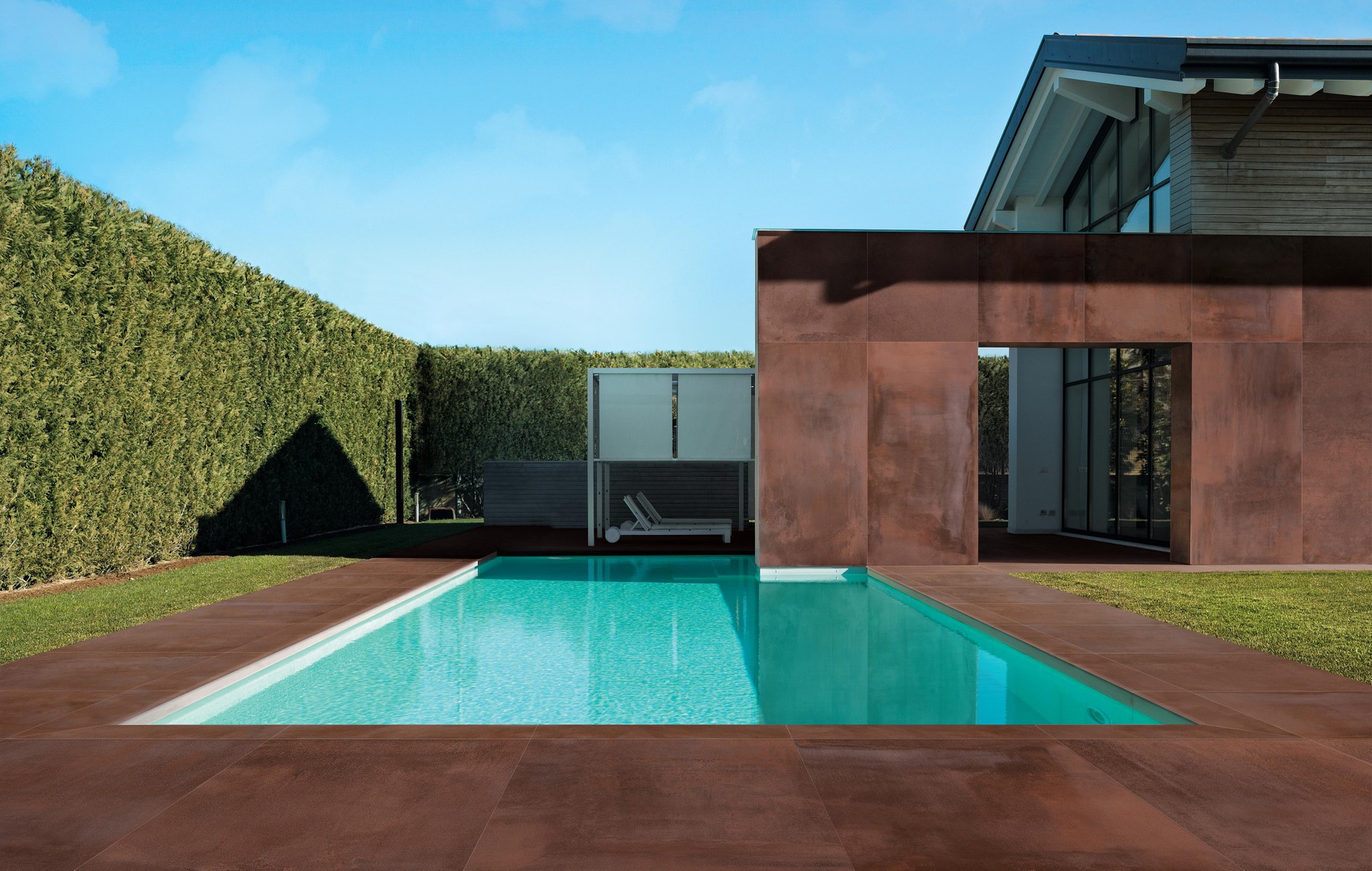 AtlasConcorde Blaze 007 01 Corten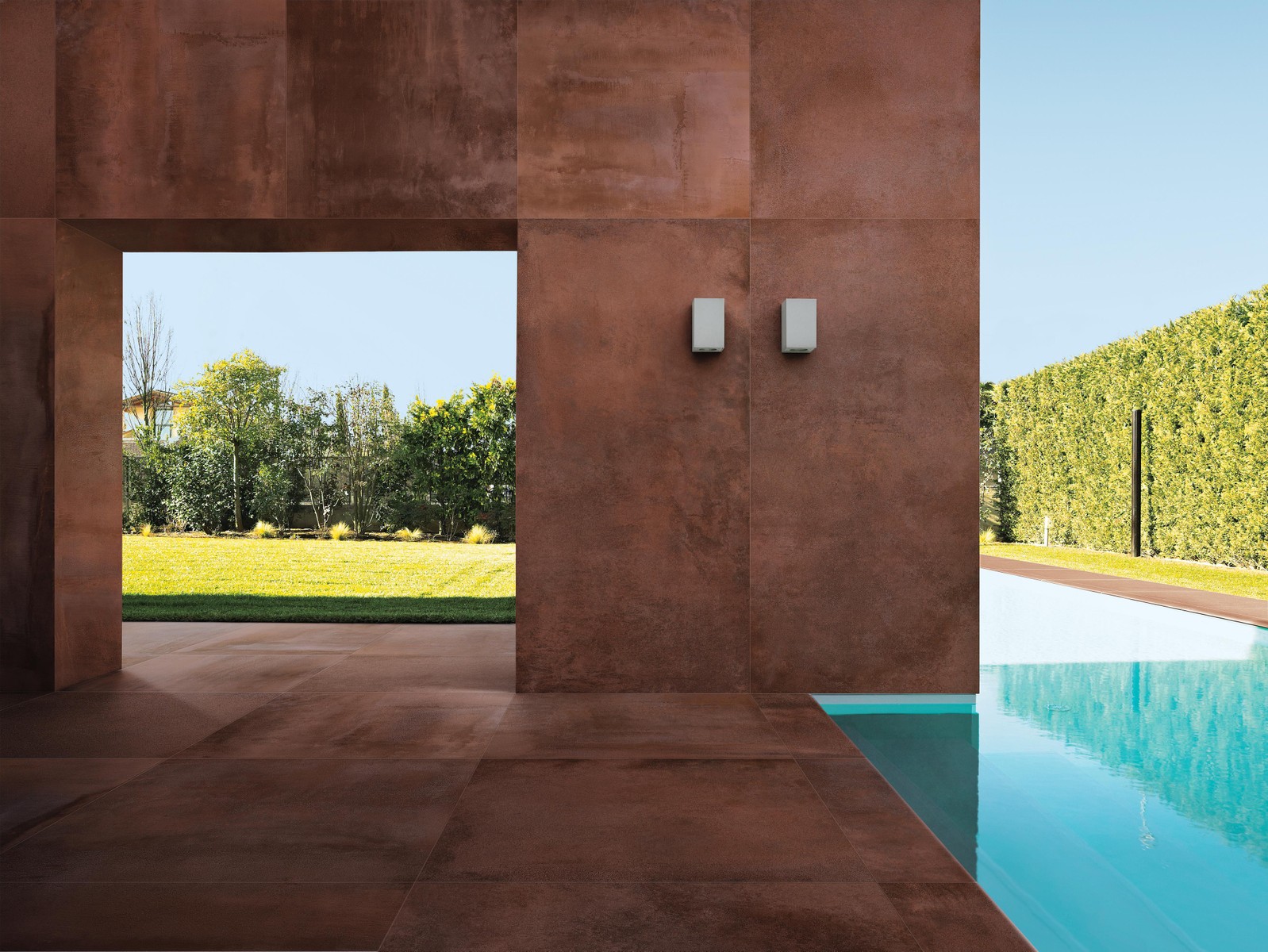 AtlasConcorde Blaze 007 02 Corten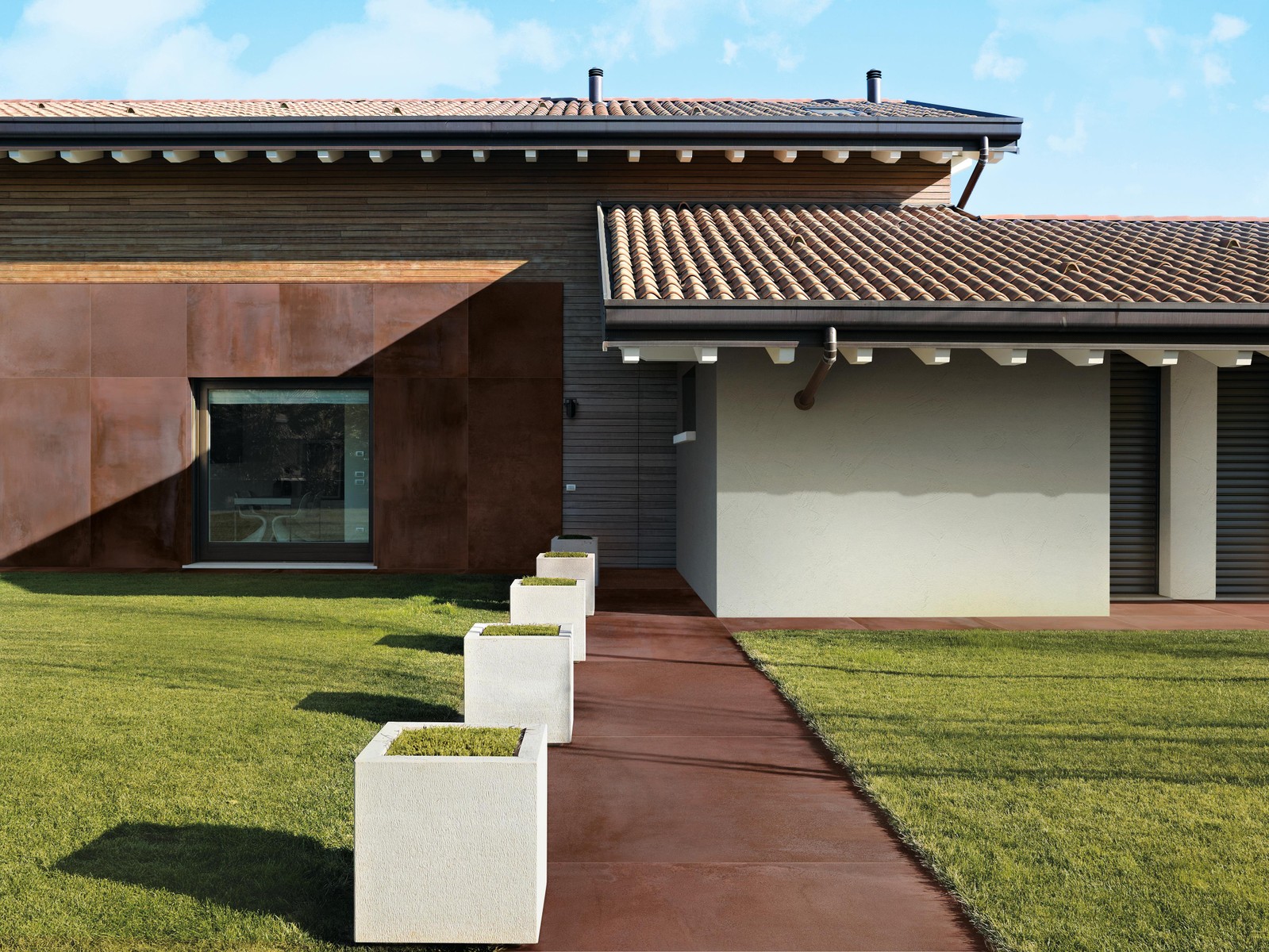 AtlasConcorde Blaze 007 04 Corten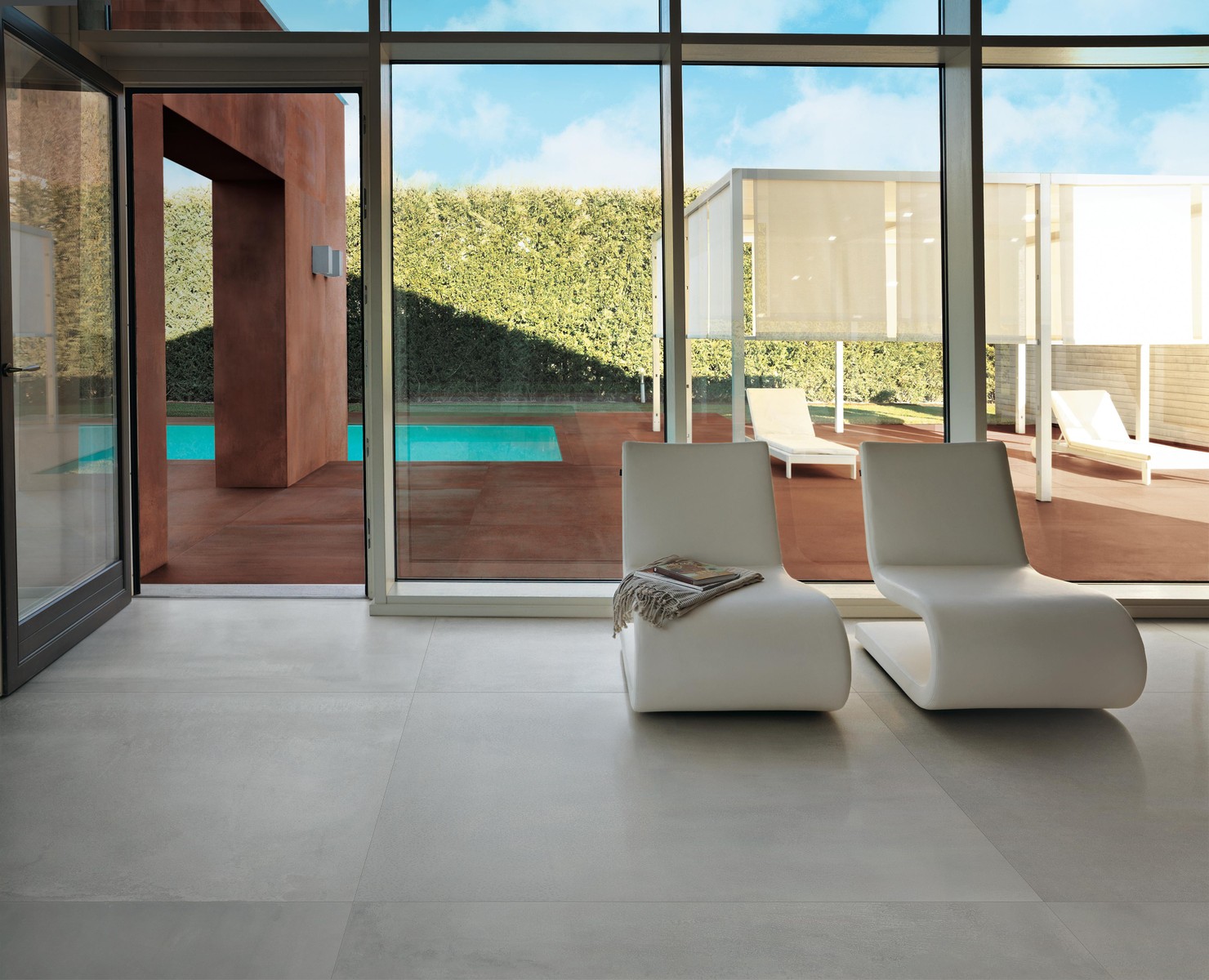 AtlasConcorde Blaze 007 05 Corten-Aluminium
Wood Look: the warmth of oak conquers outdoor spaces.
Atlas Concorde's range of porcelain tiles includes a wide selection of products to be used alone or in combination with other looks. The availability of special coordinated pieces makes it possible to solve all technological and design needs.
The warmth and natural character of Italian oak conquer outdoor spaces and create warm, welcoming floors with a strong esthetic value that stand up to all kinds of weather.
In addition to their beauty, wood-effect porcelain tiles are resistant to water, stains, scratches, and light and are very easy to maintain.
The set of special outdoor pieces allows for continuity solutions for all the technical aspects of the project.