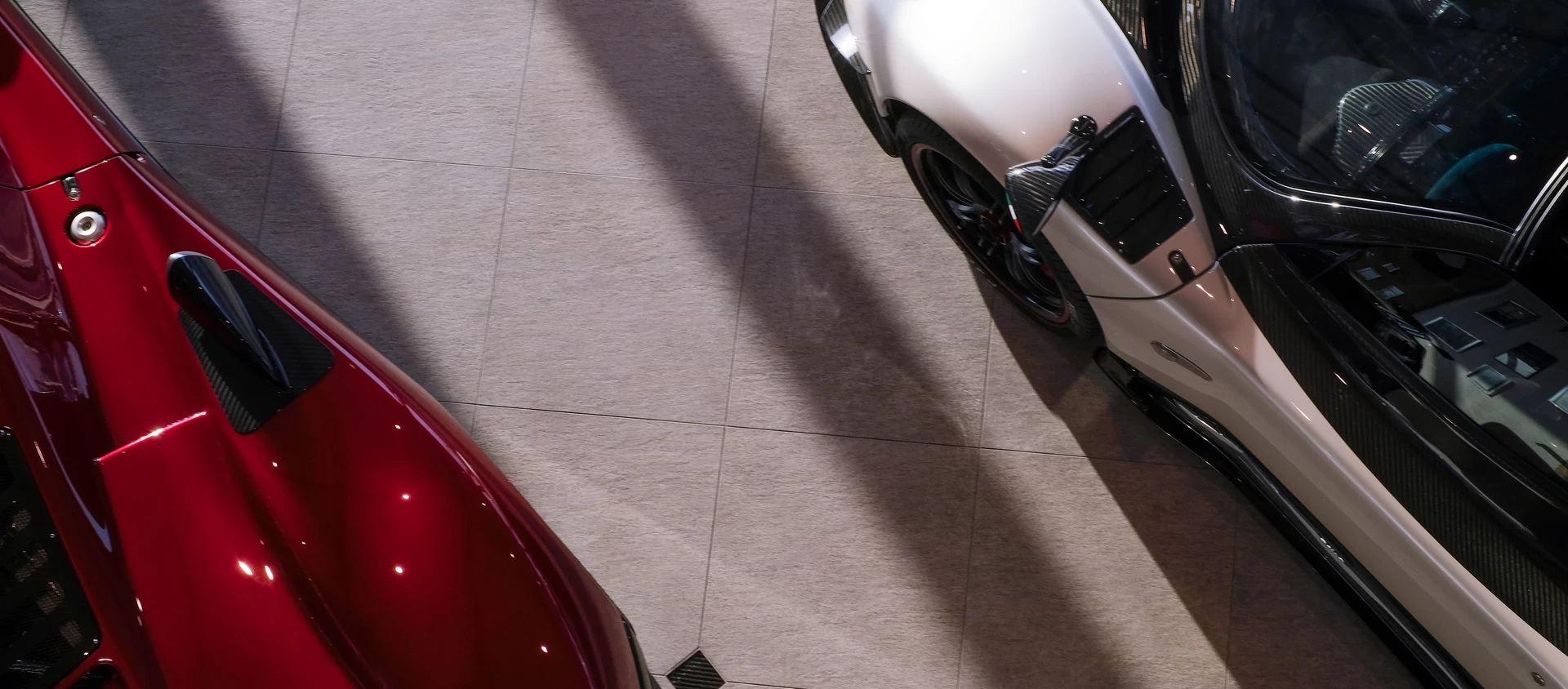 Company
Luxury and tradition at 300 kph: Atlas Concorde used in the new Pagani Automobili headquarters
Unprecedented craftsmanship, elegant style, and pride Made in Italy: these are the key words that have always defined Pagani Automobili, a business that made history and then, over the years, became a legend.
In the words of its founder, the late Italian-Argentine genius Horacio Pagani, the world renowned car manufacturer is "a timeless interpretation of automotive art." And indeed, the cars on display at the new headquartersin San Cesario sul Panaro, in the province of Modena, are not just automobiles but actual works of art sharing an obvious love of beauty.
The new establishment, built a few hundred meters from the old location and inaugurated in 2016, extends stately and imposing for about 6,000 square meters and houses a showroom, a museum, and production facilities. Here, where the genius of renowned Italian craftsmanship meets technology at the highest level, every detail testifies to the greatness of a brand that has helped render the Made in Italy label an actual trademark. The refined esthetic of the cars displayed is in fact combined with the refined elegance of the spaces, enhanced by the large glassed walls framing them. The project of the new building, personally supervised by Horacio's sons Leonardo and Christopher, is a balanced mix of tradition and innovation: while the main facade recalls the forms and colors of the historic factory's exterior, the interiors are inspired by the French chateau de la Grenerie, built by the engineer Gustave Eiffel, the same who designed the Parisian tower that bears his name.
With six collections of ceramics of different inspiration, Atlas Concorde has contributed to the furnishing of the indoor spaces, sharing with the automaker the same passion for style that is efficient and never dull. Through the natural simplicity of wood proposed in the Bord and Etic Pro collections, the strong personality of stone portrayed in the porcelain surfaces of Trek, Brave, and Extend, and the many contemporary materials that combine to create the expressive force of the designer Mark series, Atlas Concorde has placed its signature on a project deeply rooted in local architecture, but with unquestionable global appeal.
See how Atlas Concorde contributed to the construction of the new Pagani Automobili headquarters: https://goo.gl/1u3VRg