Wood Effect Porcelain Stoneware Tiles
Atlas Concorde wood-effect porcelain tiles combine all the warmth and natural character of wood with the performance of high-quality ceramics, creating welcoming, elegant, and functional environments, perfect for any use
The Atlas Concorde range of rectified wood-look porcelain tiles is inspired by different species, offering multiple colors, polishes, grouting, and interpretations.
This wooden effect tile flooring is perfect for creating a luxurious and sophisticated look in your home. The tiles have a realistic wood grain effect that gives them a natural and elegant look. They are also very durable and easy to clean, making them ideal for busy households.
Wood-effect porcelain tile colors: which to choose.
From fine Italian oak to walnut boards embellished by the signs of time to large planks of ancient memory reproduced with extreme realism, wood-effect porcelain floor tiles recall distant stories featuring alluring atmospheres, that can be used both as wood effect floor tiles and wood effect wall tiles.
The wide range of colors of wooden floor tiles allows for multiple combinations and great freedom of design: from the white wood-effect porcelain stoneware tiles and gray wood-effect floor tiles of treated or aged woods to natural wood colors such as honey wood-effect porcelain stoneware tiles and oak wood-effect porcelain stoneware floor tiles, with shades from ivory or beige to dark wood-effect porcelain tiles inspired by wood species like rosewood and ebony.
The infinite shades of color make the wood-look porcelain tiles suitable for designing environments that are always different, with a contemporary, traditional, minimalist or Nordic spirit and style. There are numerous formats available tile flooring that look like wood: from medium or large planks to sizes traditionally used for outdoor applications.
To embellish and customize rooms clad with wood-effect porcelain tiles, Atlas Concorde offers a wide selection of decorations: Italian or Hungarian herringbone layouts, a square basket layout, mosaics, and inlays allow you to add character to both contemporary environments and spaces that evoke history and tradition.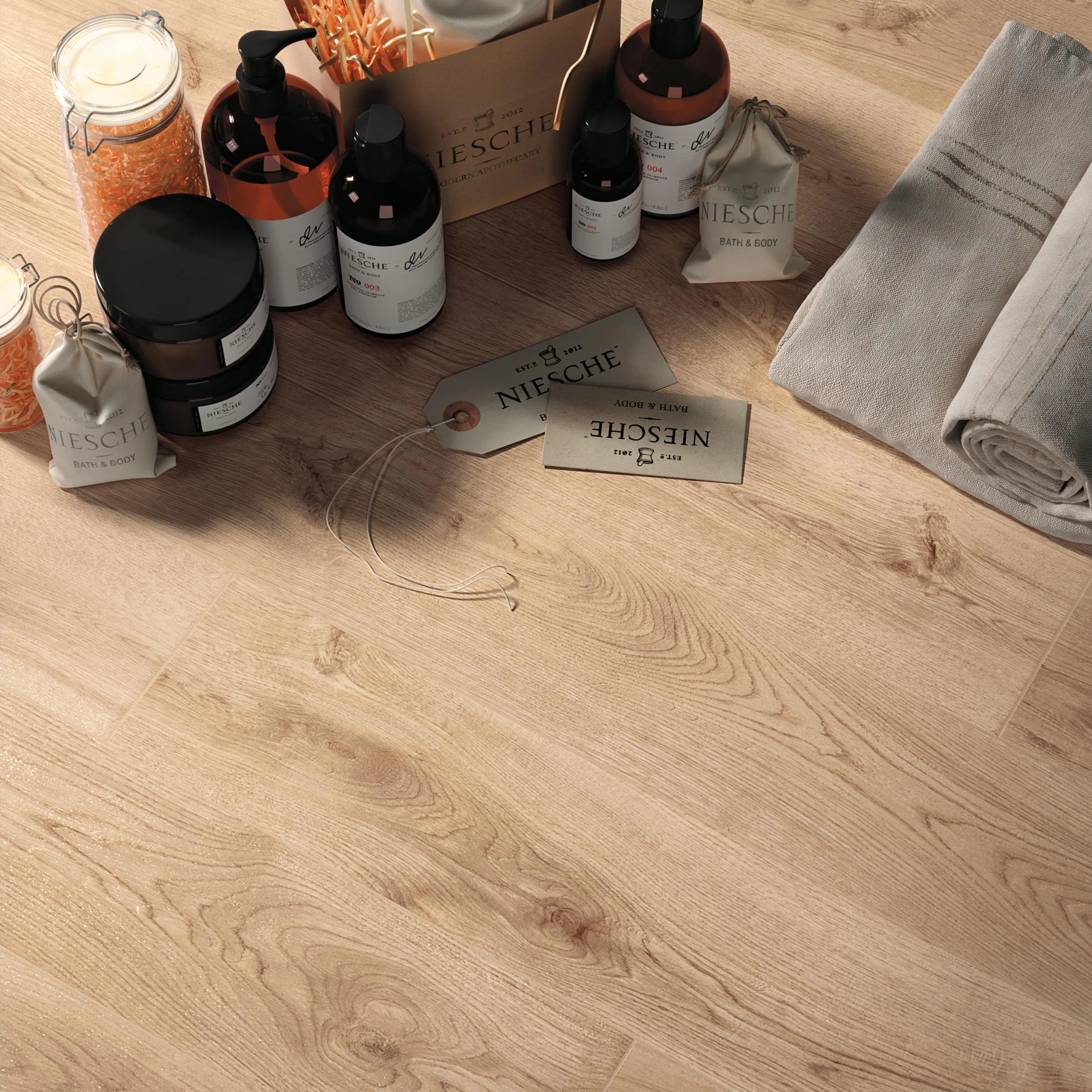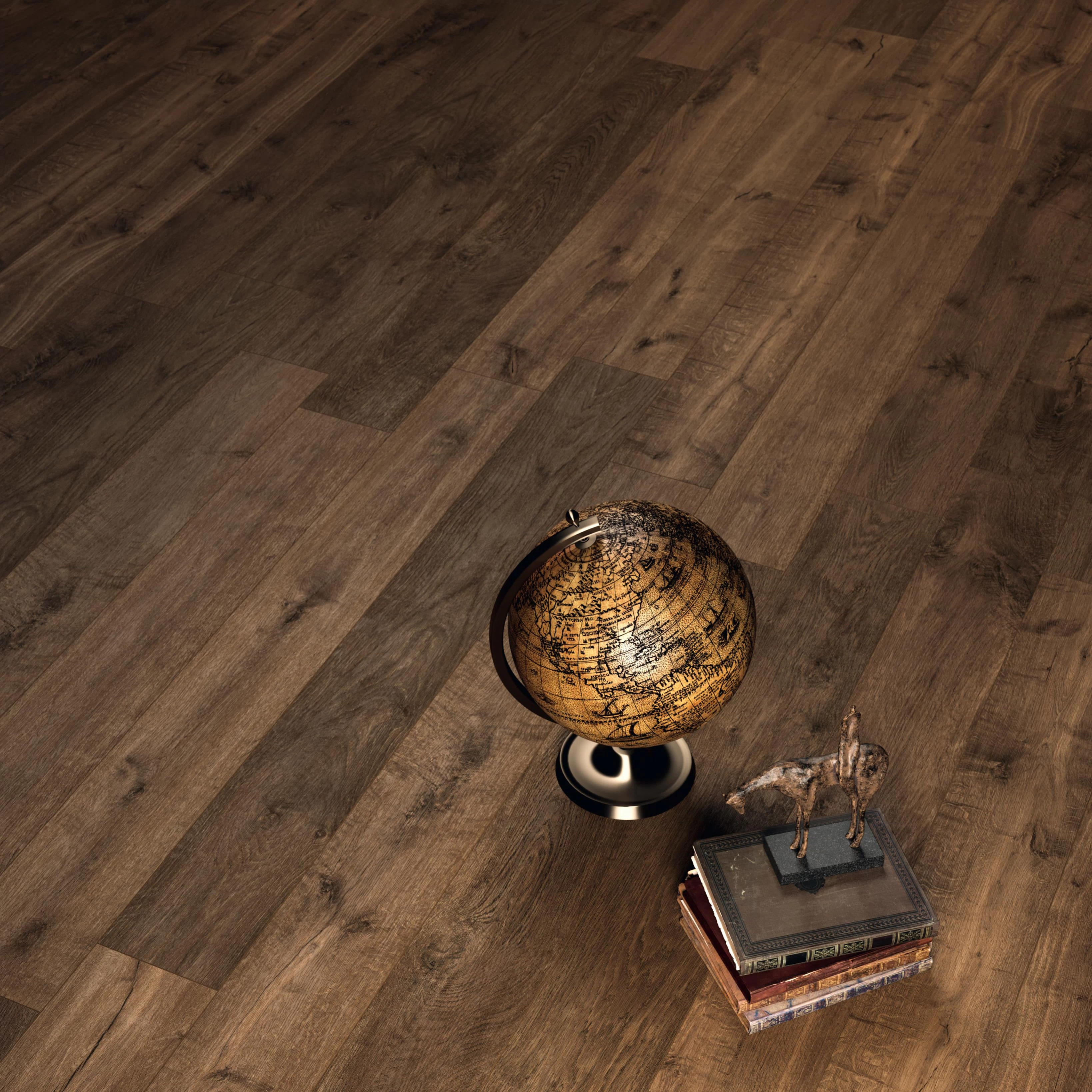 Wood-effect porcelain floor tiles for the home
Wood-effect porcelain floor tiles can be used on indoor floors in multiple rooms of the house, thanks also to finishes that combine technical and non-slip performance and surfaces that are pleasant to the touch. Perfect for the
living room
, the wood effect creates a harmonious, elegant continuity between the different rooms, increasing the feeling of comfort and warmth.
Thanks to its durability and extreme ease of cleaning, porcelain tiles can also be used as wood effect
kitchen tiles
and as
wood effect bathroom tiles
where a higher degree of resistance to water, stains, chemicals, shocks, and abrasions is required. There are also numerous possible applications in
foodservice
and
hospitality
, as well as in offices, stores, and shopping centers, wherever there's a desire to convey the timeless appeal of the wood look without sacrificing the efficiency of porcelain tiles.
Wood effect ceramic tiles
In addition to indoor floors, one of the most interesting uses of wood-effect outdoor tiles is for outdoor floors of patios, terraces, gardens, and swimming pools, as well as in areas exposed to water and humidity such as spas and
wellness
areas. The range of wood-effect porcelain tiles for outdoors features different sizes for every need and two different thicknesses: 9 mm with non-slip textured finish and 20 mm porcelain slabs for outdoor floors, ideal for easy dry laying on grass or gravel.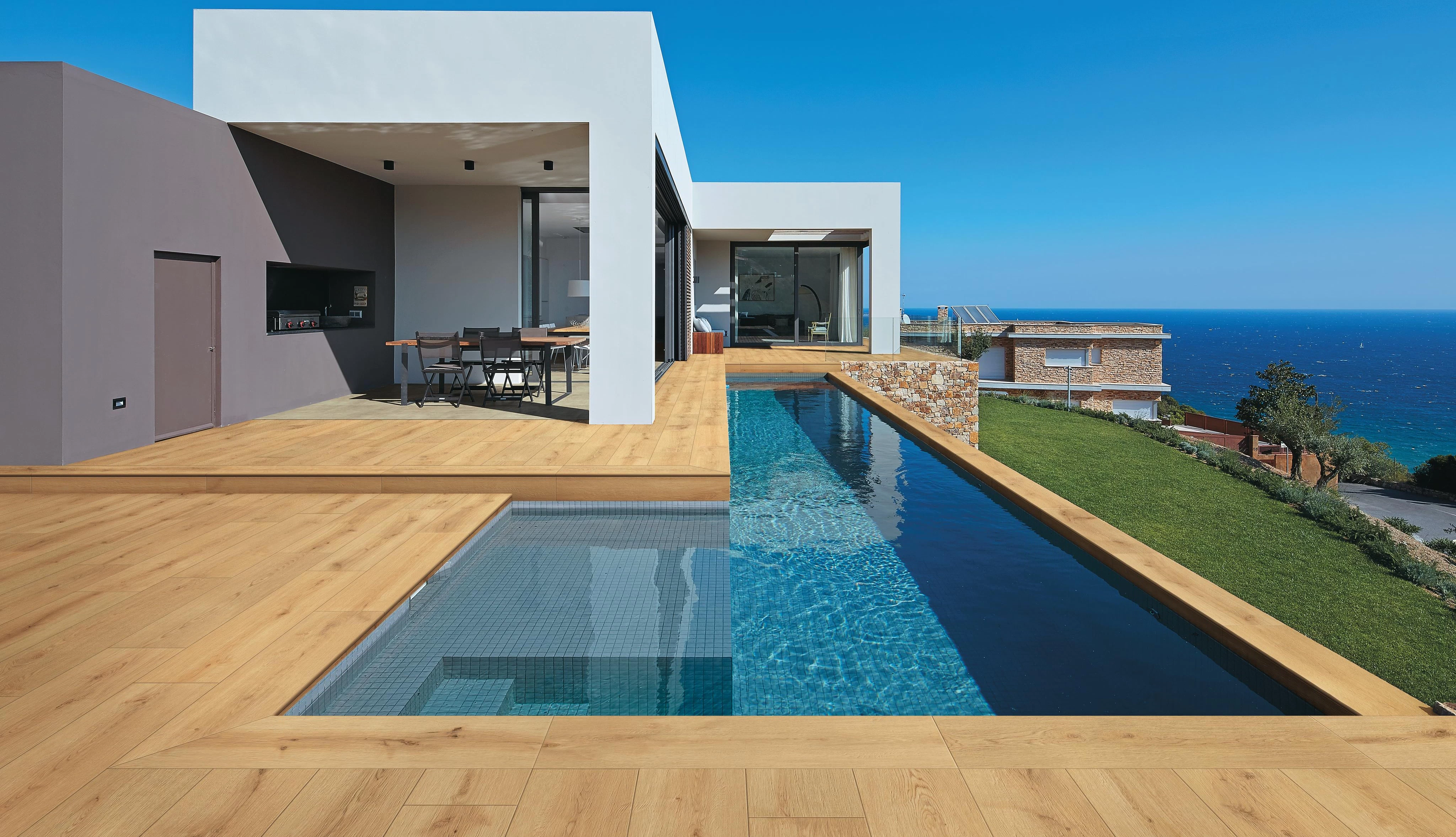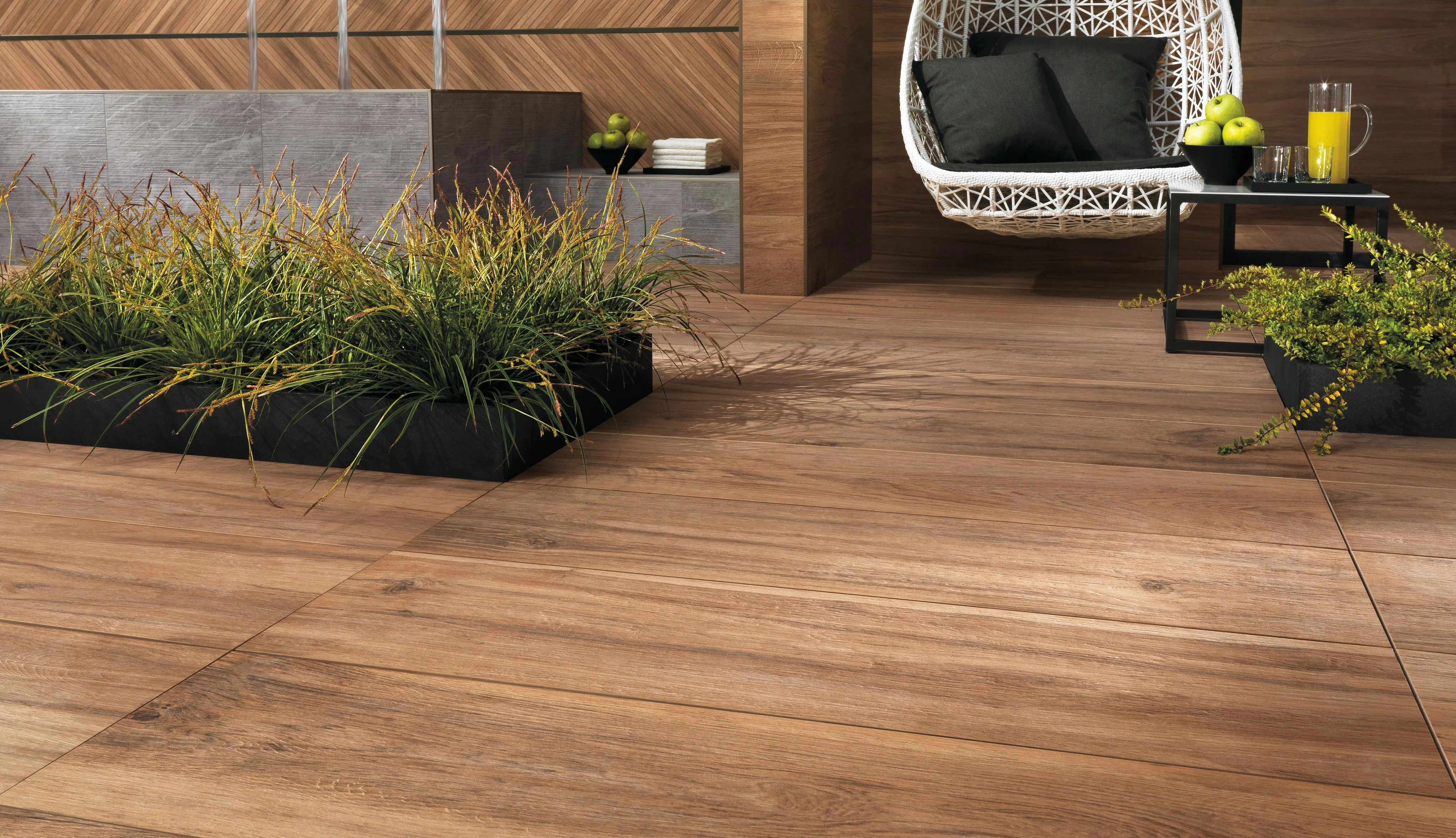 The benefits of wood-effect porcelain floor tiles
Wood-effect porcelain tiles offer countless benefits. First of all the great resistance to foot traffic, scratches, impacts, stains, and aggressive chemicals and the ease of cleaning. The surface of wood-look porcelain tile floors does not absorb dirt or odors, and hinders the development of bacteria and mold. Wood-look porcelain tiles also do not require any treatment after laying, have a very long life, and are suitable for floor heating systems.
How to clean wood-effect porcelain tiles
Porcelain tiles are easily cleaned with common household detergents, sanitizers, and disinfectants. Wood-effect porcelain floor tiles are hygienic, practical, and stand up to common bleach, alcohol, or harsh chemical detergents.
SEE THE WOOD-EFFECT PORCELAIN TILE COLLECTIONS:
Exence - Heartwood - Axi - Etic - Etic Pro - Arbor – Nid - Nash

Exence - natural oak wood-effect porcelain tiles
Heartwood - dark wood-effect porcelain tiles
Nid - light wood-effect porcelain tiles
Axi - ruined wood-effect porcelain tiles
Etic - natural wood-effect porcelain tiles
Etic Pro - natural oak wood-effect porcelain tiles
Arbor - oak wood-effect porcelain tiles
Nash - shabby wood-effect porcelain tiles
We are nearby. Visit the store.
Go the sales outlet section and find your nearest Atlas Concorde dealer.