Wallpaper-effect surfaces: unique decorations for rooms with character
The sophisticated delicacy of wallpaper meets the versatility of ceramic tiles
A style solution that creates wow-effect walls and brings out the corners of your home, wallpaper is widely used by contemporary designers. Thanks to their esthetic and practical benefits, porcelain tiles satisfy the needs and desires of those looking for original interior design ideas.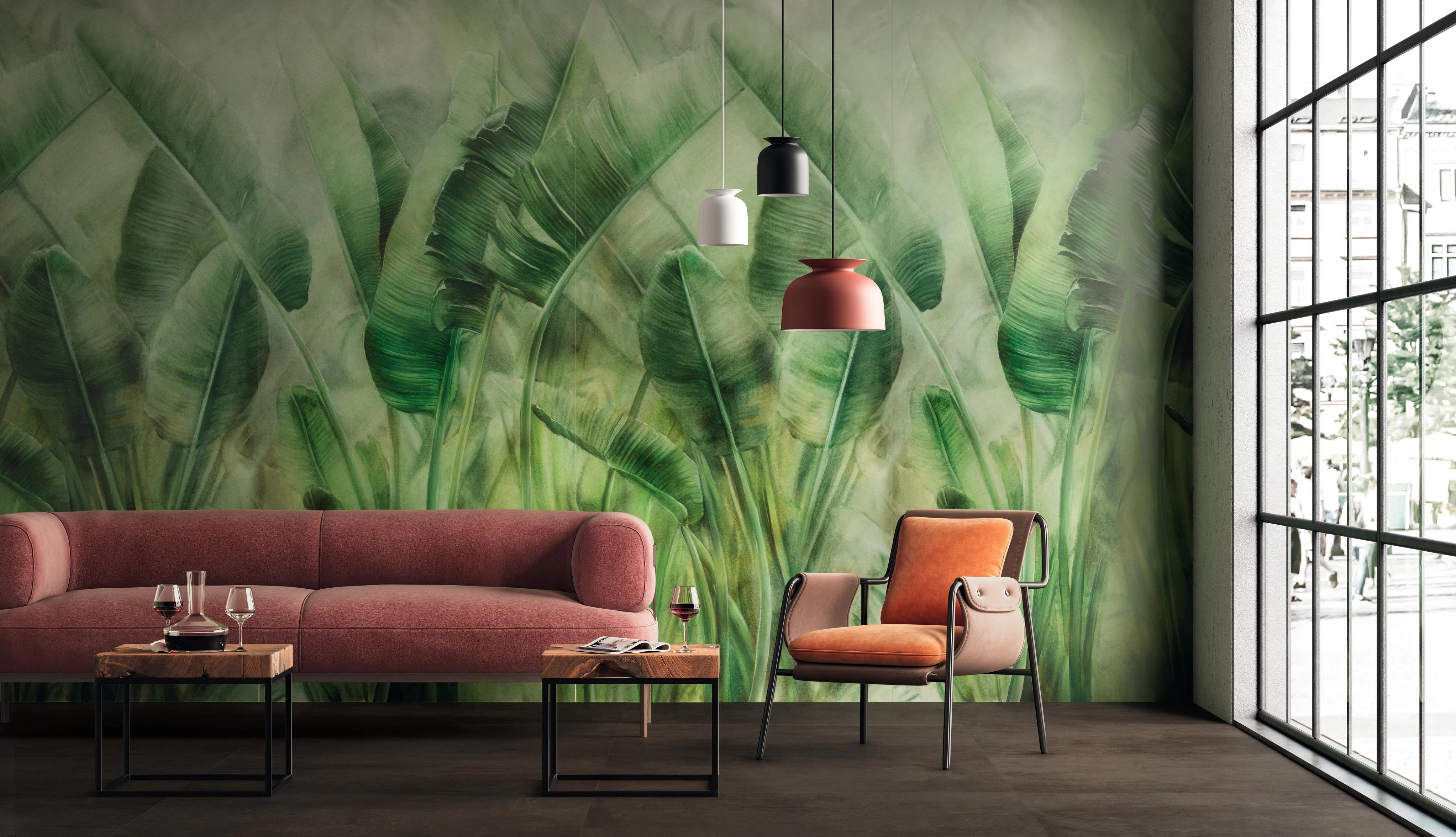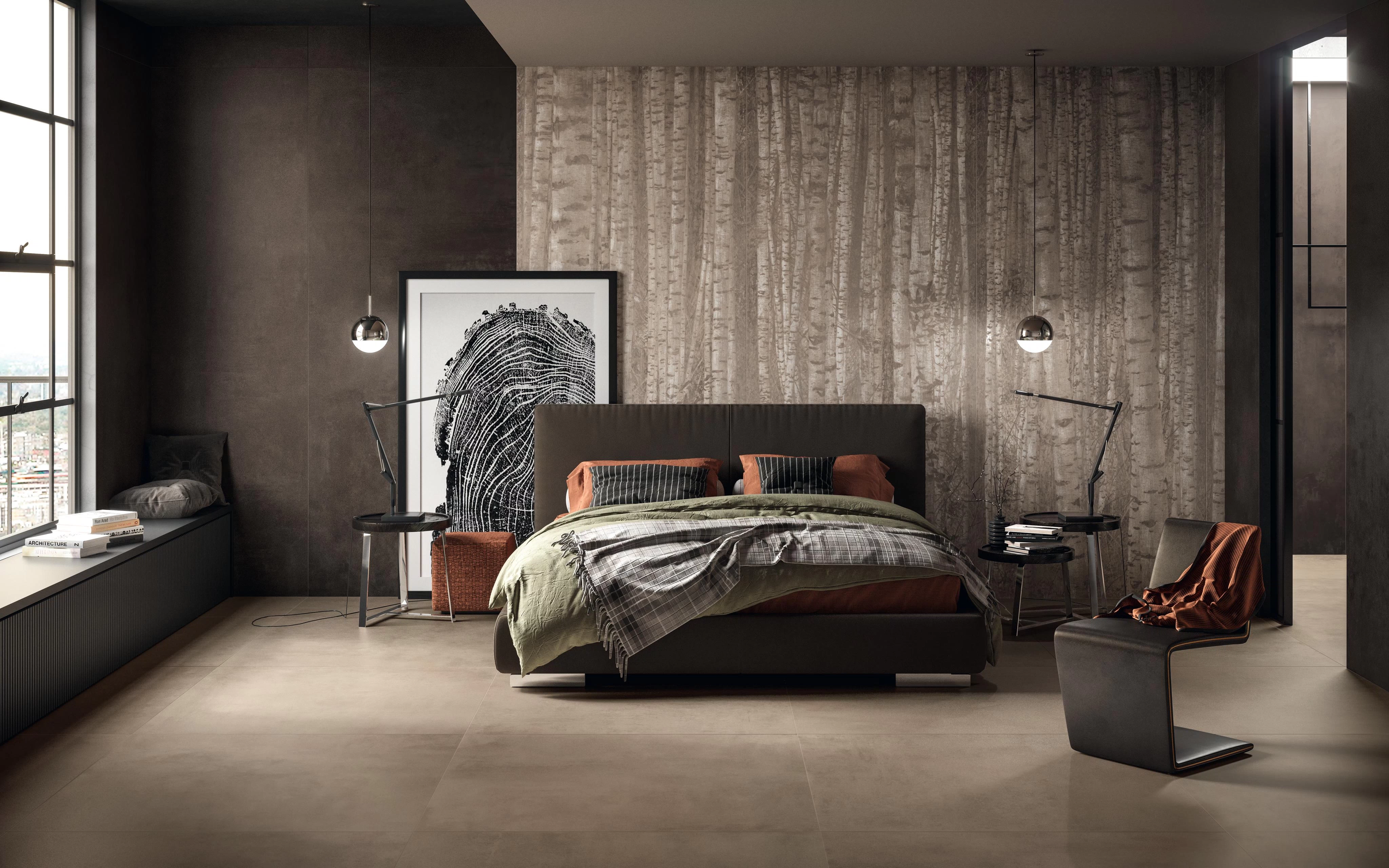 The benefits of porcelain wall tiles
Covering the walls with decorative elements allows you to customize a space, creating a unique atmosphere that's stylistically consistent with the furnishings.
Very often, however, these decorations are installed in rooms like kitchens and bathrooms that are subjected to continuous temperature changes, meaning water and moisture on the walls. Furthermore, these surfaces must be easy to clean, and more aggressive detergents may also be required.
It's therefore necessary to choose a material with decorative potential that also has the technical and qualitative characteristics suitable for commercial and residential spaces.
Atlas Concorde tiles combine the decorative character of traditional wallpaper with the efficiency of ceramics, the decorative porcelain tiles guaranteeing a material with superior technical performance. The qualities of durability, resistance and ease of cleaning become essential to expanding the possible applications to spaces subject to more extreme conditions, such as kitchens and bathrooms.
Porcelain tiles are versatile, durable, waterproof, easy to clean, and highly customizable. Moreover, thanks to the possibility of faithfully reproducing the most diverse textures in an infinite range of colors and shades, they are the most suitable solution for those who want to combine technical and esthetic performance.
Wallpaper-effect bathroom tiles
Wallpaper-effect bathroom tiles are able to give the room a creative flair, their original patterns creating an equilibrium with the fixtures and surrounding surfaces and matching floor and wall surfaces in perfect harmony.
Wallpaper-effect bathroom wall tiles decorate the bathroom with contemporary graphics and precious inlays, adding a touch of personality to the space.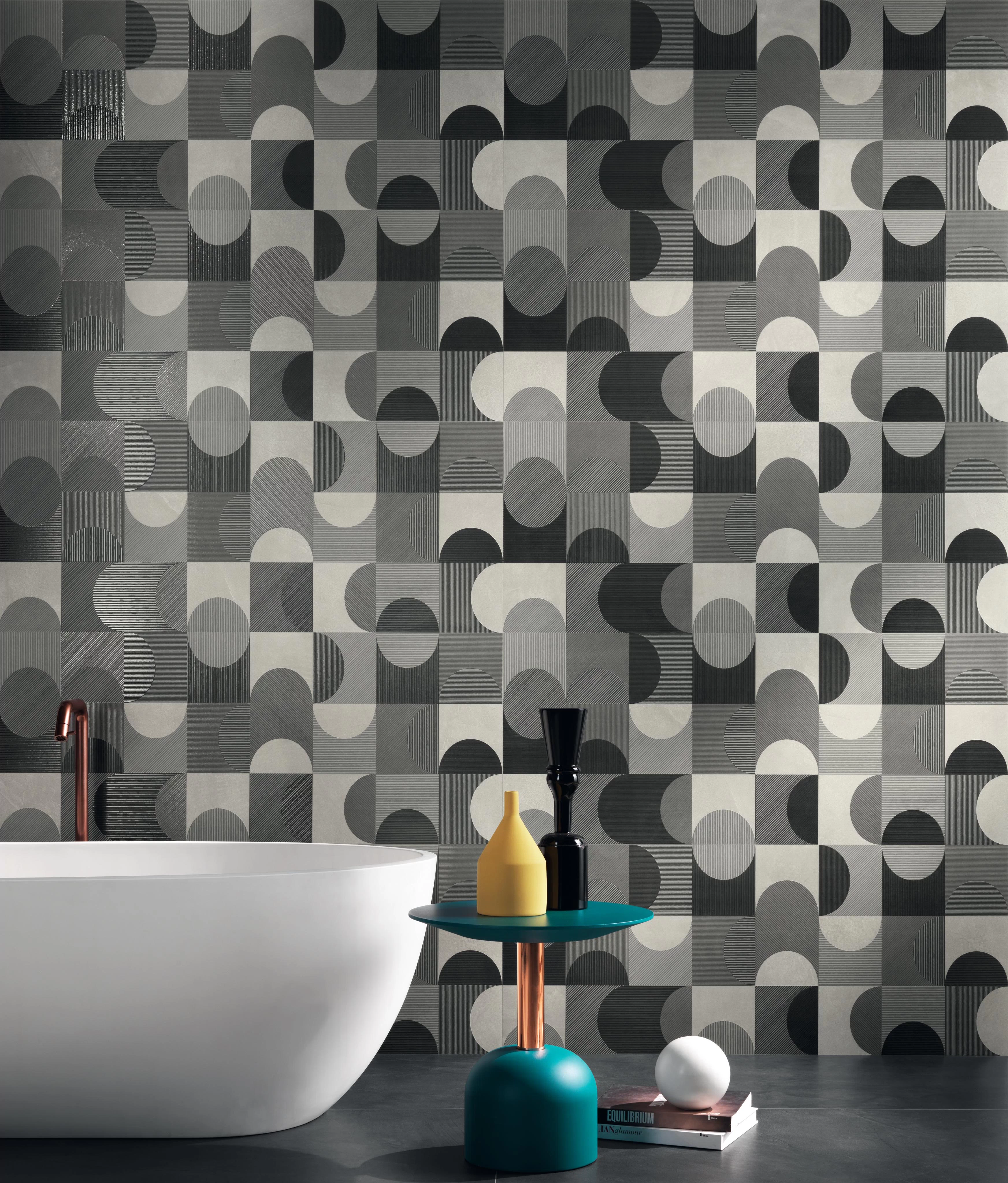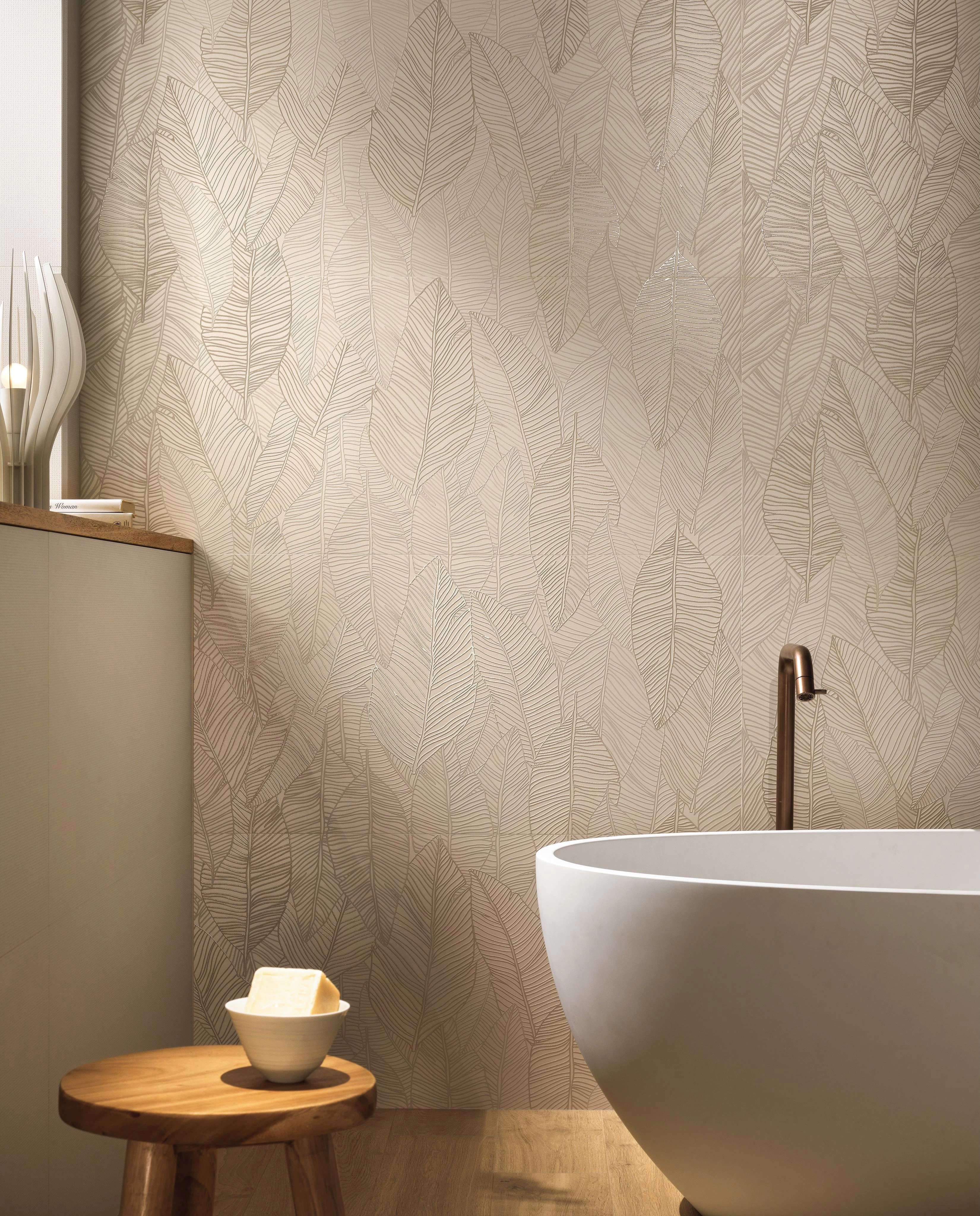 Wallpaper-effect ceramic wall tiles
The Aplomb collection of wallpaper-effect tiles is designed to clad spaces with a modern, contemporary elegance and a strong yet discreet personality, creating pleasant atmospheres with relaxed, calm tones.
Indeed, with its decorative patterns, it extends the concept of ceramic surface from simple cladding material to decorative element capable of giving value to interiors of different uses.
The various designs, including the realistic floral pattern of Canvas Flora, the tiles with geometric patterns like Leaf and Mesh, and the more abstract Fabric pattern, act in synergy with the solid colors of Minidot and Stripes to create combinations with an elegant compositional balance, also thanks to the consistency of the 50x120 cm format that guarantees continuity throughout the space.
Atlas Concorde also employs cutting-edge technologies to guarantee a product of the highest quality and a refined finish. Aplomb's decorative wall tiles are made using glazes capable of creating effects of slight three-dimensionality and brightness, which vary depending on the angle of the light source. The vibrant light effects enrich the tone-on-tone surfaces and embellish the design of the ceramic decorations.
Explore the Aplomb collection.
Large-format wallpaper-effect porcelain slabs
Many other collections help to expand the range of possibilities offered by Atlas Concorde. Boost Pro's large 120x278 wallpaper-effect porcelain slabs can be used to furnish residential and commercial interiors, limiting joints to a minimum and ensuring visual continuity and perfect modularity with the floor. The patterns of Grove, Leaves and Paint project those who experience them into relaxing, lush landscapes.
Specifically, the Grove pattern reproduces a forest of beech trees replicating the graphite technique in Clay and Taupe, while Paint features surfaces with an aged, troweled look with strong earthy contrasts. Finally, with the Leaves decoration, a watercolor technique recreates the intensity of a tropical forest for spectacular walls with a green effect thanks to jungle-look porcelain tiles.
Explore Boost Pro
The Prism collection of resin-effect tiles with Brush and Gradient large wallpaper-effect porcelain slabs is also ideal for compositions with a strong, decorative character, to be combined with the collection's wide range of colors. With Brush, a strong identity distinguishes the graphics with brush strokes in a gradient that add three-dimensionality to the decor and evoke the abstract outline of a metropolitan skyline, while Gradient, with its light blue-green shades, blends cool colors with graphics characterized by soft nuances, recreating the effect of dry brush work for a design with a look that is always current.
The large wallpaper-effect slabs are ideal for cladding all residential and commercial spaces, including bathrooms, ensuring excellent resistance to the most aggressive chemical agents and superior longevity. In terms of esthetics, the large wallpaper-effect bathroom slabs also reduce the number of joints, creating evocative, continuous full-height walls.