Porcelain stoneware is a material known for its strength and durability. Porcelain tiles are perfect for floors and walls but also for creating functional and aesthetically striking furniture pieces that give a surprisingly unique character to each project.
The Properties of Porcelain Tiles
A porcelain tile surface does not stain, does not retain dirt, and withstands everyday wear and tear. Porcelain stoneware is easy to clean and is perfect for everyday living. It does not require special treatments, waxes, or polishes, and is resistant to sunlight, acids, and chemical detergents, making it ideal not only for home but also for commercial areas like shop floors, and high traffic areas such as subways, stations, and airports.
Porcelain tiles are the perfect choice for personalised projects that need long lasting durability.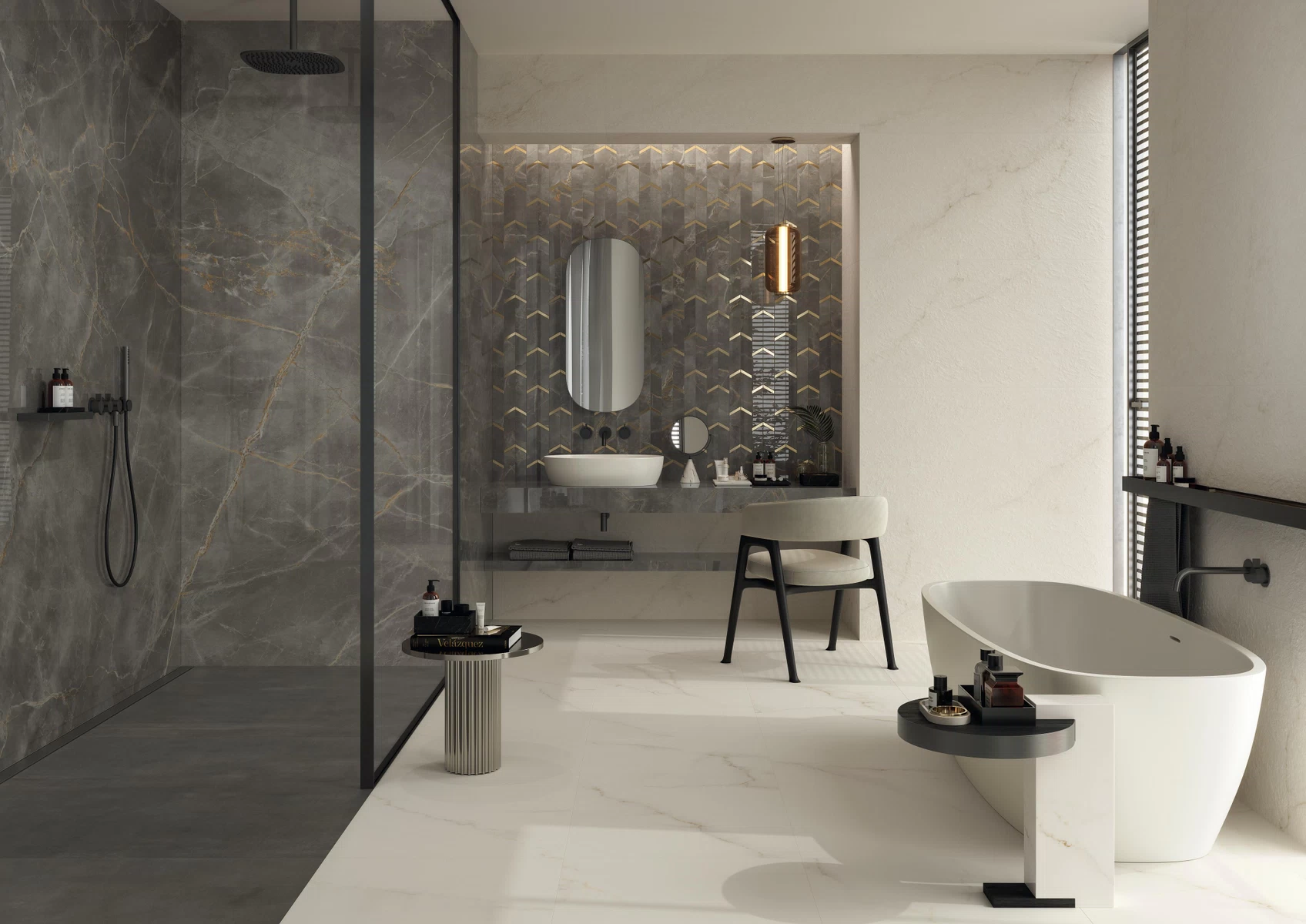 AtlasConcorde MarvelX 002 00 CalacattaApuano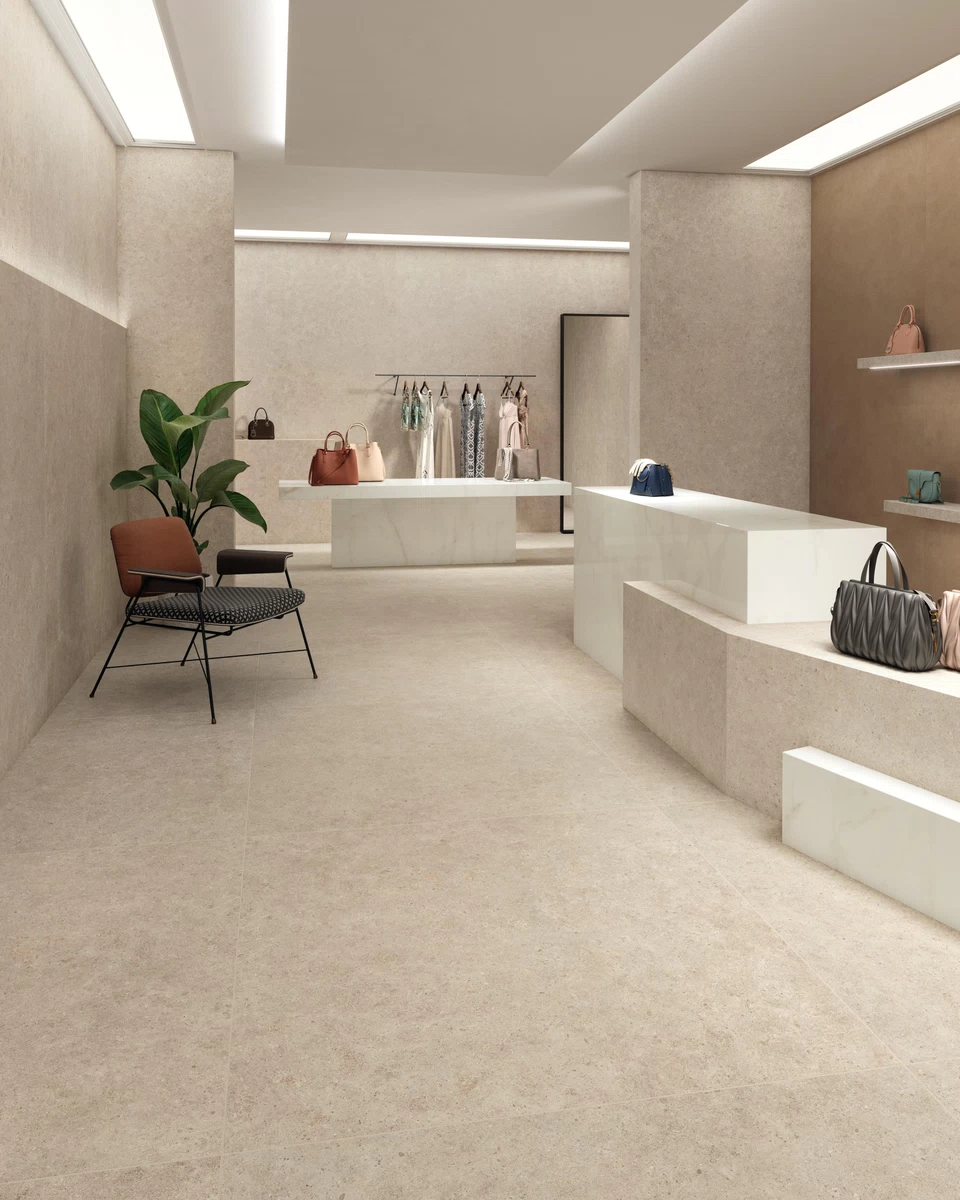 AtlasConcorde BoostStone 004 02 Ivory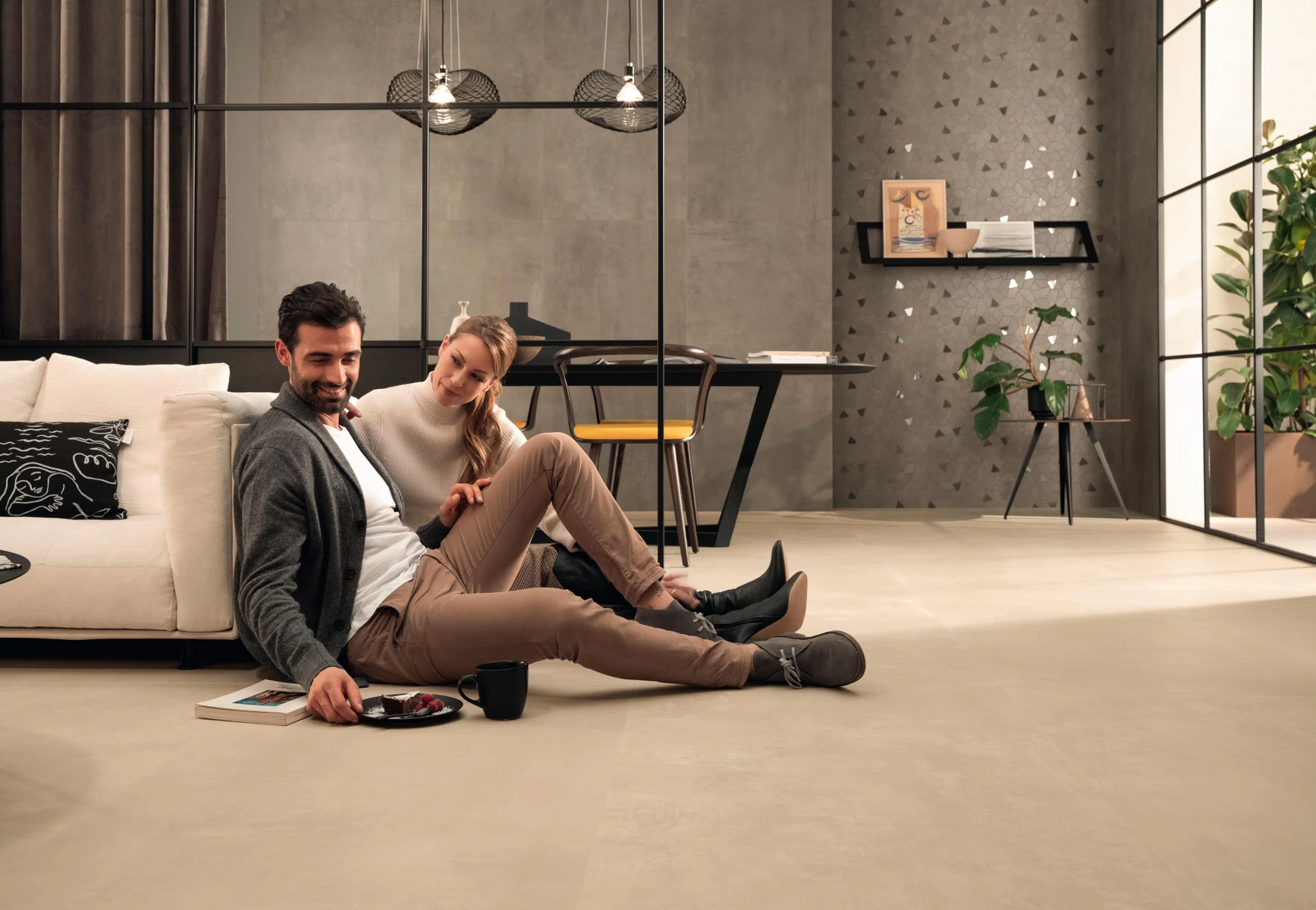 AtlasConcorde BoostPro M01 23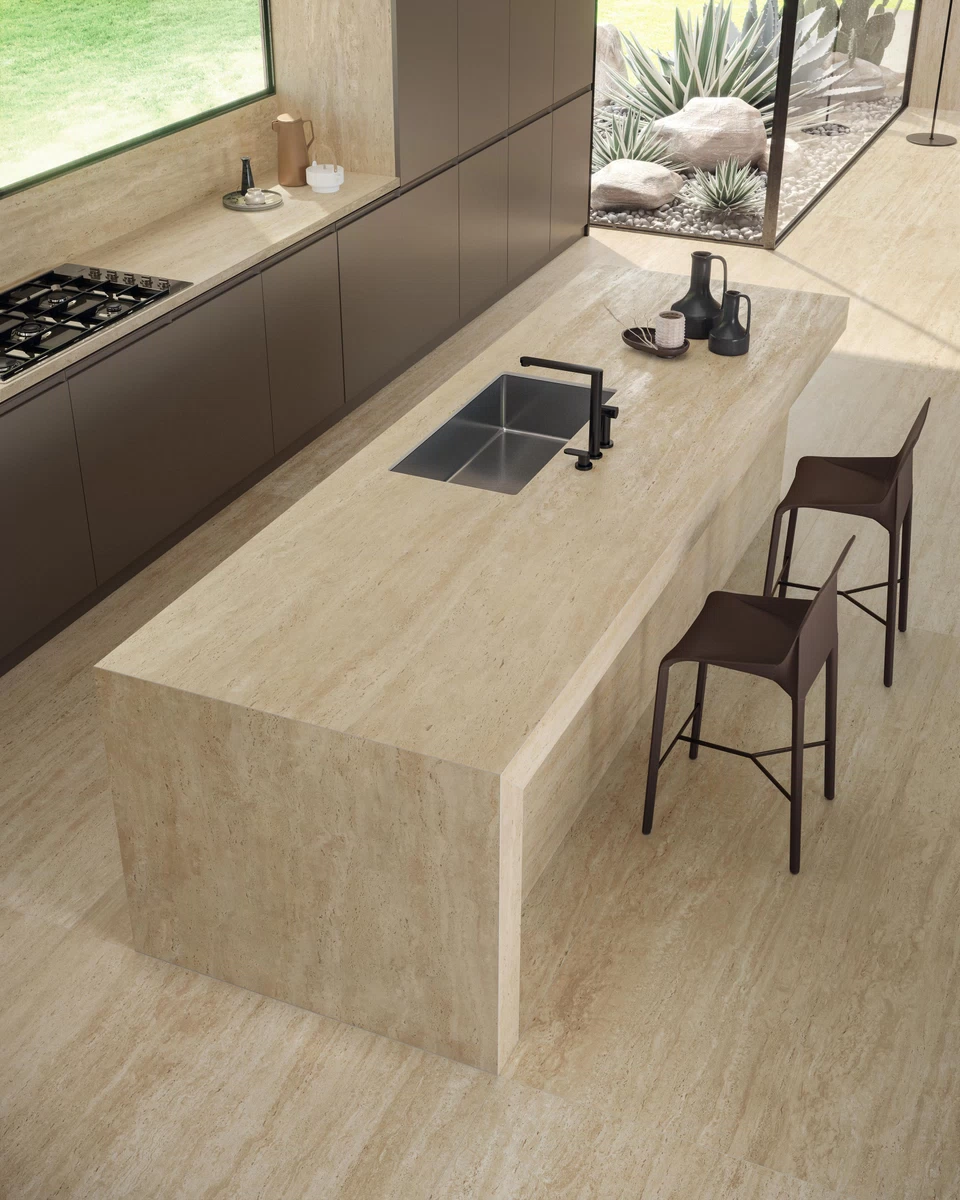 AtlasConcorde MarvelTravertine 004 06 Sand Vein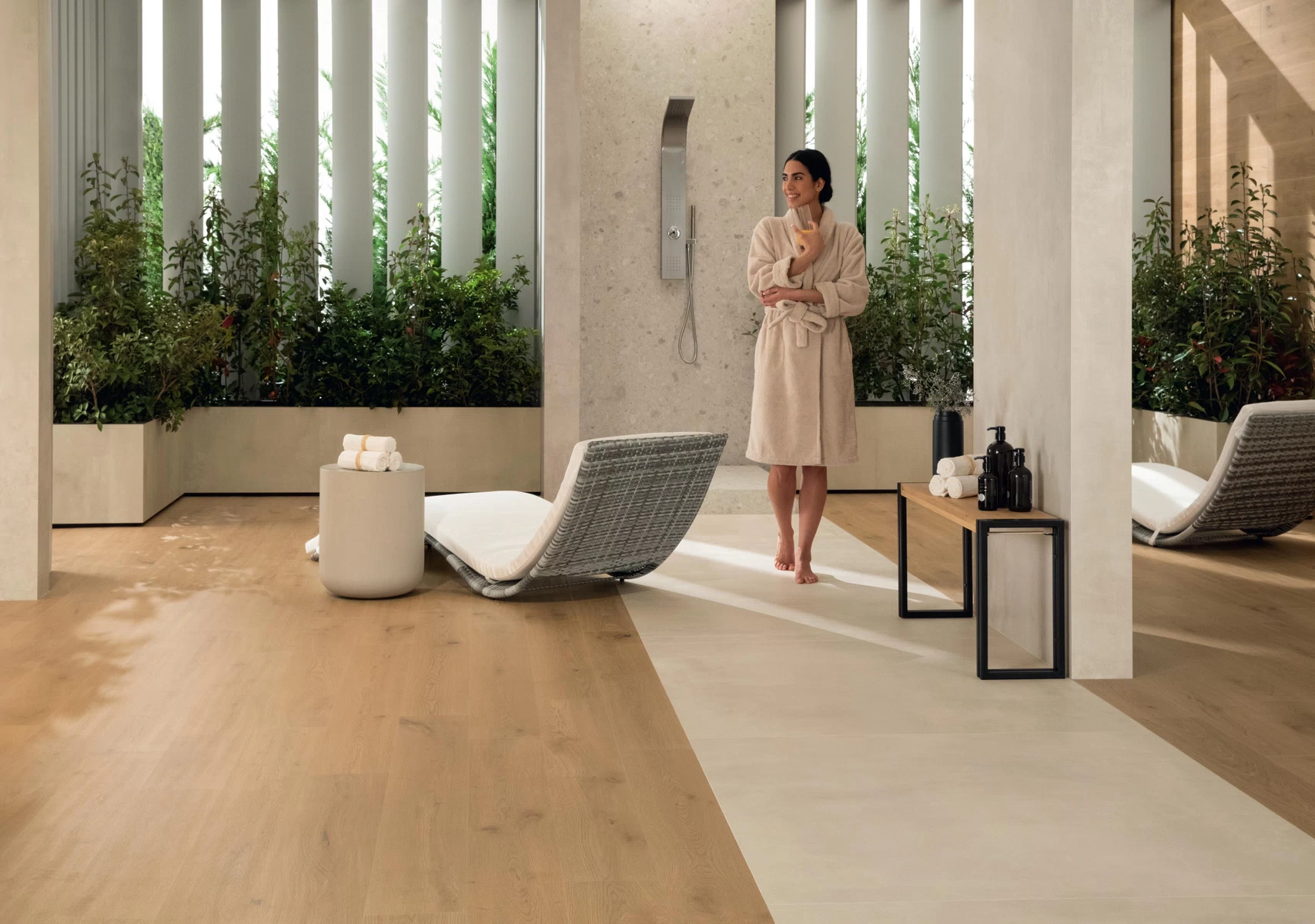 AtlasConcorde Entice M001 05d CopperOak-Natural
Porcelain Tiles: Effects
Atlas Concorde offers a wide range of porcelain floor and wall tiles that allow you to create contemporary and elegant spaces. Marble-effect tiles and concrete-effect tiles are amongst the most sought-after solutions in the Atlas Concorde collection. Marvel World and Boost World projects incorporate all the possibilities of these finishes.
The first Atlas Concorde capsule - Marvel World - contains marble-effect porcelain tiles with veins, colours and patterns that are identical to natural stone, providing designers with many creative solutions. Atlas Concorde Boost World, on the other hand, is the go-to style project for stone effect, raw-earth look and concrete-effect porcelain tiles.
As well as marble and concrete, the Atlas Concorde collections go even further and provide wood and metal effect porcelain tiles. The wood effect is available in a number of styles and is inspired by the distinctive designs and colours present in nature. It ranges from grey wood effect porcelain tiles to the more traditional oak wood effect tiles. The metal effect, on the other hand, is very contemporary and shows its full potential in industrial and urban spaces, as well as being ideal for commercial spaces.
Atlas Concorde porcelain floor tiles are the ideal choice for those looking for elegant and sophisticated solutions and are perfect for any type of project.
Porcelain Tiles: Colours
Porcelain tiles are made of a high-quality material that offers unparalleled versatility. With a wide range of tile colours, effects, and patterns, they are an excellent choice for projects that require a high level of personalisation. Choosing coloured porcelain slabs means opting for a high-quality material which combines practicality, durability, and design to create projects that satisfy all creative and functional needs.
Beige porcelain tiles display one of the most refined shades of colour: neutral, bright, and elegant, they match any furnishing style, creating a relaxed atmosphere. Grey porcelain tiles, on the other hand, are suitable for spaces with a strong contemporary character, and are ideal for urban style interiors. For more traditional aesthetics, floors with white porcelain tiles are to be considered, especially in spaces that need a lot of light. Porcelain tiles with a light wood effect can also be used to lighten up an ambiance, thanks to their warm tones and suitability for modern and Nordic-inspired projects.
A new solution is represented by the blue porcelain floor tile, ideal for modern designs and for sophisticated bathrooms. Another style inspiration is to cover the main wall of a living space, mixing stone effect porcelain slabs of various sizes and shades, thus building an accent element within the ambiance. Large stone-effect porcelain tiles can be used to cover the entire bathroom seamlessly, with no joints, to create an encompassing sense of well-being. Elements of different sizes and assorted colours can also be inserted on the wall behind the bathroom fixtures or the shower, in order to add a dynamic appeal to the design arrangement.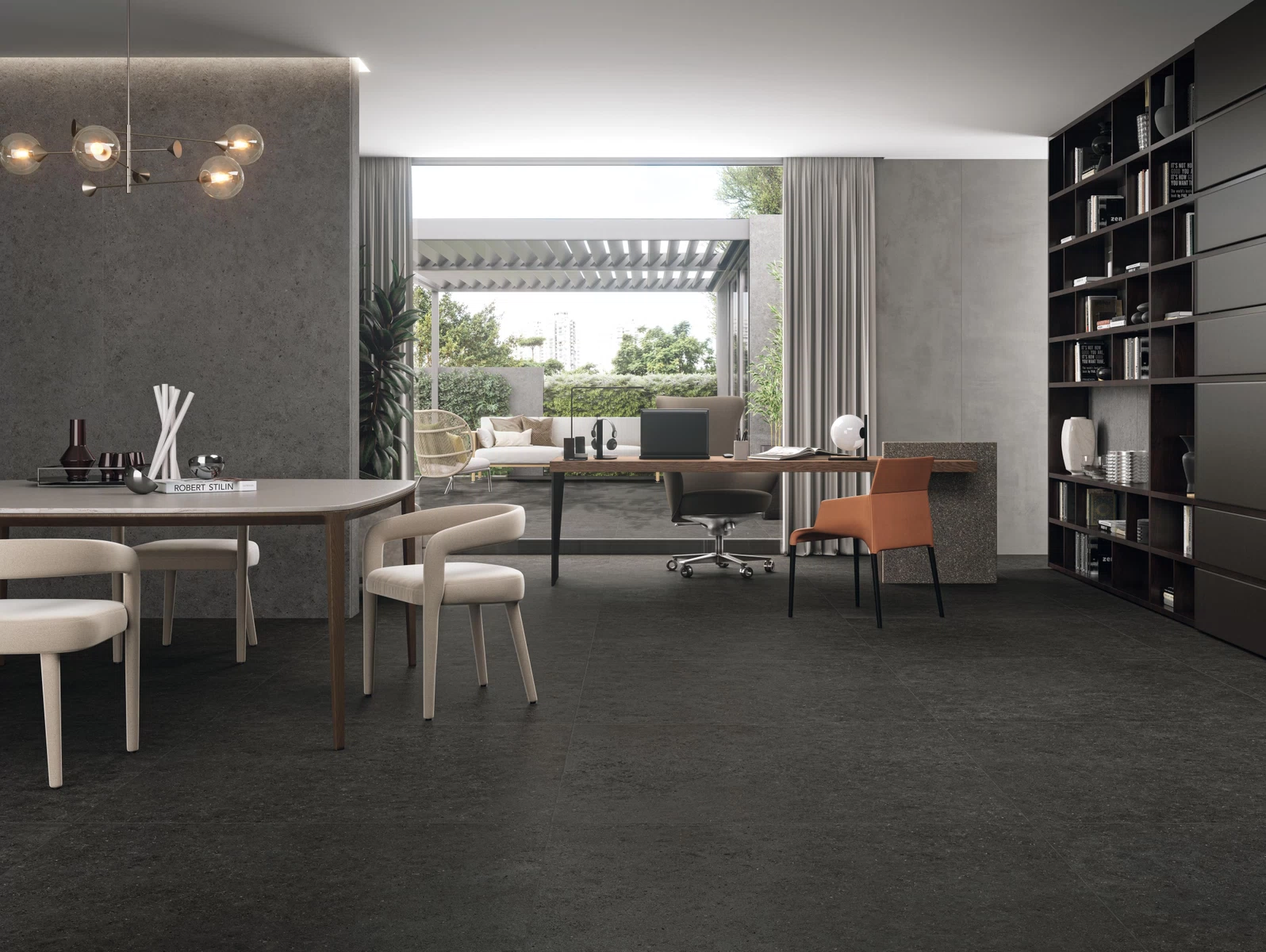 Dark porcelain tiles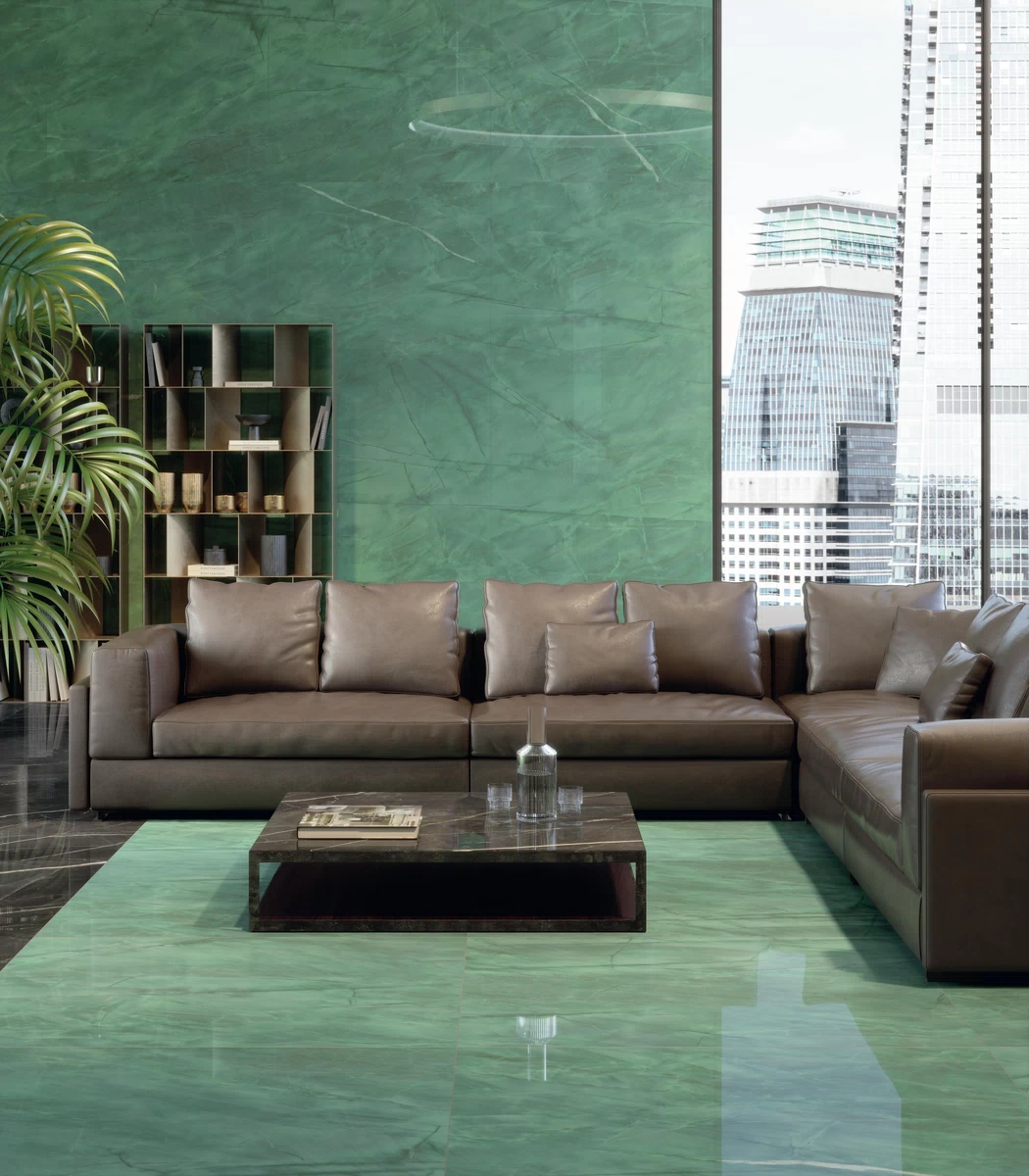 Green porcelain tiles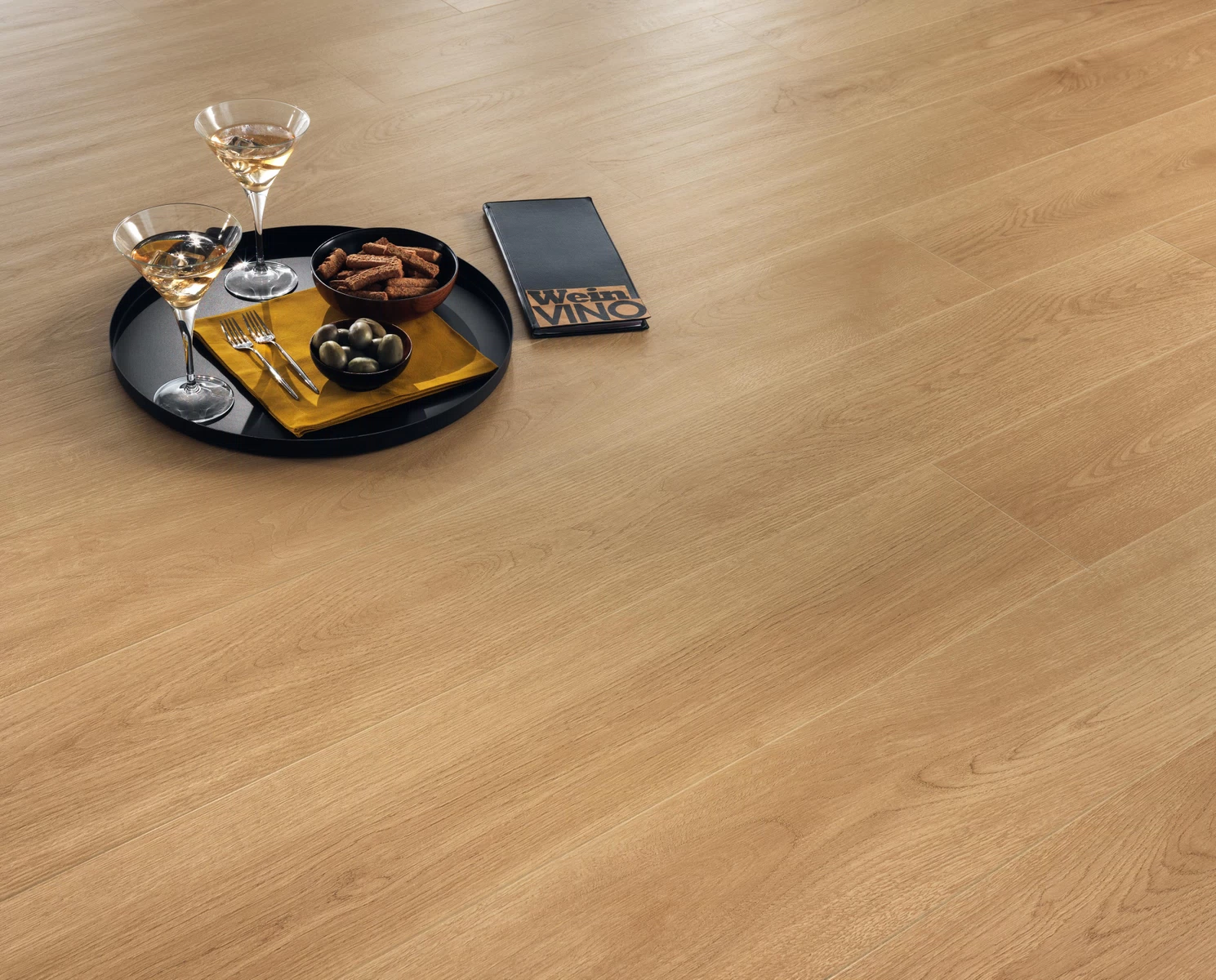 Light porcelain tiles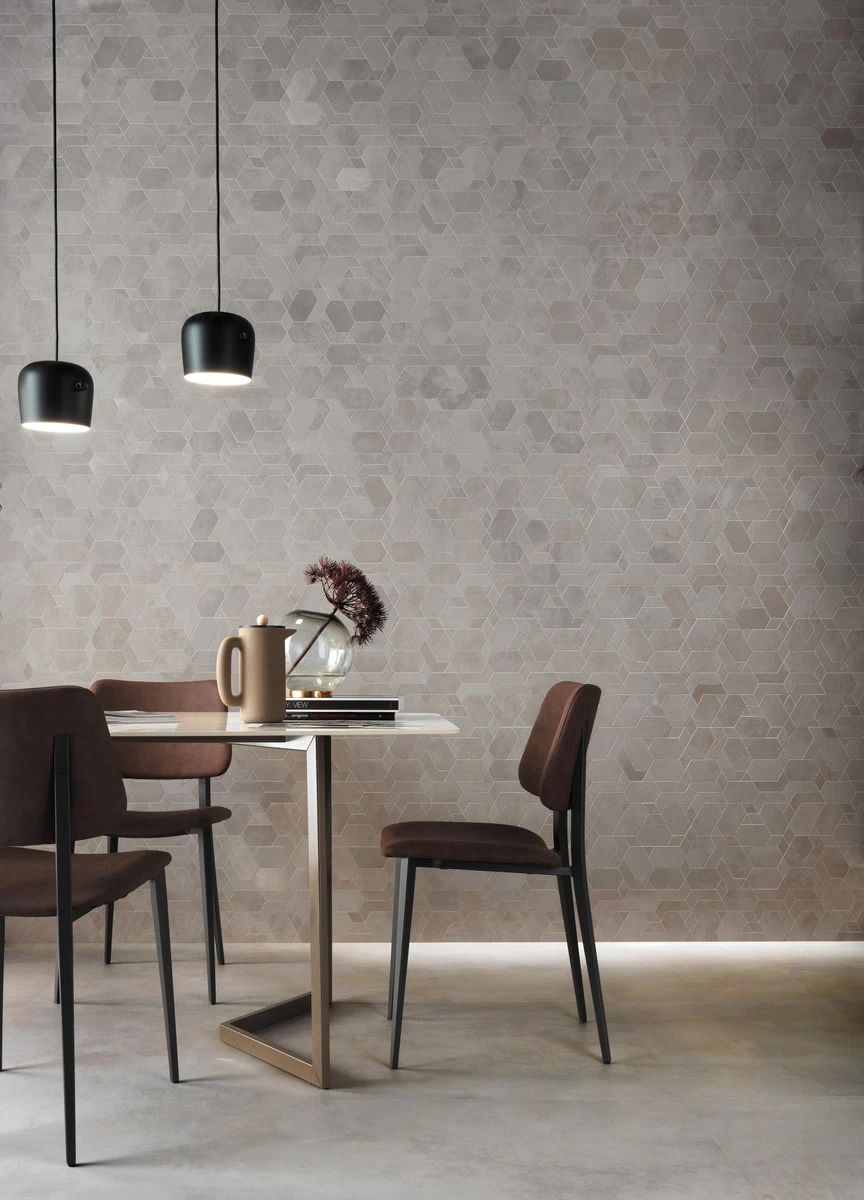 Grey porcelain tiles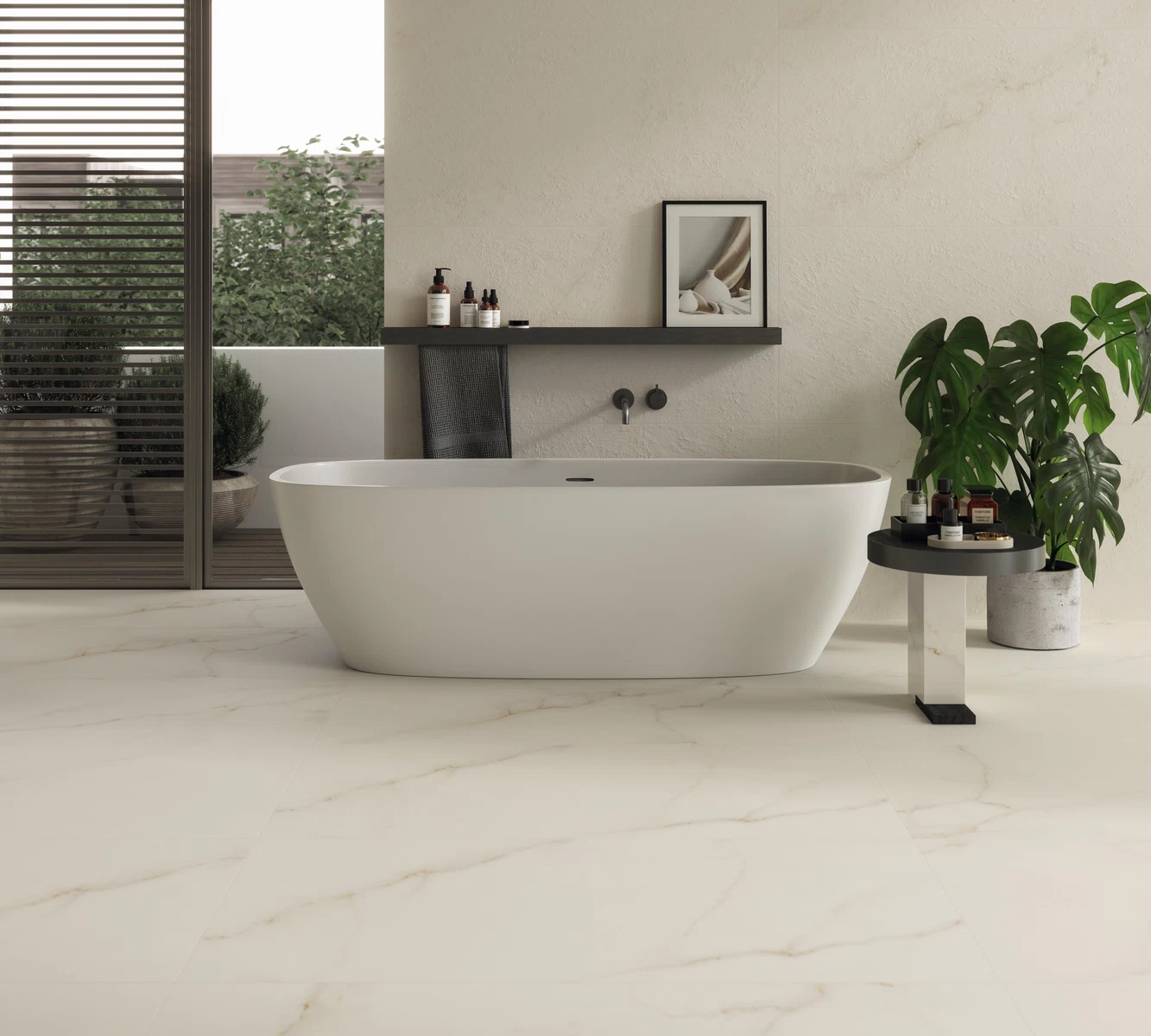 White porcelain tiles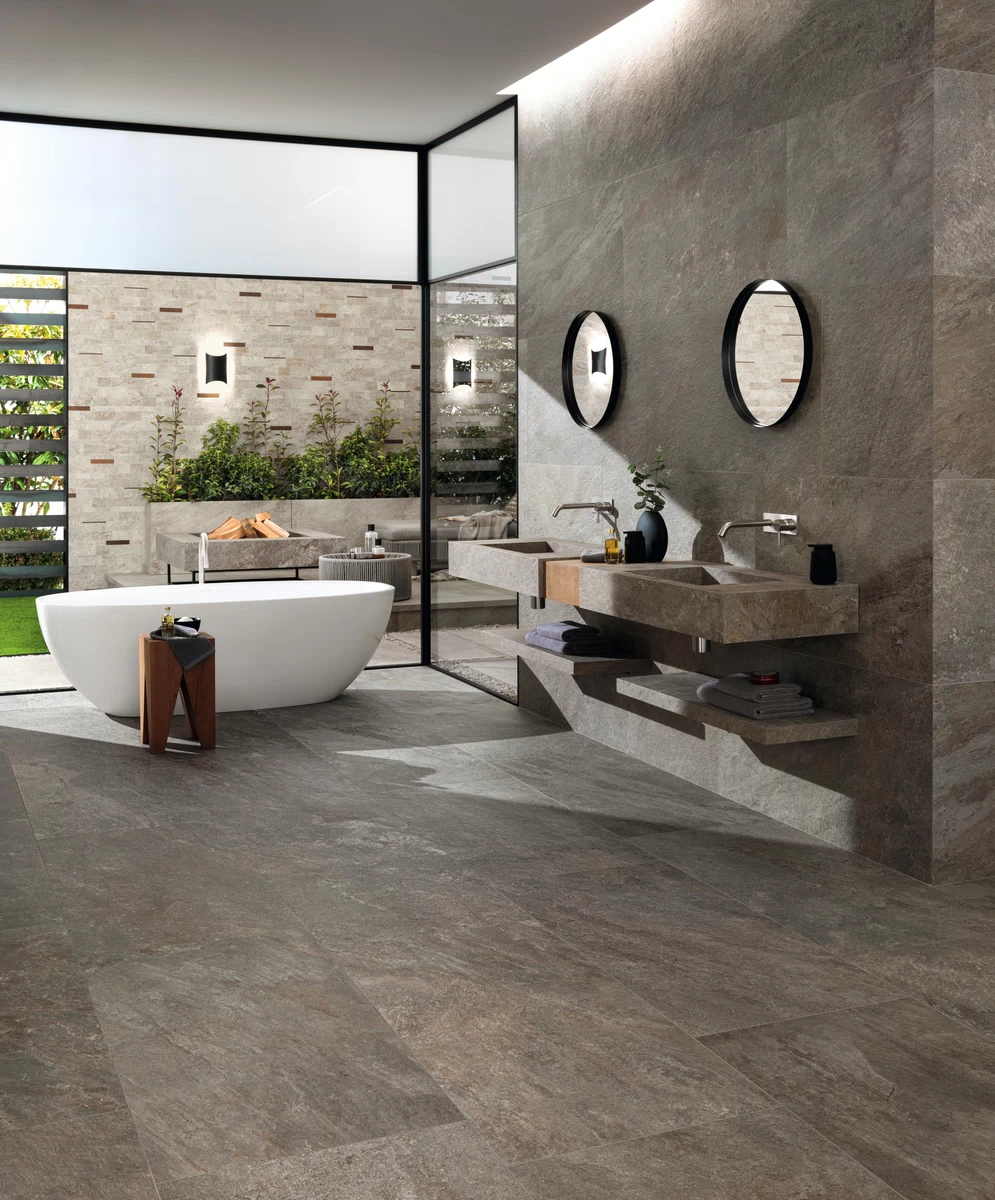 Brown porcelain tiles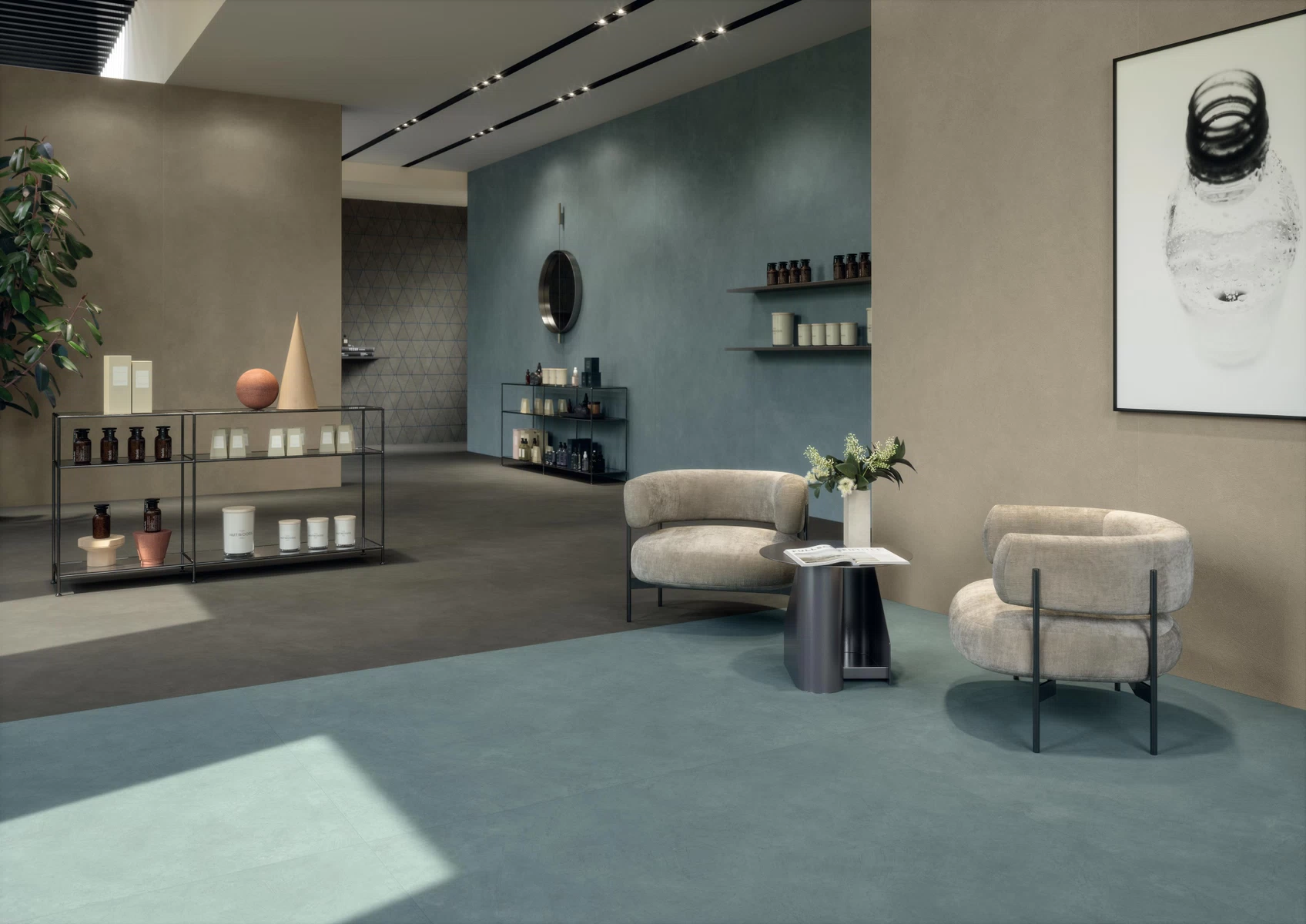 Blue porcelain tiles
Porcelain Tiles: Unique Spaces
Unique spaces design can be enabled by porcelain tiles, thanks to their aesthetic appeal. Over 30 collections encompassing selected colours, patterns and effects enhance any indoor and outdoor space as well as retail or hospitality areas. For the bathroom, Atlas Concorde has developed the Habitat project, which inspires porcelain tile furnishing elements such as washbasins, counter tops and shelves: a bathroom furniture design solution that is perfect for spaces that love harmony and stylish choices.
Habitat makes it possible to design a bathroom with marble-look porcelain tiles or a restroom with wood effect porcelain slabs without being limited to the floor — that same porcelain effect can be used as a covering for other items of furniture. Additionally, thanks to the Sensitech technology patented by Atlas Concorde, porcelain stoneware guarantees greater hygiene and safety plus a wonderful tactile feel, making it a perfect material for the bathroom.
For the kitchen, on the other hand, Atlas Concorde recommends the Atlas Plan brand, where porcelain tiles are conceived as a material for counter tops, workspaces, and the walls behind the hob. In the bedroom and living room, porcelain slabs are the ideal choice for personalised projects that ensure extreme comfort and functionality. The same applies to outdoor spaces and swimming pools, areas where porcelain tiles guarantee performance, aesthetics, and safety.
Choosing porcelain stoneware by Atlas Concorde means choosing a high-quality material that combines practicality, durability, and design, to create unique and distinctive projects which satisfy the most demanding and sophisticated needs.
Bathroom tiles
Kitchen Tiles
Outdoor tiles
Bedroom tiles
Living room tiles
Pool tiles
Bathroom tiles
The wide selection of porcelain tiles and coordinated wall tiles in different sizes and thicknesses allows you to customize the walls of the bathroom according to your tastes and needs.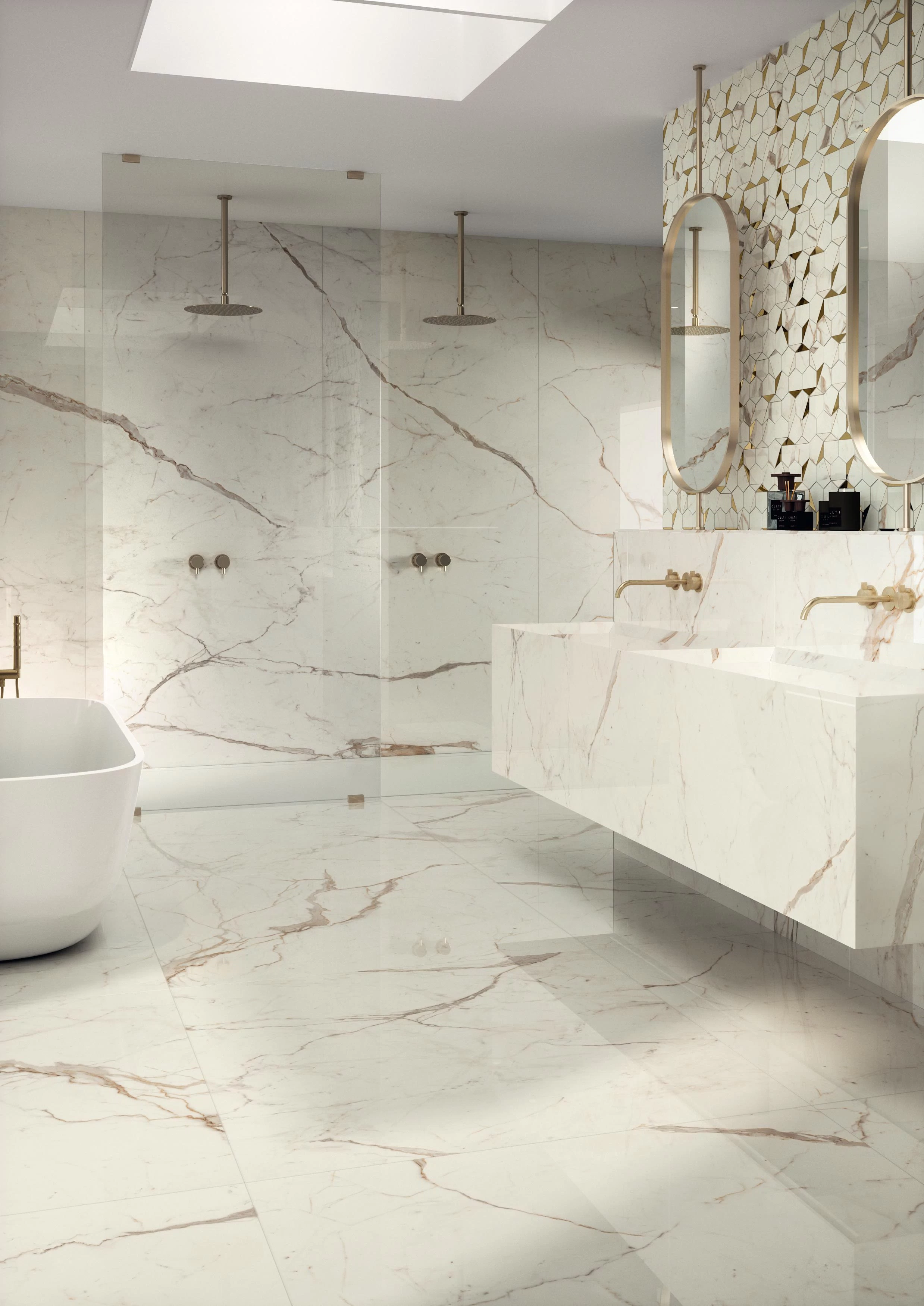 Kitchen Tiles
Choosing kitchen tiles is one of the most important tasks in the construction or renovation of your home. Porcelain tiles are one of the most popular options thanks to their exceptional strength and great look. Atlas Concorde porcelain kitchen tiles combine beauty and functionality and add that extra touch to the kitchen space.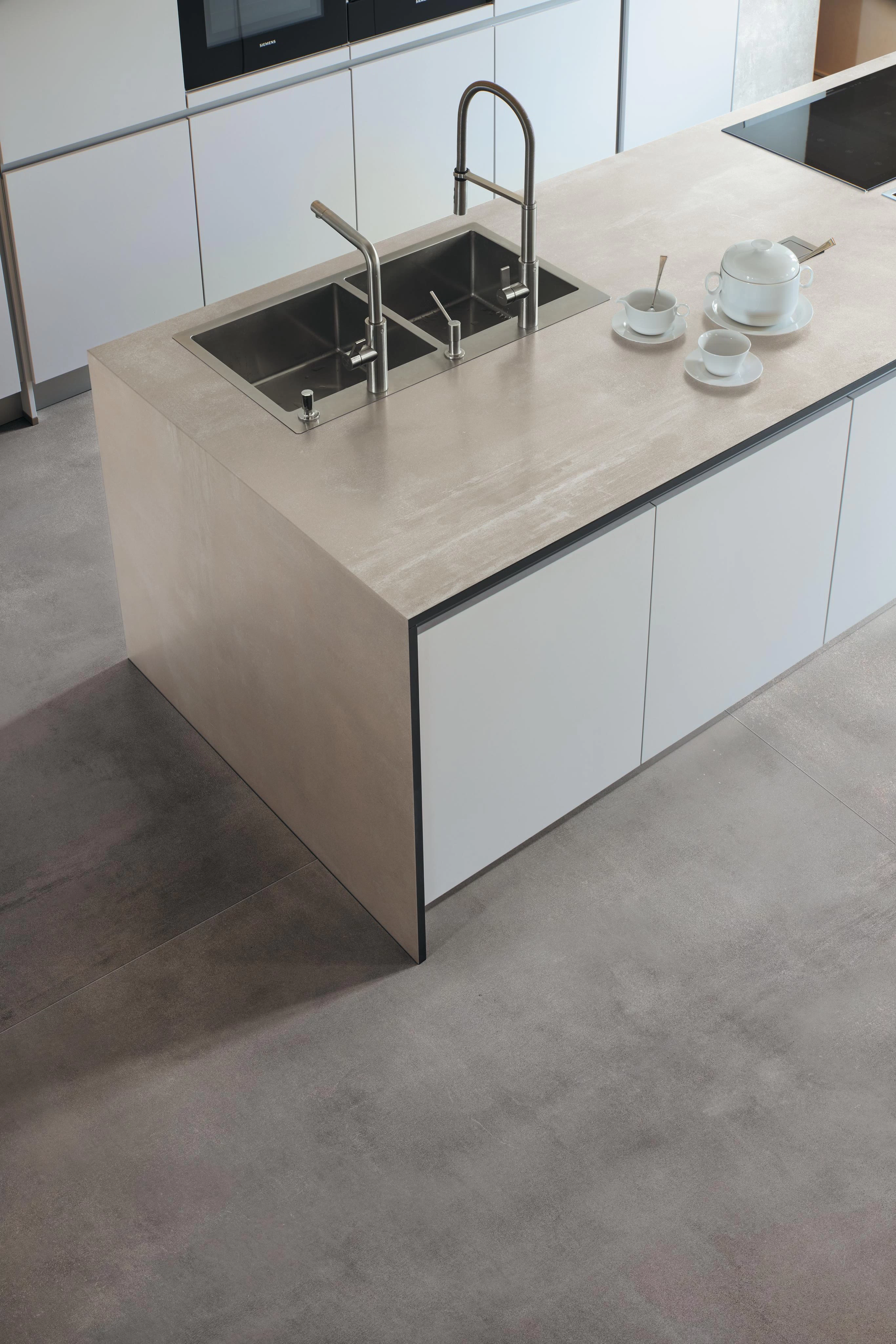 Outdoor tiles
Outdoor porcelain tiles are subjected to continuous stresses. Porcelain tiles meet the most stringent technical requirements, making them the ideal choice thanks to their extreme compactness and resistance to vehicles, foot traffic, and high loads, not to mention to scratches and abrasions.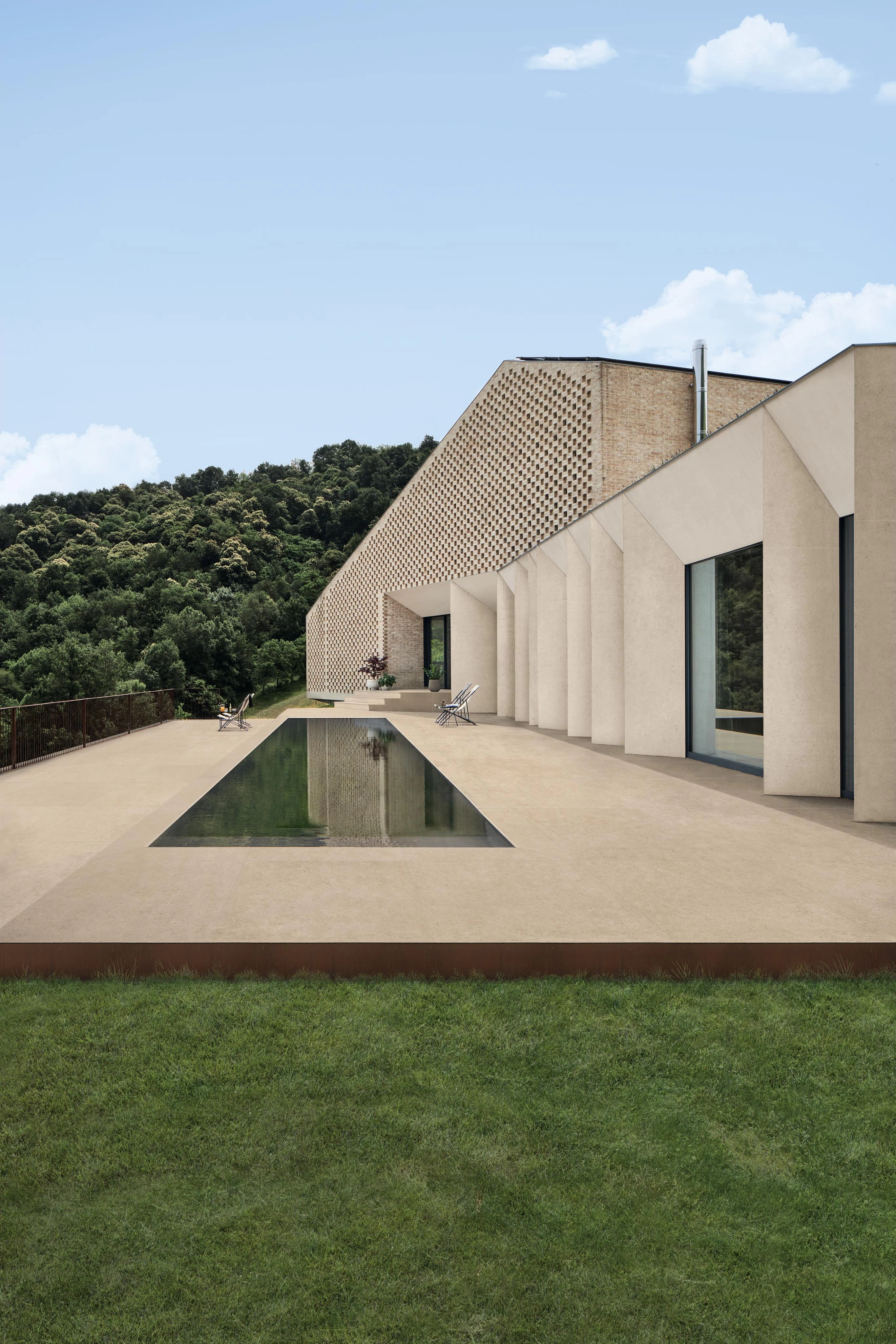 Bedroom tiles
Atlas Concorde's bedroom floors meet the style and comfort needs of this environment. Over 30 collections to choose from for endless possibilities and combinations.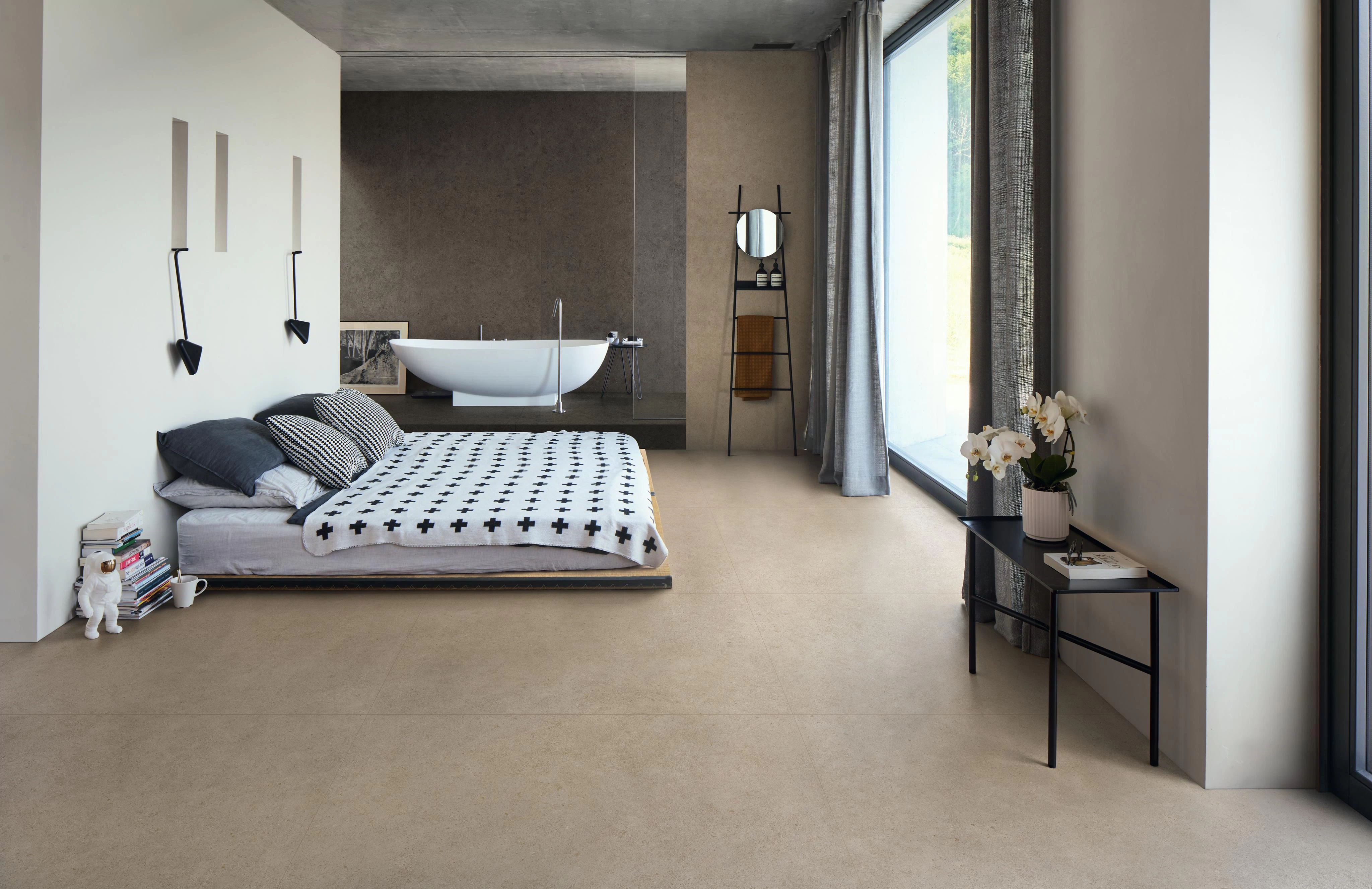 Living room tiles
The living room is perhaps the most lived-in area of the house and the place where you usually receive guests and relax after a day's work. If you're looking for the perfect solution to cover the floors and walls of this space, porcelain tiles for the living room are perfect for a personalized and original space.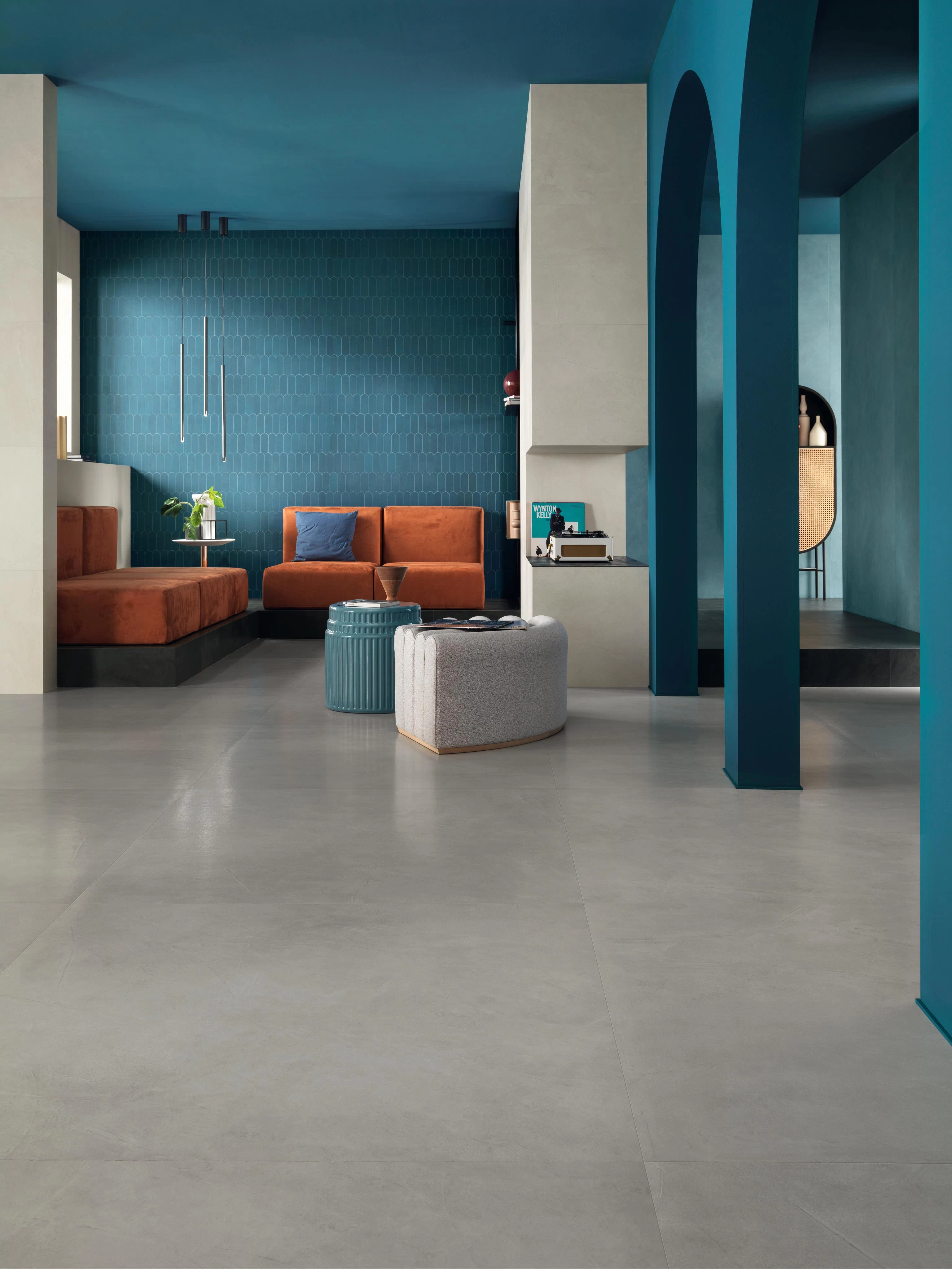 Pool tiles
Porcelain tiles are perfect as pool floors. Characteristics such as an anti-slip surface, hygiene, durability, resistance to weather and humidity – not to mention their great visual appeal – make them a great choice for this application.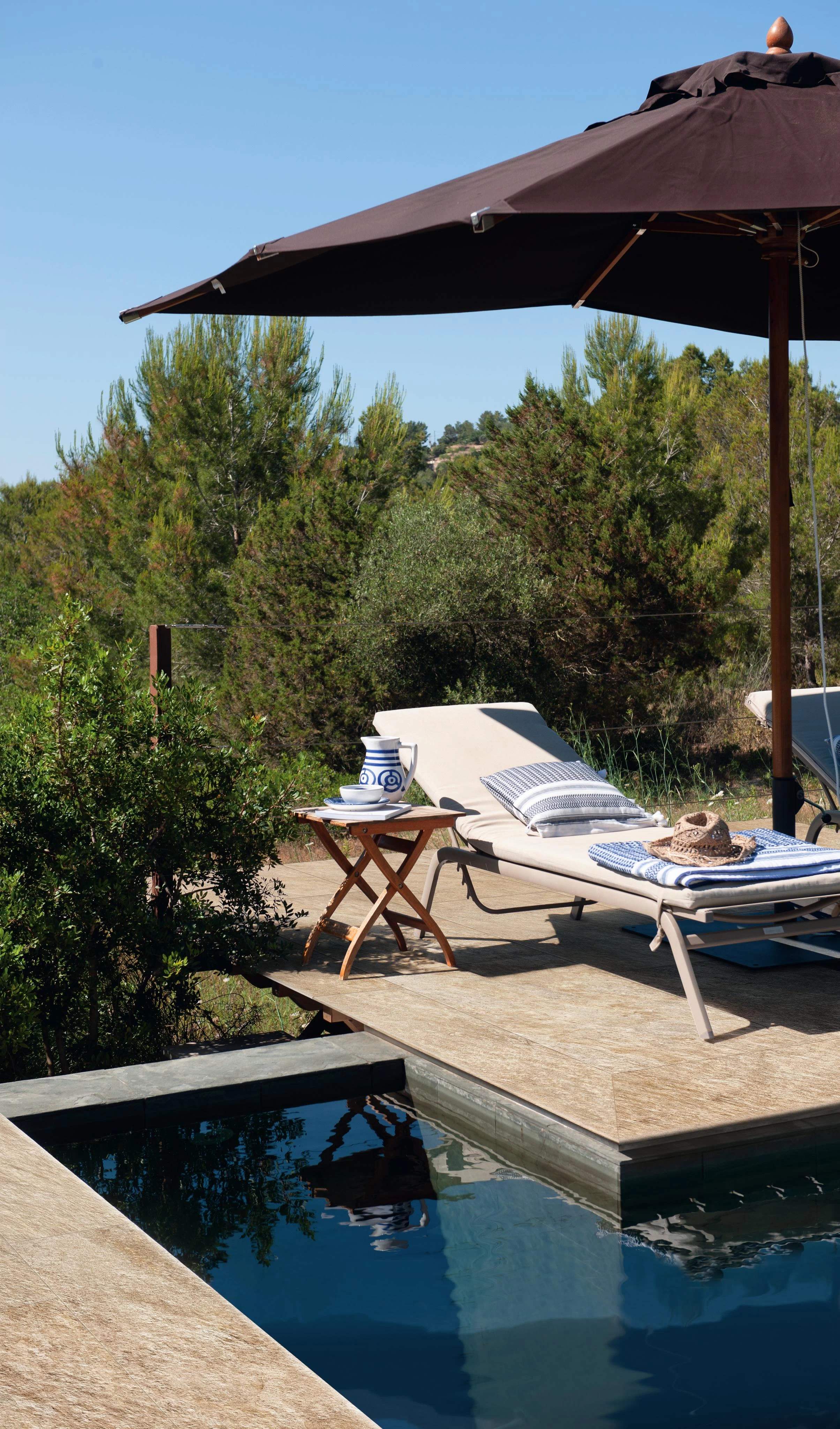 Types of Porcelain Tiles
Porcelain stoneware by Atlas Concorde is available in different shapes, colours and patterns, and can be used in a variety of ways, from floors to pieces of furniture. The most common use is undoubtedly floor and wall coverings which, thanks to their resistance and durability, lend themselves well to residential spaces as well as commercial spaces.
Atlas Concorde porcelain stoneware can be used for a lot more. For example, it is possible to create a completely customised project incorporating porcelain tile kitchen countertops and backsplashes as well as washbasins, furniture and shelves, thereby harmonising the space while combining aesthetics and functionality. The possibility to create custom-made decor, combining decorative ceramic tiles of various sizes and shades, gives a distinctive touch to each setting.
In addition, porcelain stoneware is an ideal choice for spaces such as the bathroom and kitchen, ensuring safety and practicality. Atlas Concorde offers a wide range of high-quality porcelain tile collections, featuring exclusive designs and luxurious finishes. Our products are ideal for creating high-end fashionable spaces, filled with elegance and sophistication. By choosing Atlas Concorde, you can create unique spaces of great visual impact that will meet the aesthetic and functional needs of your customers.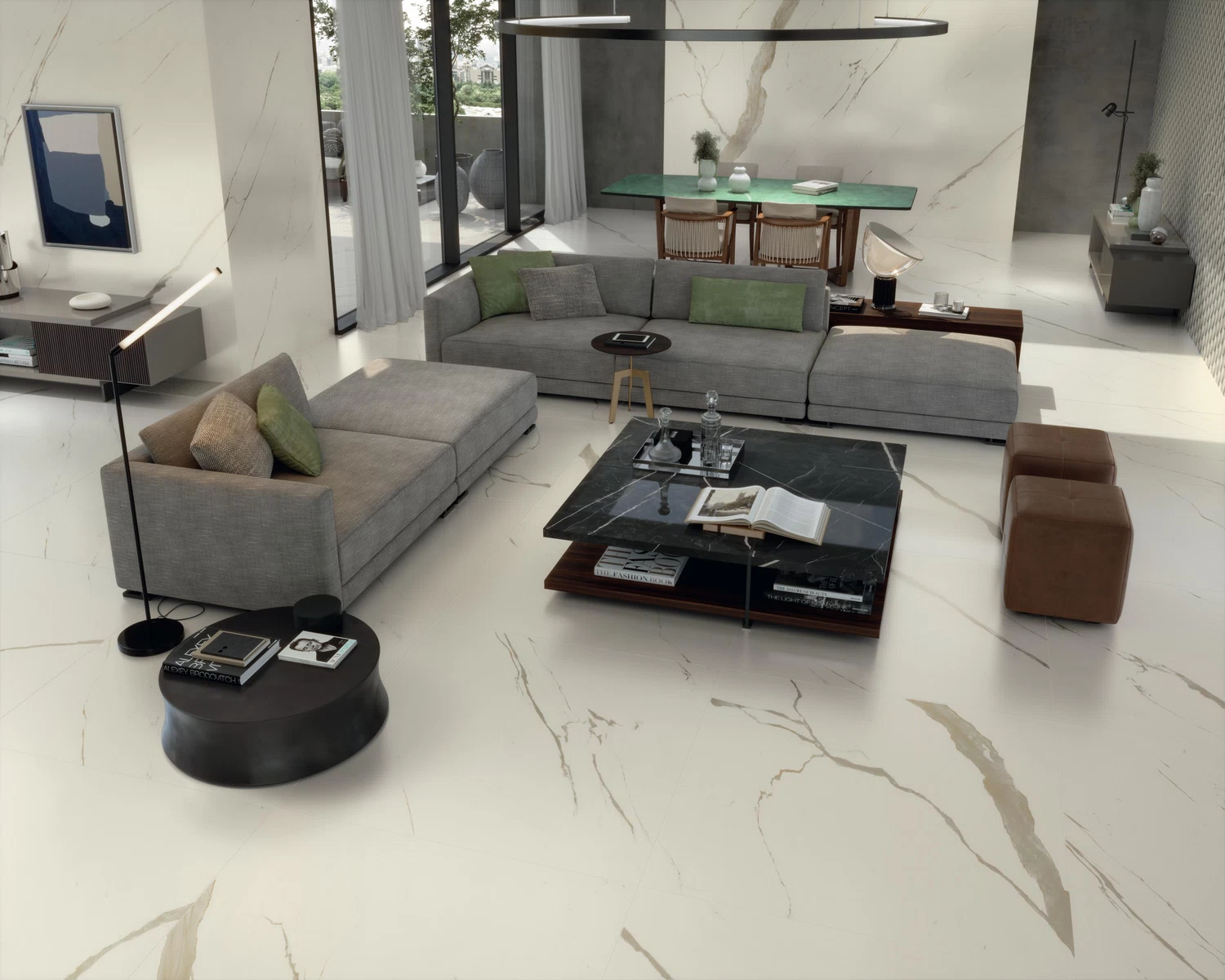 Porcelain floor tiles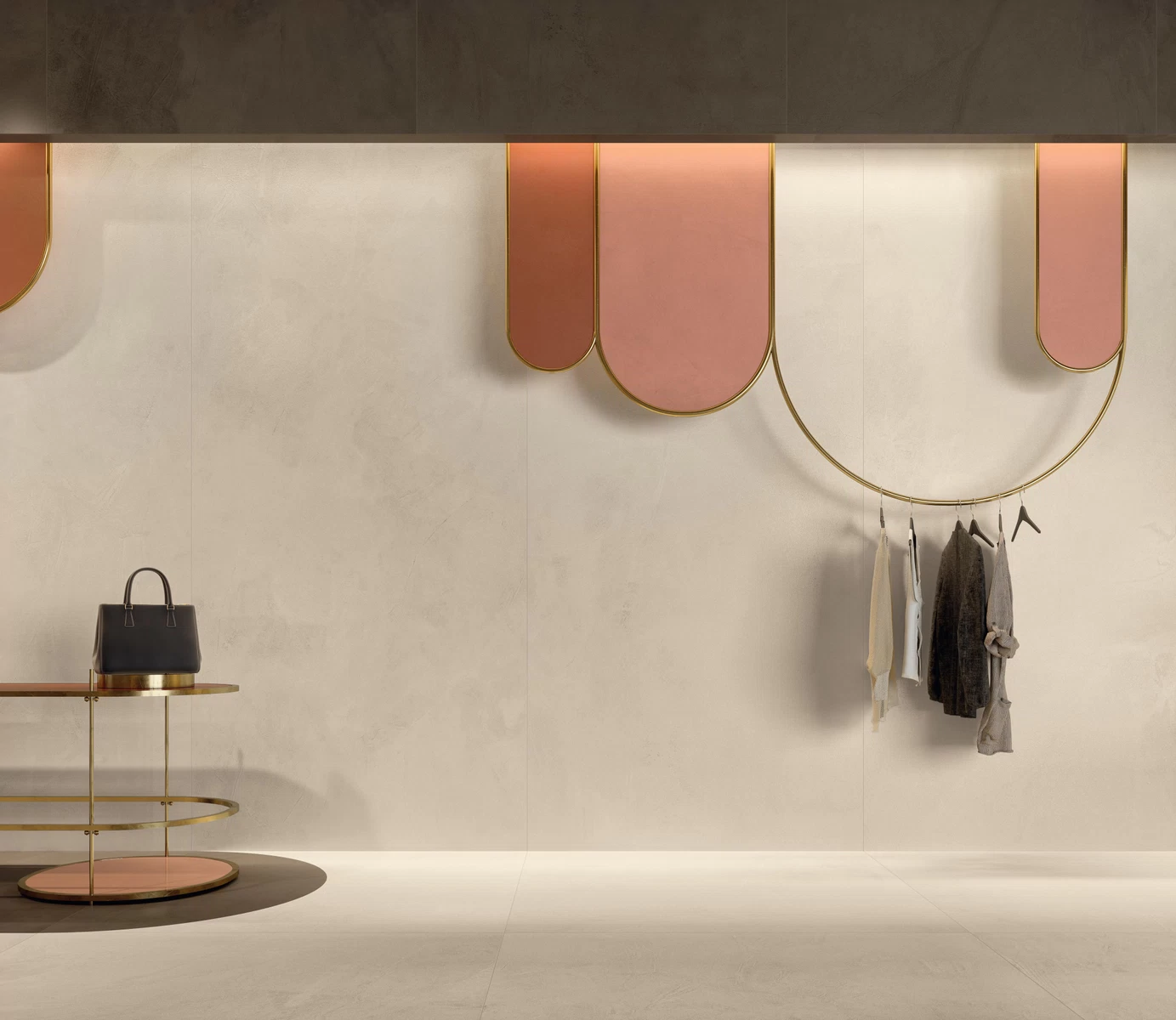 Porcelain wall coverings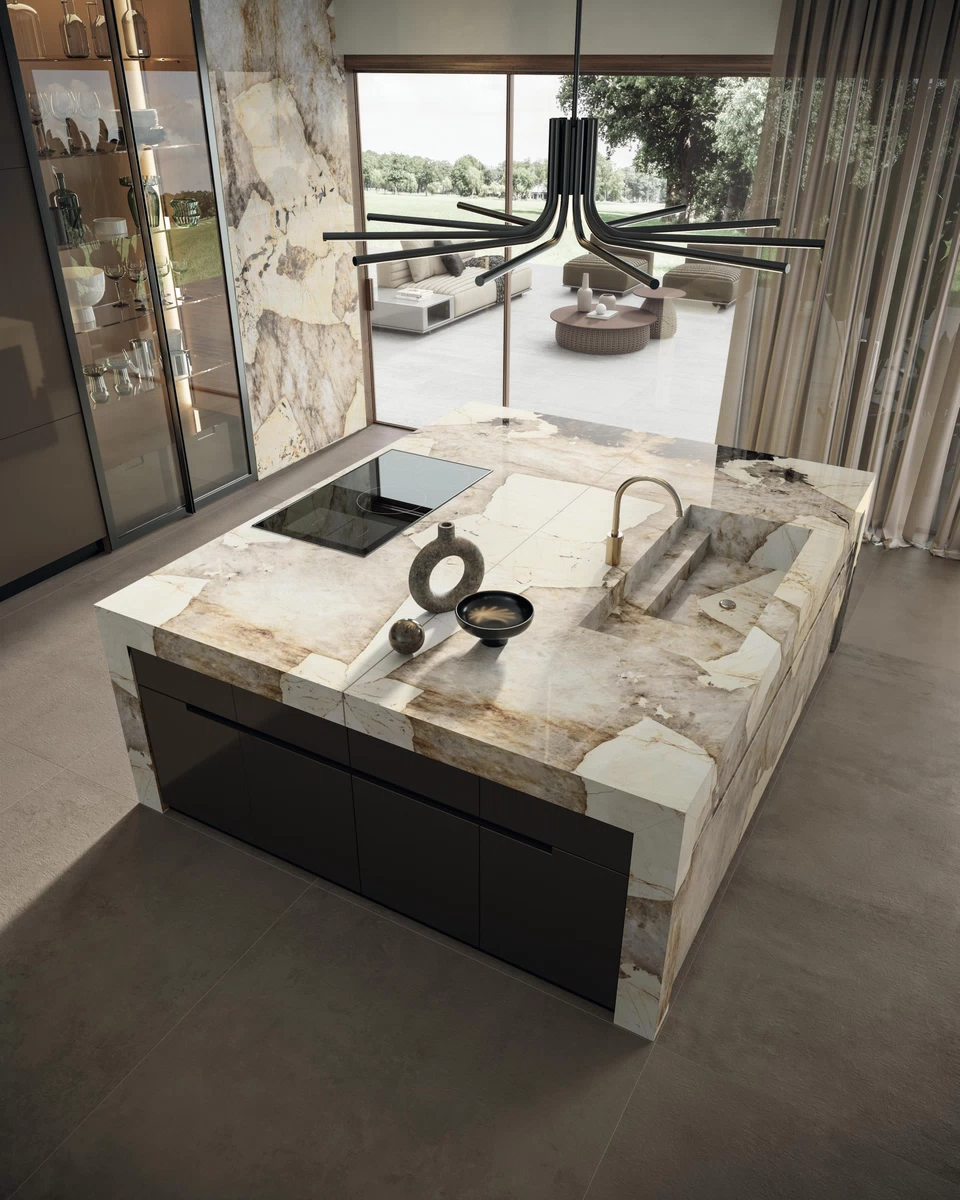 Porcelain kitchen countertop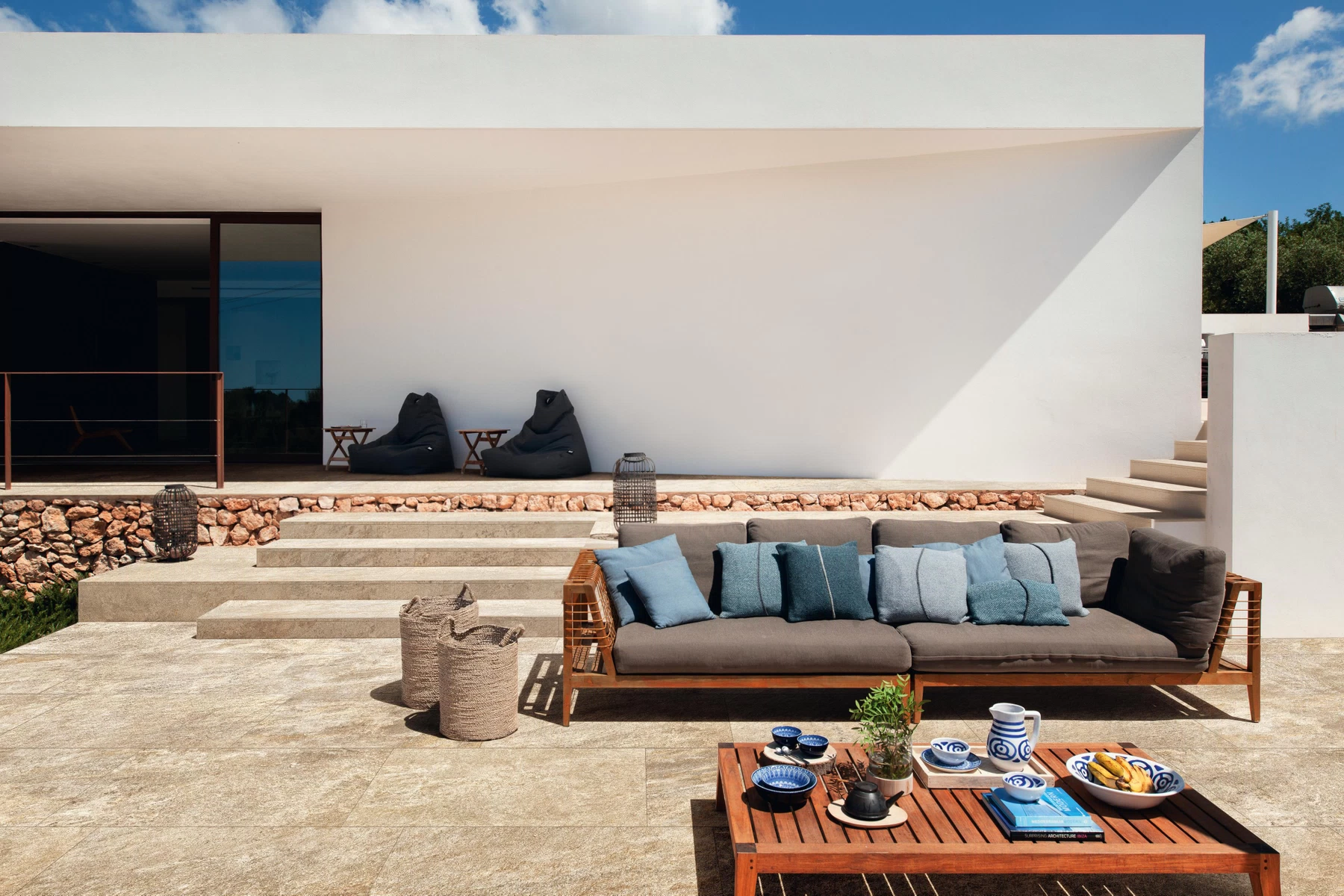 Anti-slip porcelain tiles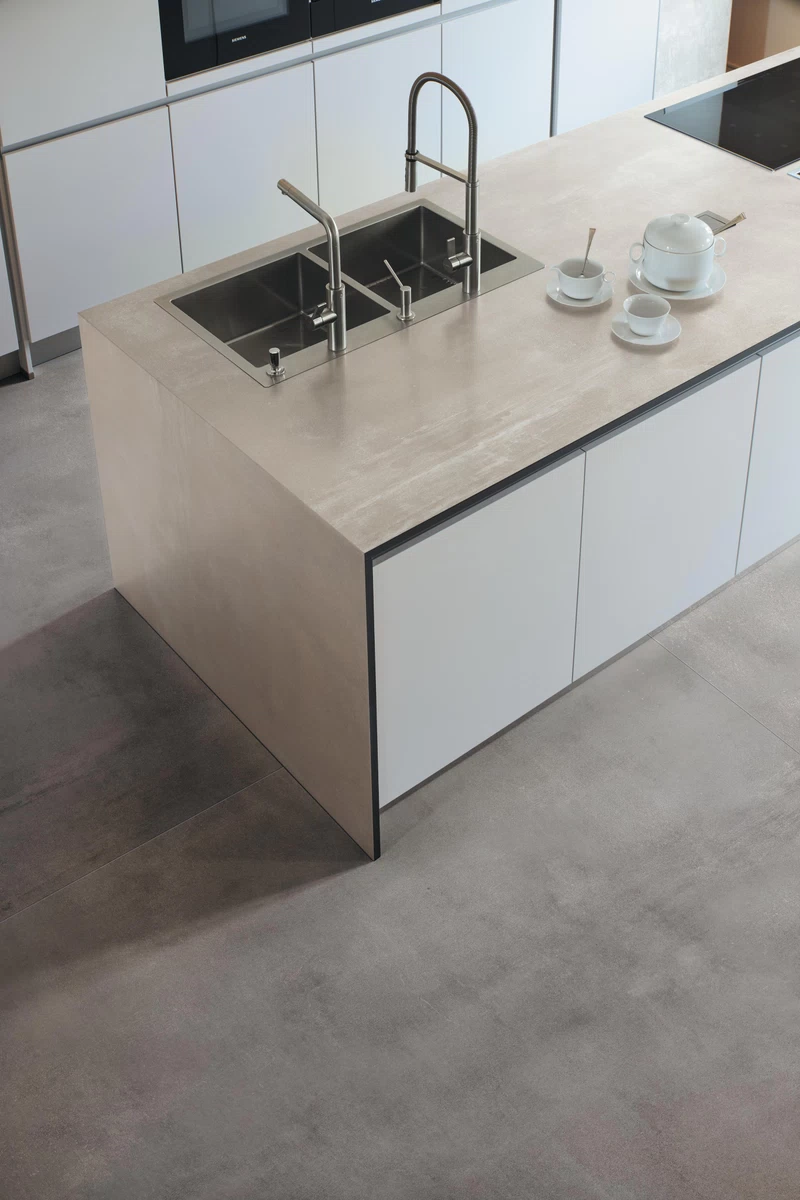 Porcelain kitchen countertop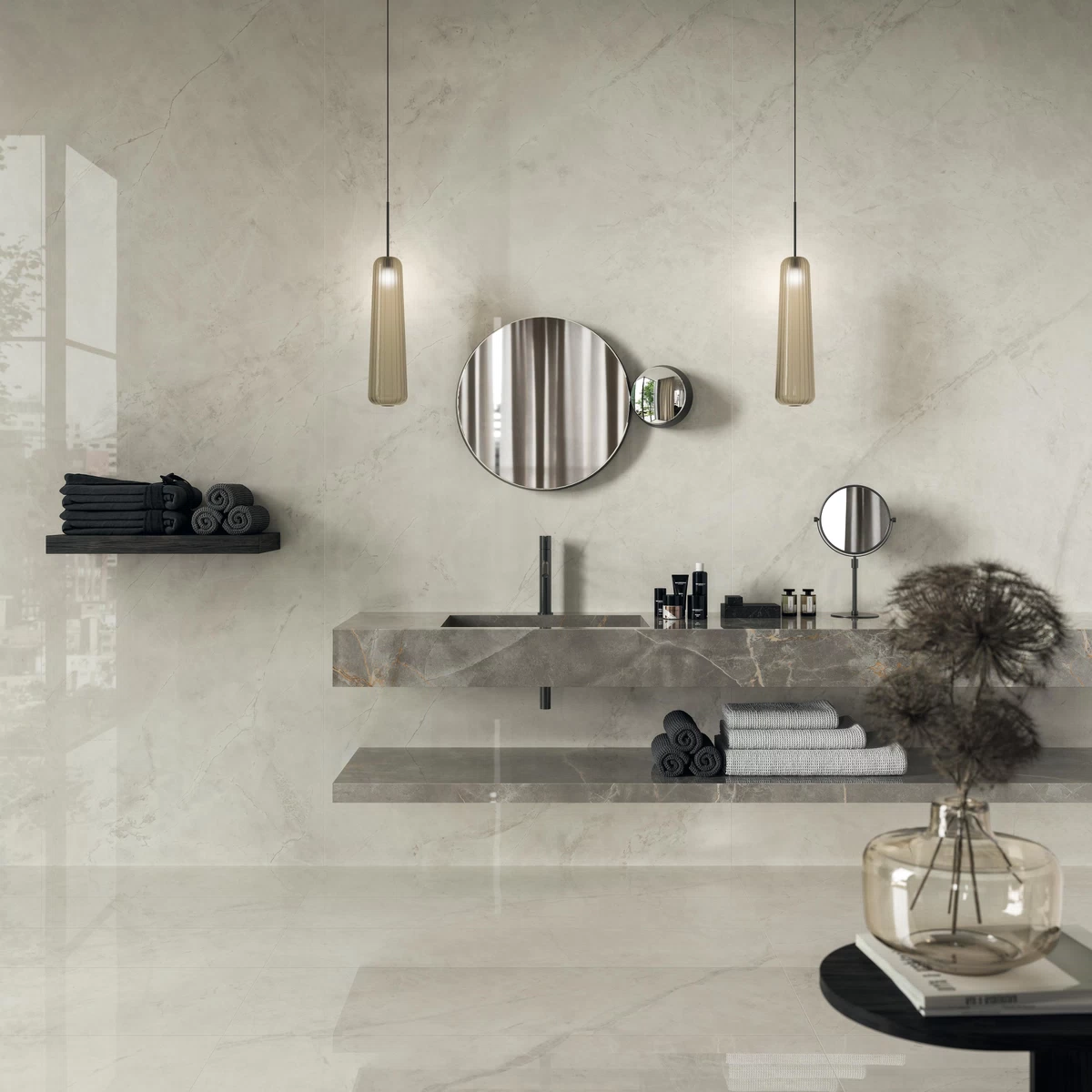 Porcelain sink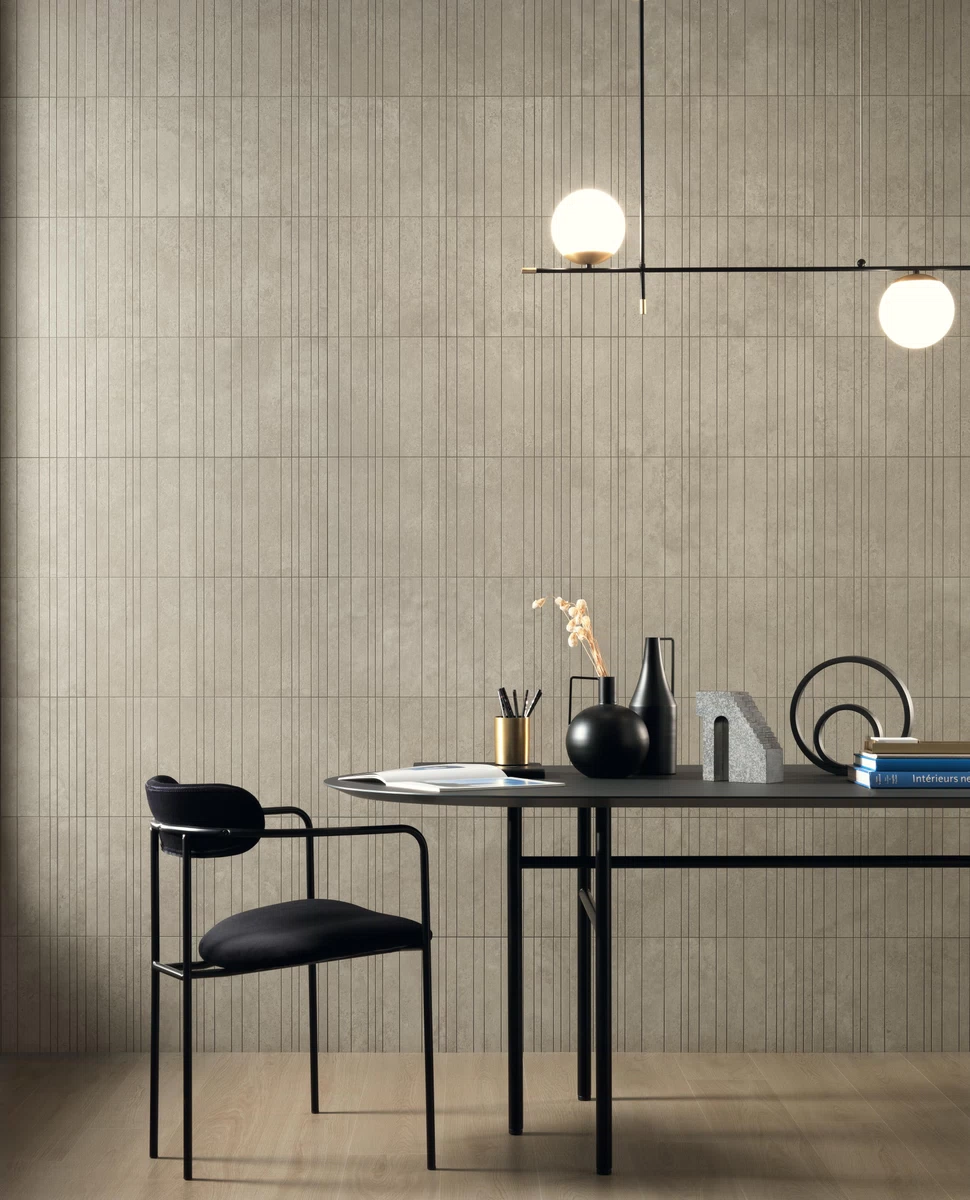 Decorative porcelain tiles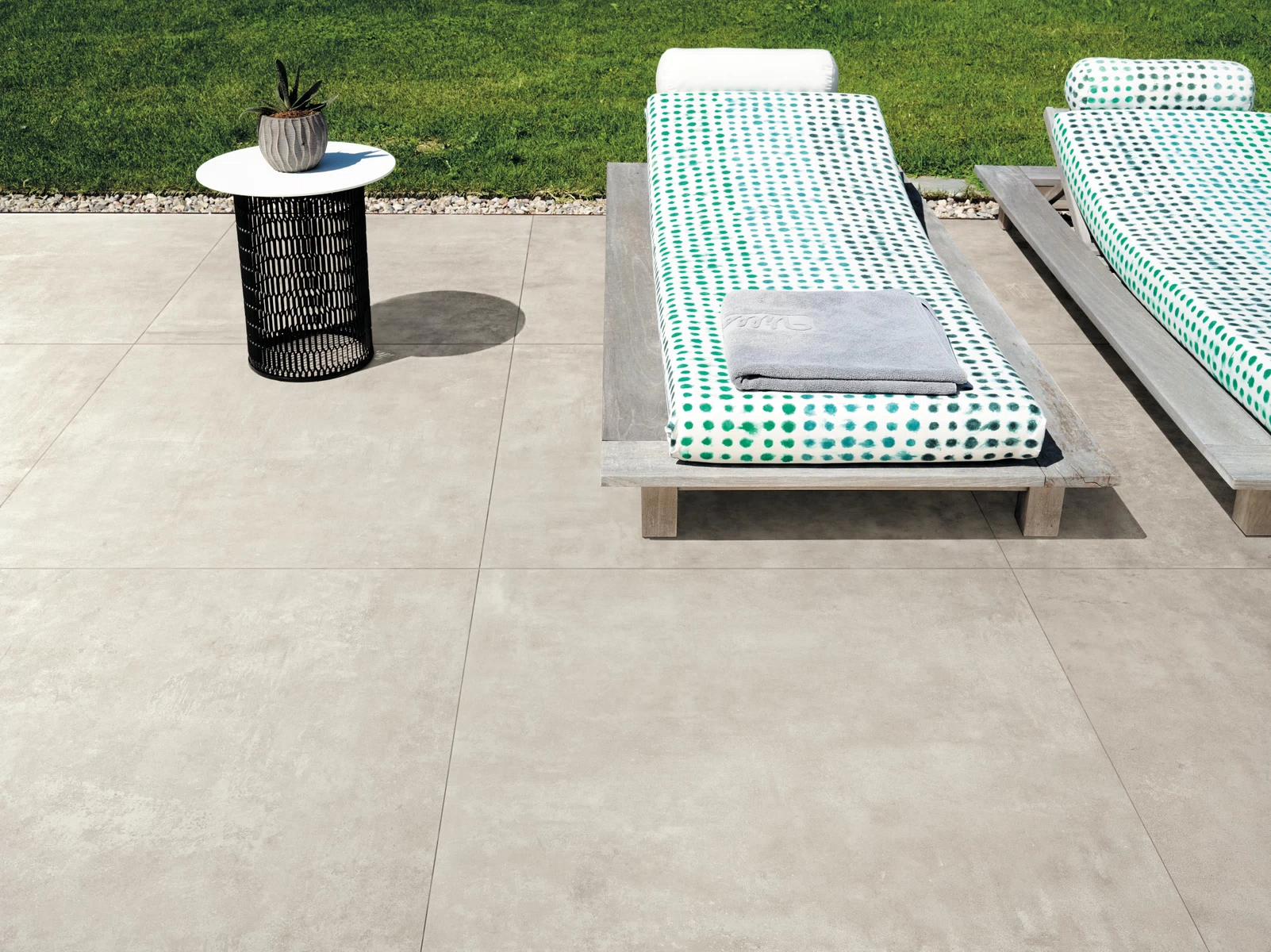 Anti-slip porcelain tiles
Porcelain kitchen countertop
Advantages of Porcelain Tiles
Porcelain stoneware guarantees quality and durability, making it ideal for any space, both indoors and outdoors. Atlas Concorde porcelain paving slabs are resistant to impact, abrasion, and wear, ensuring long-lasting performance. In addition, porcelain stoneware is hygienic and easy to clean, making it ideal for areas such as kitchens, bathrooms, offices, and commercial spaces.
The benefits of ceramic tiles
Porcelain tiles are made of an extraordinary material, endowed with technical characteristics that make them an optimal choice not only for their ease of application, cleaning, use, and maintenance, but also and above all for their characteristics of healthiness and environmental sustainability. For this reason, porcelain tiles are the safest solution for floors, walls, and surfaces in residential, commercial, and public architecture, both indoors and out.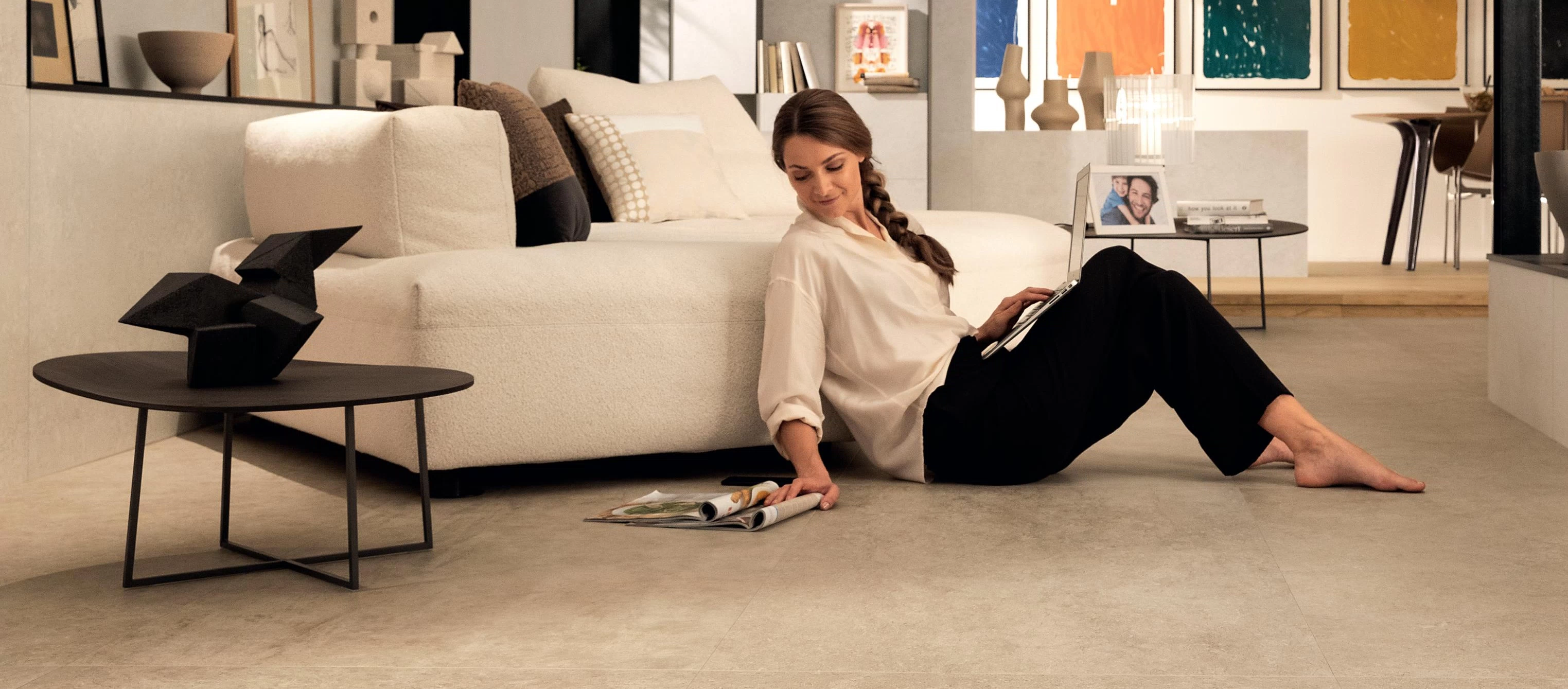 Frequently Asked Questions
What are porcelain tiles?
Porcelain tiles are made of a high density, strong, non-porous ceramic material and can be used for floor and wall coverings. They are extremely resistant to abrasion, waterproof, hypoallergenic, safe and environmentally friendly.
What could damage porcelain stoneware?
Porcelain stoneware could be damaged by aggressive chemicals like strong detergents, or by sharp-pointed or heavy objects which could scratch the surface.
How durable are porcelain tiles?
Porcelain tiles are very resistant to both wear and temperature changes. If treated with care, they can last for many years.
Where are porcelain tiles used?
Porcelain tiles are commonly used in indoor and outdoor spaces for flooring, both in homes and in public and commercial buildings.
How many different types of porcelain tile are there?
There are many types of porcelain tile available, as well as many different effects, patterns and colours for tiles. They are made with a material that enables everyone to choose what best suits their needs and preferences.
What should not be used with porcelain tiles?
Porcelain tiles should not be washed with abrasive or aggressive products, such as hydrochloric acid or bleach, which can damage the surface. Hard brushes or scouring pads should not be used as well. In general, it is advisable to use mild detergents to clean porcelain tile floors, walls and furnishings.
How to clean and polish porcelain stoneware for the first time
To clean porcelain stoneware for the first time, we recommend following these steps:
Remove dirt and dust with a brush or dry cloth.

Mix a mild detergent in a bucket of water.

Use a clean mop, squeezing it well to avoid leaving too much water on the surface.

Mop the porcelain tiles, taking care not to leave too much water on the surface.

Dry the tiles with a clean cloth or sponge to remove as much water as possible.

Allow the surface to dry completely before walking on it or putting any furniture back on it.
What is the thickness of porcelain tile?
Porcelain tiles are usually between 6 and 10 mm thick. However, they are also available with larger thicknesses, such as those used for outdoor floors or raised floors, which can have a depth of up to 20 mm.
What is the correct way to lay porcelain tiles?
The correct direction to lay porcelain tiles depends on the configuration of the room and the desired aesthetic effect. In general, it is recommended to lay the tiles parallel to the main light source, so that the surface reflects the light and creates a more natural ambience.
The direction of the tiles can also be picked based on the desire to create a certain optical effect in the room.
In order to achieve an effect of length in the room, we recommend laying the tiles parallel to the length of the room. Conversely, to optically widen the space, the tiles should be laid parallel to the width of the room. If the room has an irregular configuration, we advise laying the tiles parallel to the longest or most important wall of the room.
In any case, it is always important to follow the manufacturer's instructions for the placement of tiles to ensure proper and durable laying.
Contact us
For support on our products or other information, please visit the contact section.