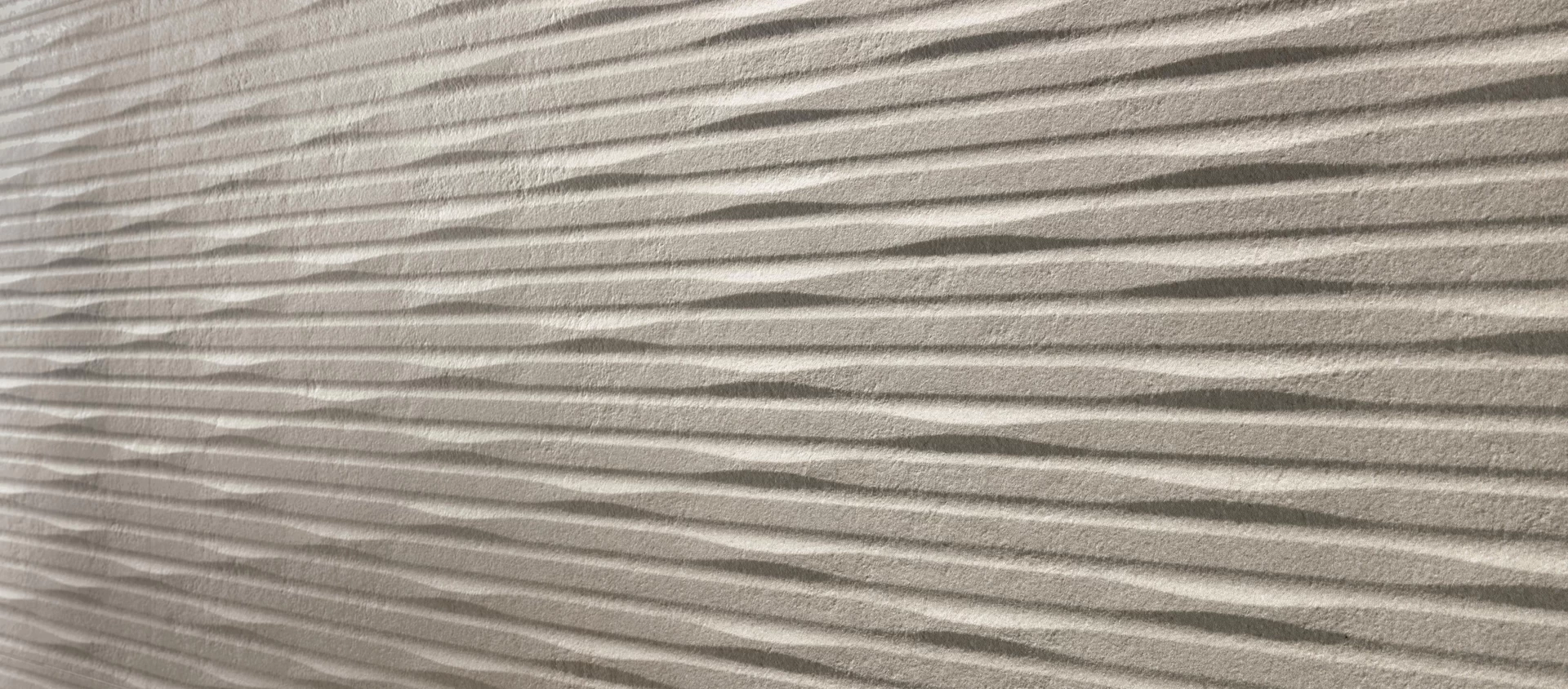 3D Wall Carve
3D wall tiles designed by light
3D wall tiles designed by light
See below the summary of the colors and salient features that distinguish 3D Wall Carve, or learn more about the ideas and inspiration behind the project.
The shapes of artisanal craftsmanship
3D Wall Carve expands the
3D white body wall tile
project of the 3D Wall Design series with a selection of three-dimensional surfaces with somber tones and minimal microtextures. Inspired by the material suggestions of hand-worked stone, the collection brings the decoration of indoor walls into a new dimension of contemporary interior design, where attention to detail and the authenticity of the structure confer a natural character to any living space.
The range has a single field in three neutral colors embellished with five different three-dimensional reliefs. Two capsule products designed for Atlas Concorde by Piero Lissoni further expand the design possibilities of 3D Wall Carve, offering new creative perspectives.
Thanks to their irregular textures, these surfaces transfer the visual and tactile expressions of handcrafted chiseling to the world of ceramic tiles with an authentic, natural effect.
Wall Tiles

Field White
Field Pearl
Field Ivory
Sign White
Sign Pearl
Sign Ivory
Squares White
Squares Pearl
Squares Ivory
Chisel White
Chisel Pearl
Chisel Ivory
Whittle White
Whittle Pearl
Whittle Ivory
Leaf White
Leaf Pearl
Leaf Ivory
15¾"x31½"
8.5 mm
Matte rectified
15¾"x31½"
8.5 mm
Matte rectified
3D Wall

Sign White
Sign Pearl
Sign Ivory
Squares White
Squares Pearl
Squares Ivory
Chisel White
Chisel Pearl
Chisel Ivory
Whittle White
Whittle Pearl
Whittle Ivory
Leaf White
Leaf Pearl
Leaf Ivory
15¾"x31½"
8.5 mm
Matte rectified
Download area
add 3D Wall Carve to my wishlist
Contact us