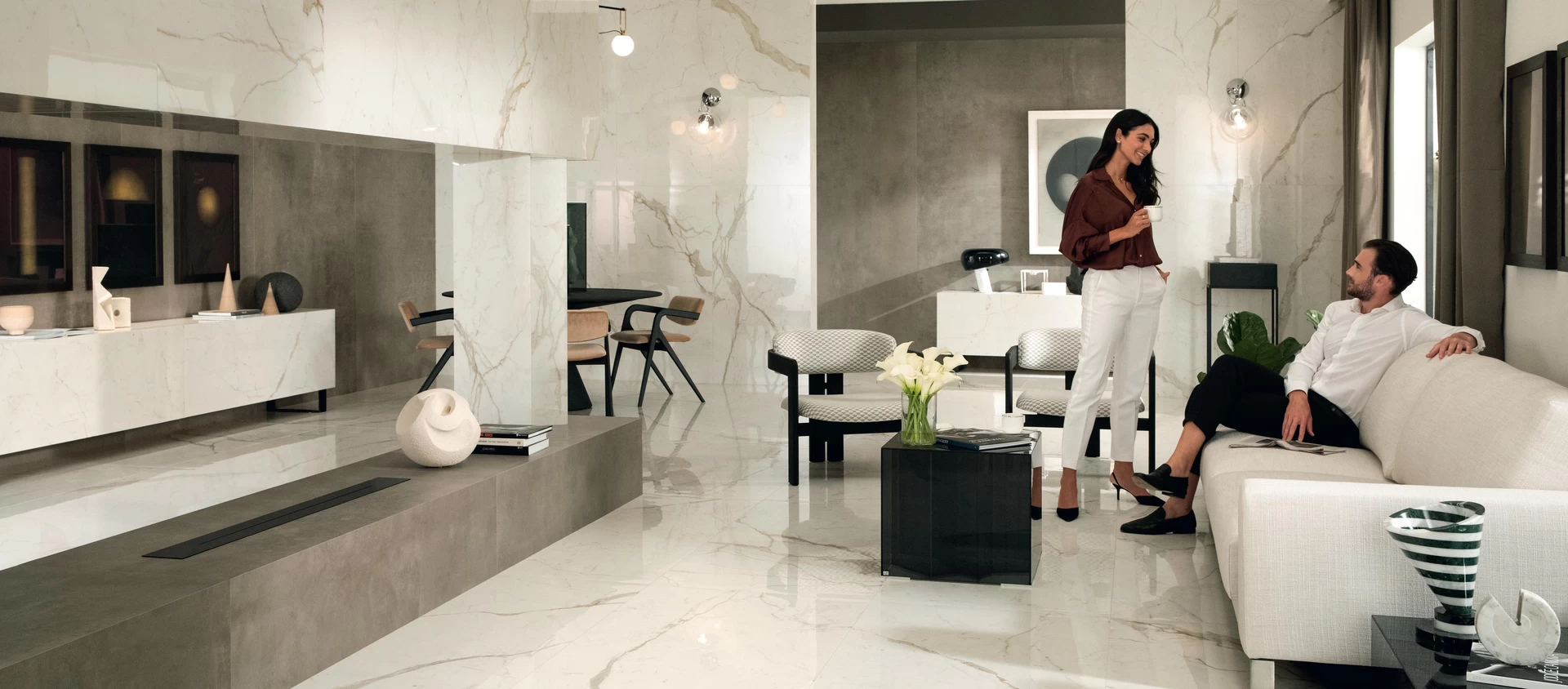 Marvel Shine
PERMANENT RENAISSANCE
Absolute marble look
Atlas Concorde takes ceramic marble tiles beyond replication to a whole new level where the "natural" and its interpretation merge into a new, original form of absolute authenticity. Marvel Shine is inspired by the white marble of Italian artistic tradition, exploring new surfaces that are unique in their purity, color, and brightness.
Pure emotion
Four light tones inspired by the finest varieties of Calacatta and Statuario marbles and distinguished by a bright white background. The surface is traversed by warm or cool veins depending on the variety of marble, the total-white look enhancing applications on the wall, floor, and even on furnishings, not to mention combinations with other colors and accents of the Marvel collections.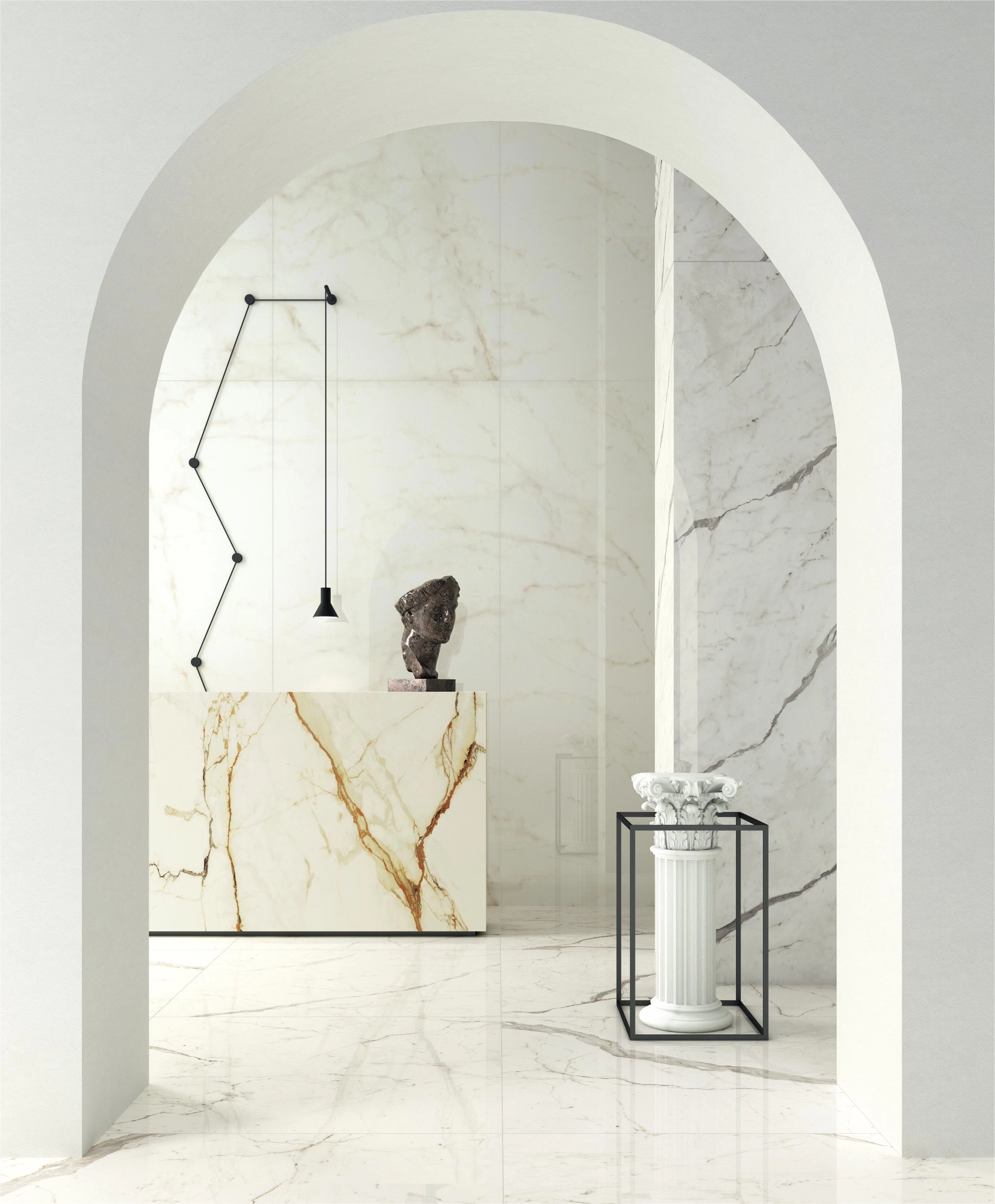 For years now the Marvel collections have set the standard for marble-look ceramic tiles. To further expand the range, Atlas Concorde sought out the assistance of SAVEMA, a long-time leader in the marble industry, which made available all its experience for the selection of the purest and most precious white marbles to be used as a source of inspiration for this collection.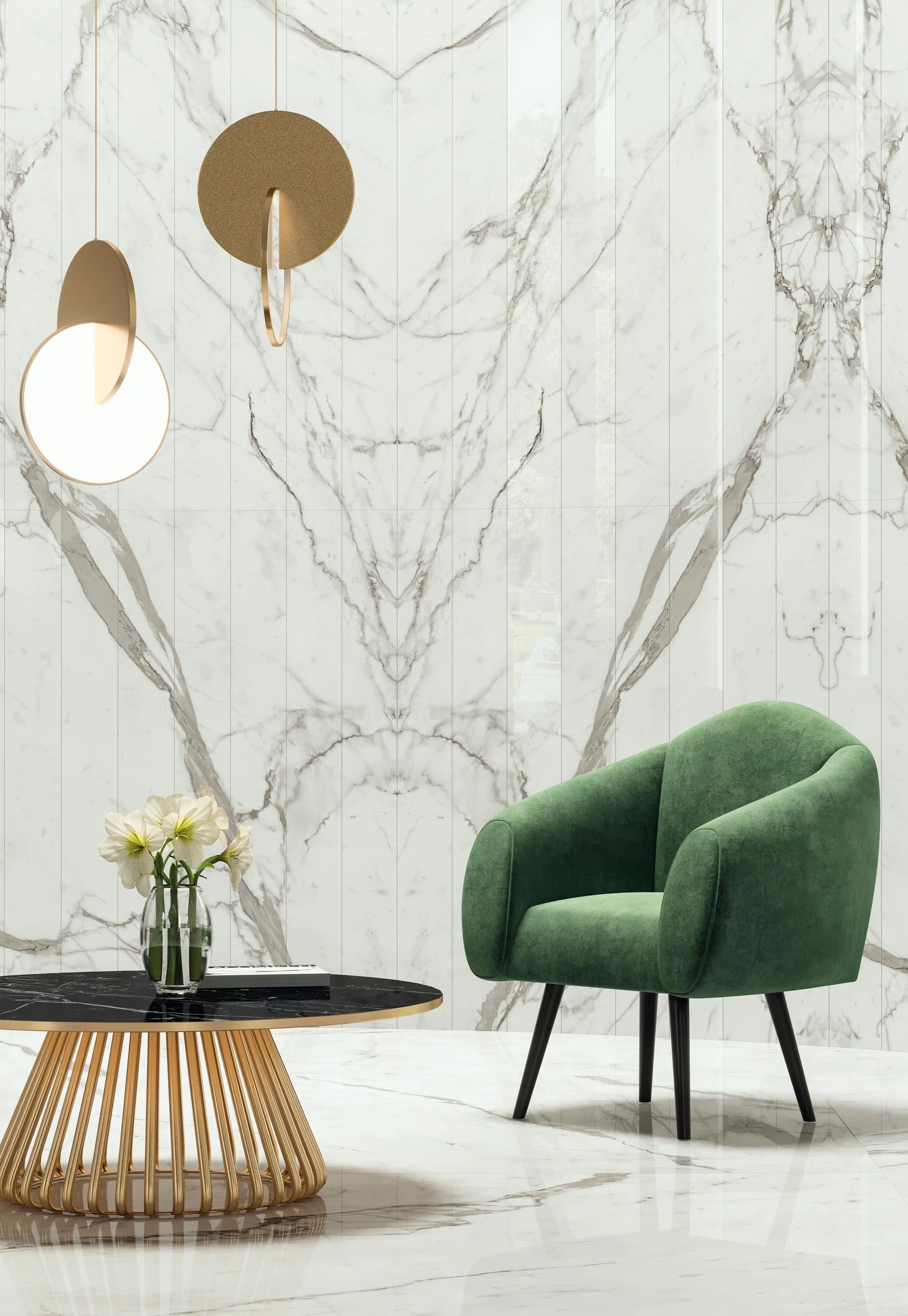 Decorations make the difference
A wide selection of decorations allows you to customize every room. The Scenic mosaic recreates the bookmatch effect even on curved surfaces, while the delicate floor and wall tiles enhance the intense white of the surfaces with hints of color, materials, and precious metals.
Three surface effects
The Polished finish brings out the luminosity of the tile and reproduces the slight unevenness of the original marble. Ideal for commercial spaces, the Matt finish offers an excellent technical performance. The new Silk finish, on the other hand, gives ceramic tiles an unprecedented tactile sensation: a silky, soft effect that also reflects the light less.
With its exclusive technology, Marvel Shine offers the possibility to replicate the traditional book matched pattern of natural marble with 16 75x150 cm slabs to create compositions measuring 6x3 meters. Furthermore, the 120x278 cm and 160x320 cm formats offer a continuity of the veins from one slab to the next to reproduce the effect of a single block of marble.
We are nearby. Visit the store.
Go the sales outlet section and find your nearest Atlas Concorde dealer.