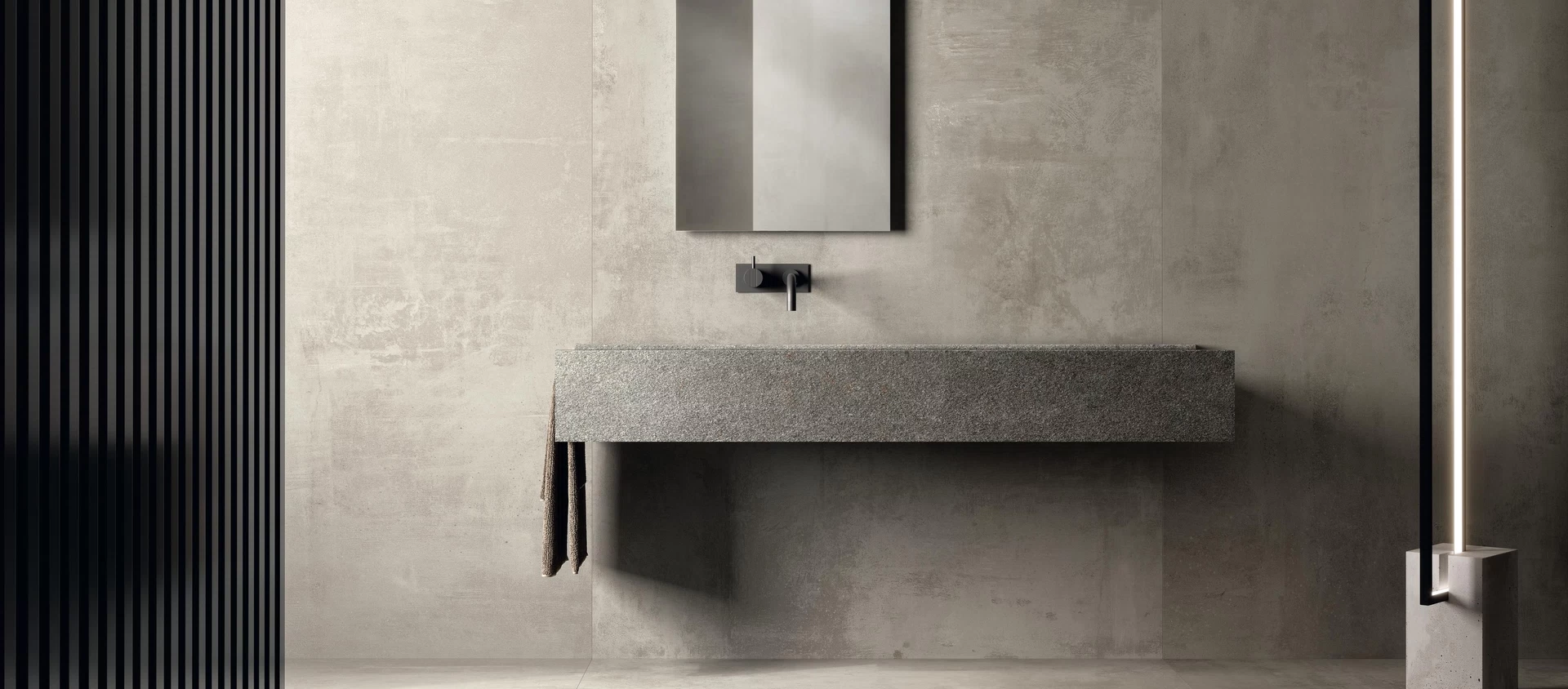 Design Line
Atlas Concorde Habitat
Designer furnishings.
Atlas Concorde offers a range of porcelain furnishing solutions developed in partnership with design and architecture professionals. Exclusive products that perfectly match walls and floors in any environment, giving you complete design freedom.
Dialogo by mario ferrarini.
Dialogo is a collection of sinks inspired by a desire to combine a variety of very different materials to create a harmonious synthesis where surface effects, colors, and volumes coexist. The collection was created by Mario Ferrarini, a designer with decades of experience in the bathroom furnishing sector.
Project origin
Atlas Concorde, with the collaboration of Mario Ferrarini, explored the esthetic and functional needs underlying the development of a designer sink. Dialogo translates this research into a range of products with calibrated lines and stylistic, color, and material characteristics that meet every functional need.
"We didn't start from a targeted analysis, but rather from a blank sheet of paper for sketching out our ideas. We started with just two lines, our outer limits, the banks of our collection. Moving within these parallel tracks we positioned full and empty spaces to generate boundaries and depth. The sink is thus the result of an interval between the different volumes in the third dimension."
Mario Ferrarini.
A versatile, complete project
The collection consists of different types of sinks, all available in nine color combinations and monochrome variants. Sinks can be single- or double-bowled, centered or decentralized in versions with or without the tap housing. The marble-effect sinks maintain the veins in the exact position desired by Ferrarini, faithfully reflecting the original design of the surface.
Essential lines for trendy spaces
Inspired by the purity of materials such as stone, granite, and marble, the Dialogo collection enhances the bathroom's ambiance, conveying a natural look in line with the latest lifestyle trends. The simple, essential lines create soft, sinuous volumes, best expressing the minimalist esthetics that distinguish Ferrarini's work.