Decori d'autore
Hirsch Bedner Associates (HBA) talks about its valuable contribution to Marvel Travertine. The partnership with HBA produced a unique range of five decors with a cosmopolitan feel for the collection, combining the experience and creativity of its international and multicultural team.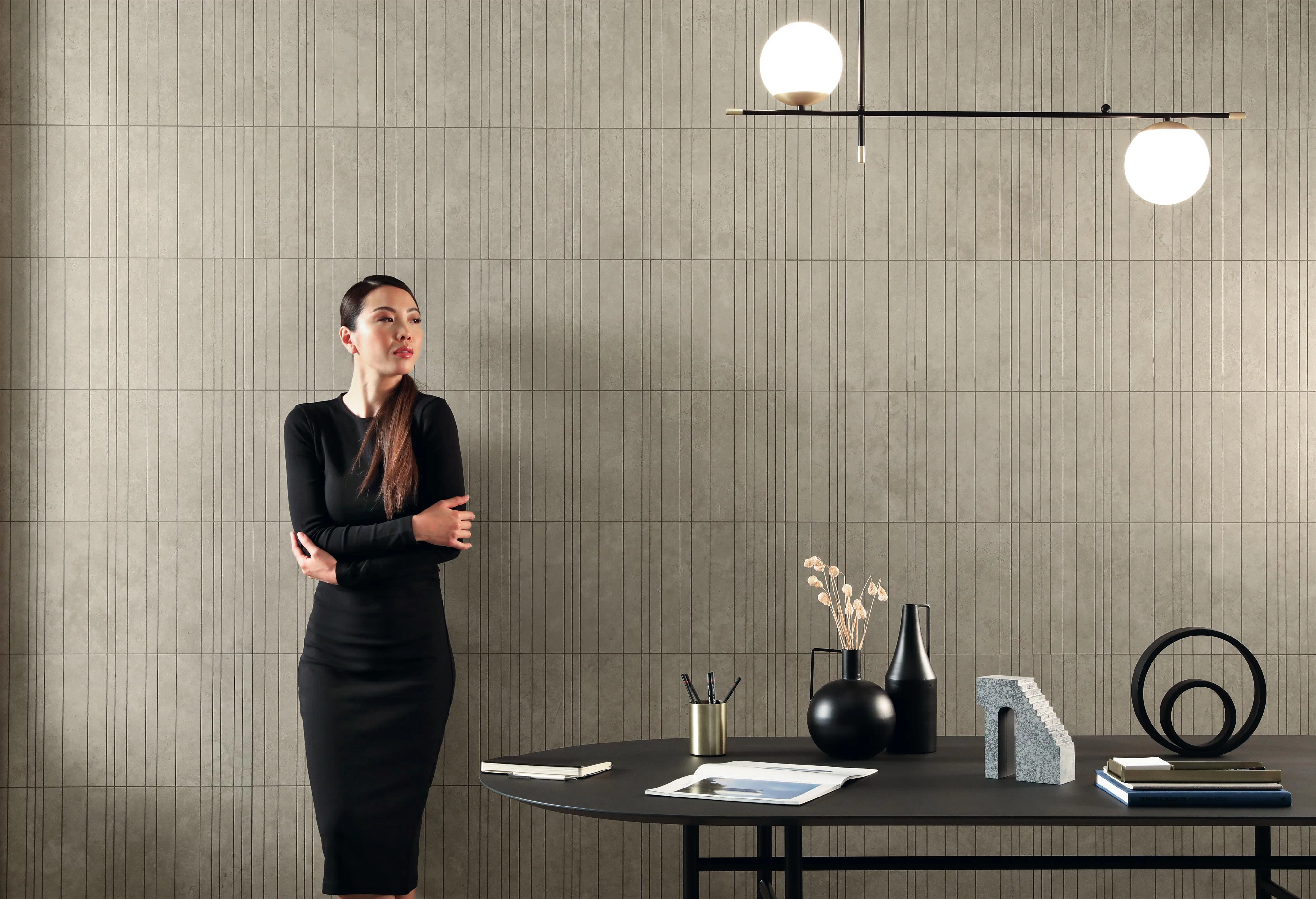 Ranked among the top 10 of the "Interior Design Top 100 Giants 2022," Hirsch Bedner Associates (HBA) is one of the world's largest interior architecture firms, specialized in the design of hotels, luxury resorts, spas, casinos, restaurants, cruise ships, and high-end residences. From independent boutique hotels to international chains, including Mandarin Oriental and Hilton, each HBA project is the result of a unique, sensitive response to the client's geographic location, building style, and vision.
24 offices, more than 1,200 staff and in excess of 1,500 projects in 80 countries in the past 10 years alone. These are record numbers, adding to the more than 200 awards and accolades that have recognized the value of this International Architecture and Interior Studio.
HBA and Atlas Concorde recently formed a partnership that further developed the Marvel Travertine collection, inspired by the historic stone. HBA created five decors with an international design exclusively for Atlas Concorde.
The partnership between HBA and Atlas Concorde adds value and raises design standards through a combined experience of more than 50 years complemented by a widespread international vision and presence.
To learn about the strategic value of this partnership, we interviewed the CEO Ian Carr and some top managers of the HBA firm: Paula O'Callaghan, partner, and Lesha Fernando, associate.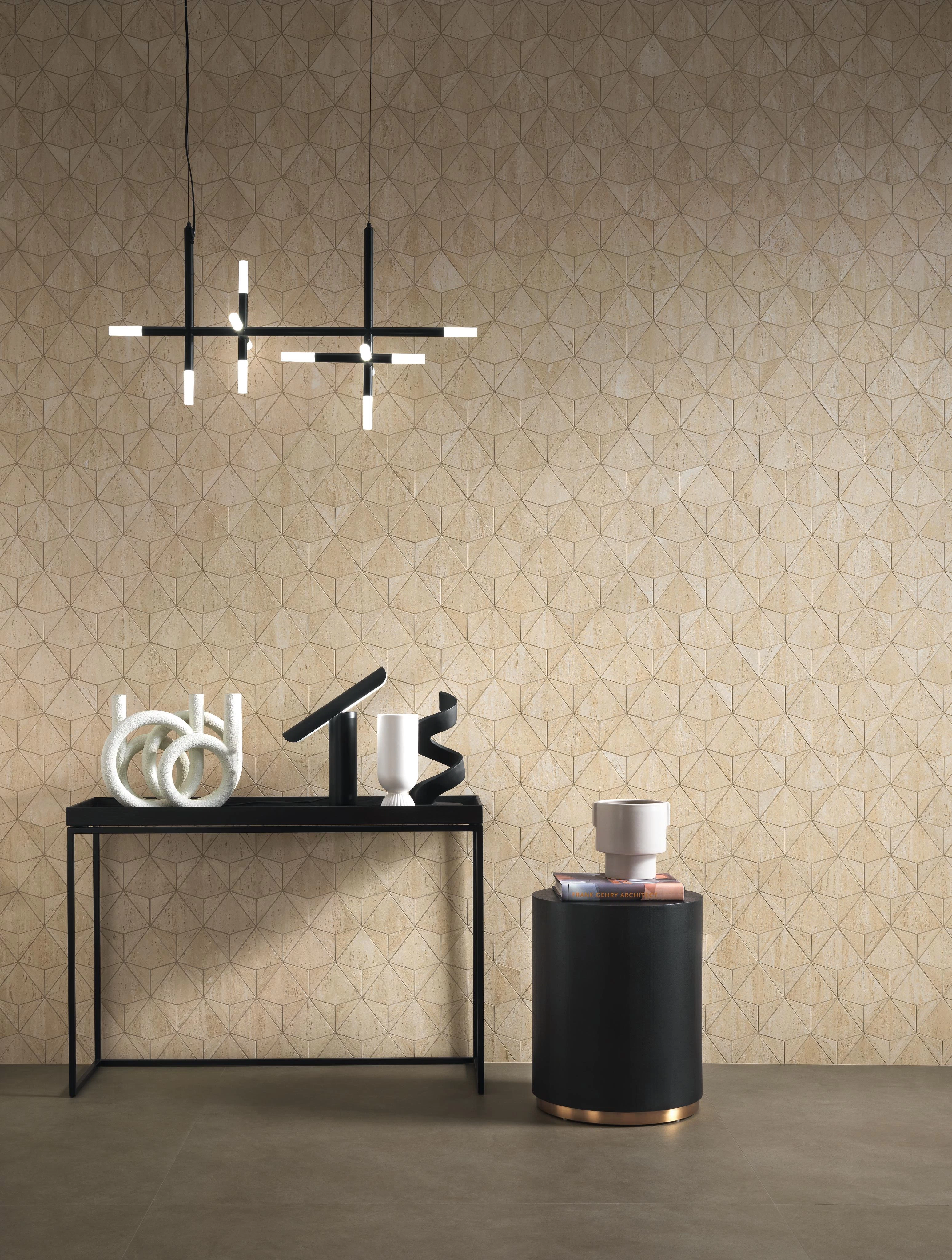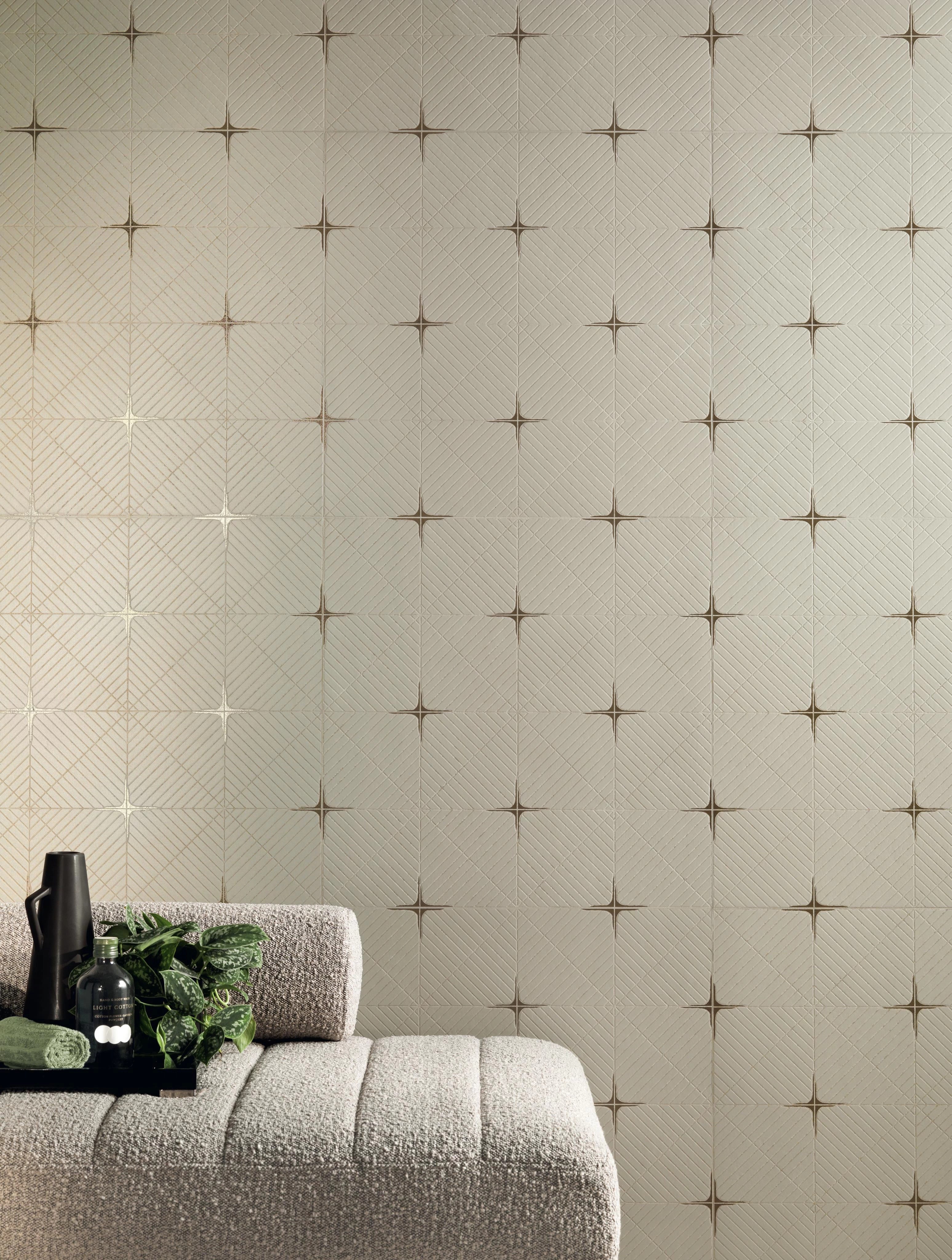 What is HBA's philosophy?
Ian Carr, CEO: "We're a global business with a focus on local services.The international character of HBA fosters a highly creative, collaborative work environment, constantly infusing various teams with developing young design talent. The creative staff is comprised of exceptionally talented design professionals, able to add value, raise standards, and enhance the brand of a project owner and operator."
How did the collaboration with Atlas Concorde come about?
Paula O'Callaghan, Partner HBA Singapore: "The first contact between the two companies was related to supplies for HBA projects, and HBA designers were impressed by the beauty of Atlas Concorde materials. Then we learned of our shared traits, both being global businesses that value tradition and have a passion for design and the pursuit of excellence in interior design. Our knowledge of the world of design and the experience of Atlas Concorde in the production of ceramic surfaces gave rise to the Marvel Travertine project."
Marvel Travertine is available in different colors and sizes. How important is it to have a broad array of solutions?
Lesha Fernando, Associate: "With Marvel Travertine, the variety of formats allowed us to satisfy multiple needs on floors and walls. The 9 mm thick products are ideal for tiling floors and walls and include a wide selection of sizes. This allows identifying the ideal fit between the format and the size of the space so that we could choose the best format for each space. The large slabs are best suited to cover extensive surfaces and are perfect also for counter tops, sinks, tables, and other furnishing elements in residential and commercial design. The 9 mm and 20 mm outdoor product ranges make the porcelain travertine perfect for terraces, large patios, driveways, and pool areas. Porcelain tiles are extremely resistant: they don't scratch, stain, or change color over time, and this makes them a perfect ally for designers."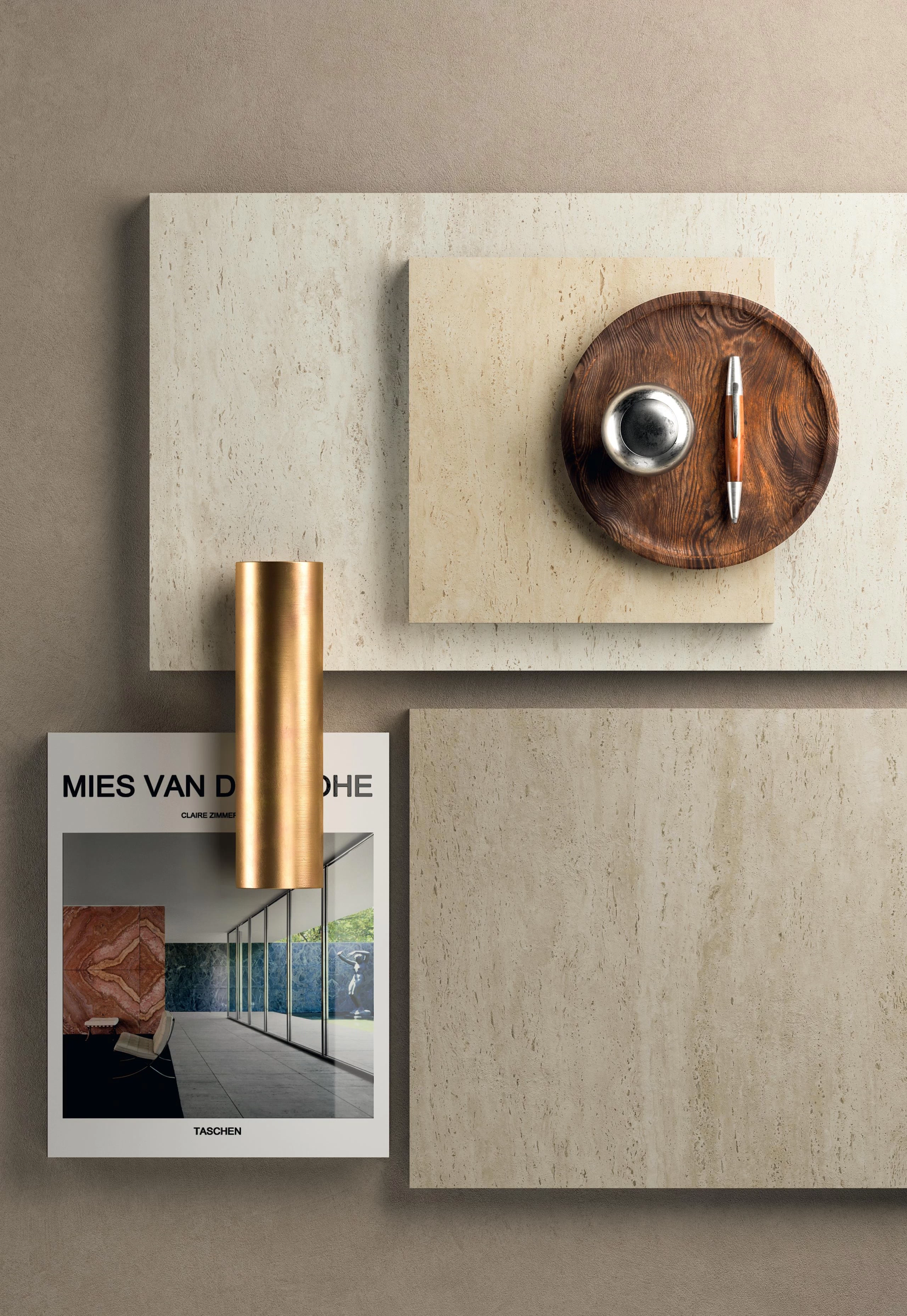 Travertine has always played an important role since classical Roman architecture. Why do you think it's now trending worldwide?
Lesha Fernando, Associate: "Travertine is a material that's been used for centuries, and has always been synonymous with elegance and majesty. Today it represents a popular trend in the design community thanks to its strong personality, timeless elegance, delicate shades, and natural colors that add warmth to contemporary projects. When we saw the surfaces of Marvel Travertine for the first time, we were impressed by how realistic the product looked, by the three-dimensional effect of the surface and by the graphic details that make it so similar to natural stone. The collection reproduces travertine in all its aspects, the two cuts, Vein and Cross, allow creating interesting combinations, and the three colors – White, Sand, and Pearl – reproduce the natural colors of travertine."
How important is it to have decors that add a tailored touch to projects?
Lesha Fernando, Associate - "Decors are a great design element. Patterns and wall and floor decors immediately draw attention to a particular area. They help partition different areas, and they add character to interiors. For this reason, we came up with five different decors for Marvel Travertine. The Tassellation Mosaic is composed of triangles and squares that fit together dynamically. The effect of movement can be increased by mixing the two graphic variants. The Origami Mosaic is inspired by Japanese art of the same name, creating the three-dimensional illusion of diamonds emerging from the surface. The Basketweave Mosaic is regular but brought to life by the different directions of the veins. The Chiselled Urban Grid and Diamond engraved decors with radiating geometries complete the range."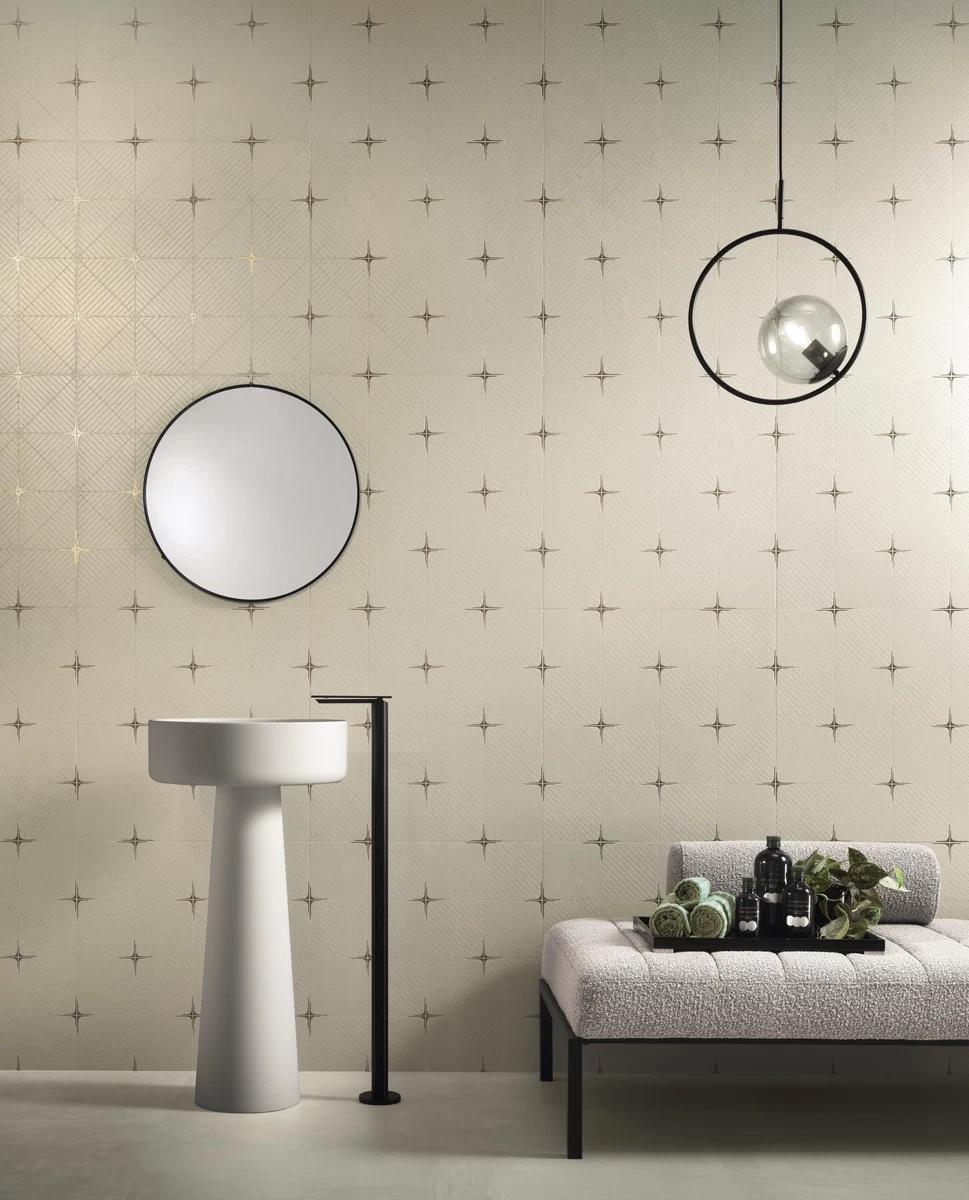 AtlasConcorde MarvelTravertine 010 00 Pearl-Diamond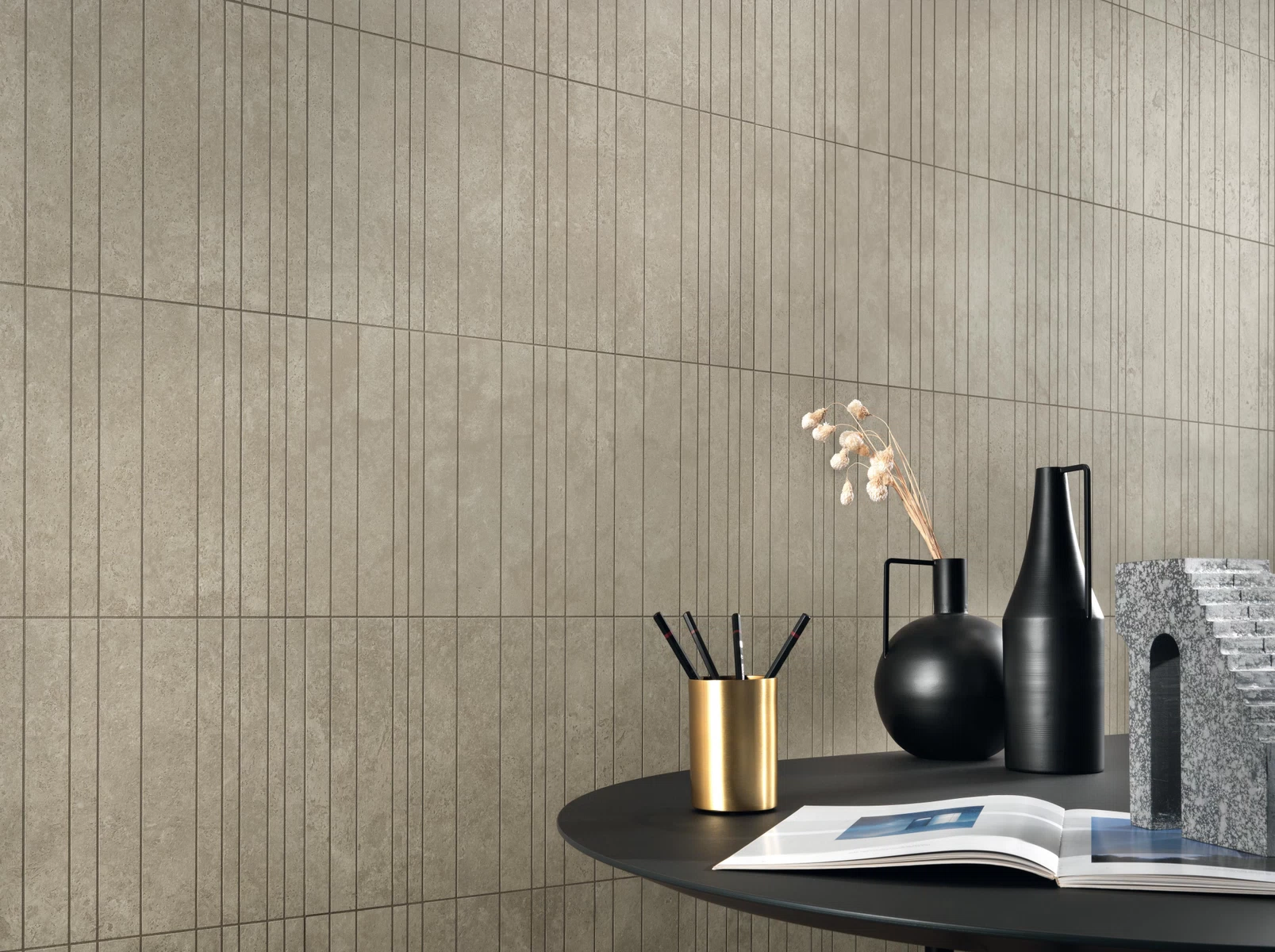 AtlasConcorde MarvelTravertine 009 01 Pearl-Chiselled
AtlasConcorde MarvelTravertine 008 00 Sand-Origami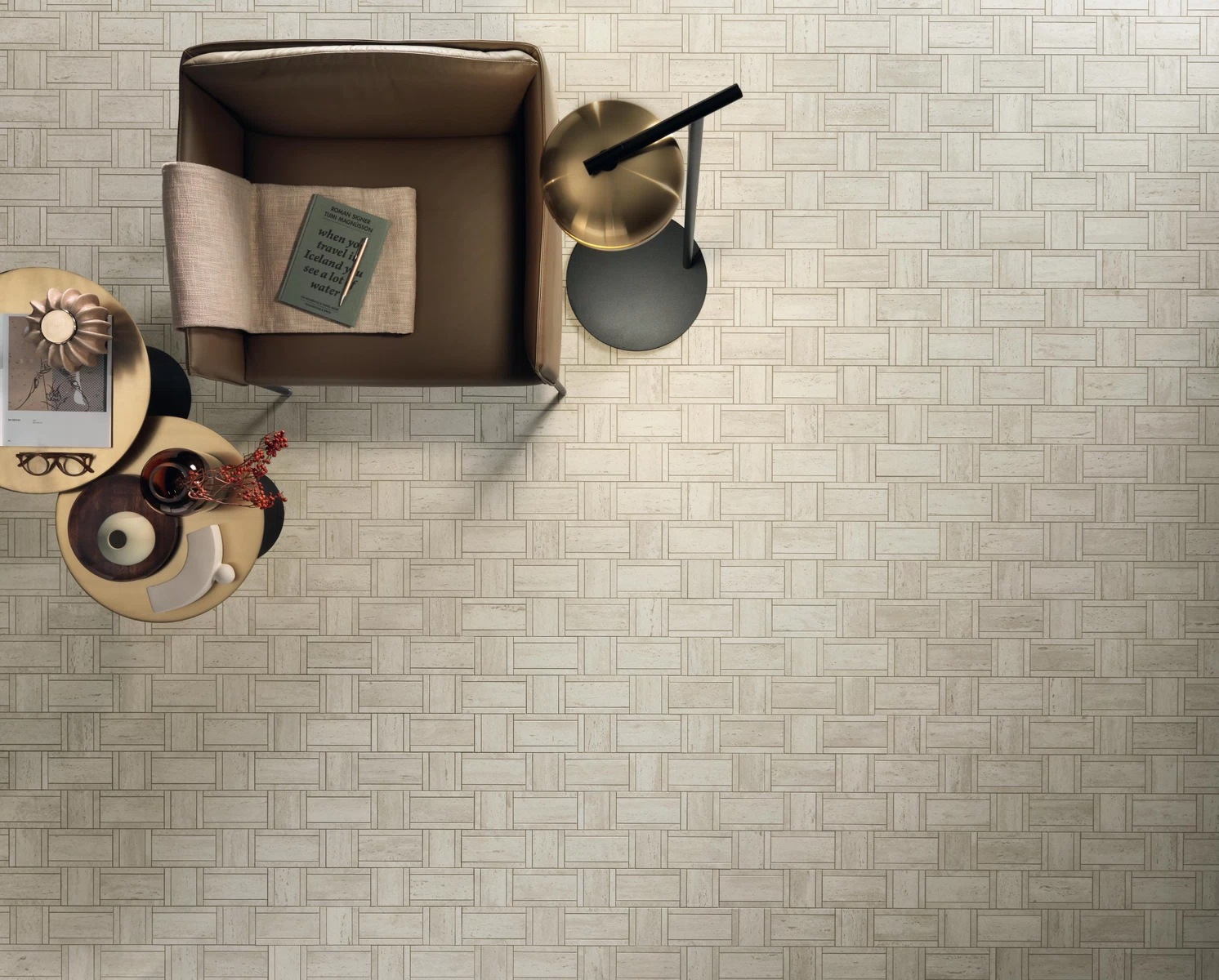 AtlasConcorde MarvelTravertine 007 00 White-Basketweave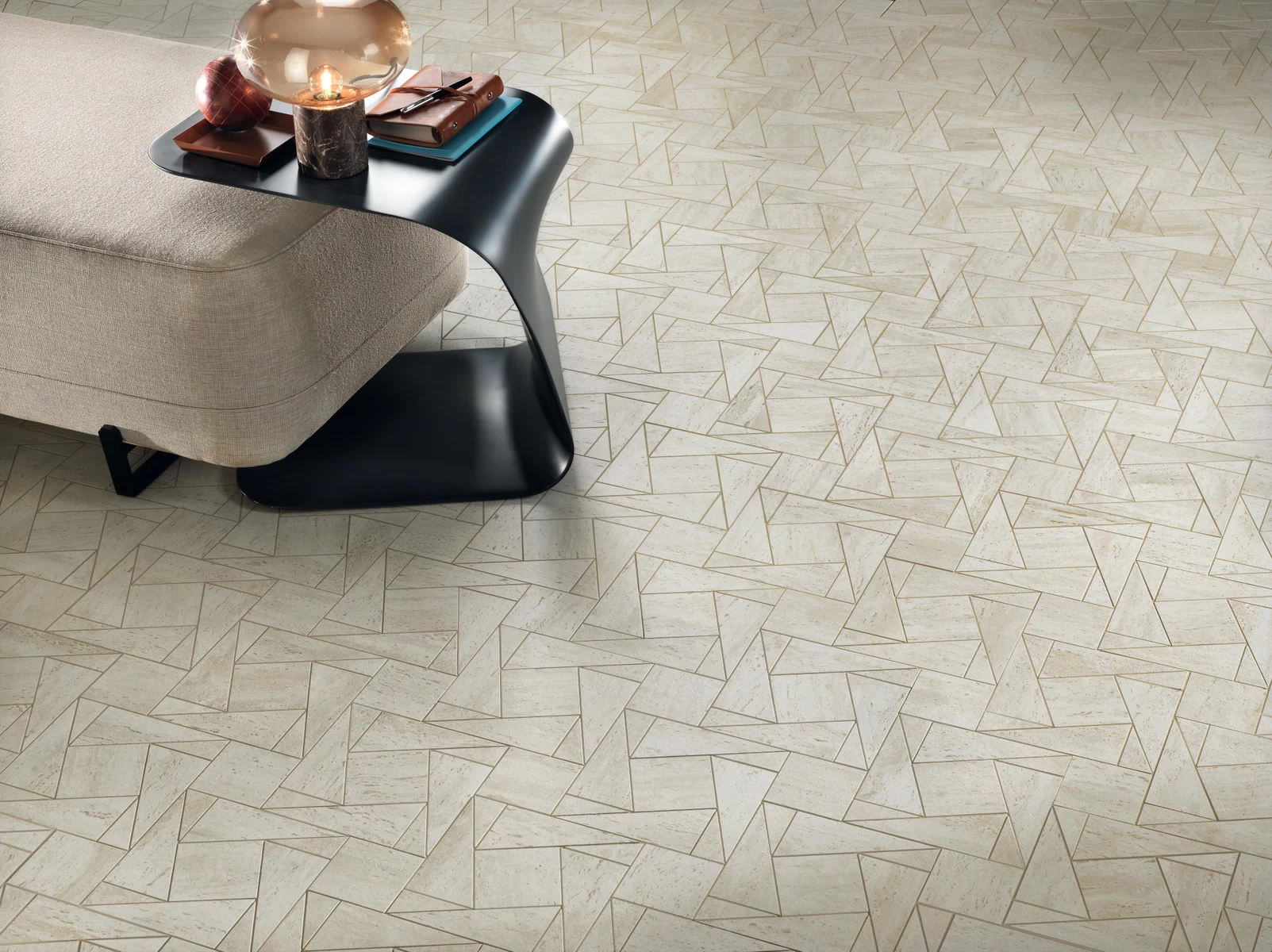 AtlasConcorde MarvelTravertine 006 01 White-Tesselation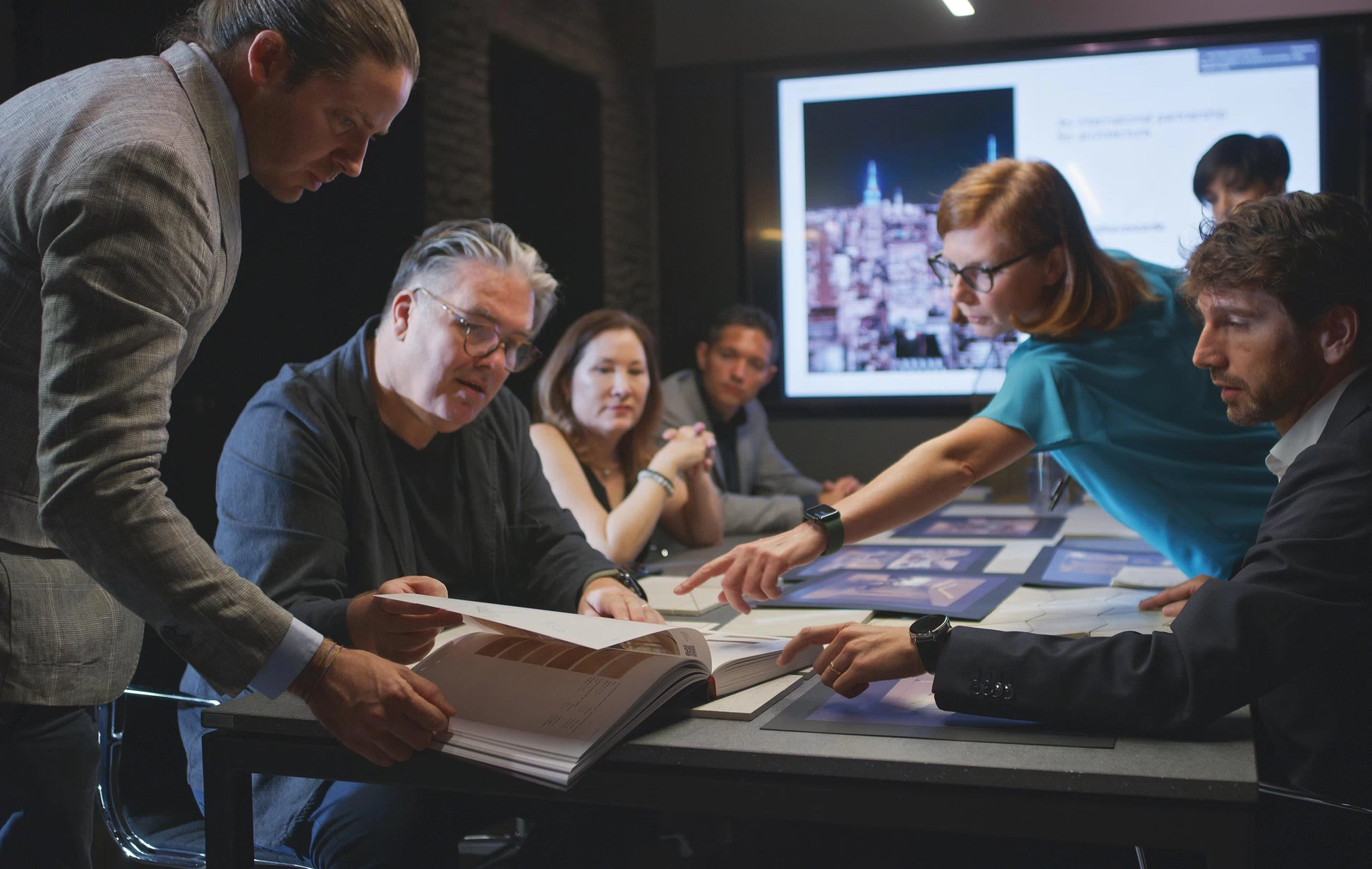 AC-HBA-showroom-Milano
The new Sensitech surface technology by Atlas Concorde combines pleasant touch, ease of cleaning, and high slip resistance. Why are all these traits important for a floor surface?
Lesha Fernando, Associate: "Safety and ease of maintenance are two extremely important requirements for hospitality, especially when it comes to public spaces such as hotels, restaurants, and stores. User safety is paramount, and the Atlas Concorde Sensitech surface ensures high slip resistance, a smooth touch, and extreme ease of cleaning, significantly improving surface maintenance in high-traffic environments."