Encaustic tiles: nouveau and deco light and color.
Atlas Concorde's Venti Boost rediscovers the appeal of encaustic tiles, offering an endless possibility of combinations.
What makes a design element unique?
There's something ephemeral that goes beyond appearance and conveys all the stories, the work, and the thoughts that led to that shape, to those colors. In interior design, encaustic tiles offer a retro charm that communicates authenticity and takes you back in time to the enthusiasm of the post-industrial revolution that saw cities grow and improve the living conditions of so much of the population. The new possibilities for working in the city demanded new homes to live in and simple, brilliant decorations that reflected this new lifestyle.
Square or hexagonal, initially used in bathrooms and kitchens, encaustic tiles gradually occupied all domestic environments and then continued on to colonize avant-garde public spaces thanks to their strong decorative character. Tapestries and carpets were abandoned in favor of a decoration that was more practical in its installation and daily management, the expression of a bold look. Thanks to a wide variety of colors and patterns, it was possible to create a different story in each home, tailored to the owner with a visual power that today finds a new correspondence with the demands of contemporary designs.
But what are encaustic tiles?
Encaustic tiles are made from a sand and cement base about 2 cm high and feature an expressive richness derived from the exceptional decorative versatility of the mix of marble powder, white cement, and colored pigments on the surface. Compared to granulated glaze, the most similar coating in terms of variety of shapes and colors, the particle size is different: granulated glaze is made with large, visible pebbles, while encaustic tiles have a surface layer consisting of a uniform mix of cement, very fine sand, and iron oxides. The simple, direct personality of encaustic tiles is also expressed in their "patch" laying method (each tile is glued with an agglomerate of lime and cement and installed individually) and in their anti-stain and waterproofing treatment using only linseed oil.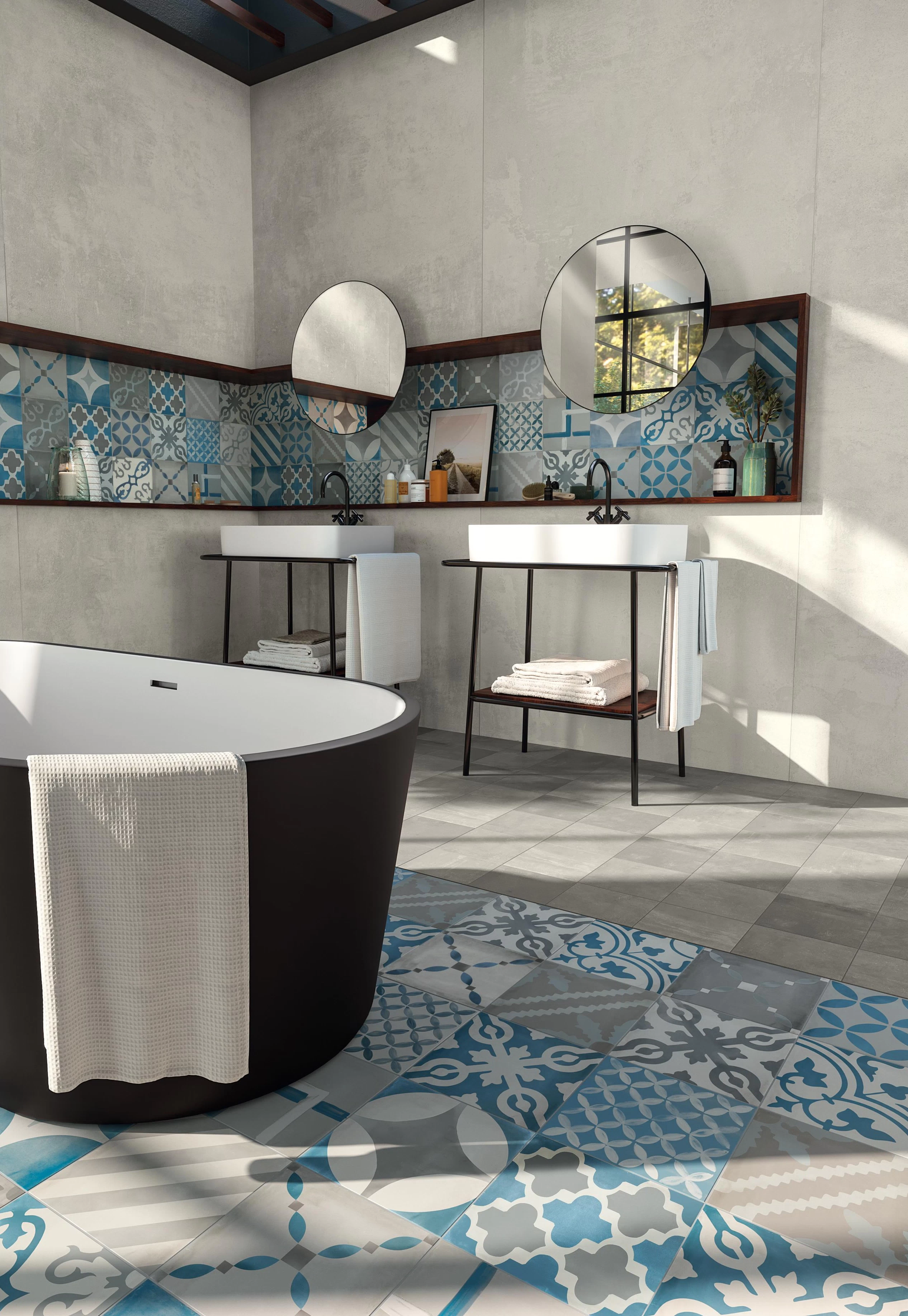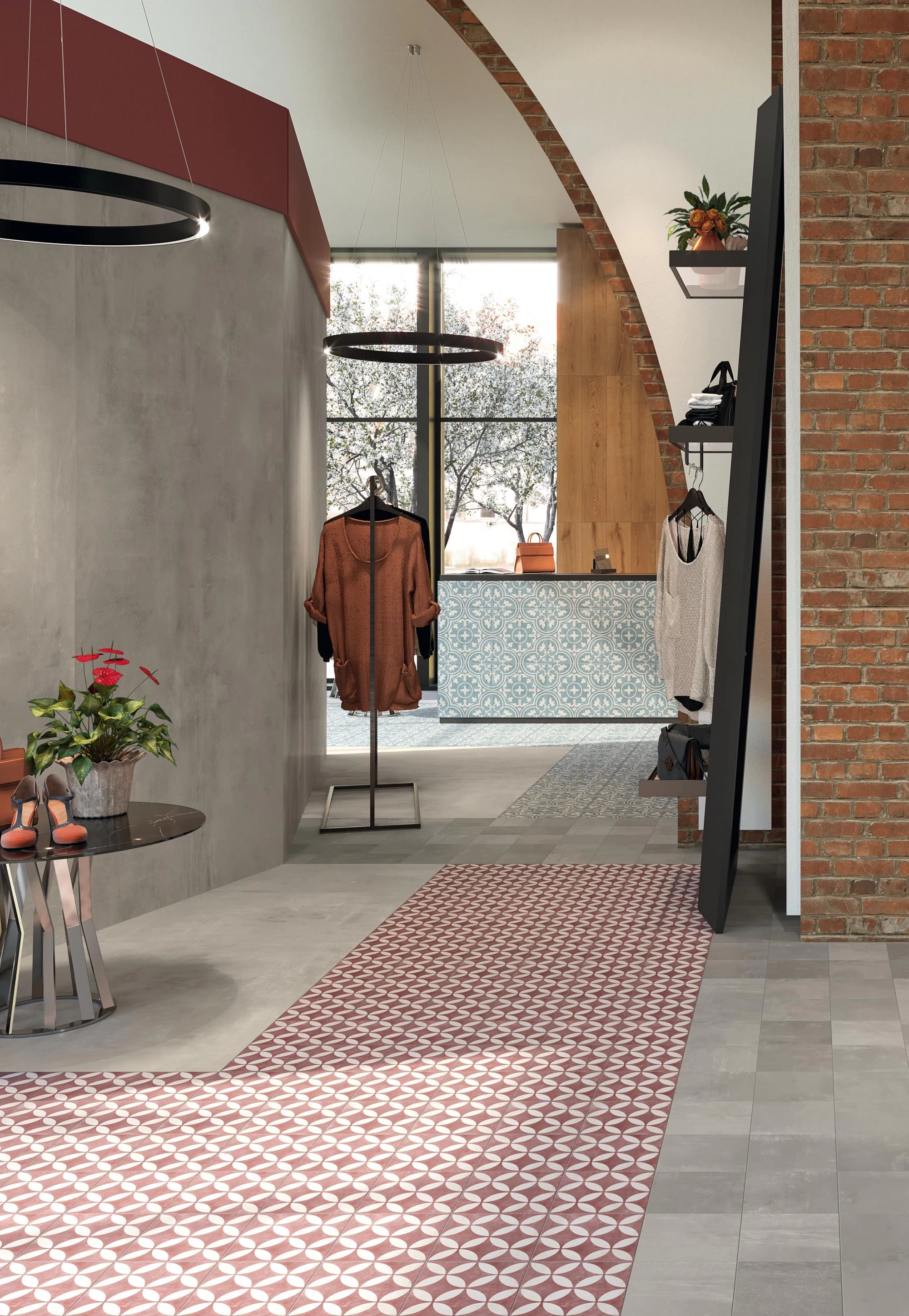 How can encaustic tiles interact with contemporary interior design projects?
The trend is clear: every project must find a balance between a desire for uniqueness and the need to choose reliable, efficient solutions, both during installation and in everyday life. Encaustic tiles offer an optimal solution because they allow for an infinite variety of colors and compositions, perfect for adding character to any space with easy installation and maintenance. The versatility of this material is evidenced by its history, an inexhaustible source of inspiration for contemporary projects: encaustic tiles debuted at the end of 19th century with art nouveau details like artisanal floral decorations and then graduated to art deco interiors and masterpieces by the grand masters of architecture. One of these masters was Gio Ponti, who wanted encaustic tiles in the Hotel Parco dei Principi in Sorrento, the first designer hotel.
Atlas Concorde's Venti Boost: encaustic tiles today.
Venti Boost is the Atlas Concorde collection that brings 20x20 encaustic tiles to the present, perfect for any project where the desire for beauty and color is blended with a sincere search for originality and style. Atlas Concorde's reinvented tiles span three worlds: Classic interprets a retro mood with shapes, colors, and symmetries featuring graphics and patterns of the past; Blue blends lightness and solidity in an elegant contrast decorated with classic blue patterns; Concrete is purely contemporary with its neutral desaturated colors and earthy, geometric surfaces that alternate full and empty chiaroscuros with a precise, rigorous design.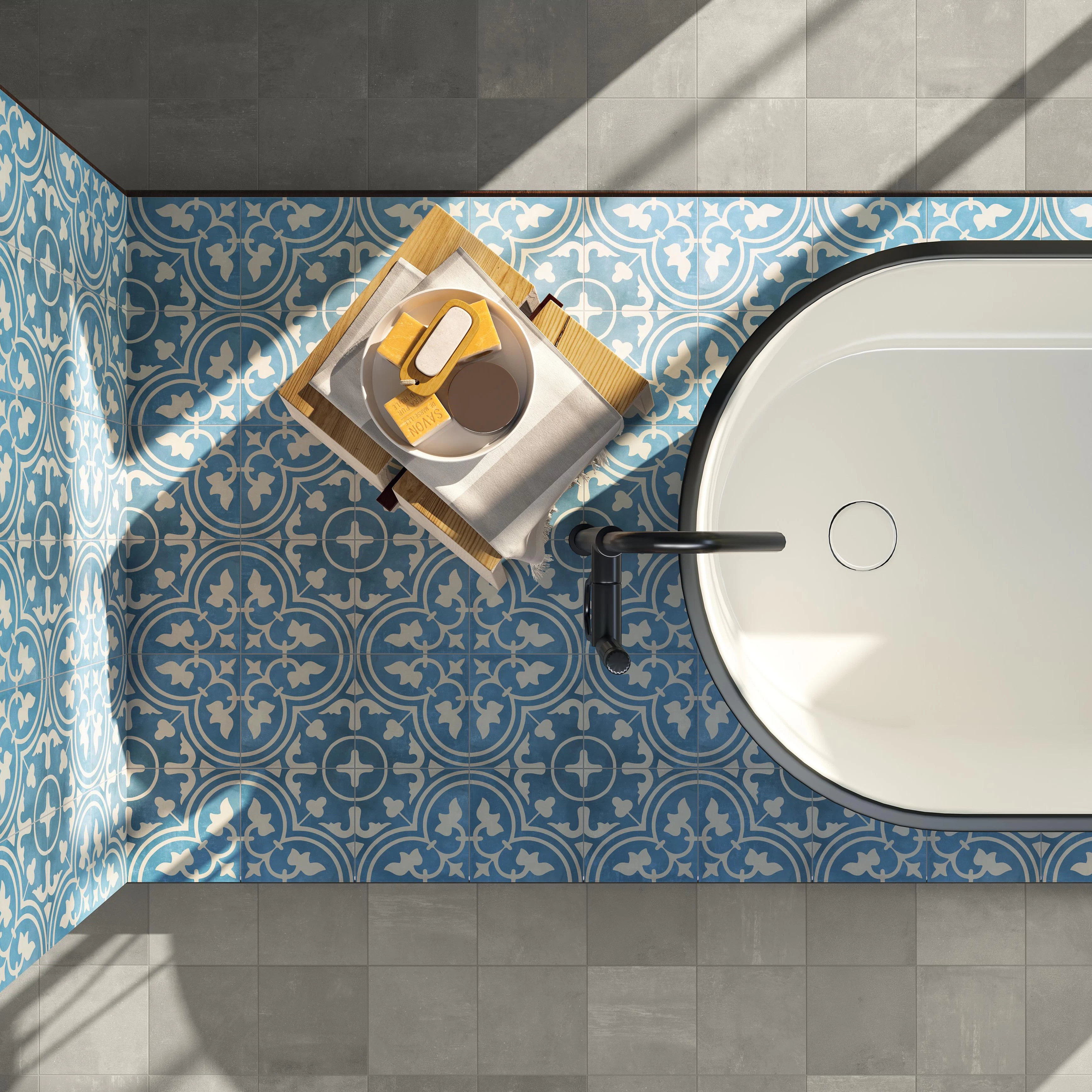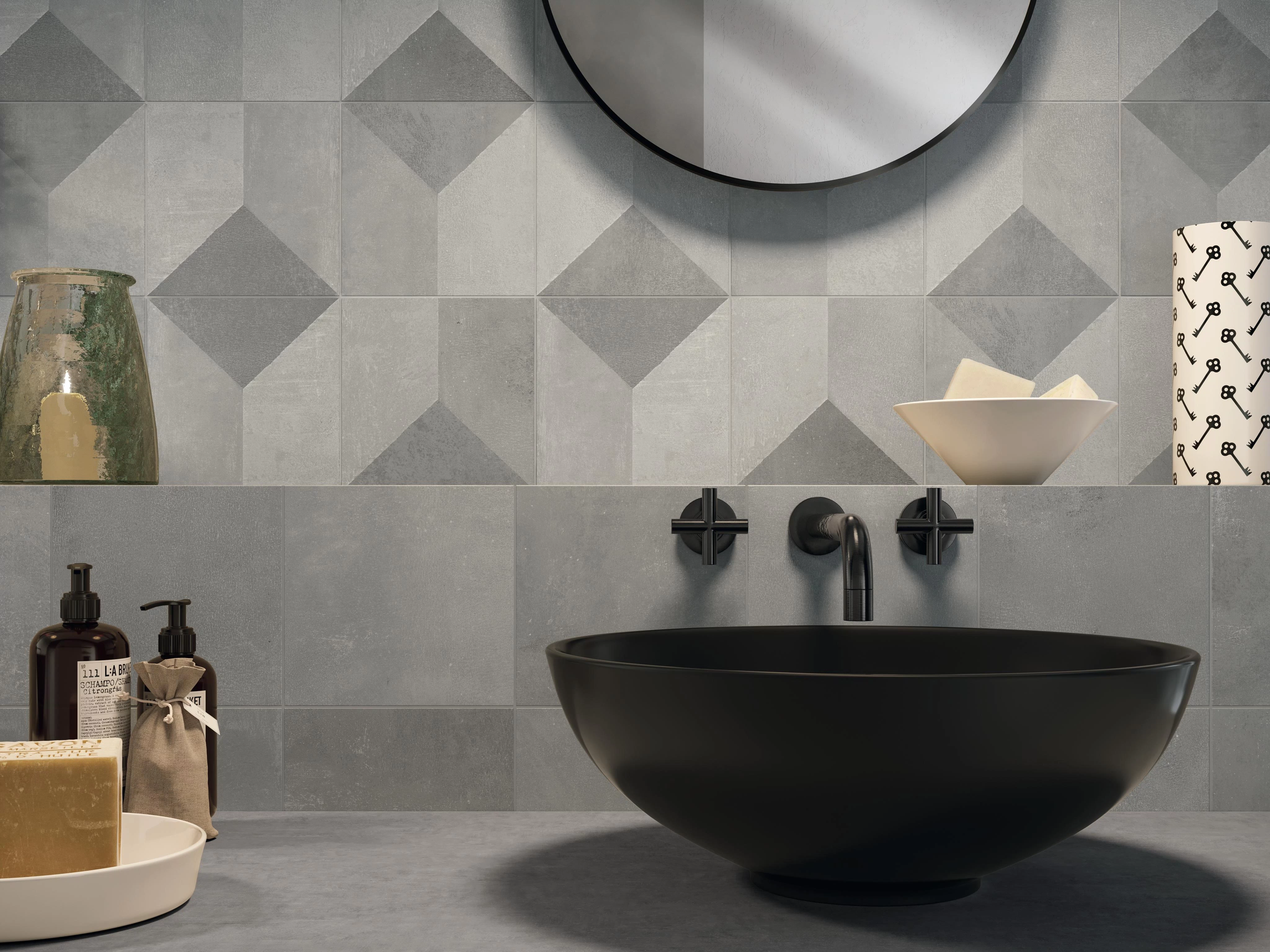 The variety of combinations that encaustic tiles offer is amplified in
Venti Boost
: the collection has two backgrounds and four mixes that combine different patterns extrapolated from the three main themes and 12 decorative carpets, repeating patterns to create a carpet available in neutral or colored versions. As always in the world of Atlas Concorde, customers enjoy maximum freedom to combine different collections and sizes, for example the large XL formats, with the certainty of a consistent, powerful look. Combinations with
concrete-effect porcelain tiles
from the
Boost
and
Boost Pro
collections, plaster-look tiles from the Raw collection, or
wood-effect porcelain tiles
from the
Exence
and
Heartwood
collections are just a few examples.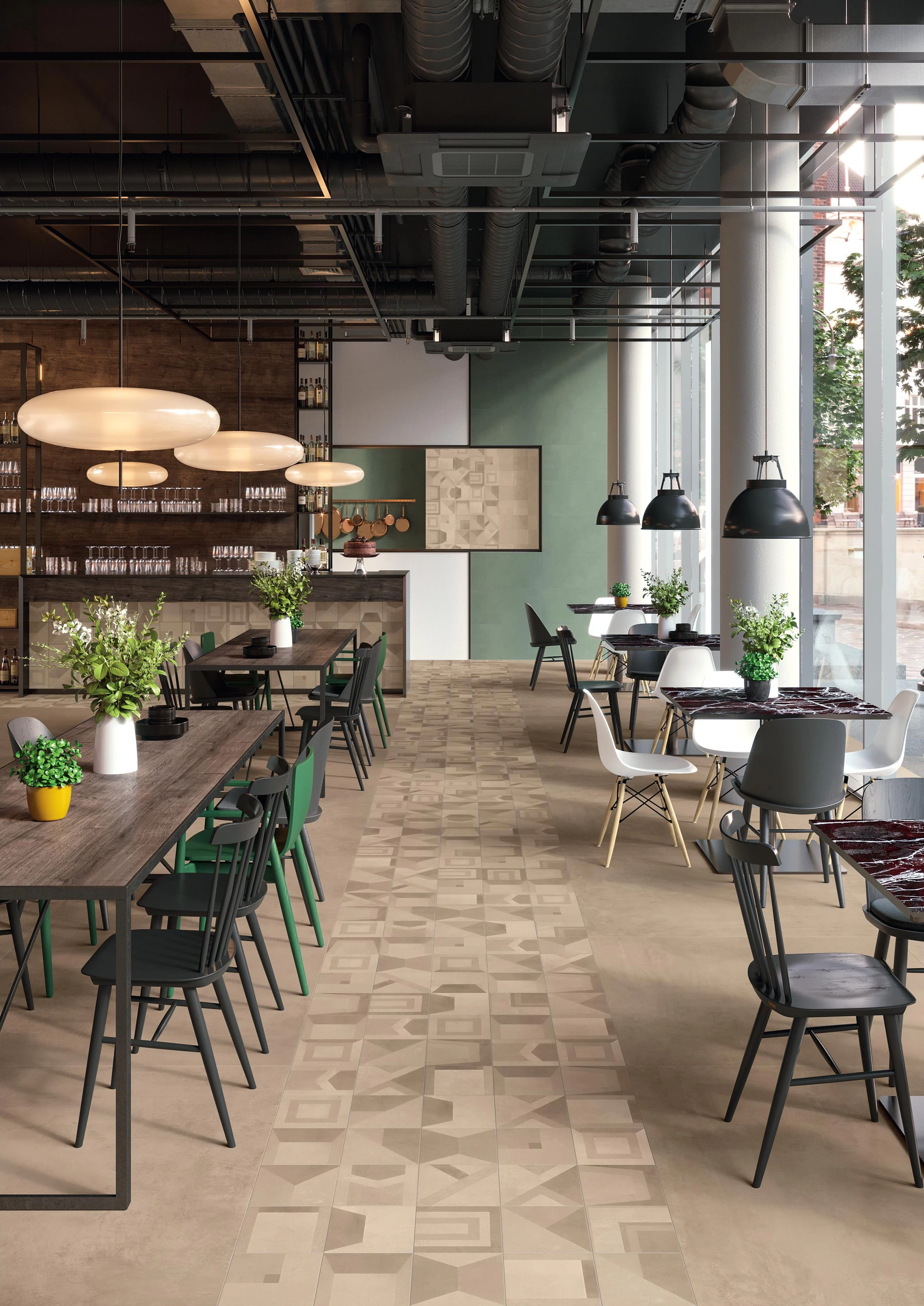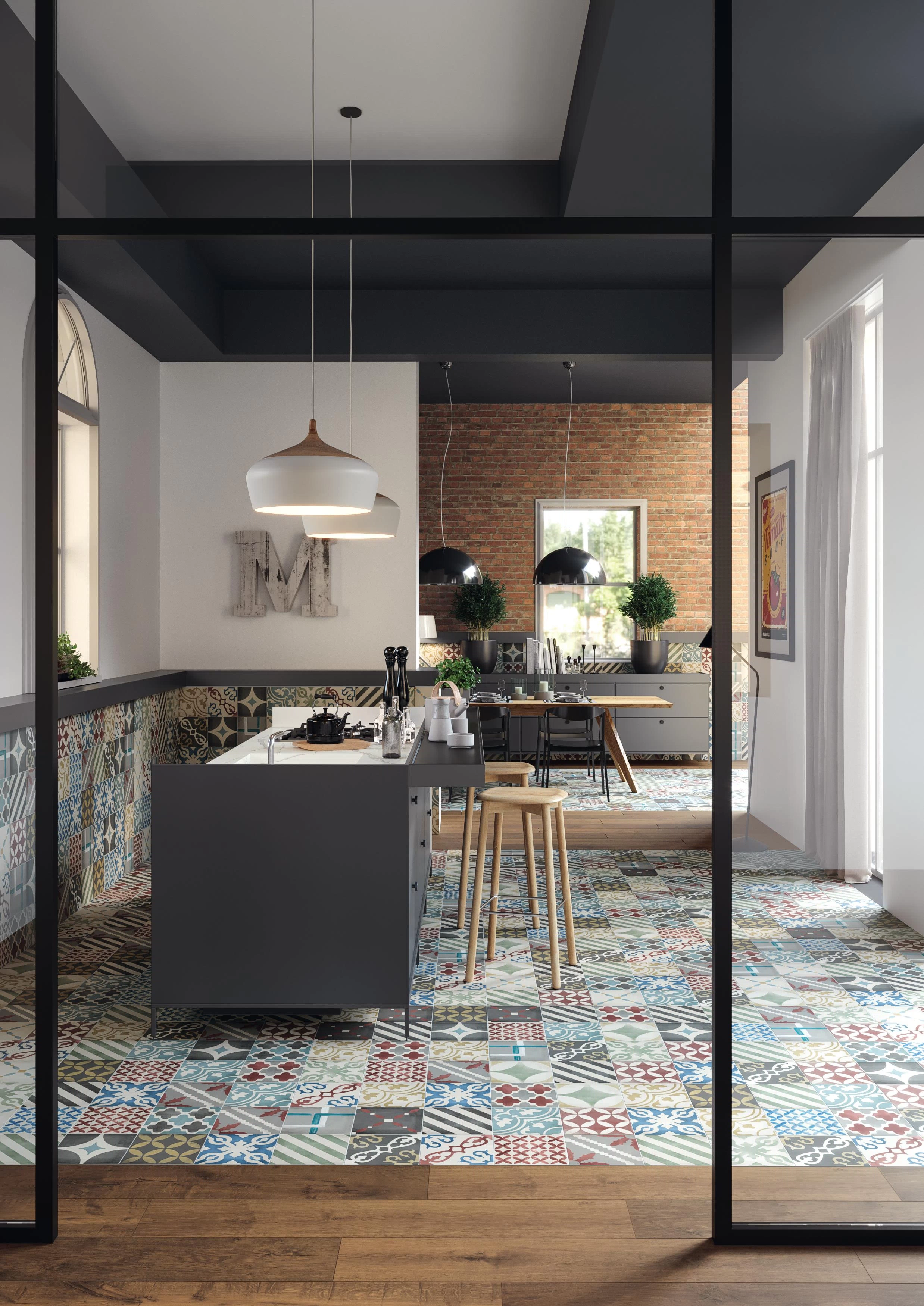 Which rooms of the home are best suited to encaustic tiles?
Choosing Venti Boost 20x20 encaustic tiles means adding a brilliant, elegant accent, deploying their creative strength in every environment, with a particular ability to complete residences and public spaces with a touch of color and light. Their small dimensions allow you to create kaleidoscopic effects or small accents depending on the desired result and with a goal having a precise outcome: to decorate that space in a unique way. Whether in a home or a public space, the result will be the same: unmistakable and unforgettable.