Floors for hotels. Selection guide
The guide to choosing the best floor and wall tiles for all types of hotels.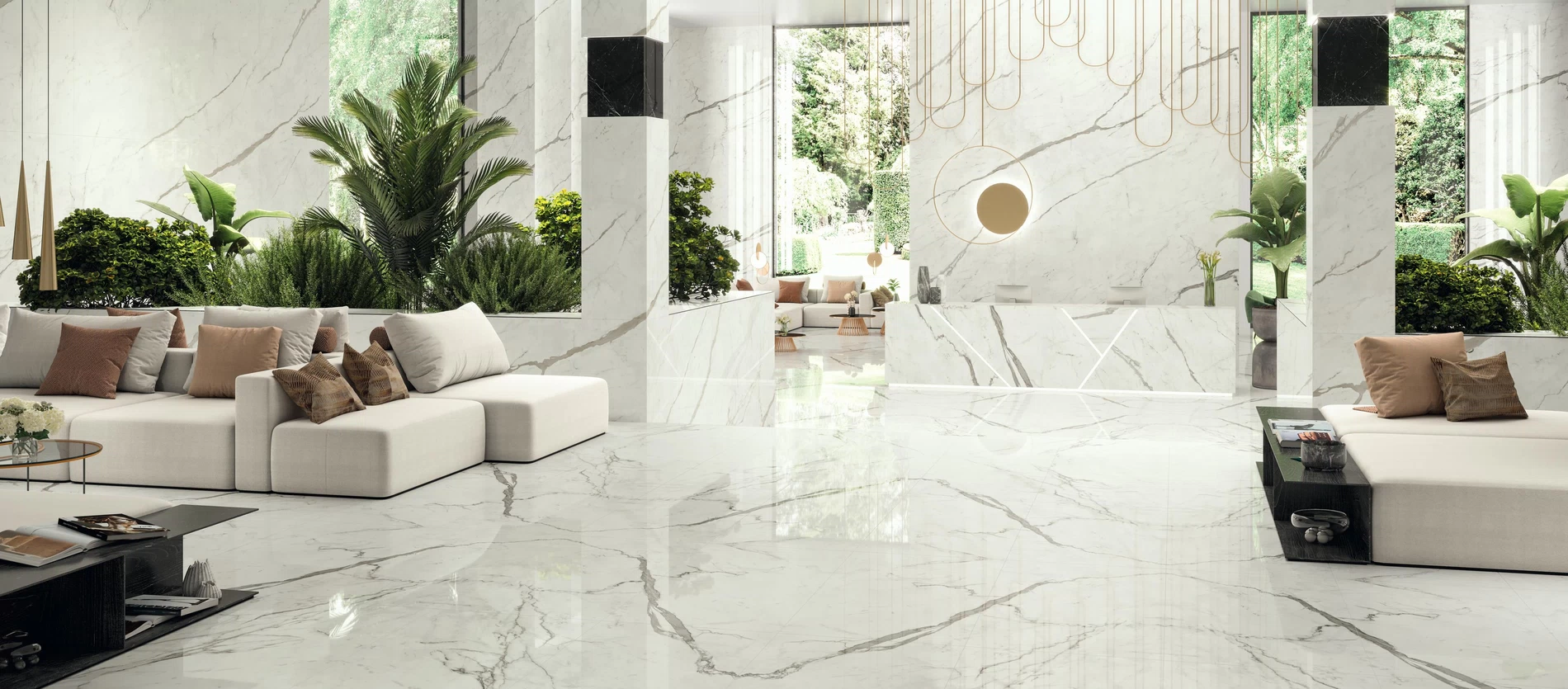 When you enter a hotel your curiosity is immediately piqued, enticing you to carefully observe every detail of your surroundings. Comfort, relaxation, efficiency, and cleanliness are the elements of value when it comes to hotel hospitality, capable of offering very different experiences that are continuously updated and stimulating. But there's also something intangible that we're increasingly looking for: the sense of feeling at home. Like furnishings or gardens, materials like floors and walls play a fundamental role in giving hotel rooms a domestic mood. The choice of flooring is therefore decisive for hoteliers, who in high traffic areas must combine beauty and superior technical characteristics like hygiene, ease of cleaning, and non-slip surfaces. The mix of performance and look represents a perceived value of beauty for the guest and a competitive advantage for the hotel, which will thus benefit from a virtuous cycle fueled by positive feedback from travelers. It is becoming increasingly strategic for hoteliers to define a recognizable image reflected in hotel brands. It is therefore up to the architect, with his or her personal stylistic background, to give the project a precise identity, an expression of the client's vision. All to make your stay in that particular hotel original and unforgettable compared to another.
Let's find out how to select the most suitable flooring for hotels
The esthetic aspect is the most obvious value, but since we're talking about spaces used by the public it becomes essential to consider a material that guarantees maximum safety in the event of a fire, that stands up to sub-zero temperatures, and that is non-slip, healthy, resistant to stains and easy to clean. Maintenance costs must be sustainable over time, and the installation must be fast so as not to have areas that are not accessible to guests for a long time.
Natural materials: not just benefits
When it comes to the discussion of natural materials, there are a few aspects that we need to consider. While they are certainly refined and precious, some of them have characteristics that must be carefully assessed if they are to be used in a high-traffic environment like a hotel. Authentic marble, for example, has a fine yet delicate finish that tends to wear and become opaque. Even the appeal of wood has to be considered in light of the cost for its continuous maintenance. Carpets are widely used in hotels also because of their ability to dampen noise, but their drawbacks include a lower level of hygiene and the need for continuous maintenance to keep them free from bacteria and viruses, not to mention periodic replacement due to wear or permanent stains. While concrete or resin is the ideal look when you want to add a contemporary industrial touch to your hotel, they're also the most expensive options for flooring, having to be produced on site. Often the choice falls on linoleum and LVT floors, products made from different layers of various materials that are pressed or made using an industrial process, especially for reasons of economic convenience in cheap hotels and hostels. But in the long run porcelain tiles are the most forward-looking solution.
Porcelain tiles: a functional and versatile material with high esthetic value
Thanks to the
values of ceramics
, today porcelain tilesurfaces are among the most-used materials in hotels,
restaurants
, resorts, and so on. In addition to their practical benefits, thanks to their ability to replicate the texture and feel of a wide array of materials, porcelain tiles are a valid alternative in terms of esthetics, perfectly recreating the look of
wood
,
marble
,
concrete
, and
stone
.
Inspired by natural materials, the look of the tiles is a key value that conveys a perception of authenticity thanks to the wood, metal, cement, marble, and stone effects. The meticulous attention to both graphics and texture is possible thanks mainly to the technological advances of digital printing that has given a soul to porcelain tiles, in the past considered primarily for their technical qualities and performance. A wide selection of formats (from the 8x31 cm brick to 120x240 or 120x278 cm XL format) makes the ceramic surfaces a design solution that is particularly suitable for contract and
hospitality spaces
.
Functionality and performance
Healthiness is certainly one of the benefits of ceramic tiles. They are highly valued by hotel owners precisely because they are among the most hygienic materials, free of toxic and organic substances. Its compact, non-porous surface is a barrier against mites, bacteria, fungi, and molds. Characteristics that are important for architects who design hospitality properties, especially for wellness areas, but also for rooms and common spaces.
Application and installation
The availability of reduced thicknesses makes it possible to have porcelain tiles that are lightweight, versatile, simple to lay, and practical to manage. The 6 mm thickness opens up new possibilities: a less invasive, quicker solution that allows for direct installation over top of pre-existing surfaces to speed up renovations.
Hotel contracts: wall tiles
The world of wall tiles deserves a closer look. White body or single-fired ceramic tiles are the perfect choice for hotels. From a technical point of view, they are extremely lightweight and thus allow for simple, speedy installation. Furthermore, single-fired tiles achieve their full potential in the
bathroom
, as they are easier to cut and drill than other materials. Thanks to their glassy surface glaze, the tiles are particularly colorful and decorative. A further highly sought feature for hotel rooms is the
3D effect
of these white body wall tiles, produced with scenic reliefs in geometric or abstract shapes and sinuous motifs that seem sculpted by the light, creating walls of great appeal.
Earthy and rigorous, lightweight and easily drilled and shaped, the
Klif
collection is ideal for hotel rooms. The
3D Wall
texture of the Klif collection has a chiseled stone effect that brings out the decisive elegance of the material. A monolithic look where realism is one of the strong points of the surface, faithfully reproducing the veins and shading typical of beola stone.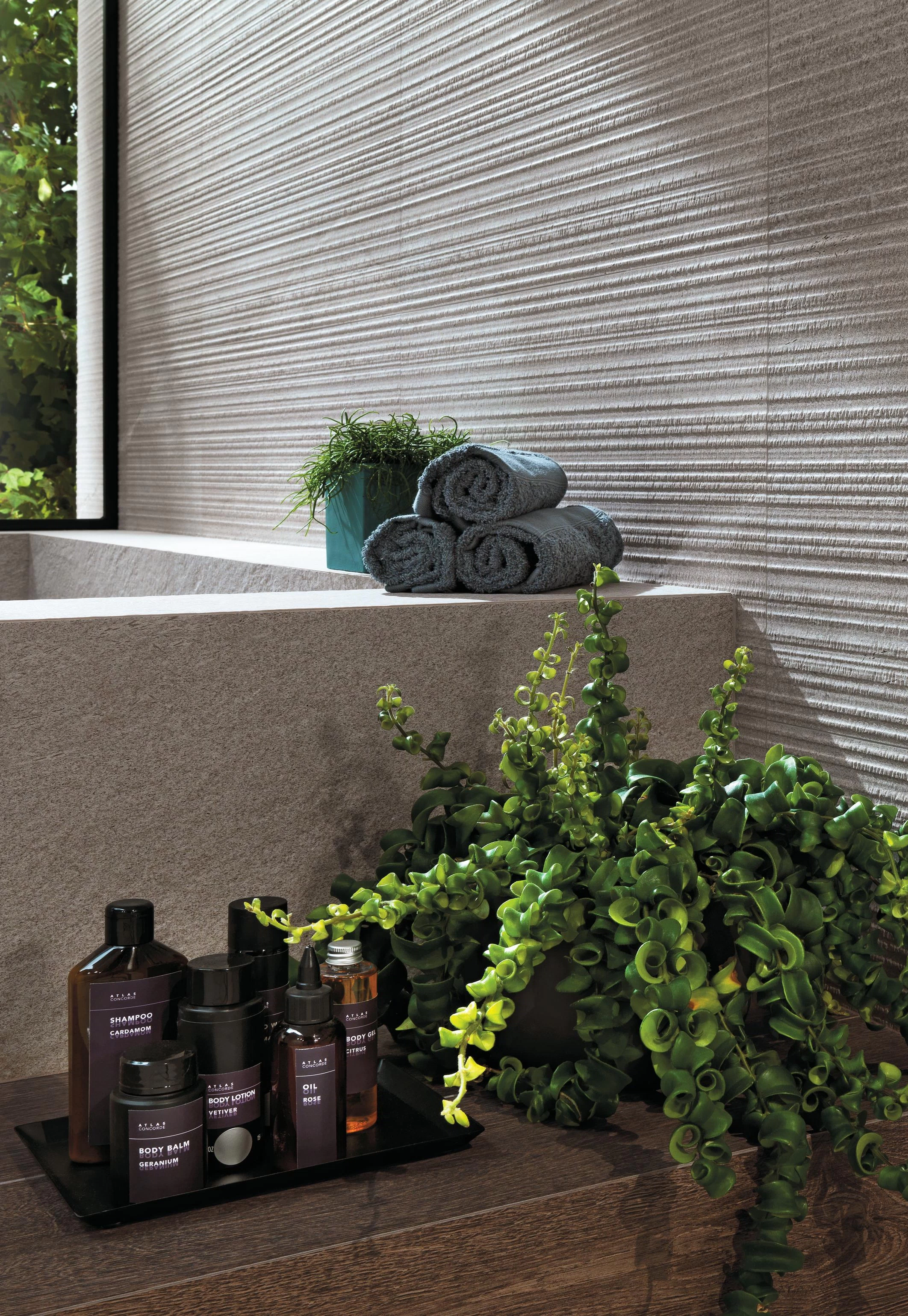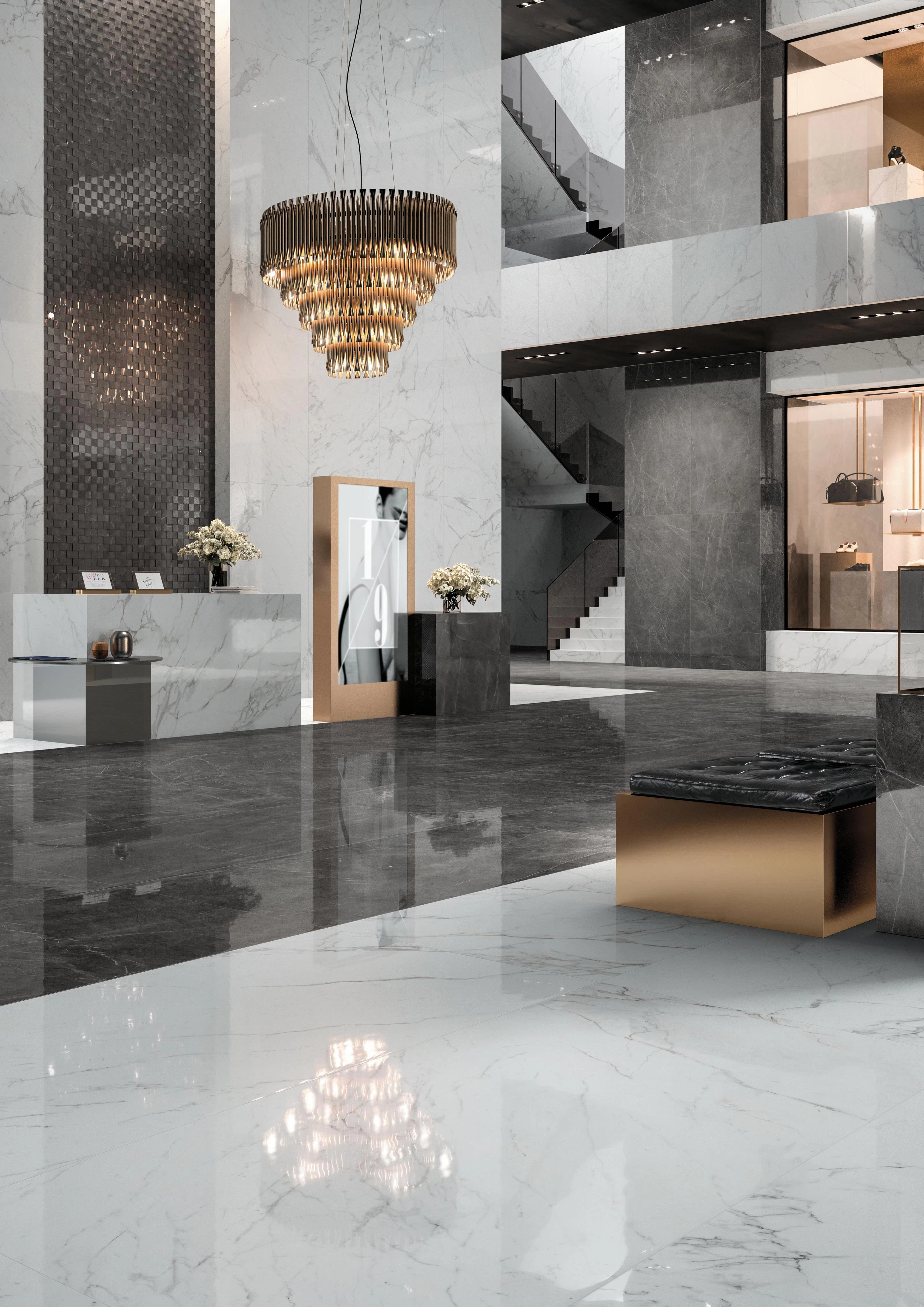 From the lounge to the reception, from the suites to the bathroom. The marble effect decorates prestigious hotels thanks to the collections of porcelain floor and wall tiles. The
Marvel collections
make it possible to design high-end hospitality interiors with a precious and refined mood thanks to the inspiration of the most elegant marbles found in nature.
The
large format
(120x278 cm) makes it possible to design interiors with the marble effect and express all the beauty of fine marbles. Since these slabs are so thin (6 mm), it's possible to design furnishing accessories with a great ambiance and unusual color combinations.
The warmth and "light-living" style of the
wood-effect porcelain tile collections
is one of the most popular trends in the hotel sector, an expression of both Mediterranean and Central European lifestyles. The wood-effect
Exence
porcelain tile collection helps to make hospitality spaces comfortable and welcoming.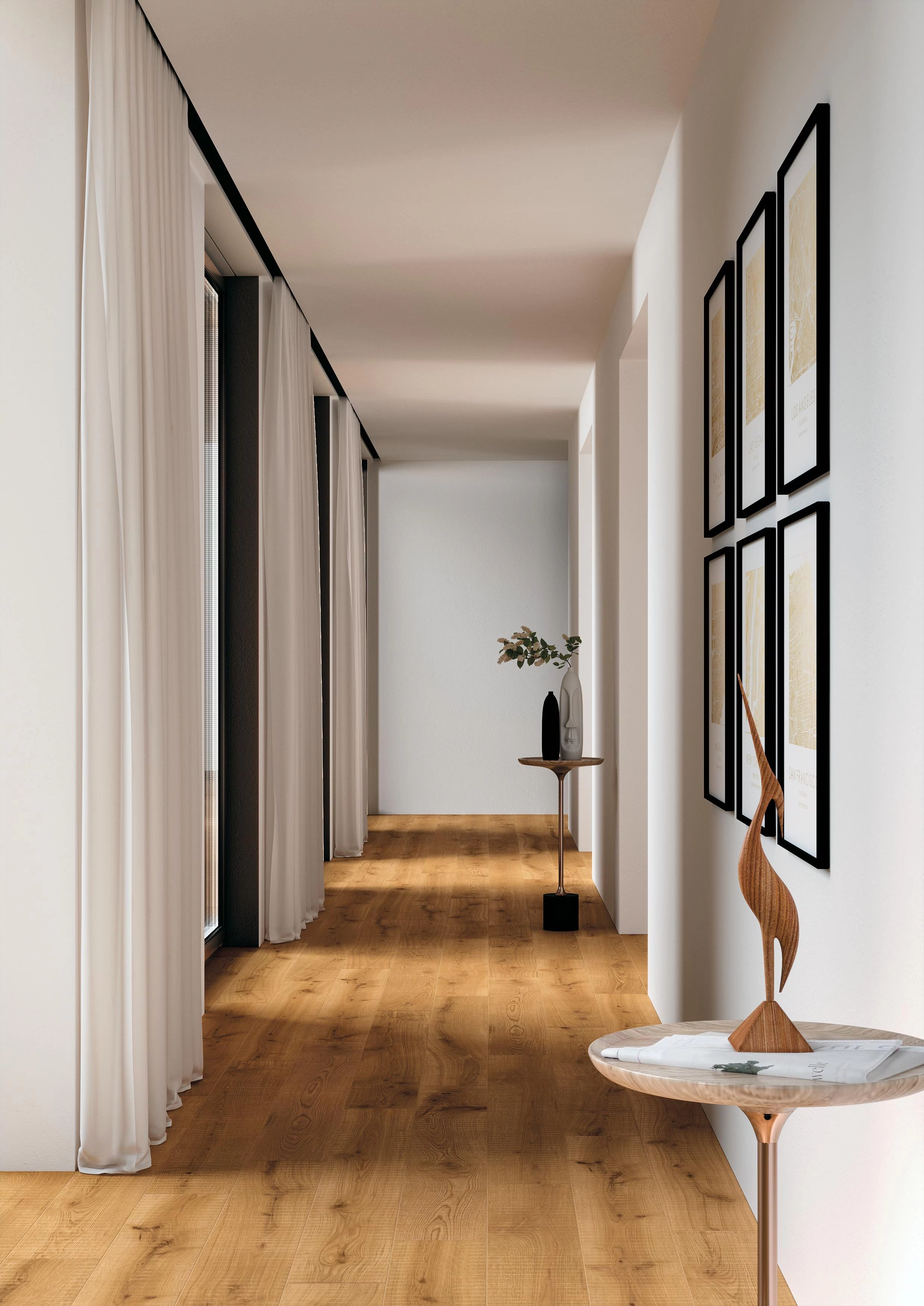 The Emerald Maldives Resort & Spa is the perfect fusion of architecture and nature. The natural appearance of Atlas Concorde porcelain tiles reinforces the link between the resort's spaces and its surrounding environment, offering a fundamental design support for creating a simple, refined stylistic mix.
In this context, Atlas Concorde's collections help create welcoming environments where the strongest trends of contemporary style resonate with a selection of tiles inspired by natural materials, from the marble effect of Marvel to the wood look of the Etic, Nid, and Axi collections, the stone effect of Brave and Trust, and the concrete effect of the Dwell collection.