Minimal-warm, the natural stone-effect style
Porcelain tile collections with textures, finishes, and colors inspired by the amazing world of natural stones. To convey warmth and a sense of welcome in residential, hospitality, and retail interiors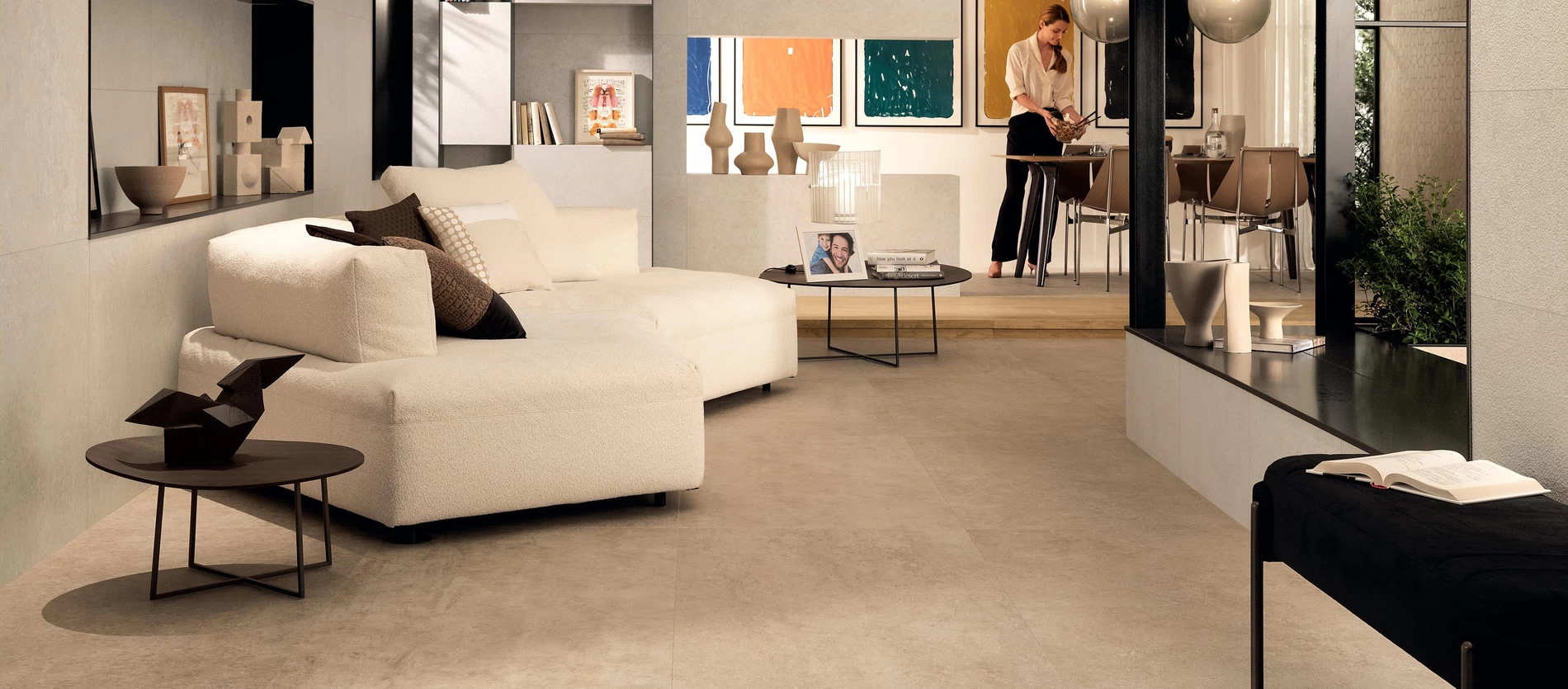 Before architecture and design, art history showed us the strong link between stone and humanity's ideas. Stories tell of artists struggling to extract forms from rock, or allowing the rock to express itself.
In today's interior design there's a desire for a return to authenticity, simplicity, and natural materials, and the appeal of stone continues to be timeless. Strongly characterized by locations of their quarries, stones are sometimes symbols of a territorial identity. These same esthetic canons and identity values find full expression today in stone-effect porcelain tile collections that, thanks to a wide variety of textures, finishes and colors, become an important decorative element for those aspiring to re-establish a virtuous relationship with nature.
Thus houses and metropolitan interiors are transformed into urban refuges. Thanks to the minimal-warm style of stone-inspired porcelain tile collections, designers can decorate spaces with total-look solutions that connect indoor and outdoor spaces.
Limestone: the earthy esthetic of stone
Simple, with rich, earthy textures and an ancient flavor. Limestone has inspired numerous stone-look porcelain tile collections for the interiors of residential, hospitality, and retail projects, combining the beauty of nature with the ingenuity of research and experimentation.
With its strong connection to the classic flooring of 18th-century French villas, Aix is a contemporary collection inspired by ancient limestones available in two color ranges: warm colors linked to Mediterranean architectural tradition (villas, Provence farms, and residences immersed in the nature of the south) and cooler shades that evoke central European atmospheres (ancient residences and cottages in central and northern Europe).
Unique in form and timeless charm, Lims interprets the beauty of stone as the fusion of the most famous and sought-after materials, from French stones (Hauteville) to Portuguese (Moleanos), Belgian (Blue de Vix), German (Jura), and Italian (Vicenza).
Authenticity and natural character distinguish the Kone collection: a simple, scenic stone effect for refined, welcoming environments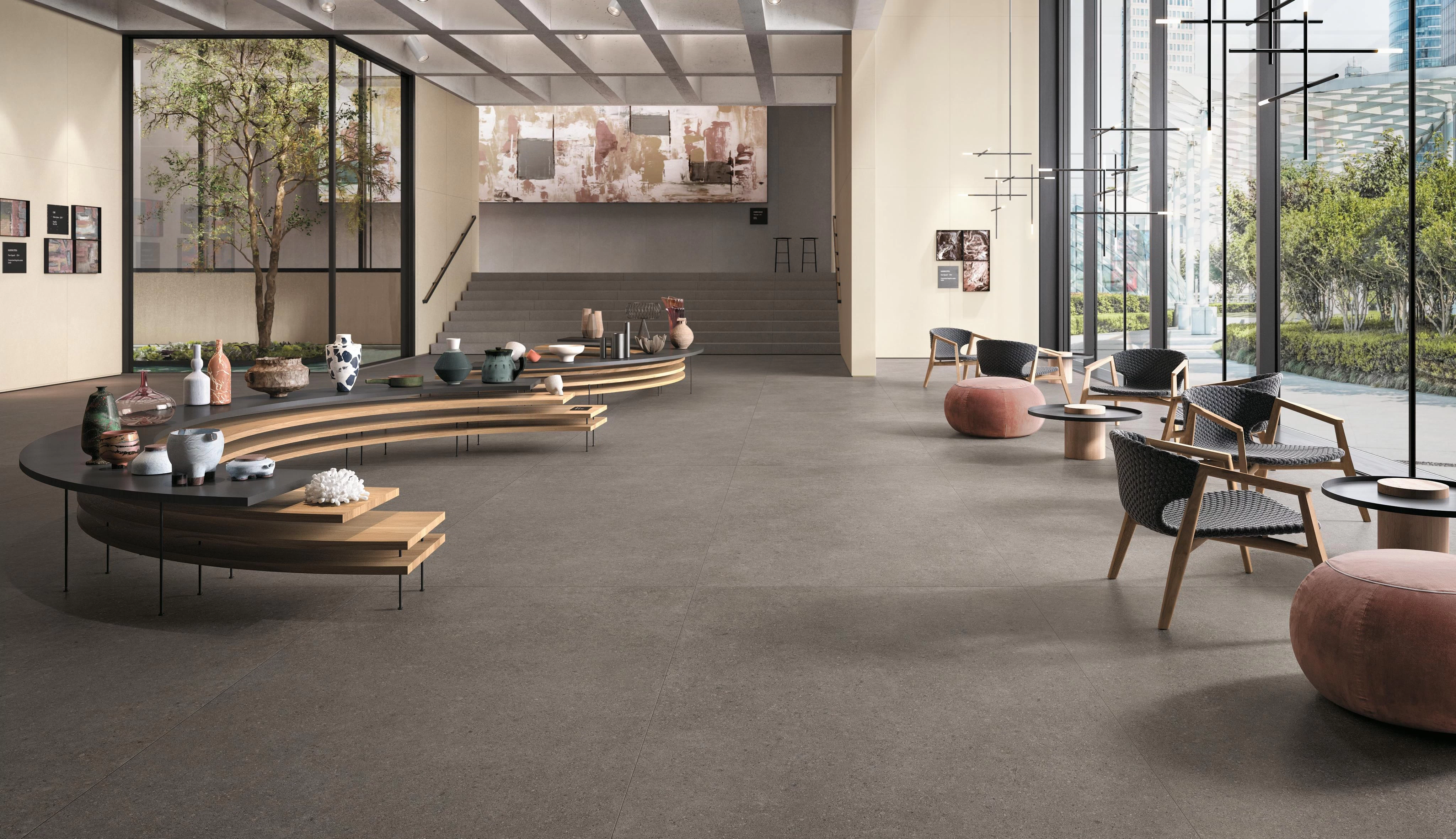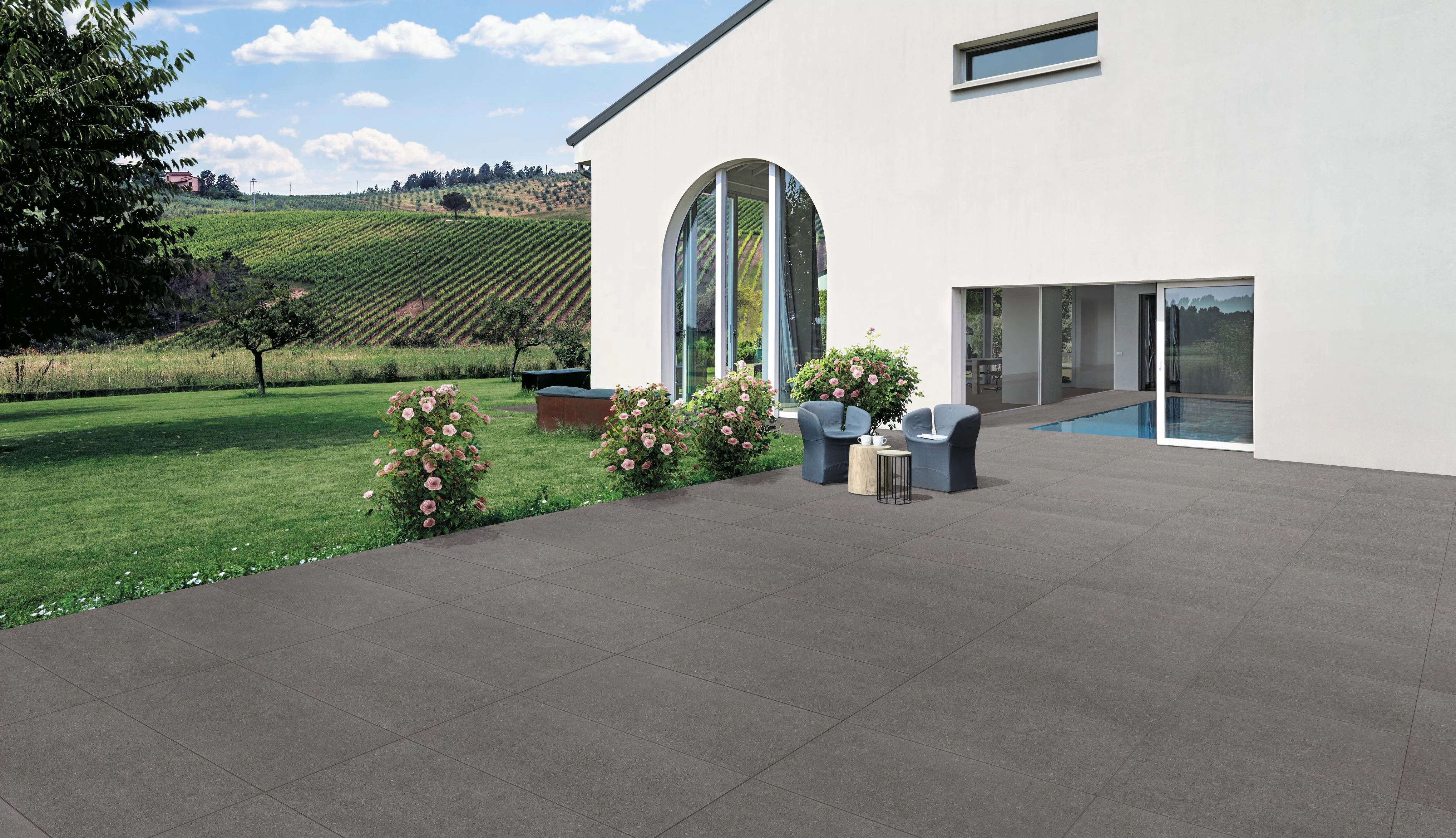 Quartzite: lived-in environments with a rustic, welcoming accent
Simplicity and elegance are the characteristics of this family of stones, the source of inspiration for many collections of porcelain floor and wall tiles. They have a minimalist look, in some cases the texture being dotted with tiny details and light shading, providing an almost monochromatic background. At other times they can be rich in details, clusters of rocks or fossils that practically bring the surface to life, conveying a sense of nature.
These collections are ideal for simple spaces and Nordic atmospheres, but also for a welcoming look where the warmth and natural character of the style confers a domestic flavor to any environment.
The Norde collection is one of the stone-quartzite-effect collections that recall two natural stones: one quartzite, extracted in Greece, and the other Beola Nera. The graphic characteristics of the original stones have been expertly reproduced and blended in order to obtain a single stone that features the most interesting traits of the two original varieties.
The Brave collection of porcelain floor tiles and white body wall tiles interprets the beauty of rare natural stones, conveying a bold image rich in natural details: veins, inclusions, colored shading. A realism that surprises for its authenticity, and that, combined with the technical performance of the tiles themselves, makes the collection suitable for contemporary interior and exterior design projects, creating a synergy between reliability and beauty.
https://www.atlasconcorde.com/en/collections/ac/brave-floor-wall/
The refined, earthy appearance of Trust recalls quartzite and Luserna stone with a surface featuring intense variations in color and texture, achieved thanks to the most sophisticated ceramic technologies.
Trust's earthy charm makes this collection ideal for designing total-look environments, with perfect visual continuity between indoor and outdoor spaces.
Alongside rigorous cool tones, Seastone offers sophisticated warm shades and a refined white. Warm and cool tones converge and combine to refine and elegantly adorn all kinds of environments, giving modern living spaces the flavor of an all-natural European contemporary style.