NoBoundaries Spaces. The new link between indoors and outdoors
The home is increasingly the ideal setting for redefining the boundaries between indoors and outdoors in new living opportunities. In fact, outdoor areas are being transformed into the natural extension of indoor spaces, in close and positive connection with the surrounding habitat.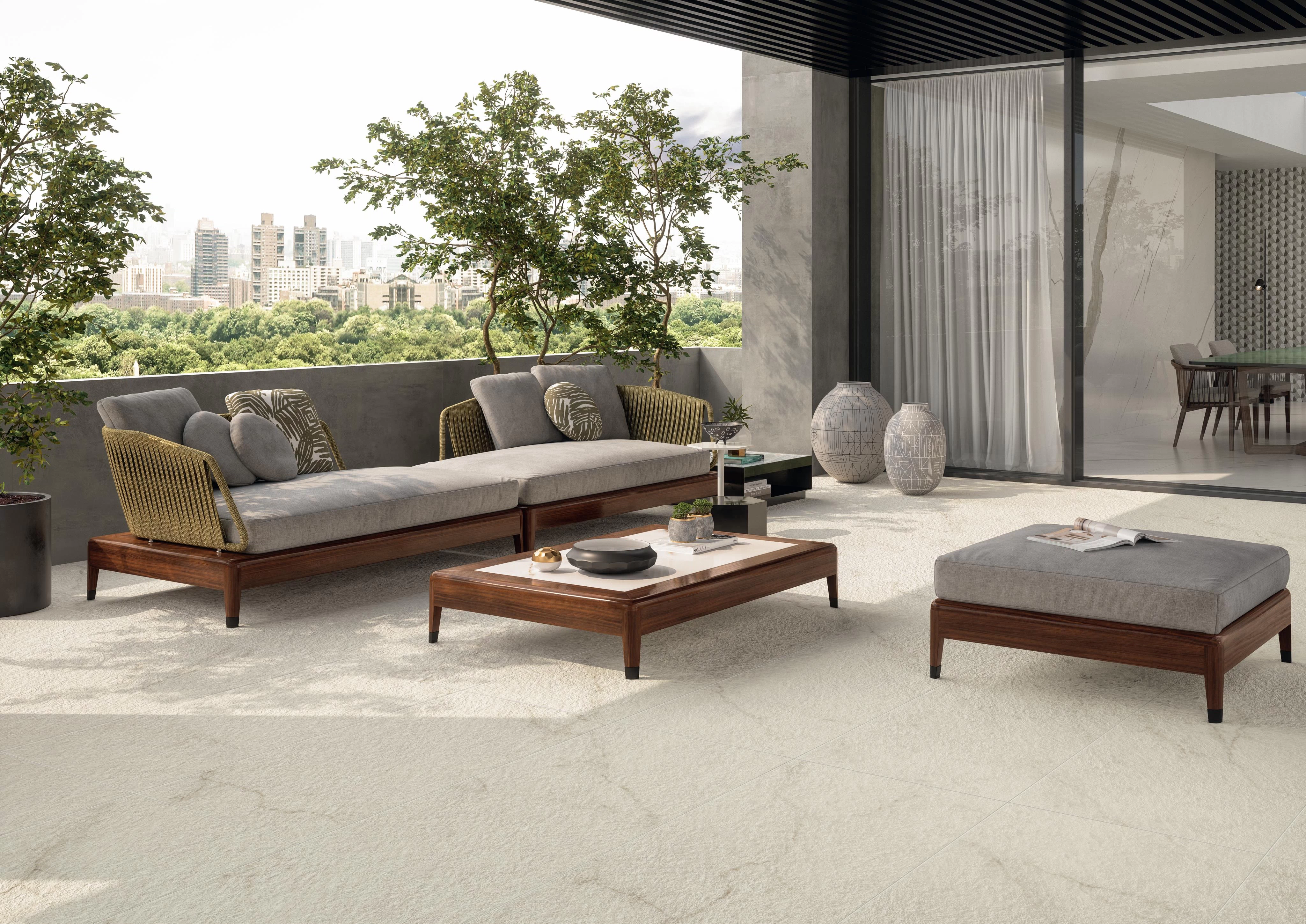 The desire to seamlessly join these two domains stems from the consolidation of certain Megatrends such as the concept of liquid society born of sociologist Zygmunt Bauman's insight as an attribute of a constantly moving existence – collectively and individually – which was followed by the perception of a general flexibility of living in the social or professional sphere, translated into products and services. In homes, this attitude was translated into a design devoted to the development of new fluid relationships between spaces, which has seen the breaking down of traditional barriers or the creation of new spaces through incorporation. A flexible, outward-facing dwelling also pampers the most ancestral part of man for which cities are a relatively recent solution, the memory of "outdoor living" still remaining quite strong. Proof of this is the care we have for the outdoors in all its forms. Living spaces are therefore redesigned to be as connected to the outdoors as possible, sometimes challenging preconceptions and established habits. In this osmosis between only apparent opposites, such as inside-outside or individual-shared, the quality of living required is standardized with respect to values, styles, and performance: furnishings, materials, and esthetics that enable a dialog between the outside and the inside are highly valued. Innovation and customization create new spaces for working and relaxing, alone or with others, for a deeper quality of living.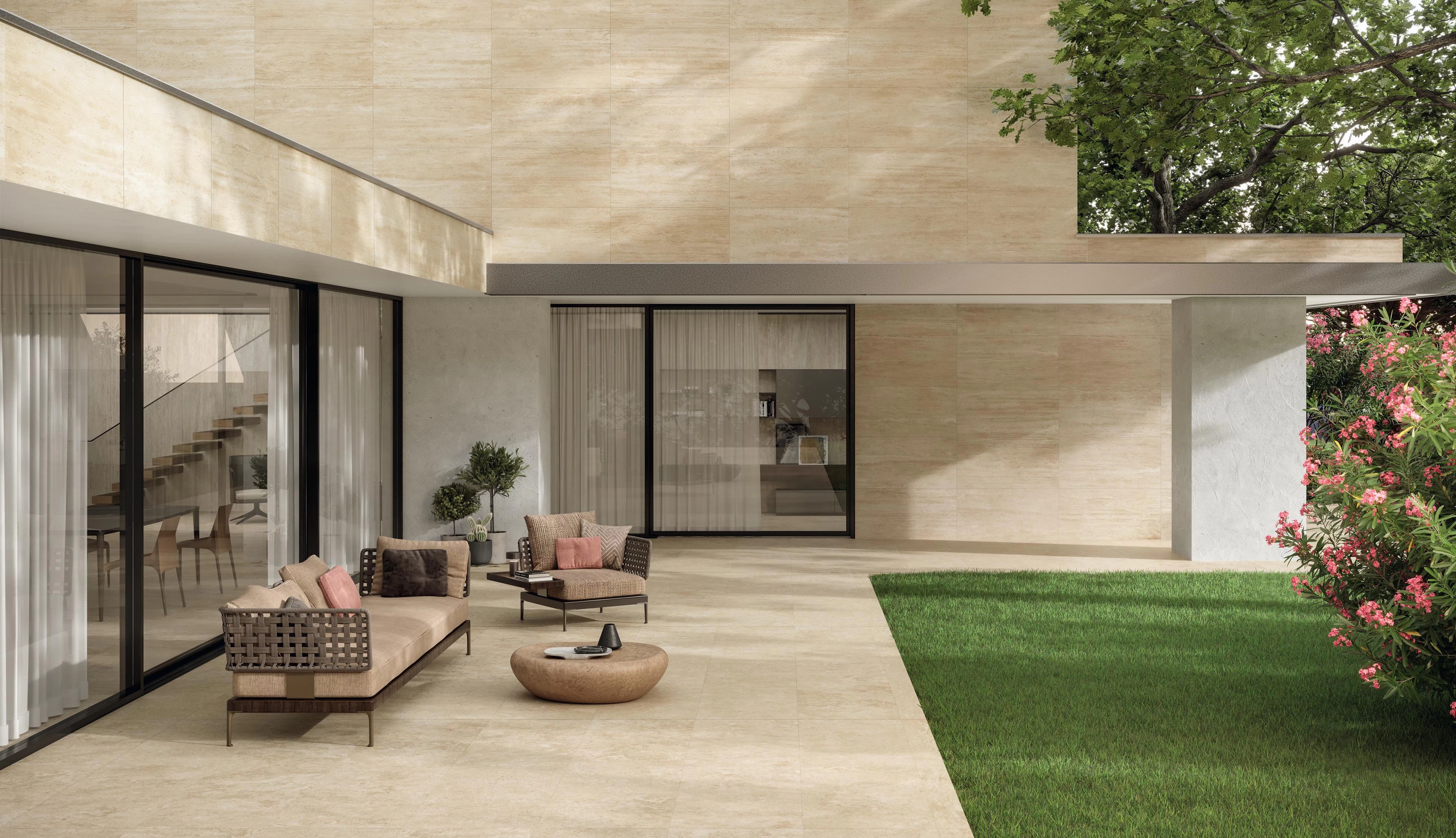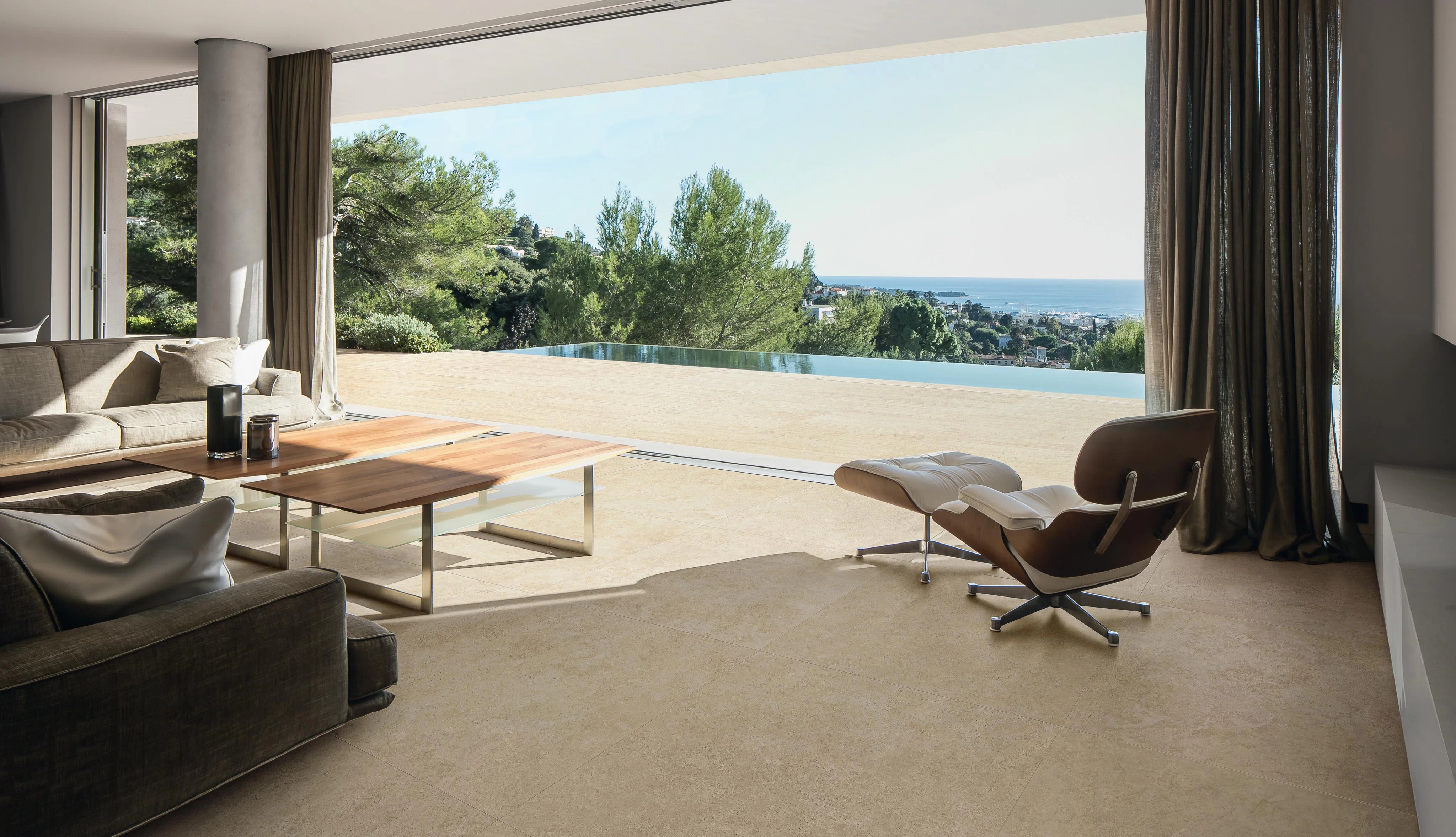 Case History
Dome, by HYPEDOME
With offices in Poland and the UK, the company Hypedome was founded in 2020 with the aim of "transforming the outdoor space into an extra room." This led to the development of Dome, an outdoor element that measures three to five meters in diameter and whose hemispherical shape resembles an igloo. Designed and manufactured with a specific material, it's able to withstand the elements and is easily assembled. Highly versatile and customizable according to the interior decor chosen, it can be transformed into a work space, a place for working out, a living area or a bubble for relaxing. It can be enhanced by lighting, the addition of doors, sun shades or by making the interior invisible. This solution allows the creation of new outdoor spaces in perfect continuity with one's home, for individual or shared use.
The Terrace of The Apartment, MONIOMI Design
During Milan Design week 2023, Artemest presented an installation called The Apartment in a 1930s mansion of a famous Milanese building in the 5Vie District. Six different creative studios reinterpreted each room with specific vibes, including the large terrace overlooking the inner courtyard. The Miami-based MONIOMI design furnished it as a perfect extension of the apartment, setting it up as a large living area in which the colors, fabrics, seating, upholstery, flooring, and lighting pleasantly surprised with the illusion of being inside a refined living room with a seamless transition between spaces. The dominant green color instinctively evoked an emotional connection with nature.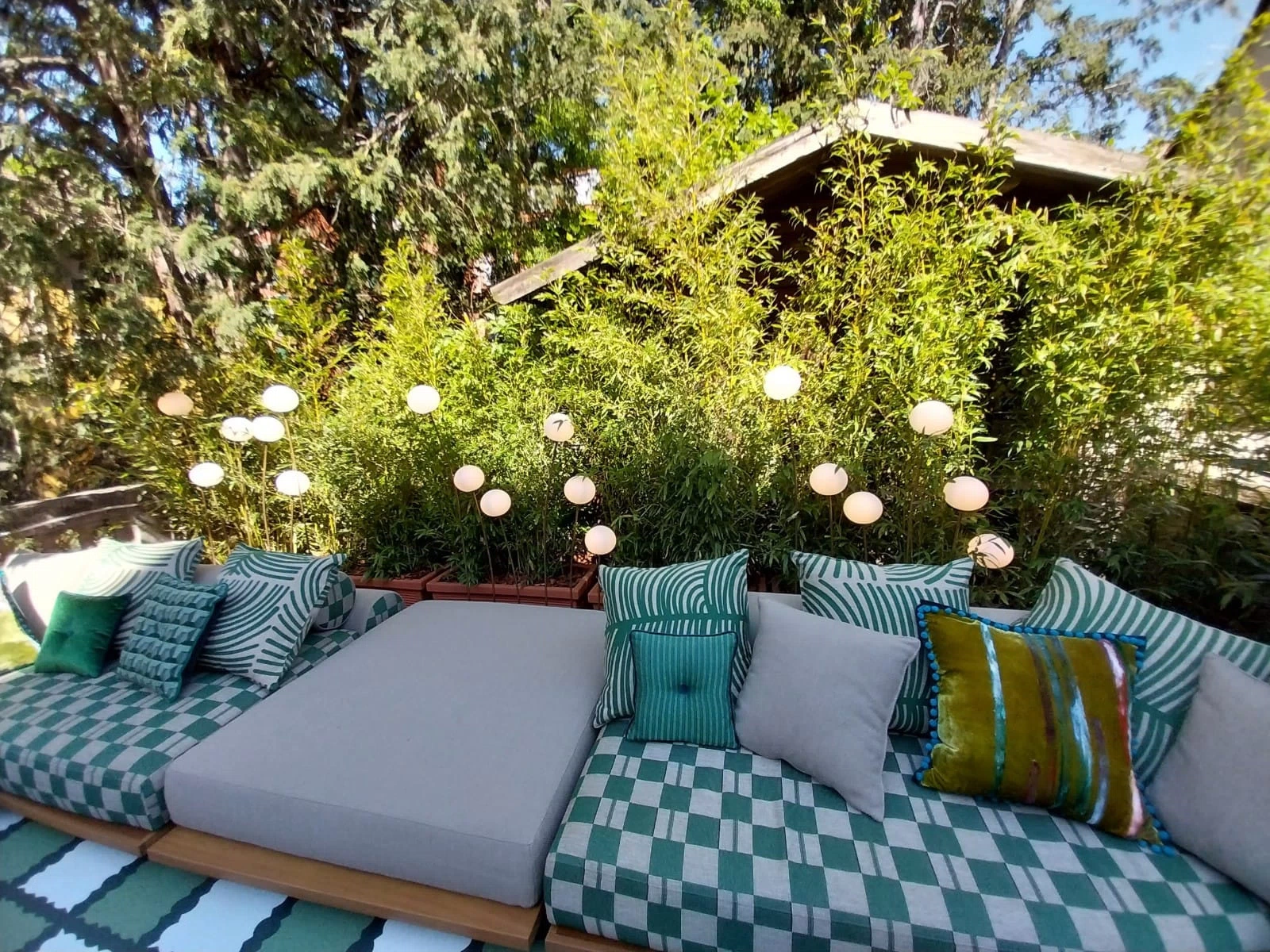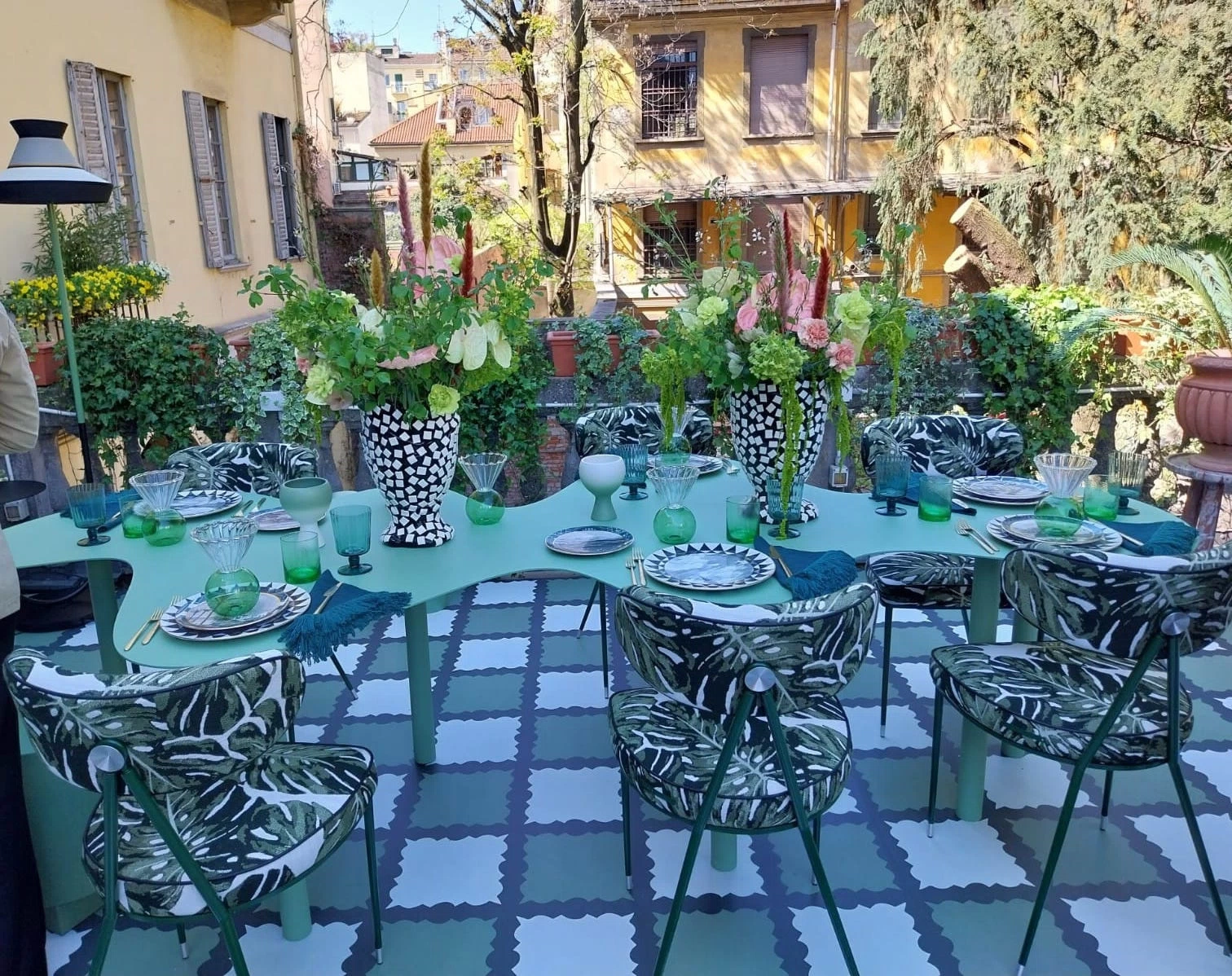 Sensitech, Atlas Concorde
Sensitech is a patented and proprietary technology from Atlas Concorde designed to offer multiple benefits with just one solution: enhanced hygiene, slip-resistance, soft touch, and a design that allows for continuity between indoor and outdoor spaces. In fact, with this technology it's possible to ensure the same pleasant touch as the tiles used for the interior with a high anti-slip coefficient and an extra smooth finish that's easier to clean. Sensitech technology can be applied to both indoor surfaces with an R10 B coefficient and outdoor surfaces with an R11 C coefficient. This allows for applications in different types of spaces, both indoors and outdoors, ensuring projects that convey maximum design continuity.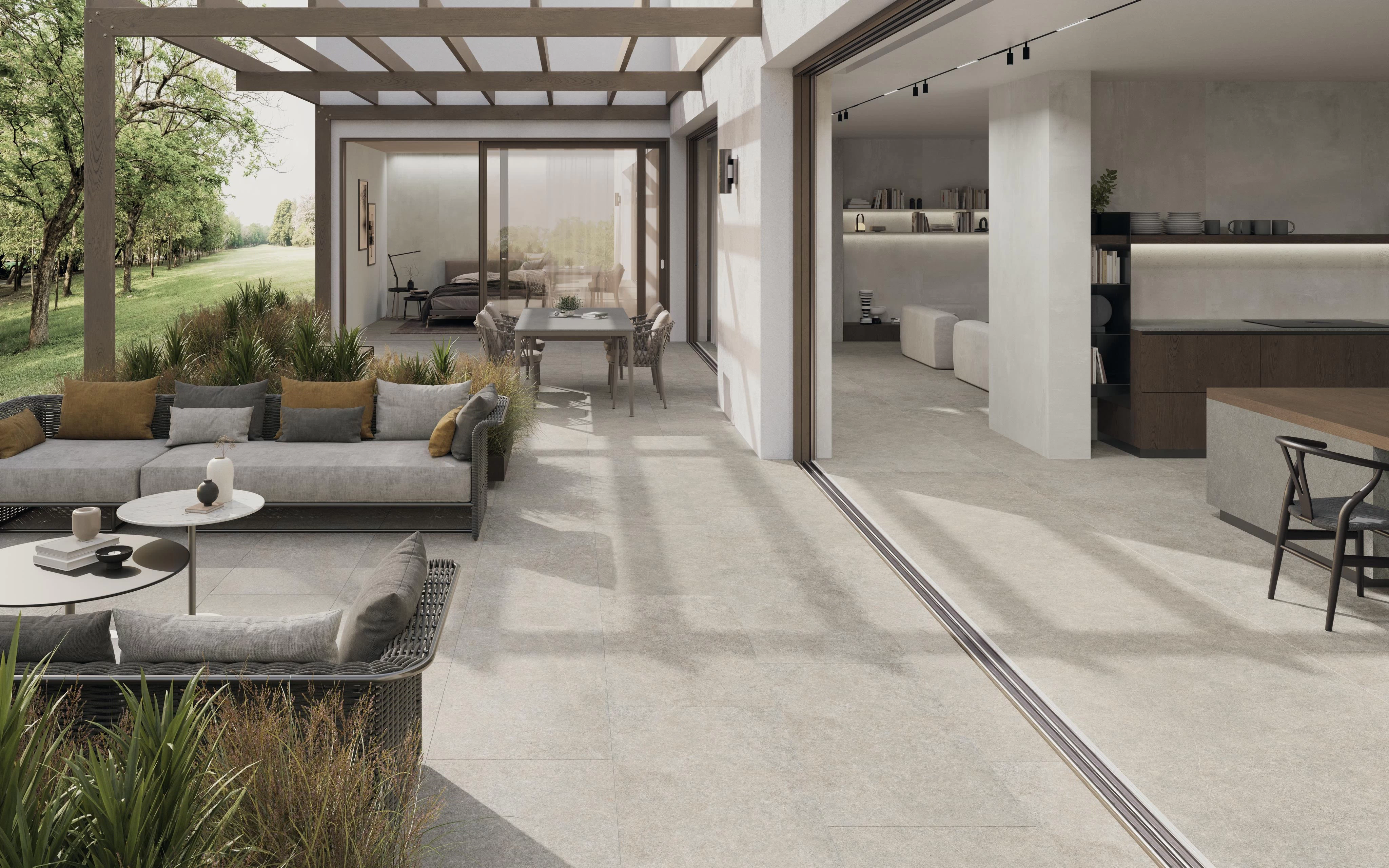 The NoBoundaries Spaces trend for a business or retailer emphasizes the importance of:
- Versatile Spaces: spaces that can be transformed into the home for one's individual or professional passions or for spending time with others.
- Personalized Bubble: a refuge where you can concentrate and be creative.
- Quality Reassurance: an identical attention to the design of indoor and outdoor spaces, ensuring a new concept of quality.