Altas Concorde's Milan showroom, in the words of its leading actors
Maurizio Mazzotti, CEO of Atlas Concorde, and Piero Lissoni, Architect and Designer share their views of the project.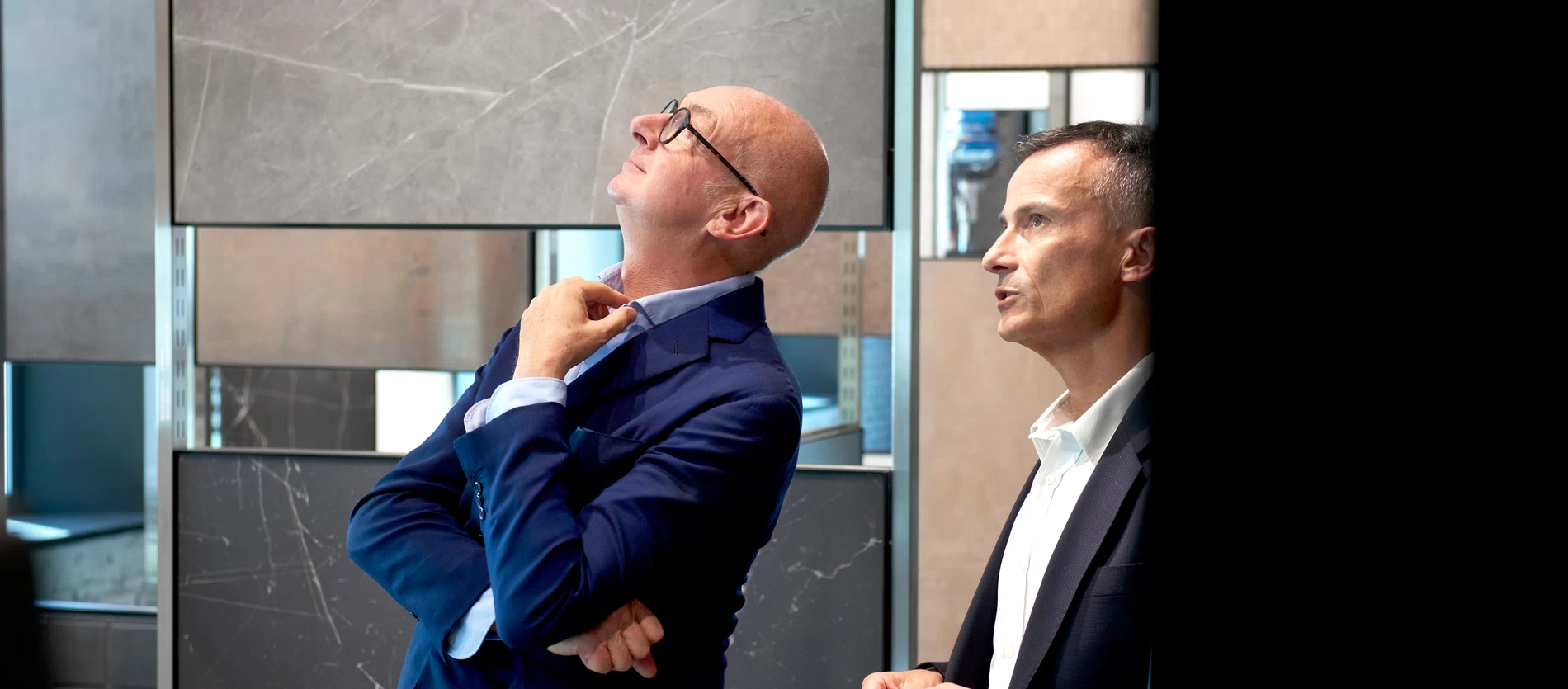 "It was designed as a place to facilitate meetings and interactions with the world of design," says Maurizio Mazzotti, CEO of Atlas Concorde, describing the Milan showroom with its elegant windows overlooking Via Goito and Via San Marco in Milan's iconic creative district. Atlas Concorde Studio Milano is located in the heart of the Brera Design District, not far from the Academy of the same name, among art and design galleries. The area transforms into a dynamic hub during events that engage the undisputed capital of international design, the city where ideas are born and trends take shape.
"For a company that has its roots in the heart of the Italian Ceramic District," says Mazzotti, "being in Milan means being at the center of interior design trends and being able to draw inspiration from the ideas of innovative voices, gather feedback, and experiment with new approaches. We chose a style that is not so traditional for the world of ceramic surfaces. The brief shared with Lissoni & Partners focused both on preserving and emphasizing the spirit of the Milan location and rendering Atlas Concorde's values tangible.
Understated elegance, simplicity, refinement, pride and passion are the qualities that underpin the Italian Way, a perfect combination of industrial know-how and craftsmanship."
The concept was born from the idea of "linking this hyper-industrial company to an artistic model: the products are thus treated like the surfaces realized by artists, using a new language," explains Piero Lissoni, head of Lissoni & Partners, one of the best-known architectural studios in the world and author of the project. At an architectural level, the many layers that accumulated over time have been removed to reveal the characteristics that distinguish historic Milanese homes. "Out of respect for the past," continues Lissoni, "we wanted to maintain some traditional elements: the walls, old floors, frescoes and other features of this 18th-century building, as well as the old walkway in beola, all traits that link the structure to its setting. At the same time we introduced some contemporary codes, styles, and materials. A sort of two-step that also gives voice to the hyper-technological vision of Atlas Concorde."
Atlas Concorde and Piero Lissoni, internationally renowned architect and designer well known for his rigorous style, project elegance and attention to proportions and harmony, have been working together for a few years now. It all started in 2019 with Canone Inverso, the first collection of decors by the designer, and then continued with the Atlas Concorde Milan showroom project designed by Lissoni & Partners. A mutual exchange that led to Piero Lissoni becoming the color consultant for the resin-effect
Prism collection
.