The stone effect outdoors: beauty and superior performance
A building material with thousands of years of history, natural stone evokes strength, prestige, and reliability. Stone-effect porcelain tiles embody and reinterpret these values, offering them to the world of contemporary design
When choosing a material for the outdoors, you need one that looks great and has some other key characteristics. Terraces, facades, driveways, walkways, stairs, verandas, and even relaxation areas and pools: there are many different applications that demand an optimal blend of beauty and performance. In fact these surfaces require specific technical characteristics such as being waterproof and resistant to slipping, high loads, temperature fluctuations, and weather.
Stone-effect porcelain floor and wall tiles
for outdoor use have all these features, thus allowing the beauty and realism of their rich, earthy textures to maintain their colors and finishes unchanged over time.
Authentic inspiration
Stone-effect porcelain tiles reproduce the veins, layers, and granular inclusions of the most sought-after natural stones from all over the world. Combining beauty, versatility, and functionality, they come in a variety of looks to create the ideal backdrop for any type of outdoor project.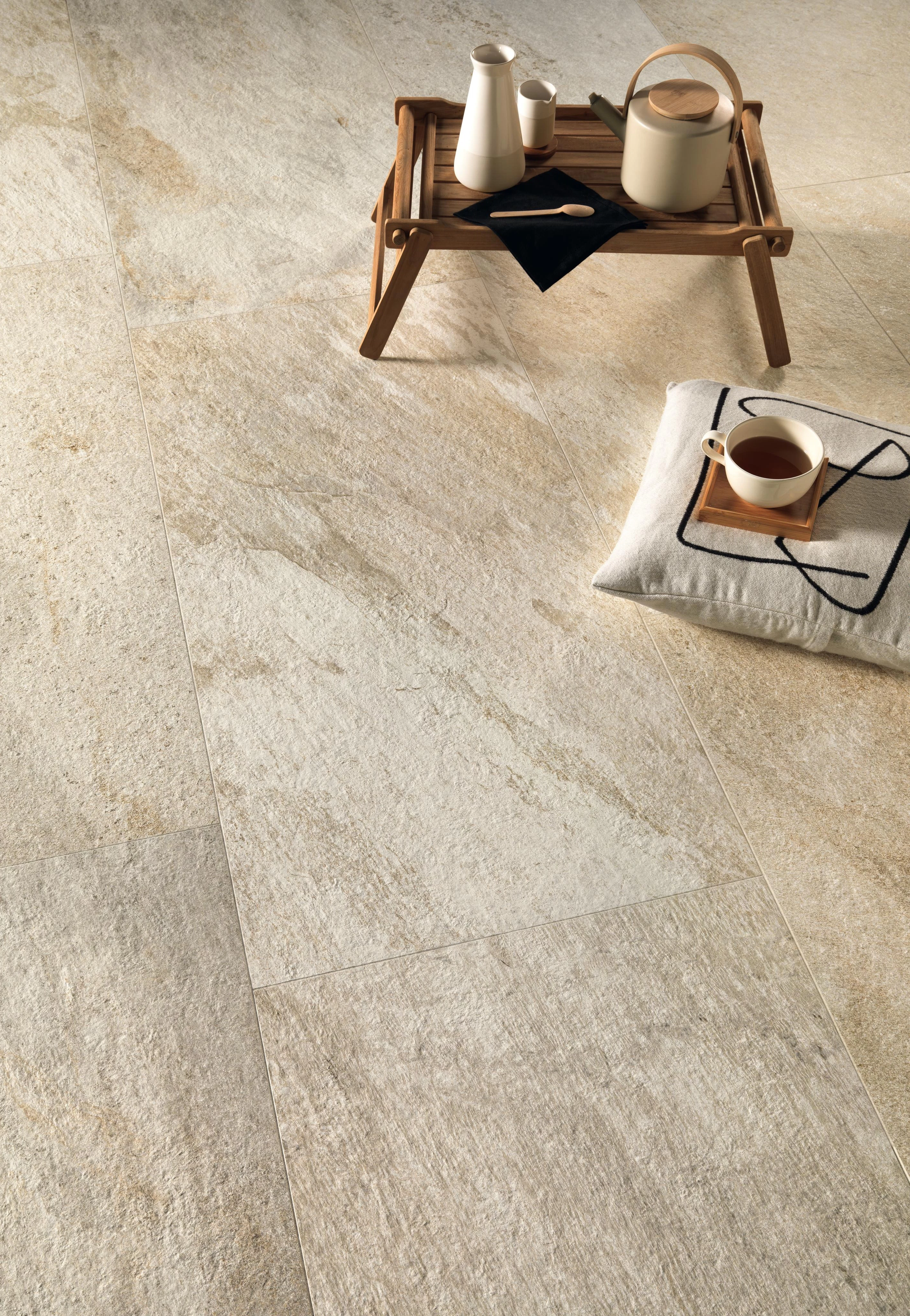 Boost Stone gives an elegant personality to spaces thanks to the details and essential nuances that interpret the limestone of the Pyrenees. Norde is inspired by Greek quartzite and beola, stones that are typically suitable for outdoor use. Klif recalls the tactile and visual suggestions of beola from Val d'Ossola, while the variegated shades of Trust reproduce the appearance of stone from Luserna. Dolmen Pro reinterprets the iconic porphyry of Trentino Alto Adige, bringing the strength and earthiness of this surface to outdoor architectures.
Practical and functional in every setting
While natural stone often requires demanding treatments, porcelain tiles are practical and require no special maintenance. For this reason they can also be applied in settings subject to heavy traffic or requiring frequent cleaning. All you need is water and normal detergents to restore the surfaces to their original appearance. The increased thickness also guarantees durability and resistance to the highest loads, so they can even be used in environments subject to the frequent passage of heavy vehicles such as cars, motorcycles and even forklifts.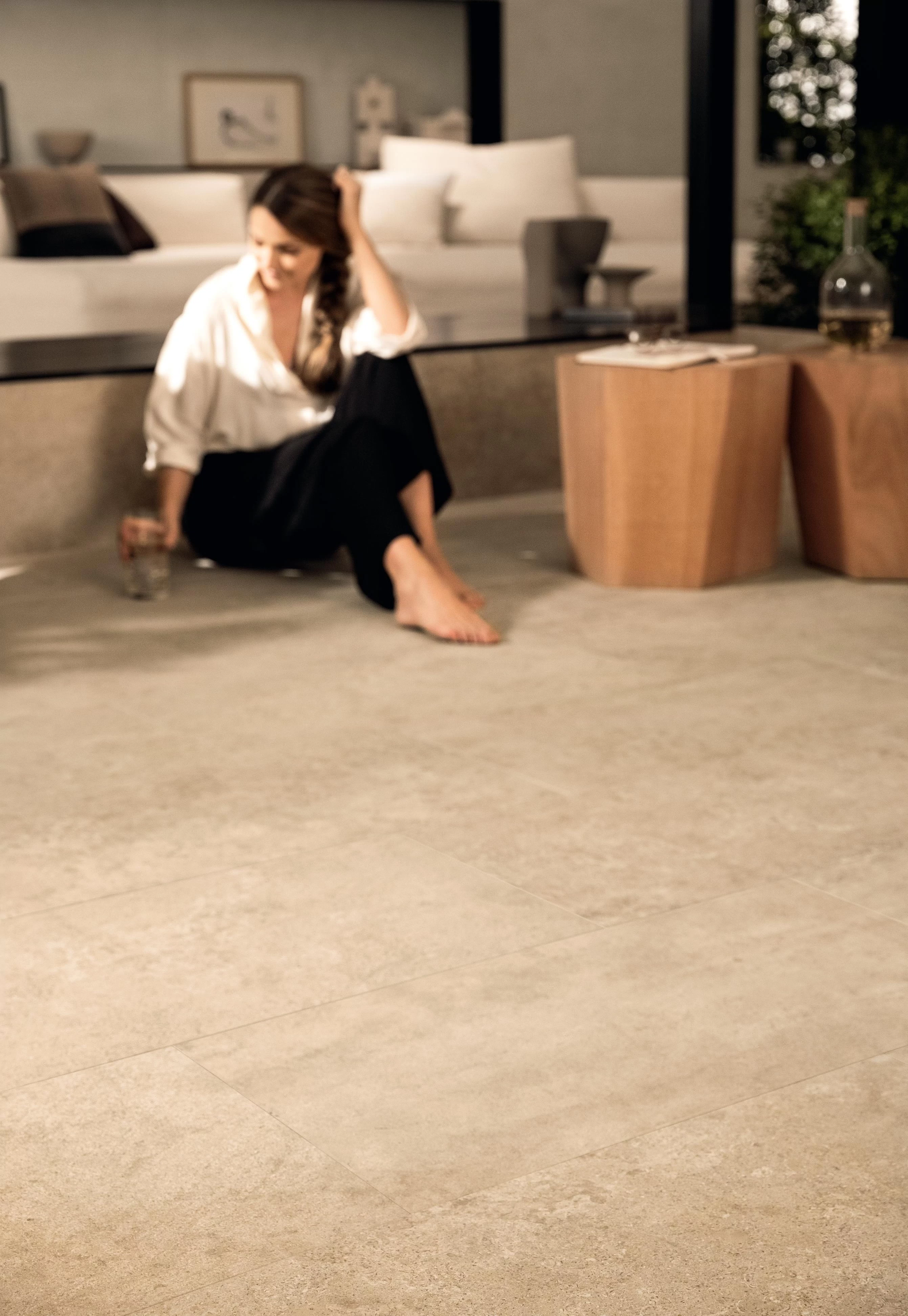 Outdoors like the indoors
Atlas Concorde's stone-effect surfaces for the outdoors can be combined with floor and wall tiles for the indoors, blurring the boundary between "interior and exterior" in a refined stylistic continuity. The availability of products in a wide range of formats also allows versatile applications for any use, mixing and matching colors and looks.
For Atlas Concorde respecting the environment is a top priority, especially since its tiles are often used in architectural contexts in harmony with nature such as parks, gardens, terraces, swimming pools, villas, and prestigious urban settings. Atlas Concorde's stone-effect porcelain tiles are made employing cutting-edge industrial processes with excellent environmental sustainability, without the use of toxic or harmful substances.
The architectural vocation of the stone effect
Boost Stone is Atlas Concorde's latest stone-effect collection, revealed at Cersaie 2021. Inspired by the limestone of the Pyrenees, it offers a range of surfaces with a simple, contemporary look. The neutral colors of the background convey a uniform look, with minimal shading and delicate granular intrusions. Outdoors, the grip finish and 20 mm thickness ensure maximum durability while also guaranteeing a prestigious look.