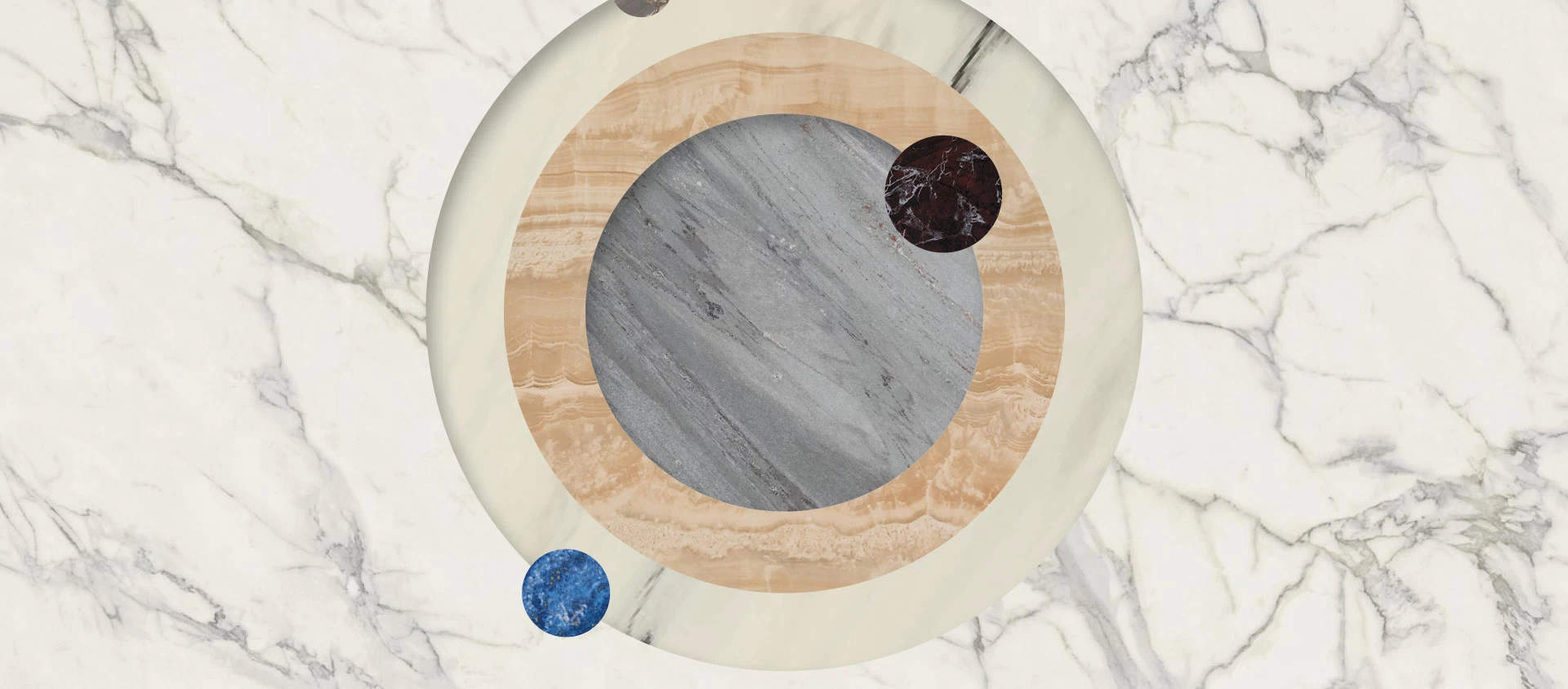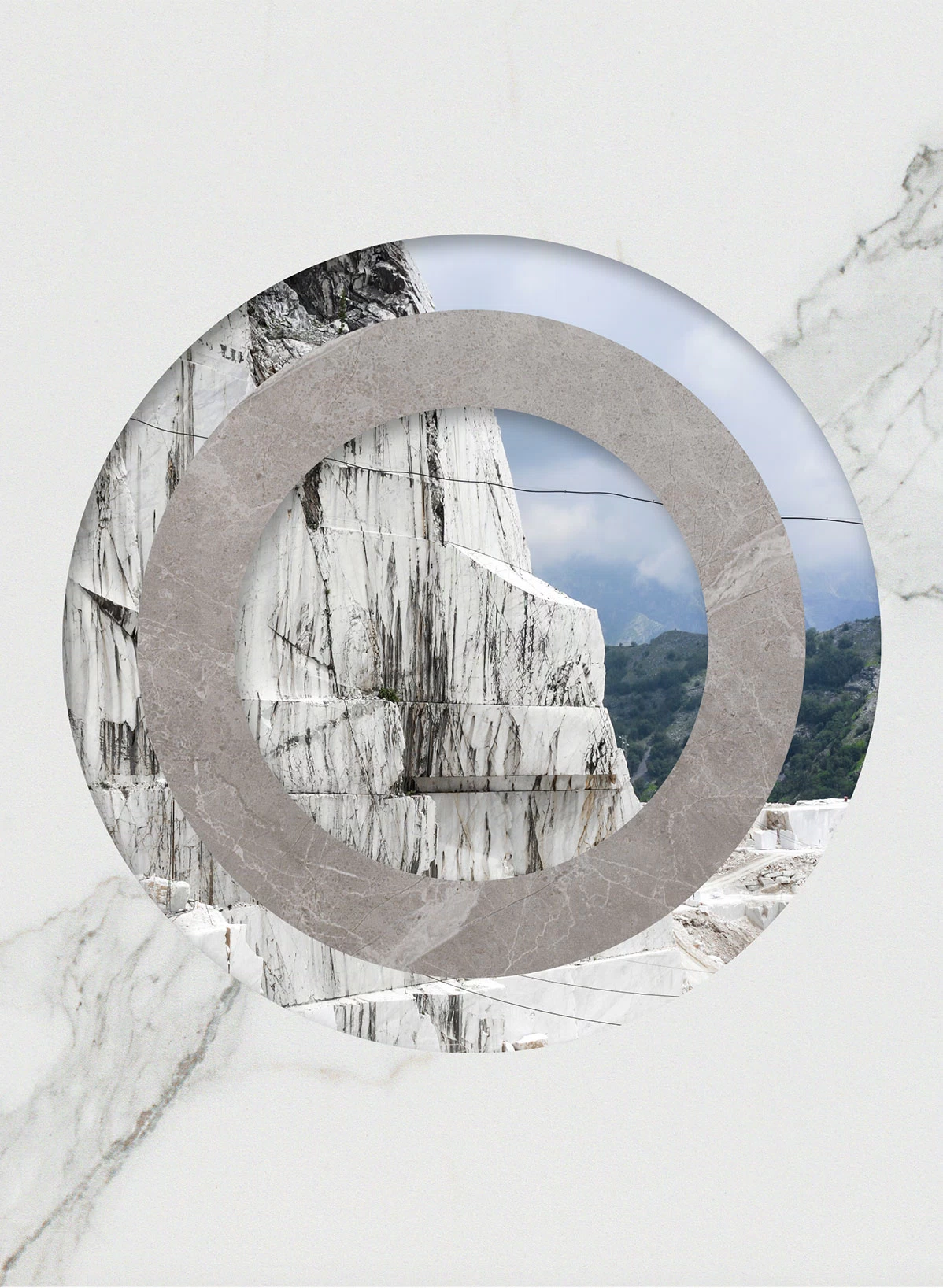 Marvel World
From marble to Marvel
From marble to Marvel
Marvel World is the complete set of all the Atlas Concorde collections of marble-effect porcelain floor and wall tiles. Marvel World marble-effect tiles expand the creative potential of interior design in every space, with a range of formats, colors, and decors that is unique in its breadth and versatility.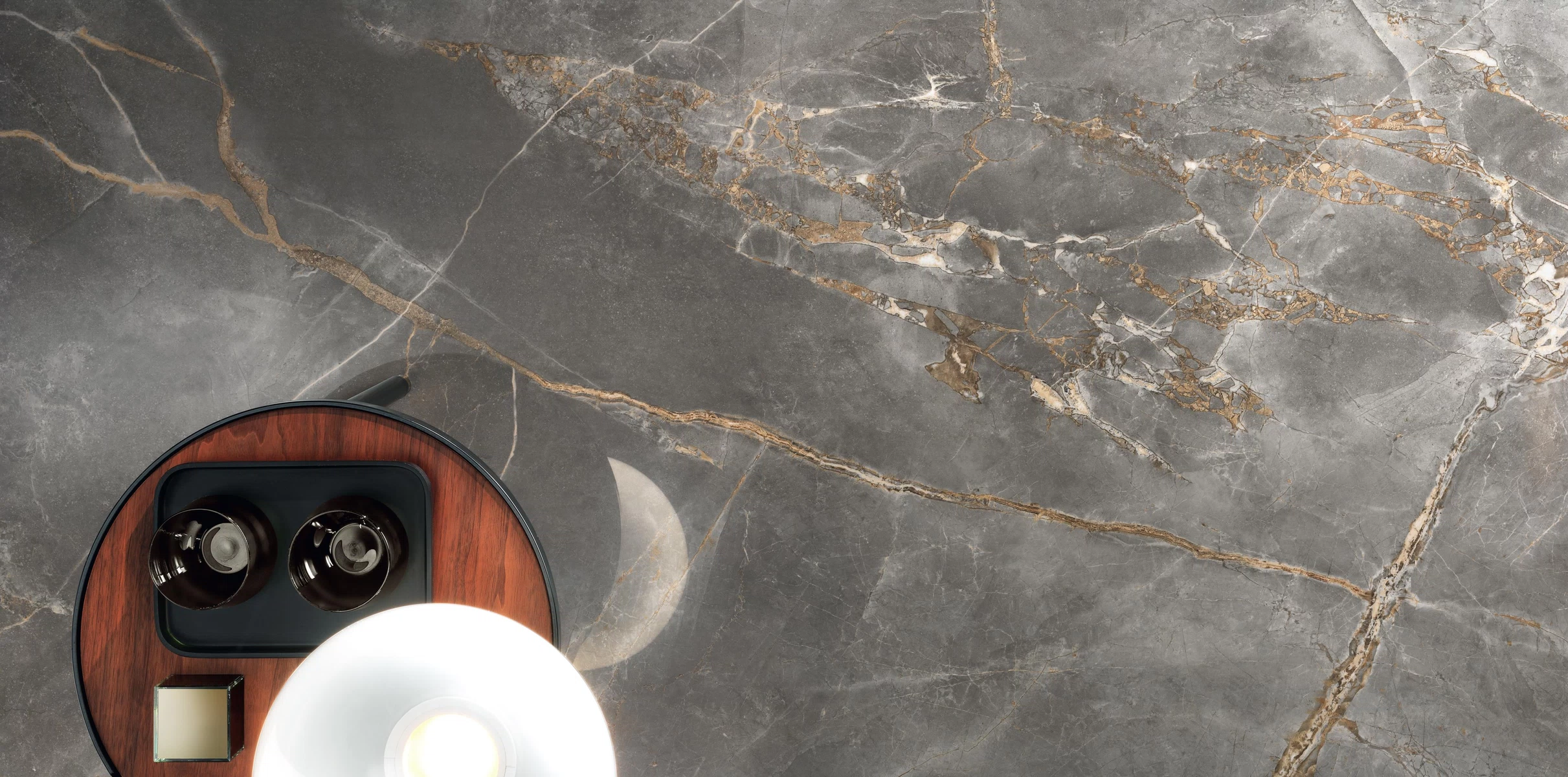 AtlasConcorde MarvelX 000 05 FiordiBosco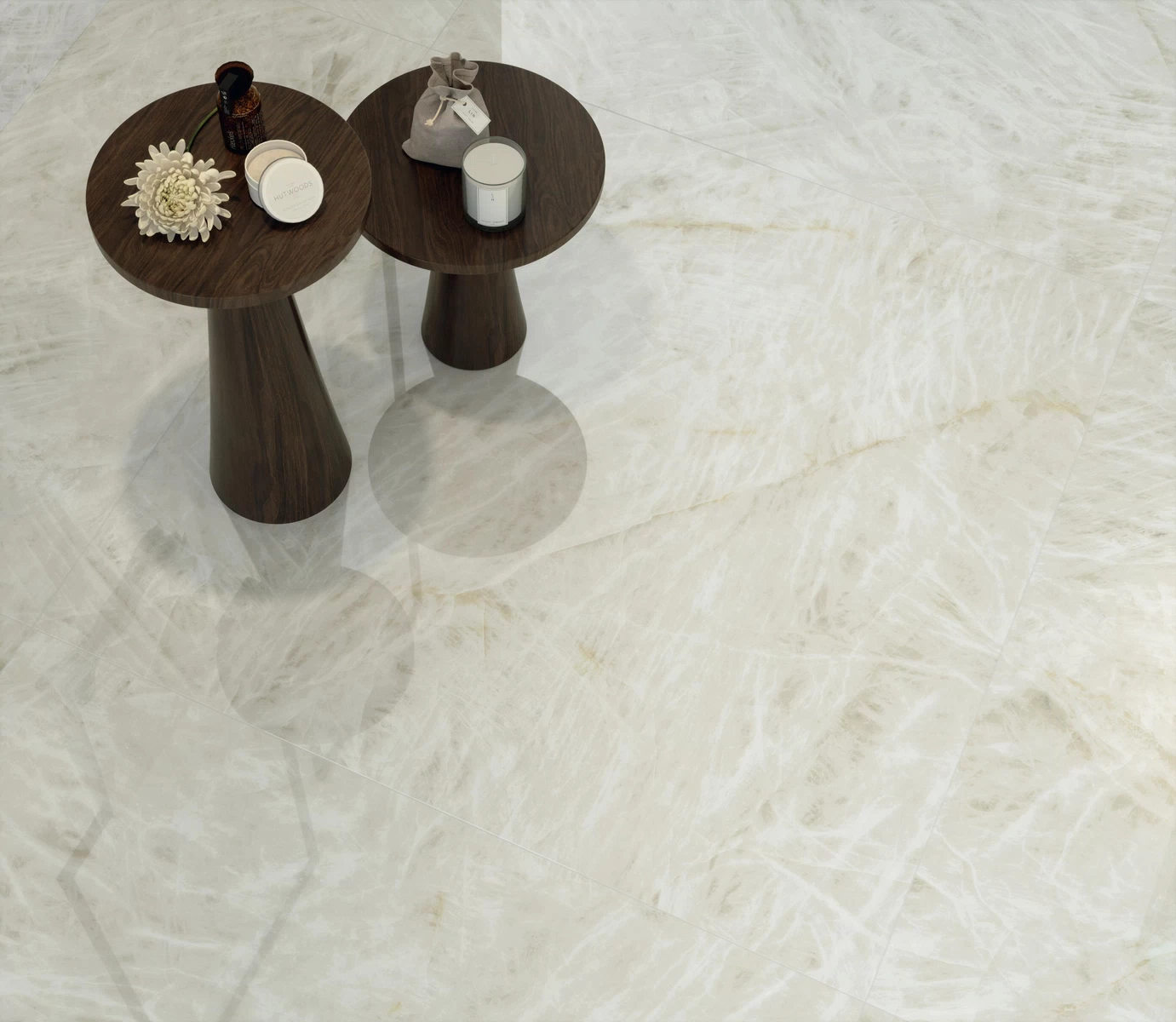 AtlasConcorde MarvelGala 002 05 CrystalWhite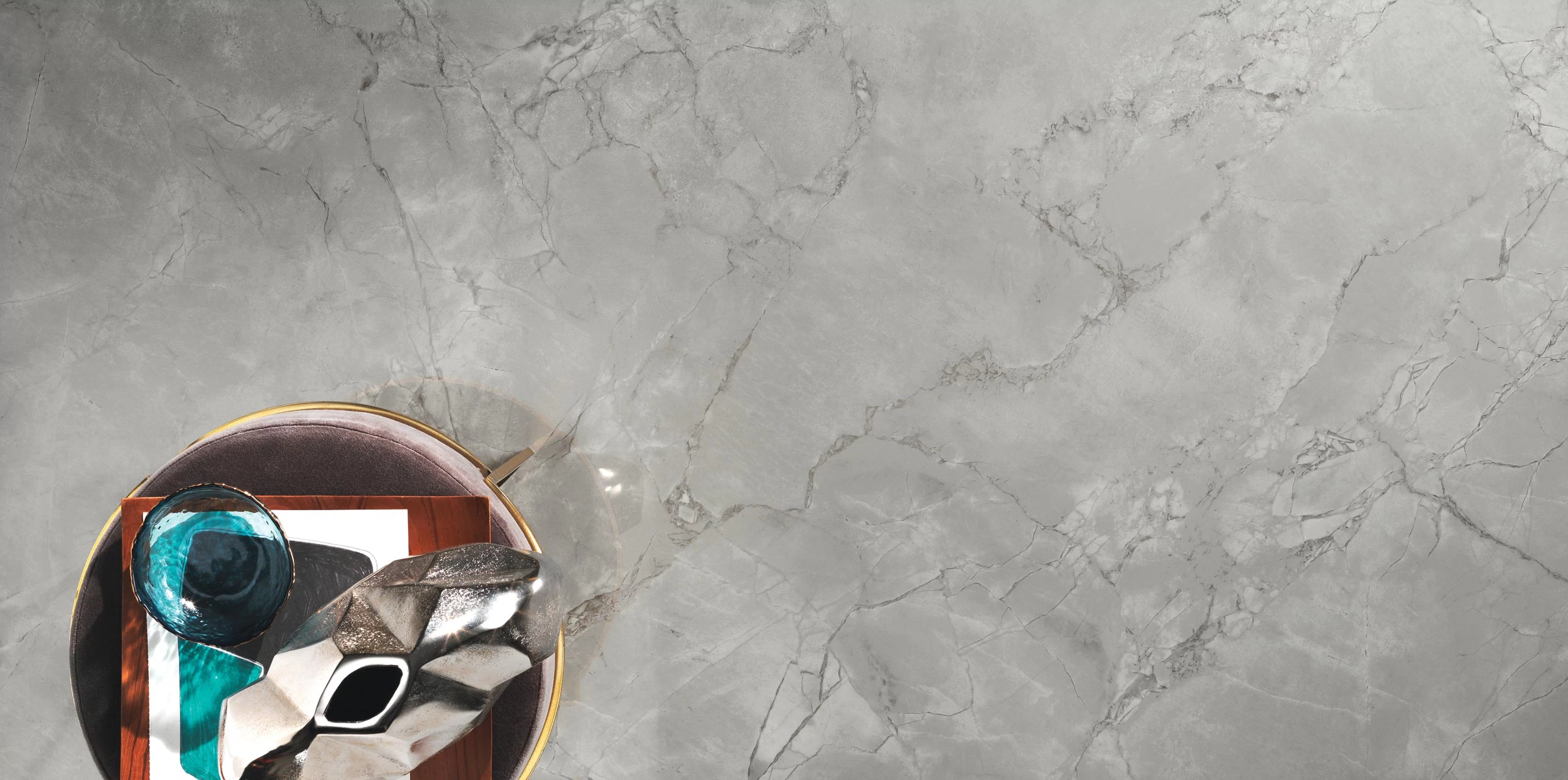 AtlasConcorde MarvelX 000 04 GreyCloud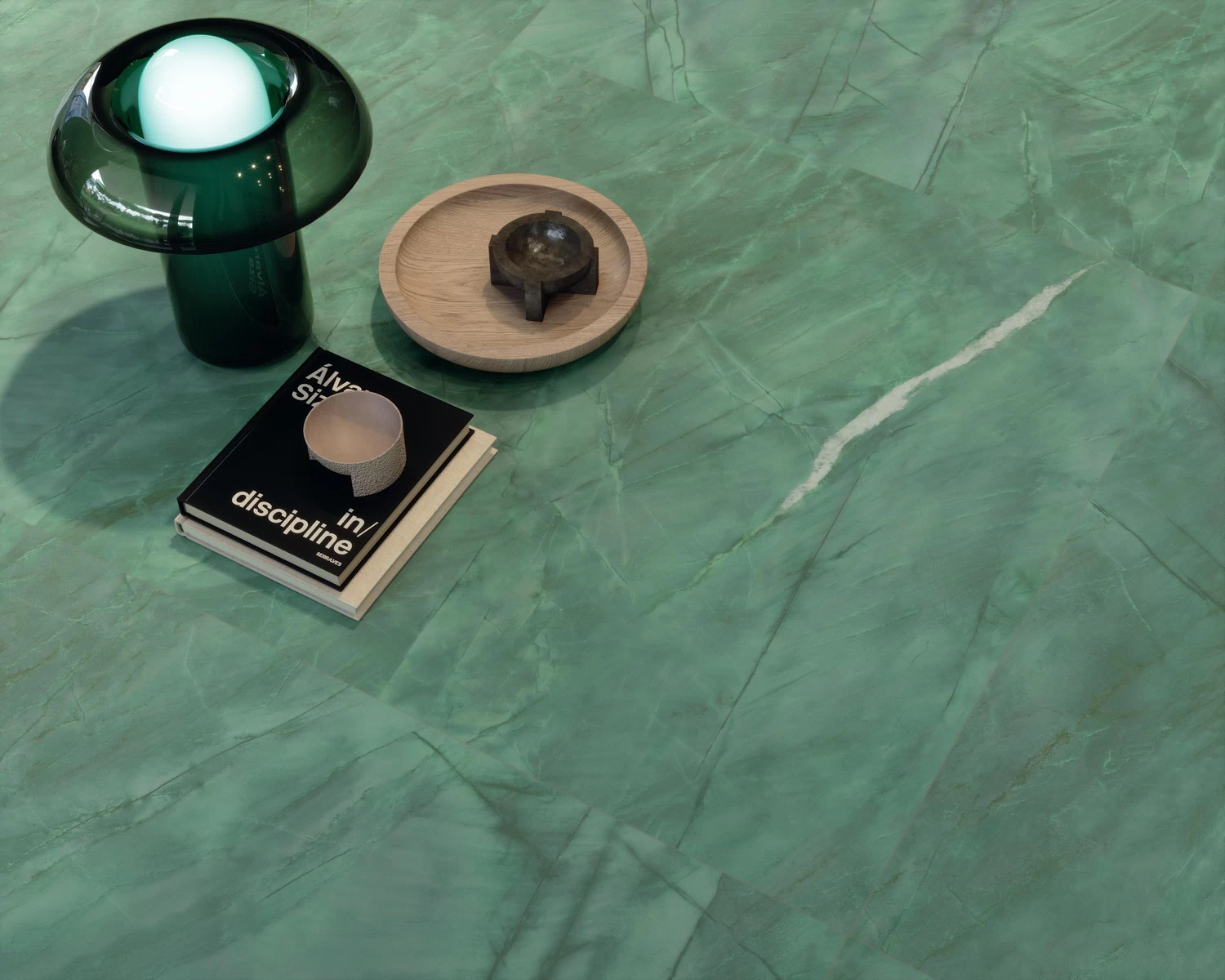 AtlasConcorde MarvelGala 004 04 ExoticGreen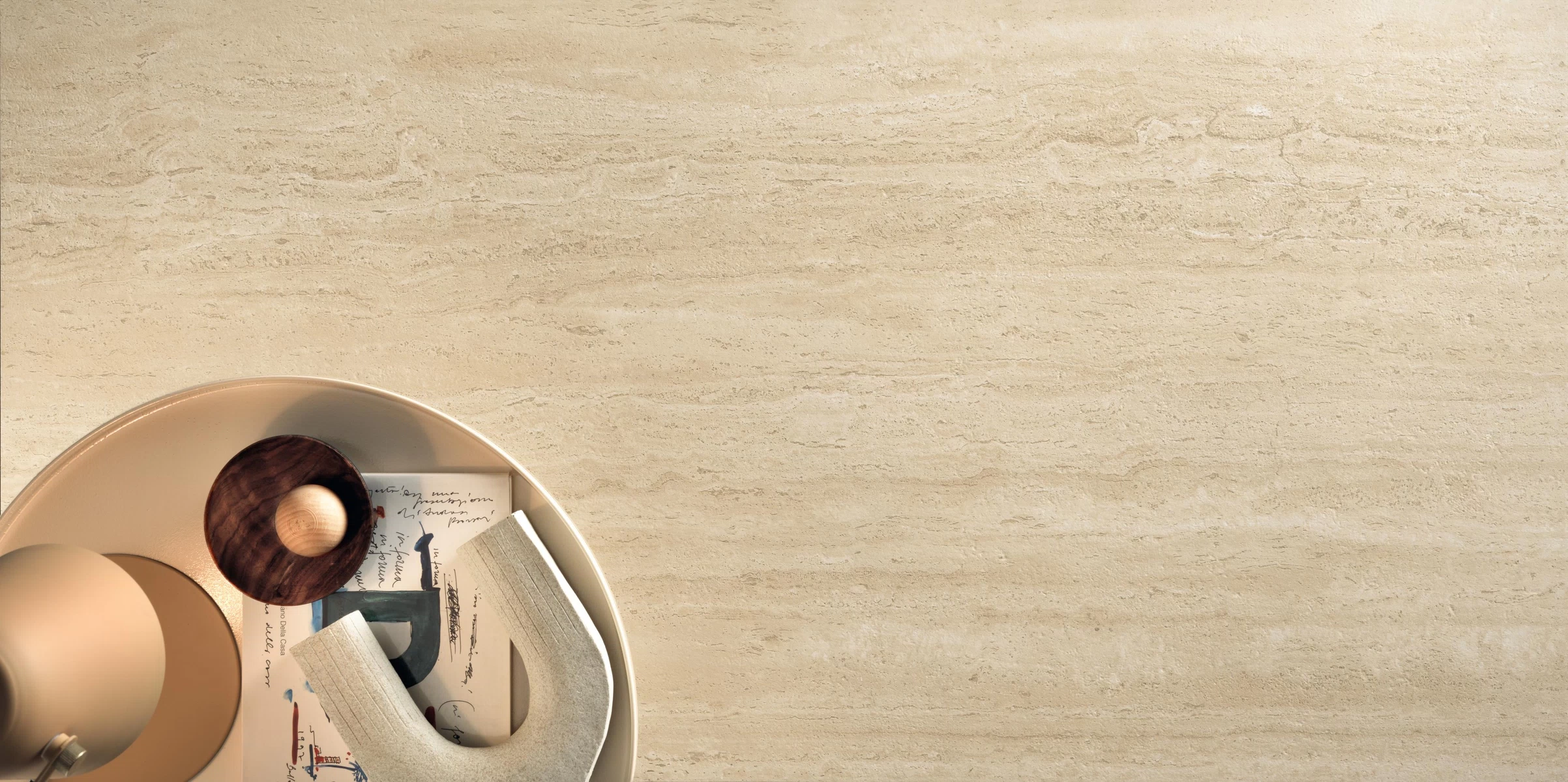 AtlasConcorde MarvelTravertine 000 02 Sand-Vein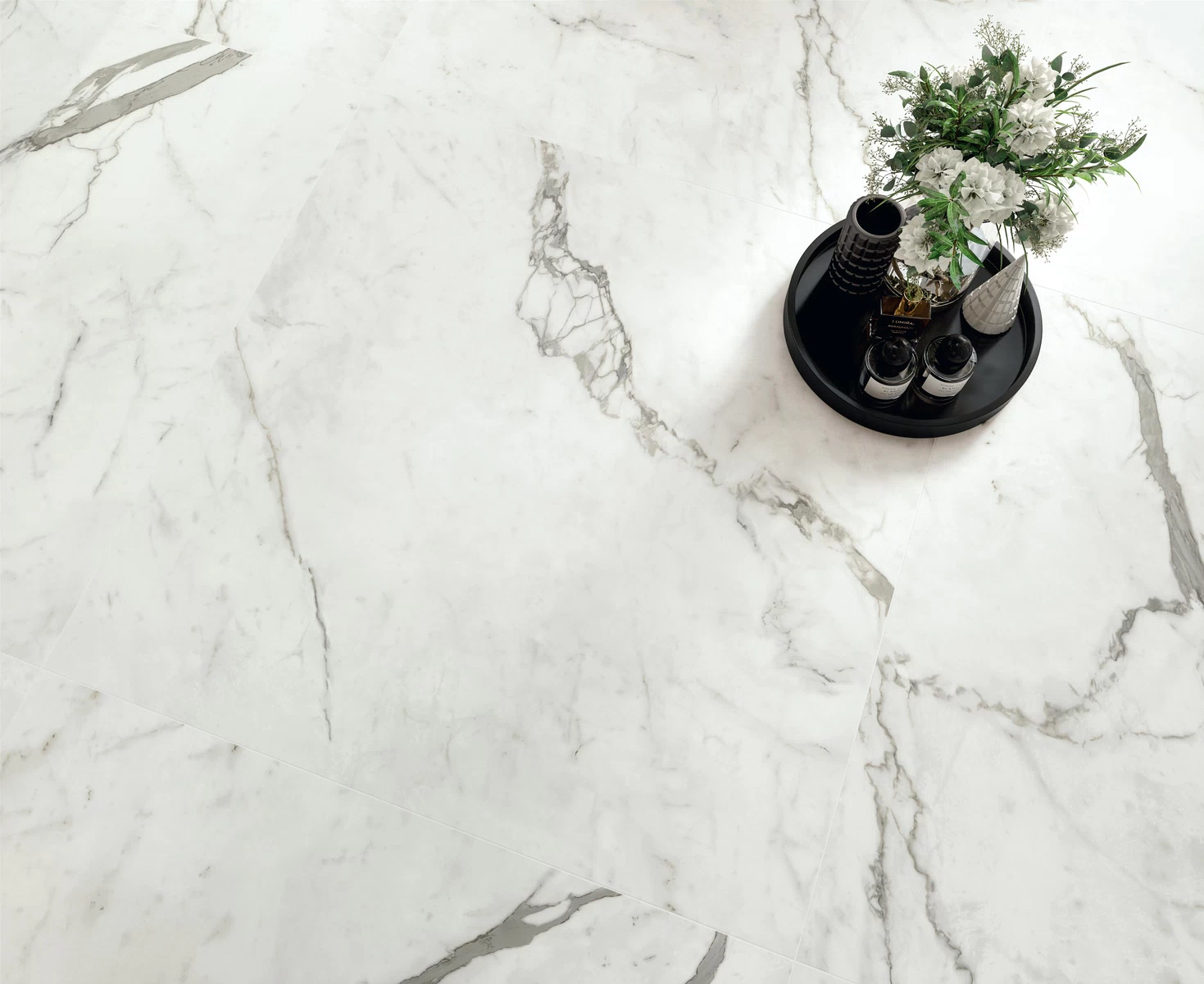 AtlasConcorde MarvelShine 008 08 StatuarioSupremo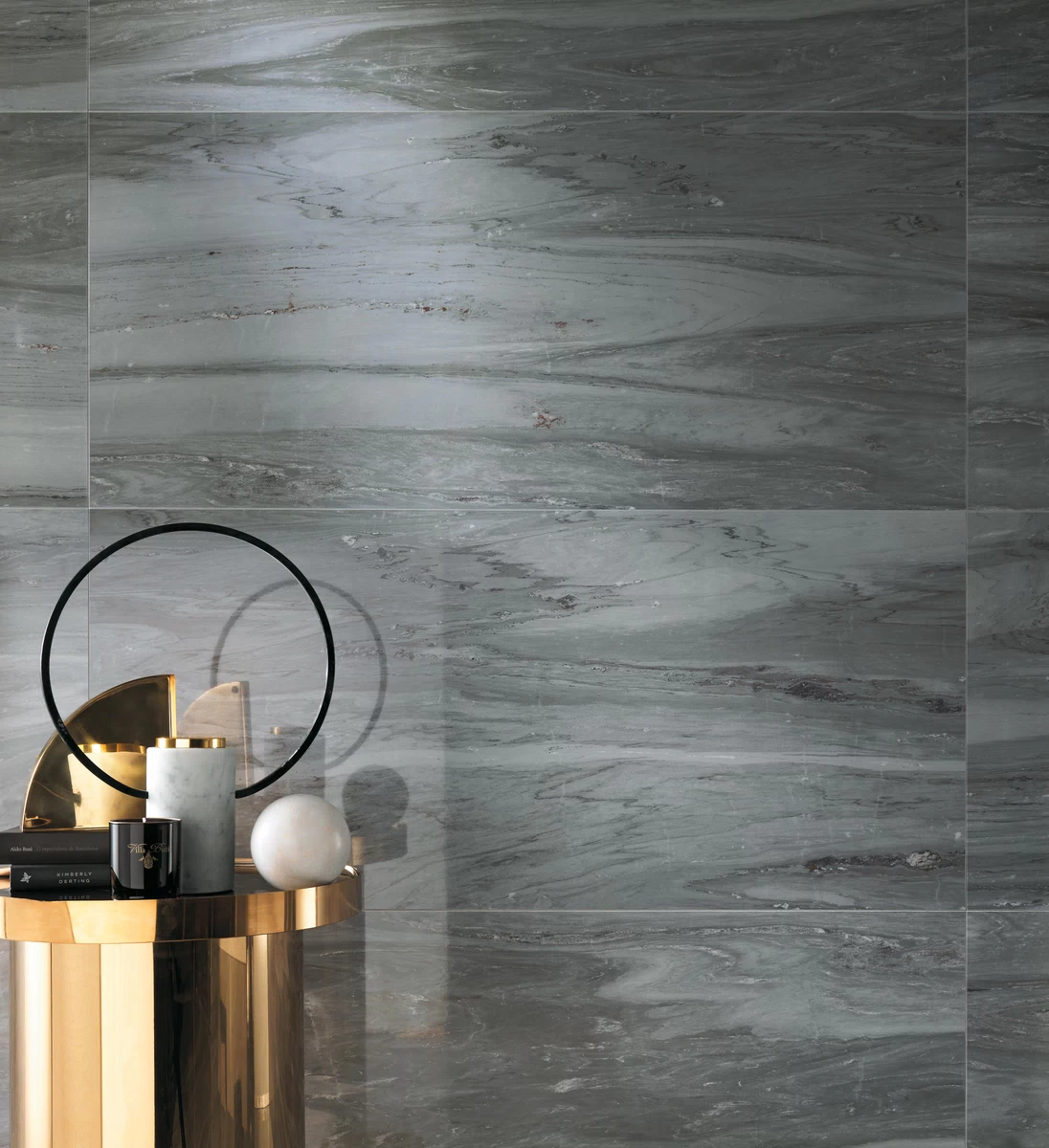 AtlasConcorde MarvelDream 003 08 MorningSky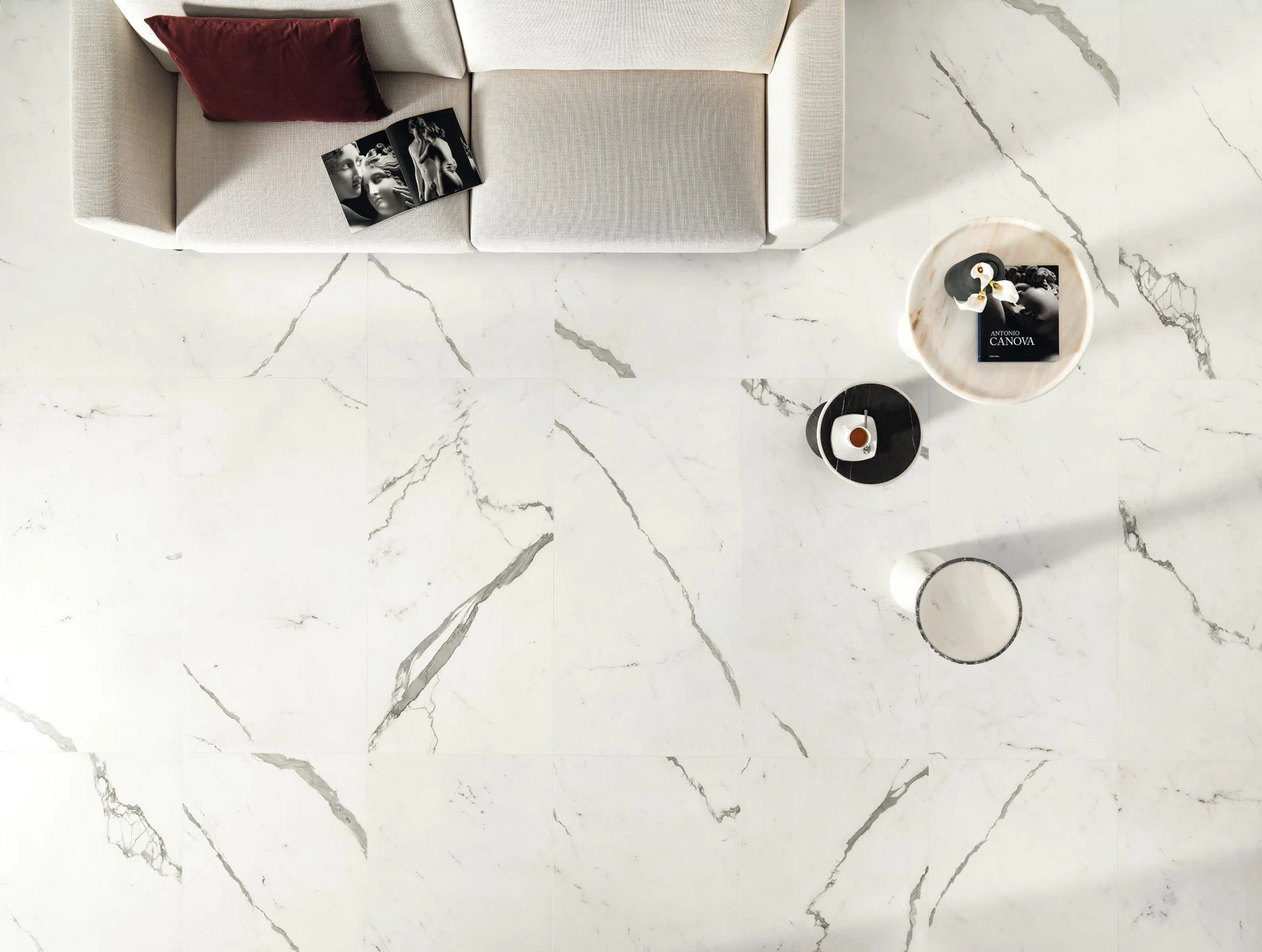 AtlasConcorde MarvelShine 001c 00 StatuarioSupremo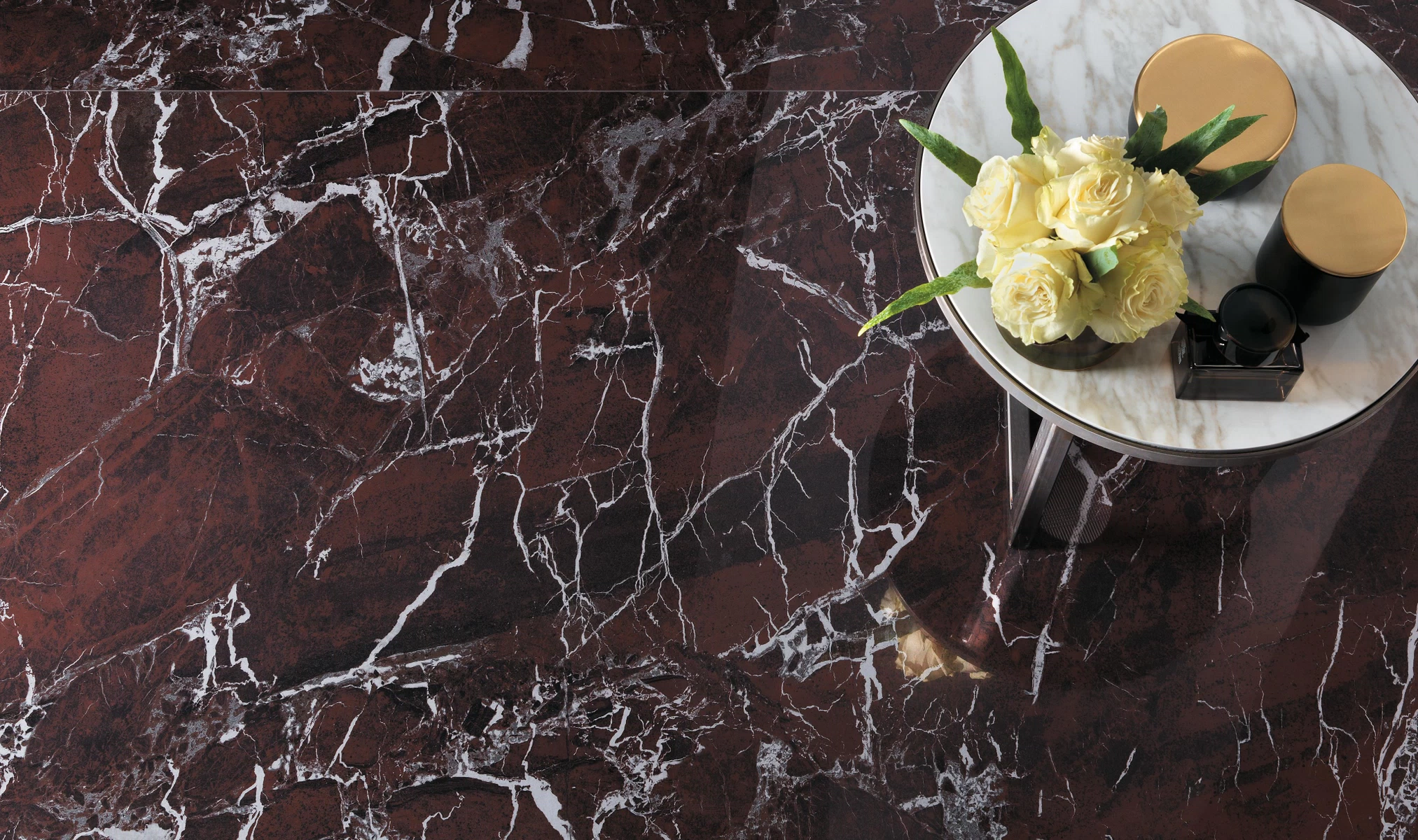 AtlasConcorde MarvelEdge 002 11 Red ST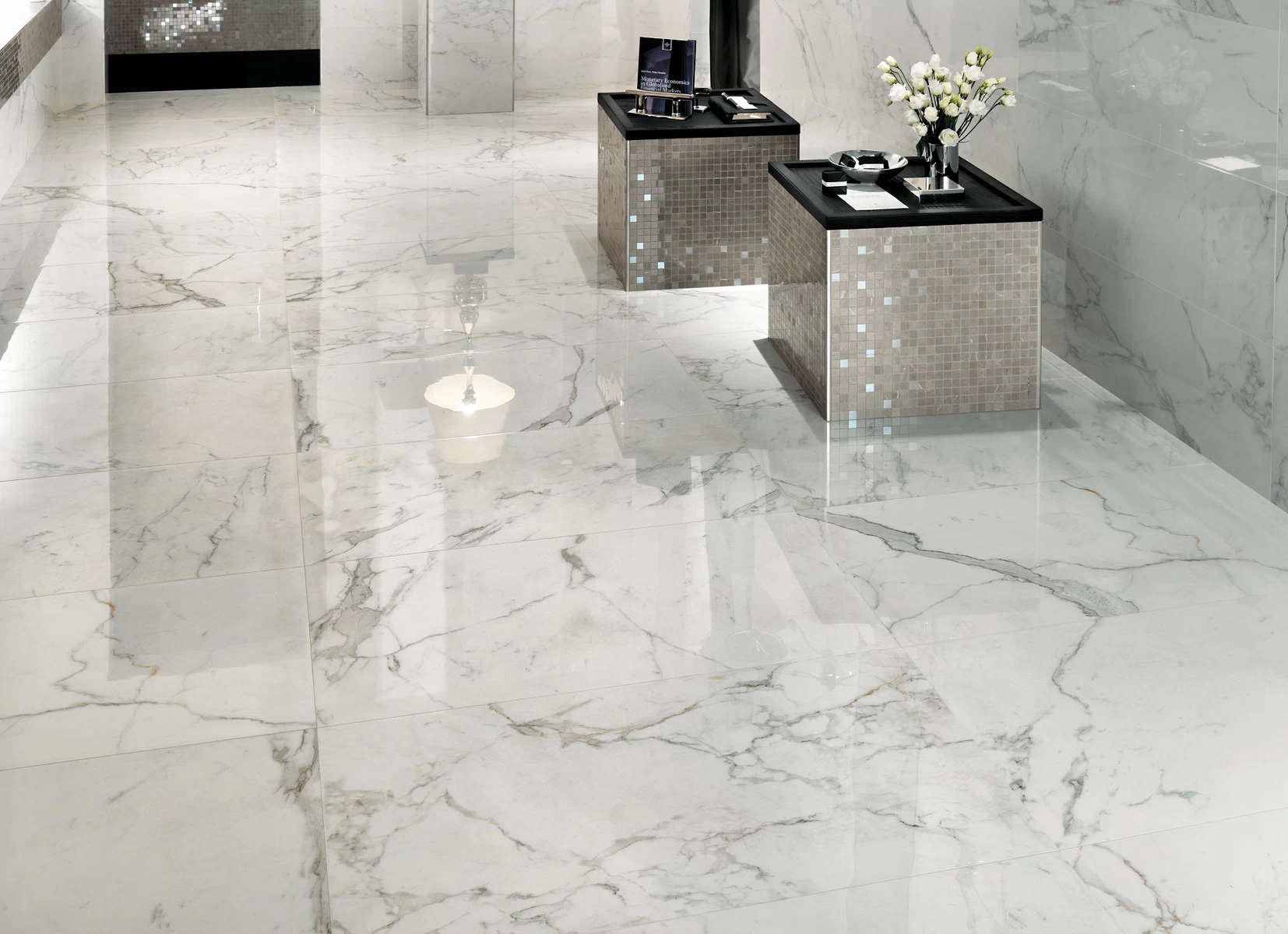 Marvel Calacatta Extra, Marvel Silver Mosaic, Marvel Calacatta Spigolo, Marvel Silver Spigolo, Marvel Calacatta Extra Lappato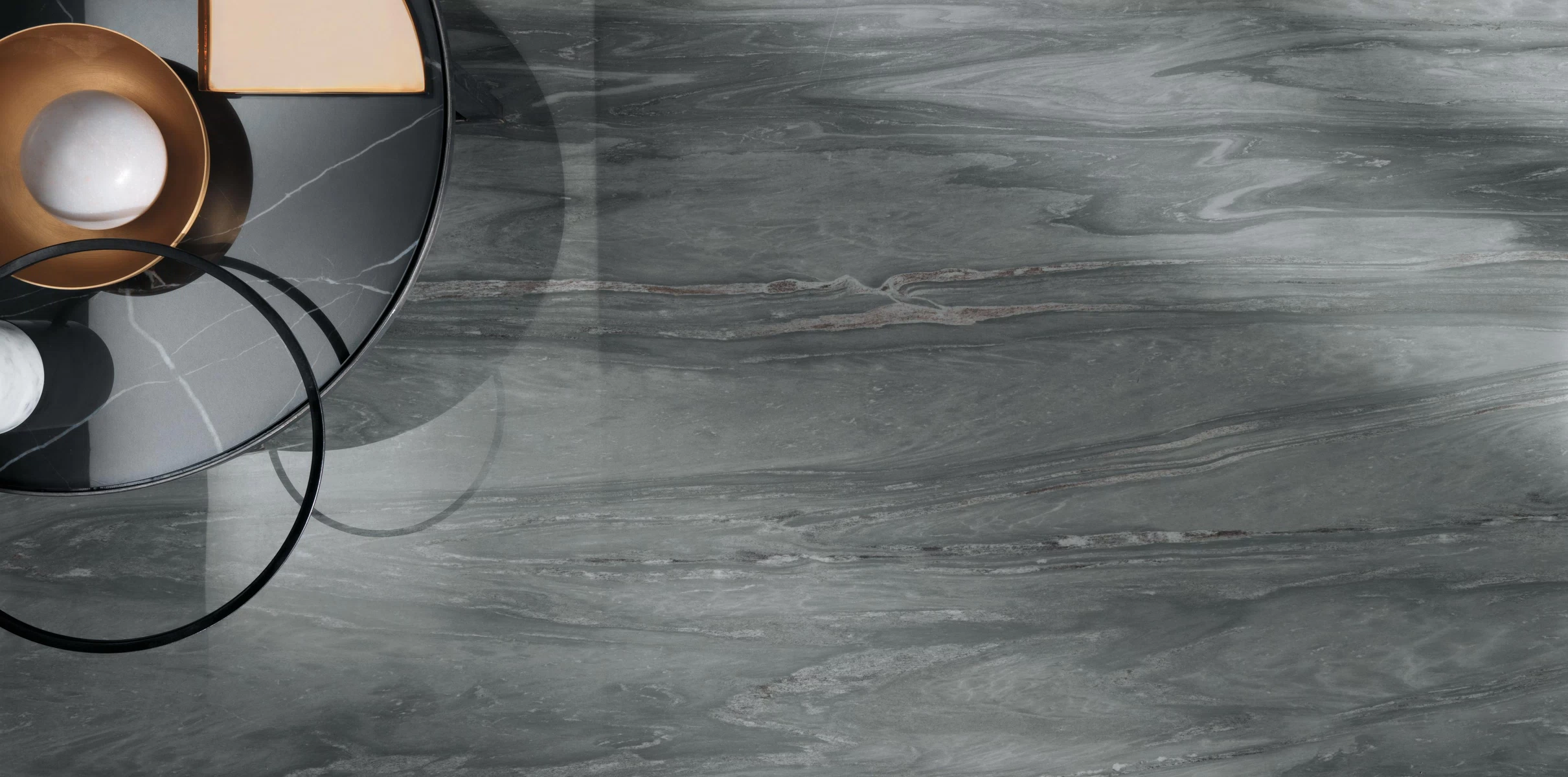 AtlasConcorde MarvelDream 003 09 MorningSky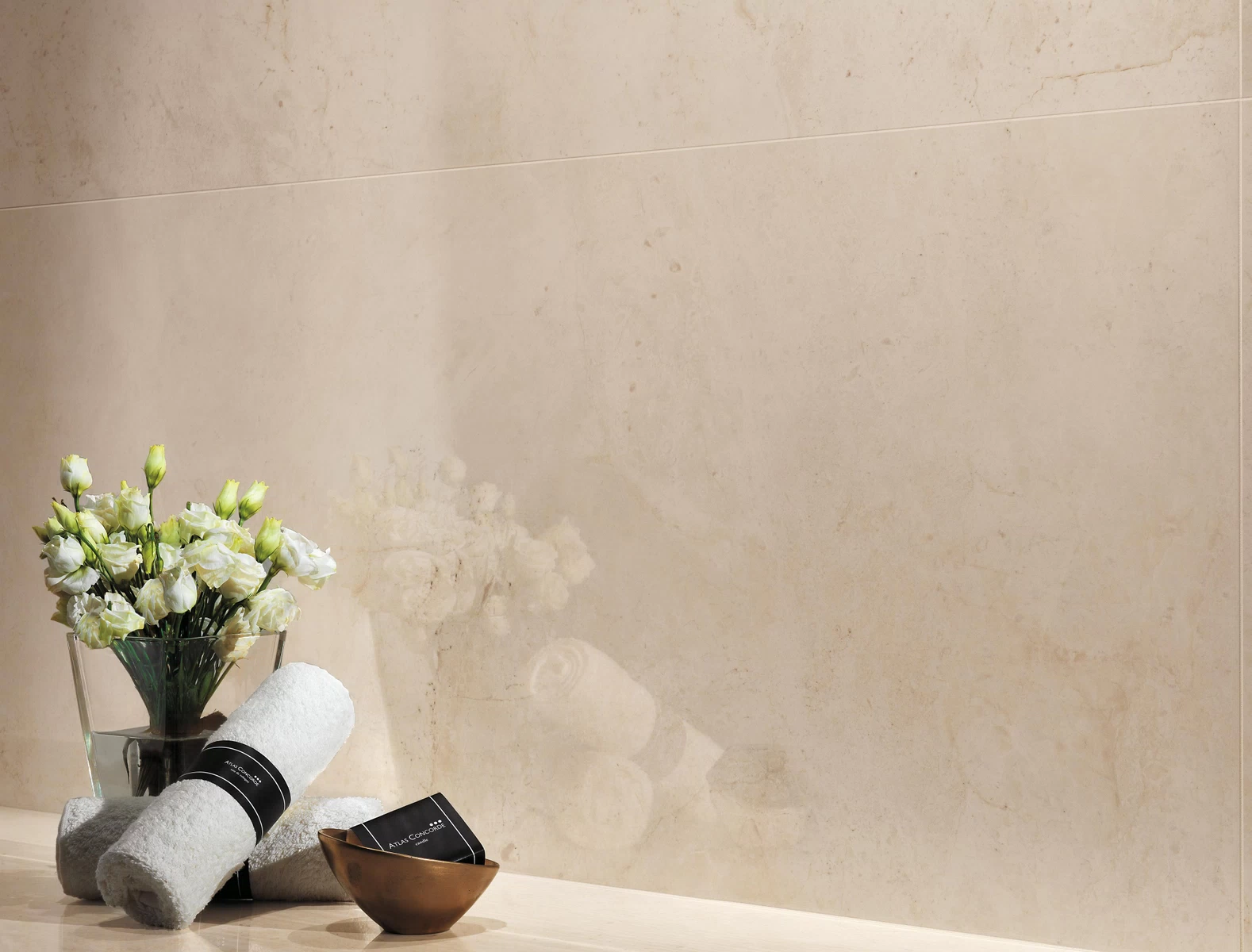 Marvel Cream Prestige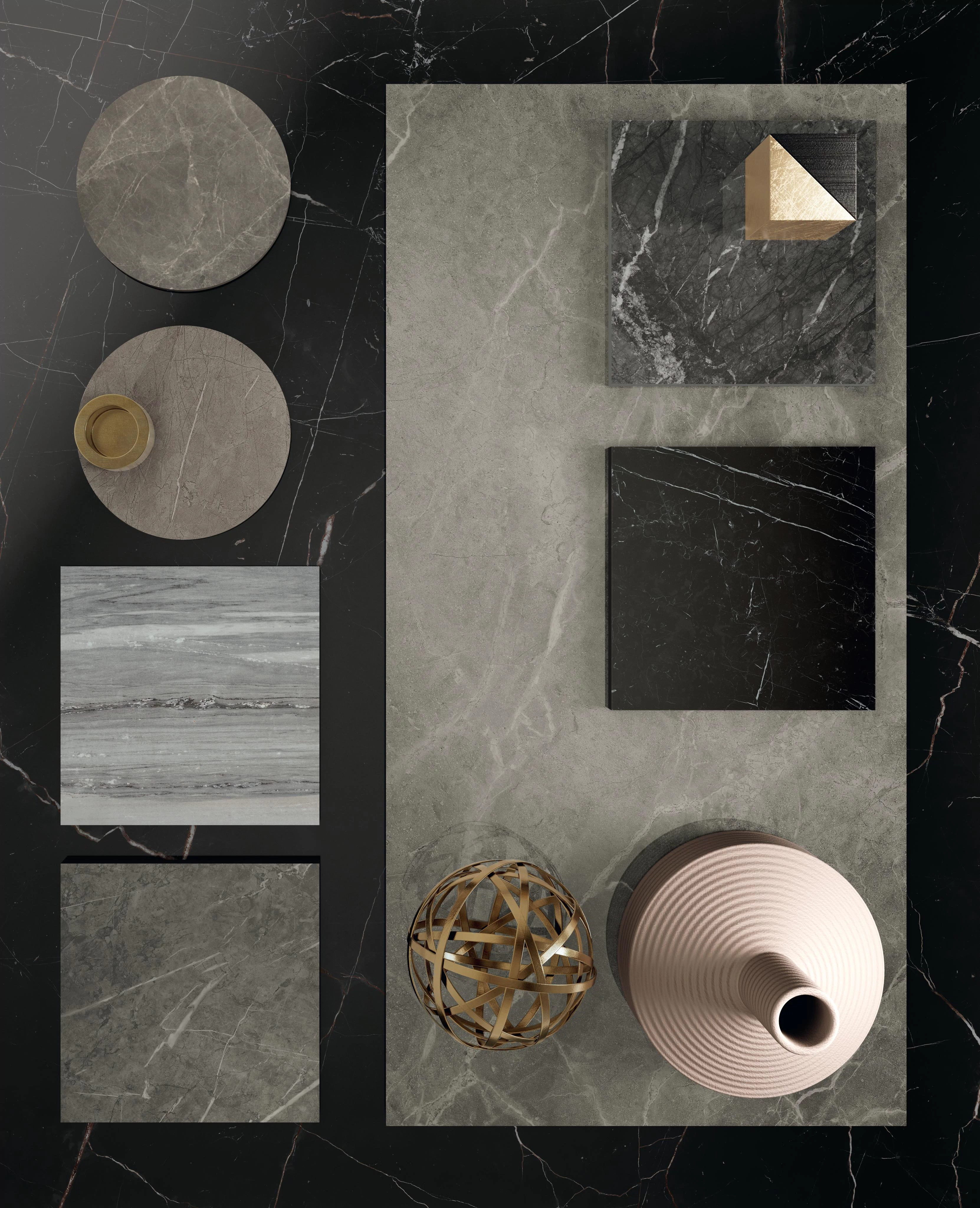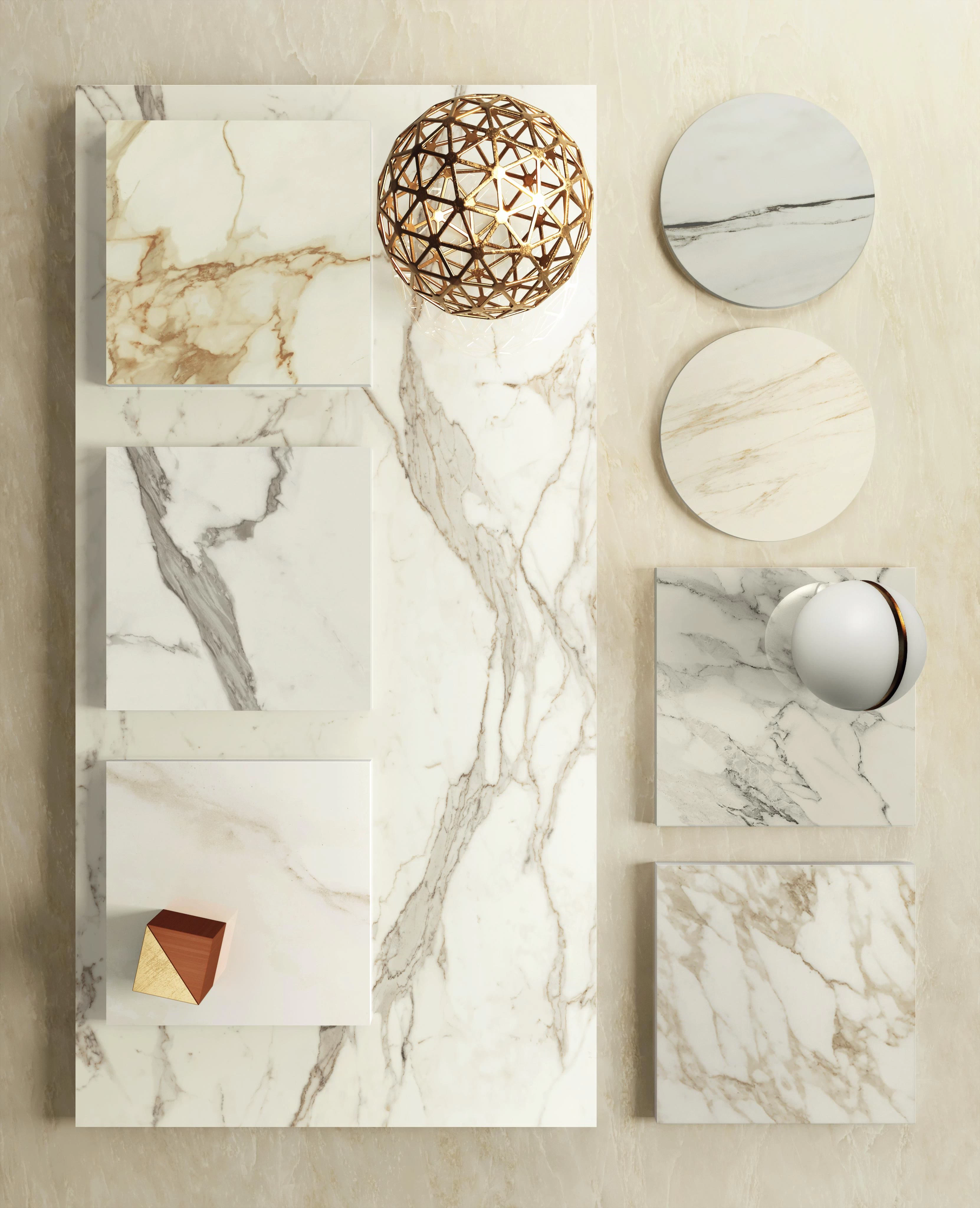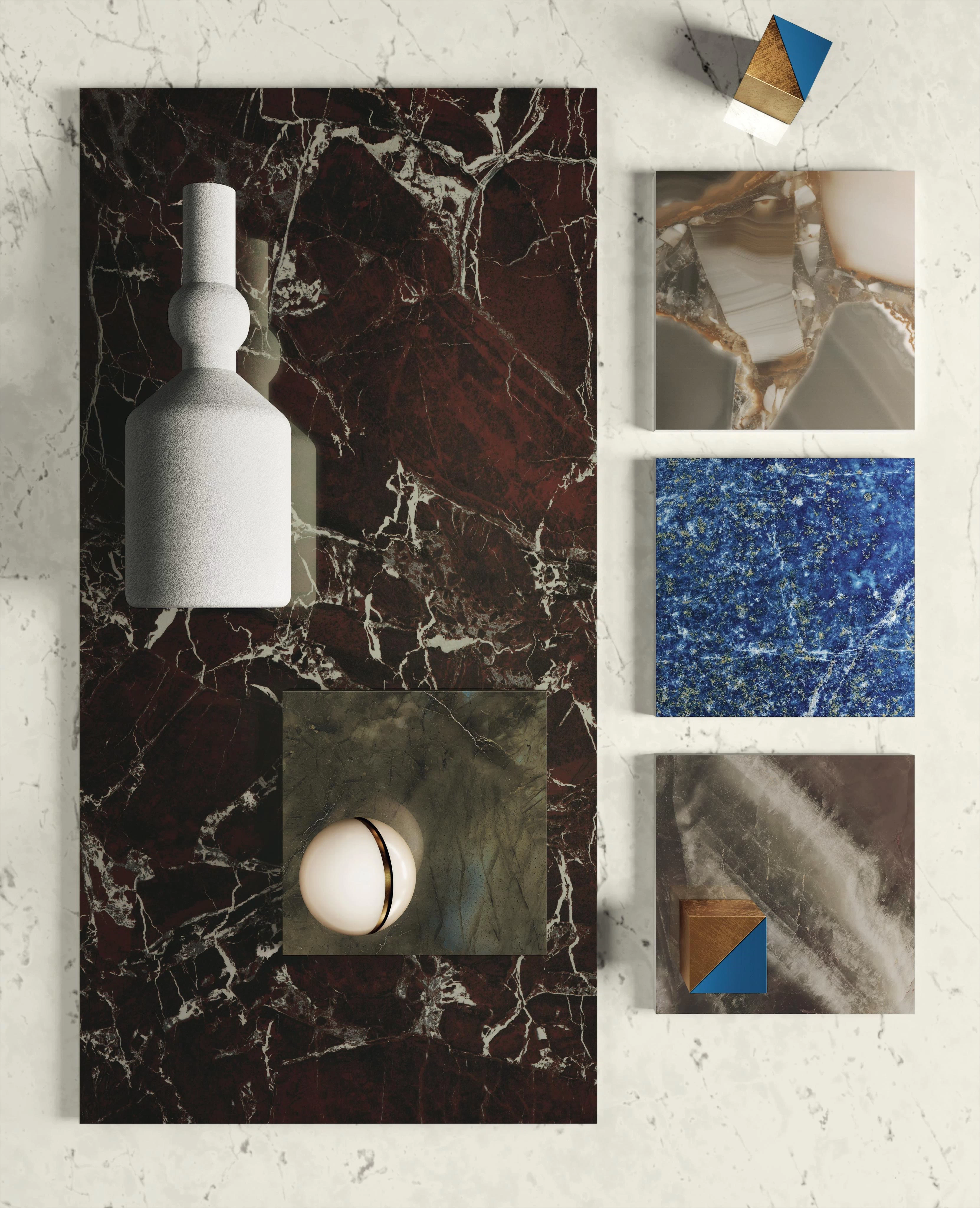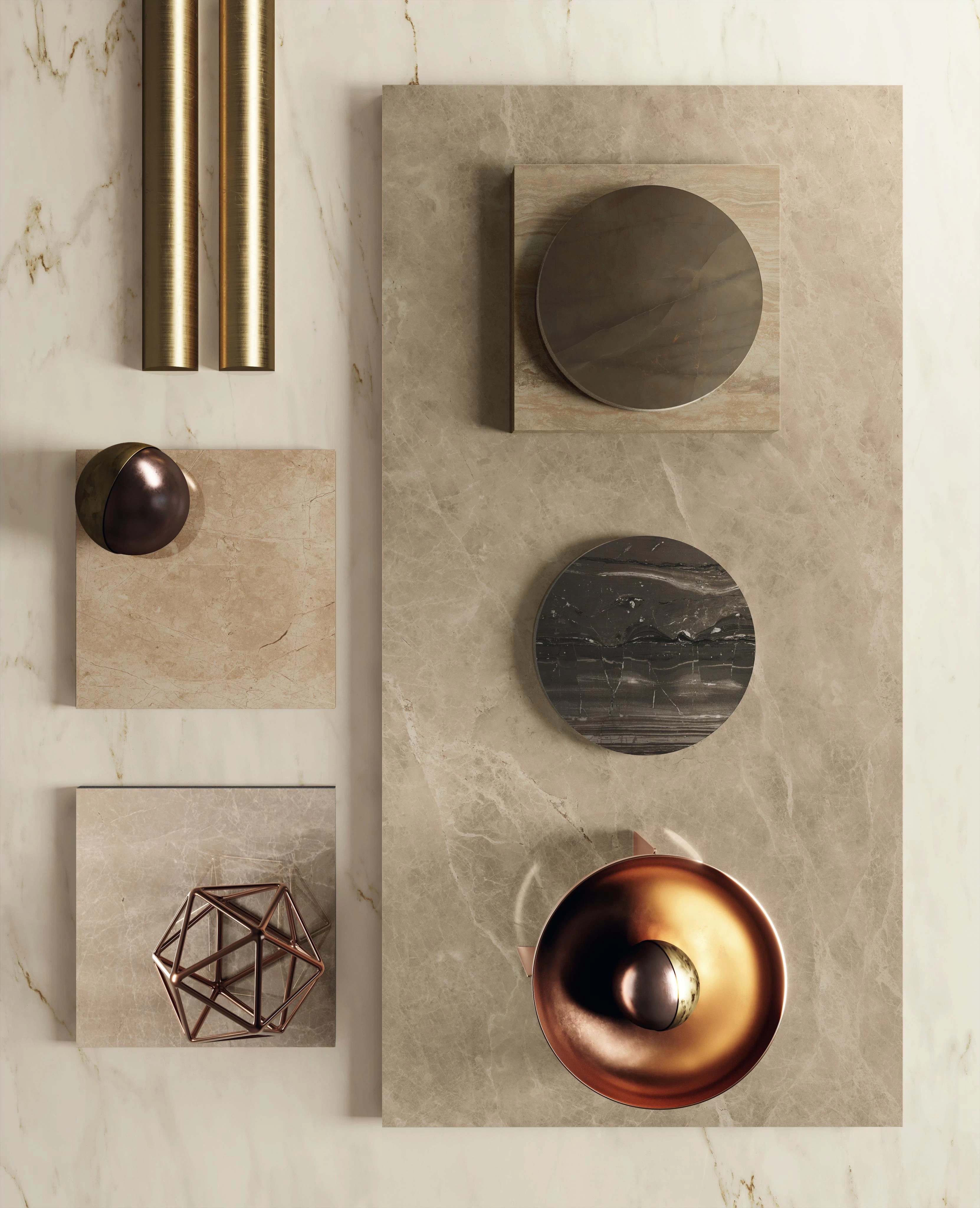 Absolute realism
Pure whites inspired by classic Italian marbles, intense grays and blacks, precious colors: the Marvel World color palette offers endless compositional possibilities featuring marble-effect tiles.
Ceramic marble: a safe choice
Marble-effect tiles combine performance and beauty in a single solution. Thanks to the technical qualities of ceramics they meet all design needs, from ease of installation and cleaning to superior healthiness and resistance.
Sustainability
Beauty
Efficiency
Resistance
Versatility
Sustainability
Respects the environment. Marble-effect porcelain tiles are 100% eco-friendly because they are produced using industrial processes with a reduced environmental impact that protect both nature and marble quarries.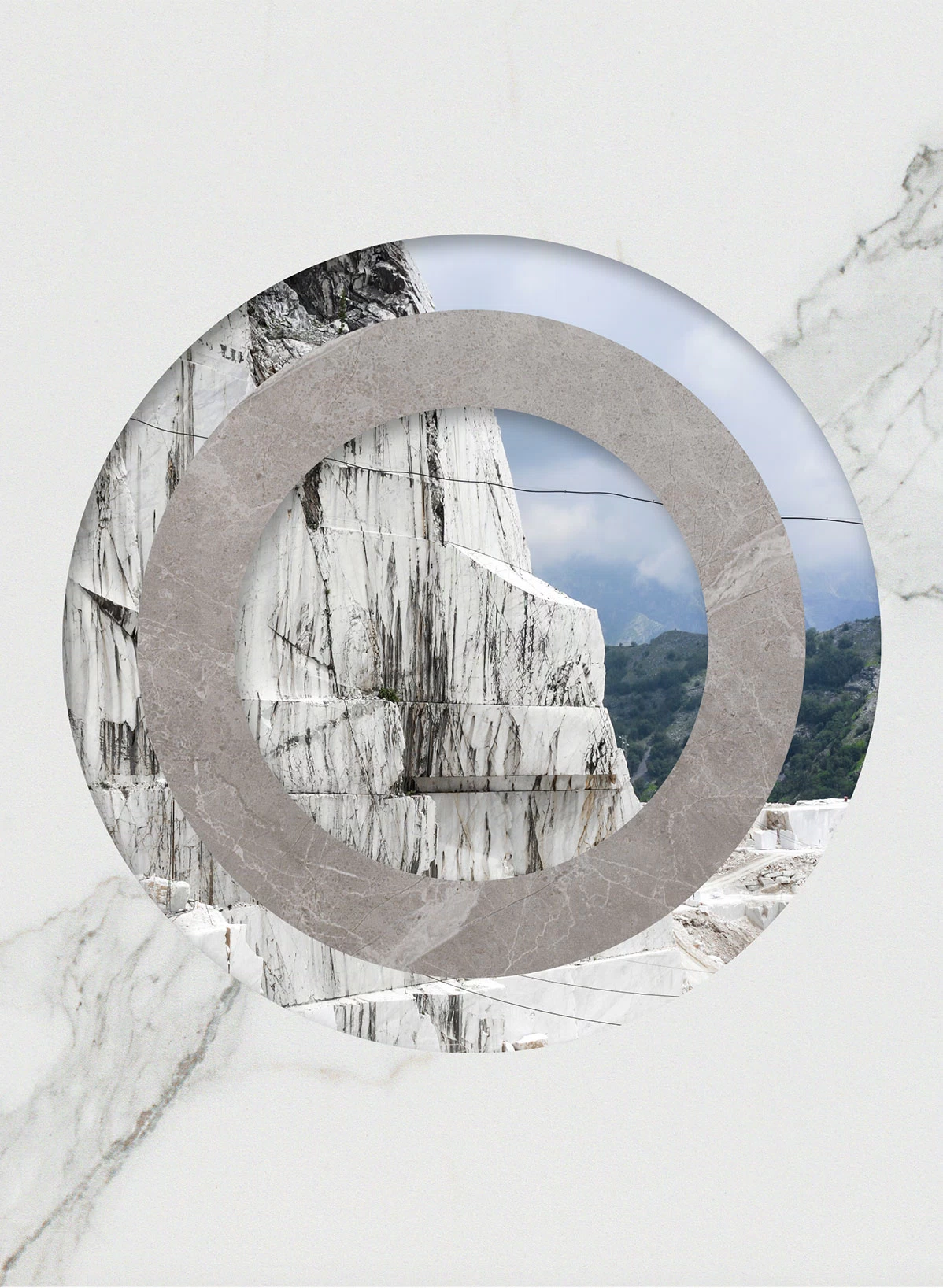 Beauty
Superior beauty and performance. Marvel World's porcelain floor tiles and coordinated wall tiles offer all the beauty of the finest marbles and the technical benefits of ceramics.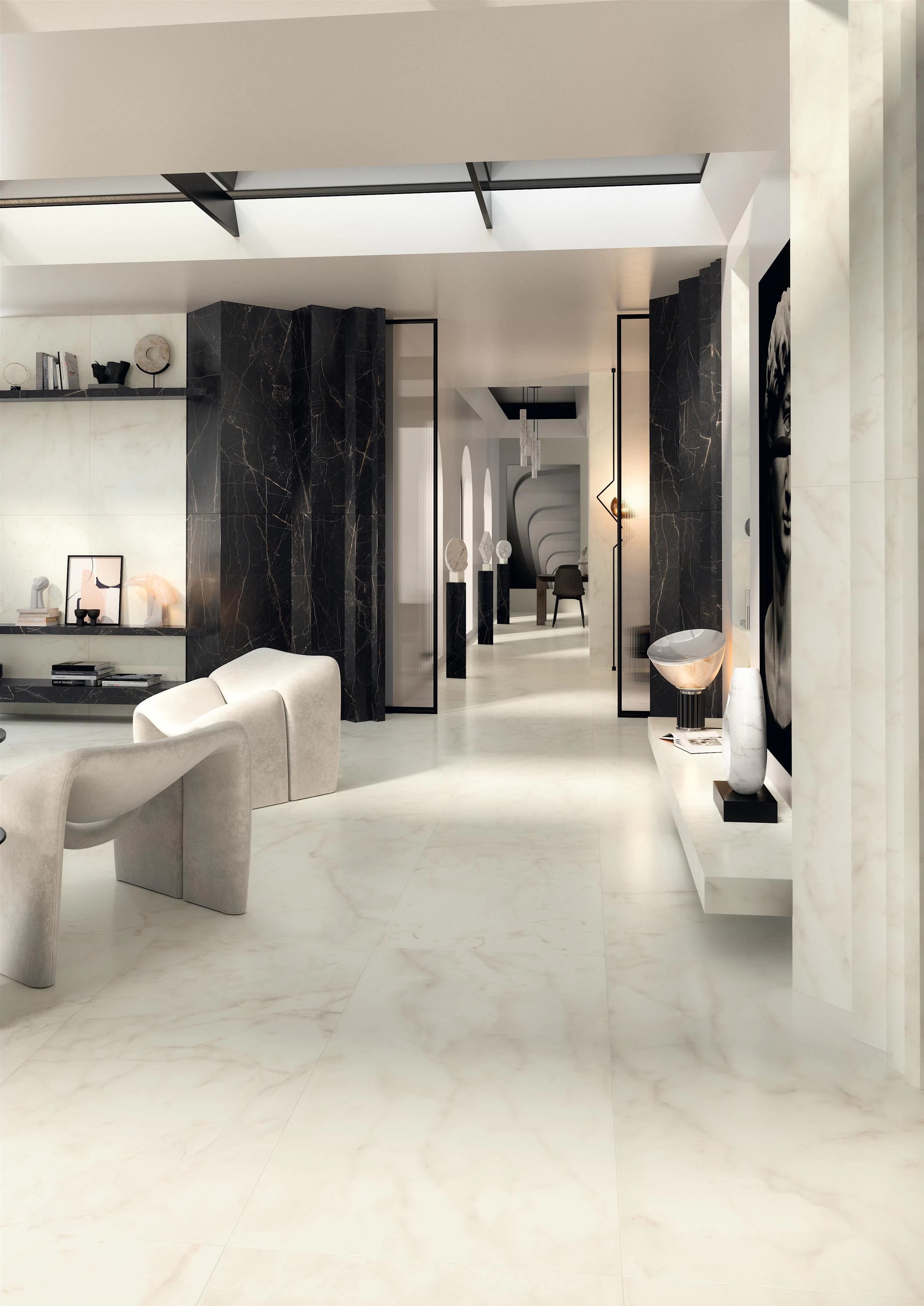 Efficiency
An ally of energy savings. Marble-effect porcelain floor and wall tiles moderate room temperature fluctuations, resulting in energy savings.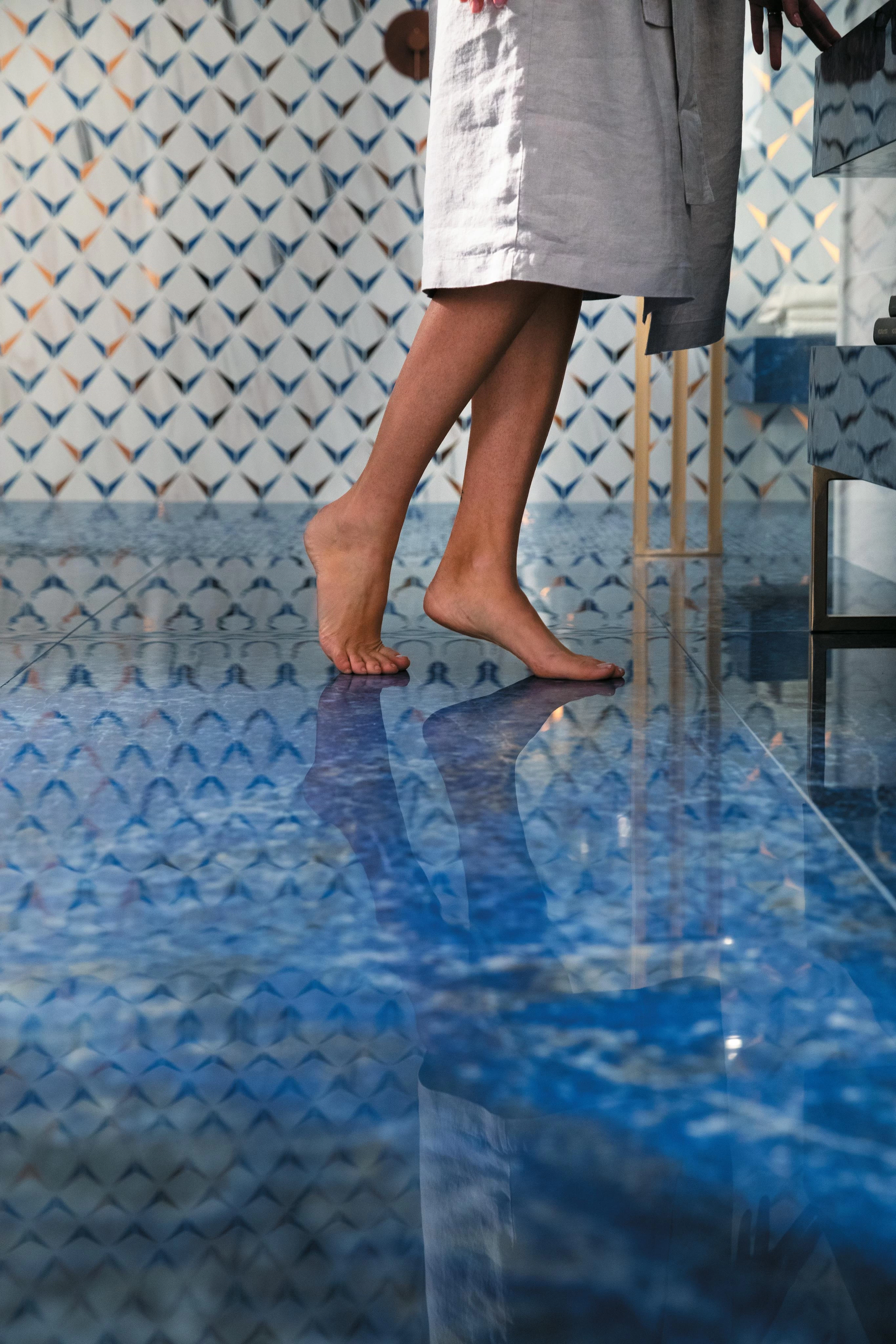 Resistance
Resists scratches, wear, and foot traffic. The compactness of marble-effect porcelain tiles guarantees high resistance to external stresses in any use.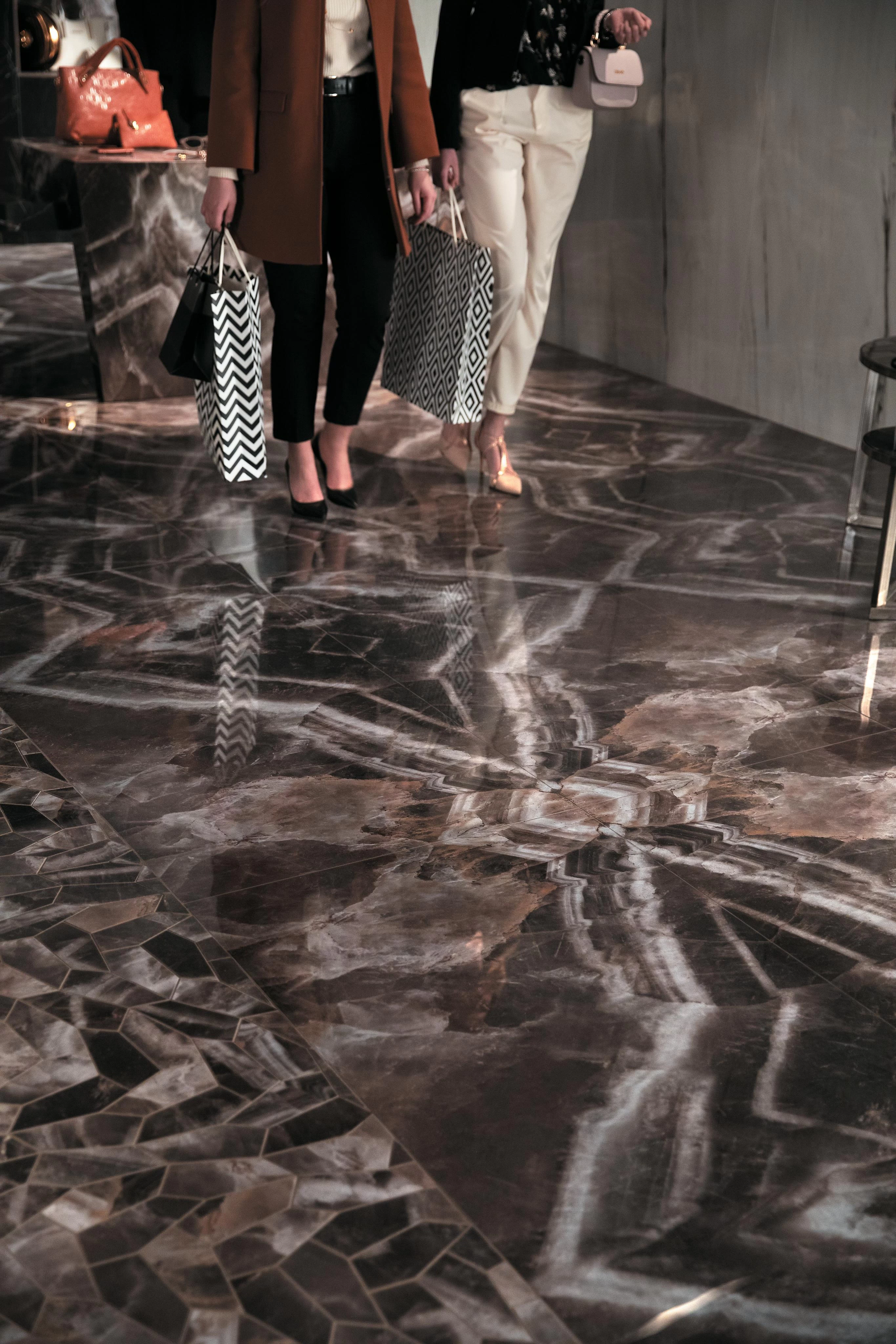 Versatility
Suitable for any space. The range of sizes and finishes allows marble-effect porcelain tiles to be adapted to any interior space, to adorn floors and walls with a chic solution.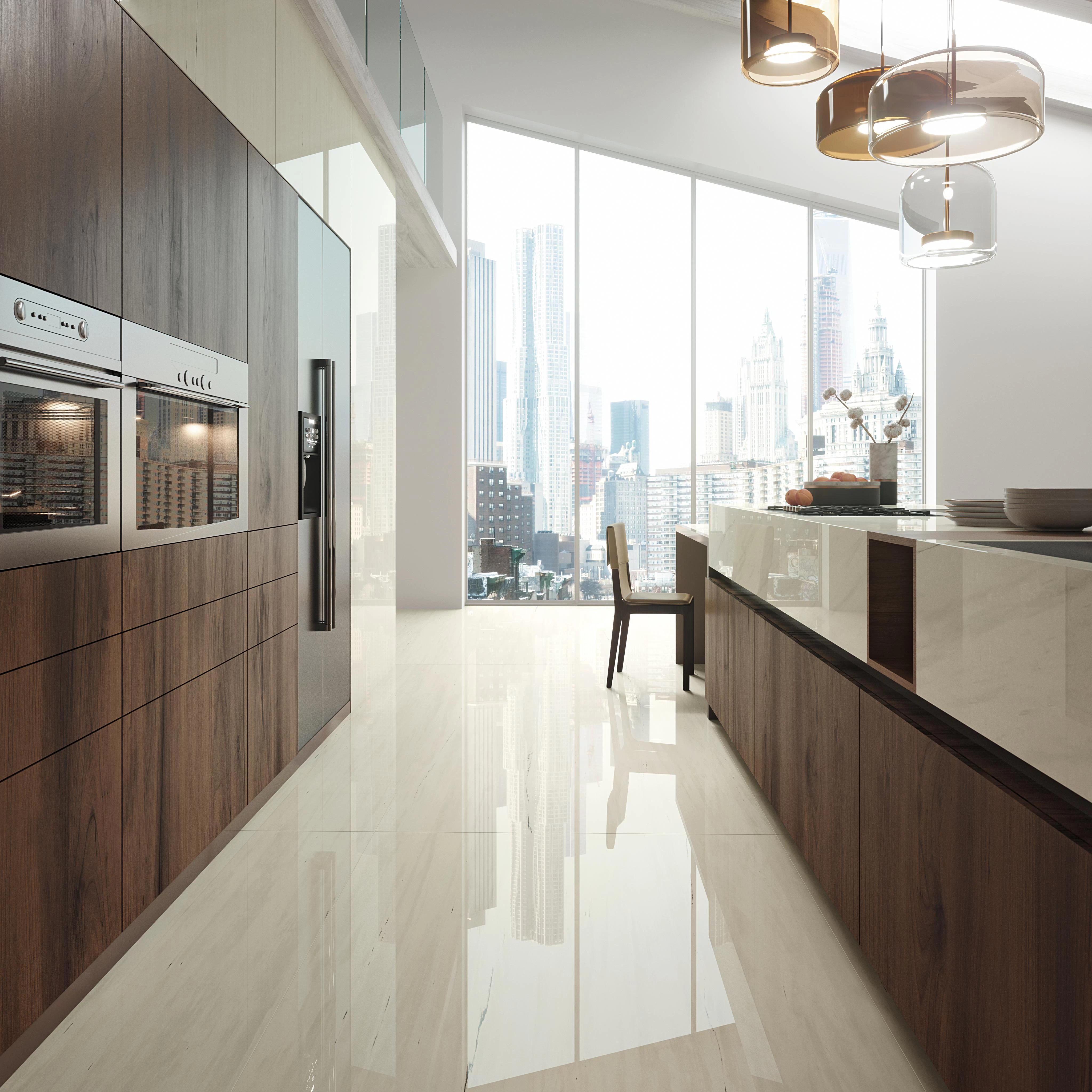 Large sizes, broad perspectives
Marvel World's large marble-effect slabs are perfect for cladding large walls and furnishings. They expand perspectives, reduce the perception of joints, create an even more realistic effect, and offer a solution with a spectacular visual impact.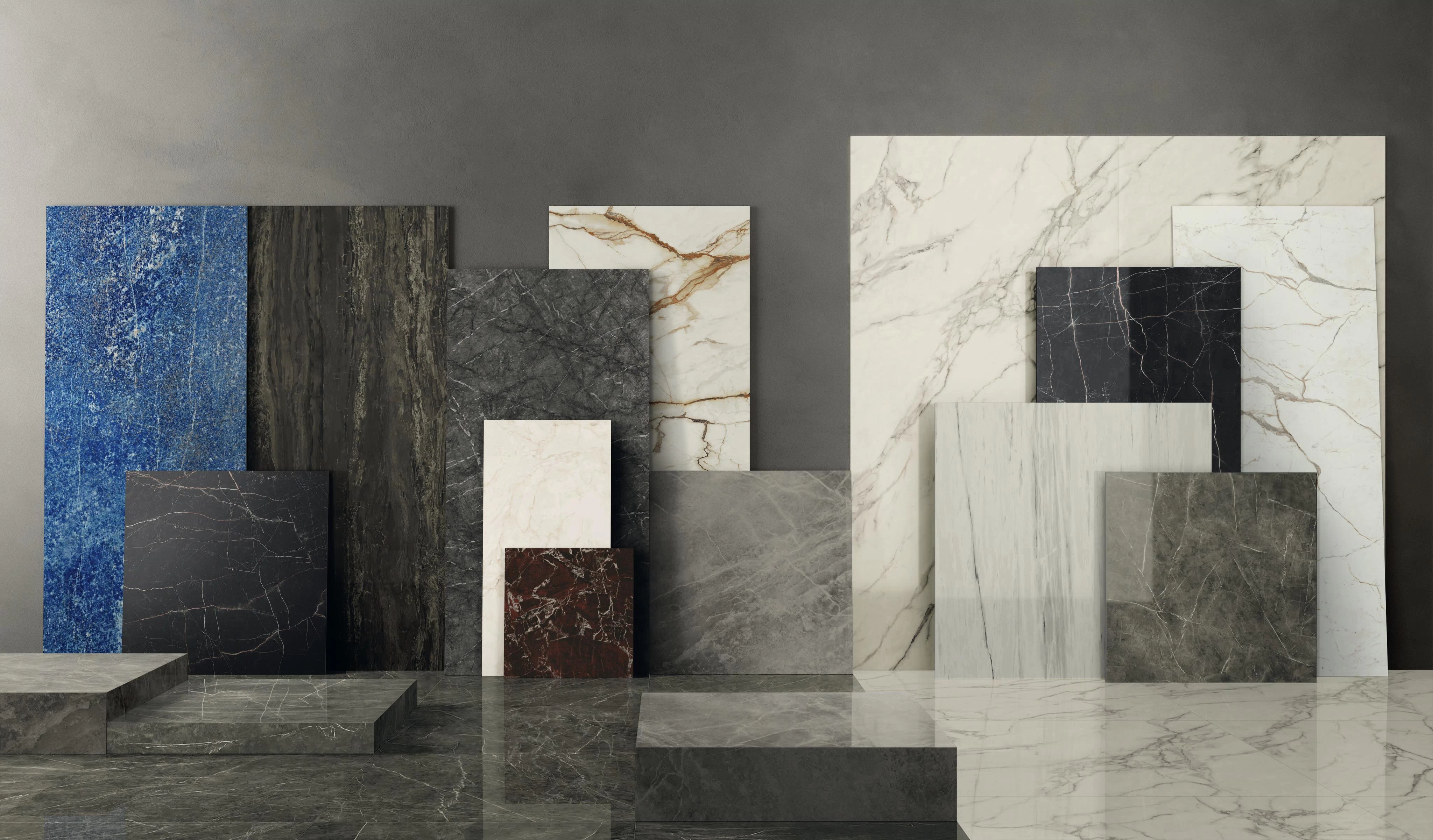 A complete color palette
Marvel World has numerous collections of marble-effect tiles to choose from to design each space in complete freedom.
Marvel
Marvel Pro
Marvel Dream
Marvel Edge
Marvel Stone
Marvel Shine
Marvel X
Marvel Gala
Marvel Travertine
Marvel
Marvel is the collection of marble-effect tiles inspired by the most prestigious marbles of Italian tradition, available in a wide-ranging color palette that spans from the pure white of Calacatta to the intense shades of onyx and alabaster.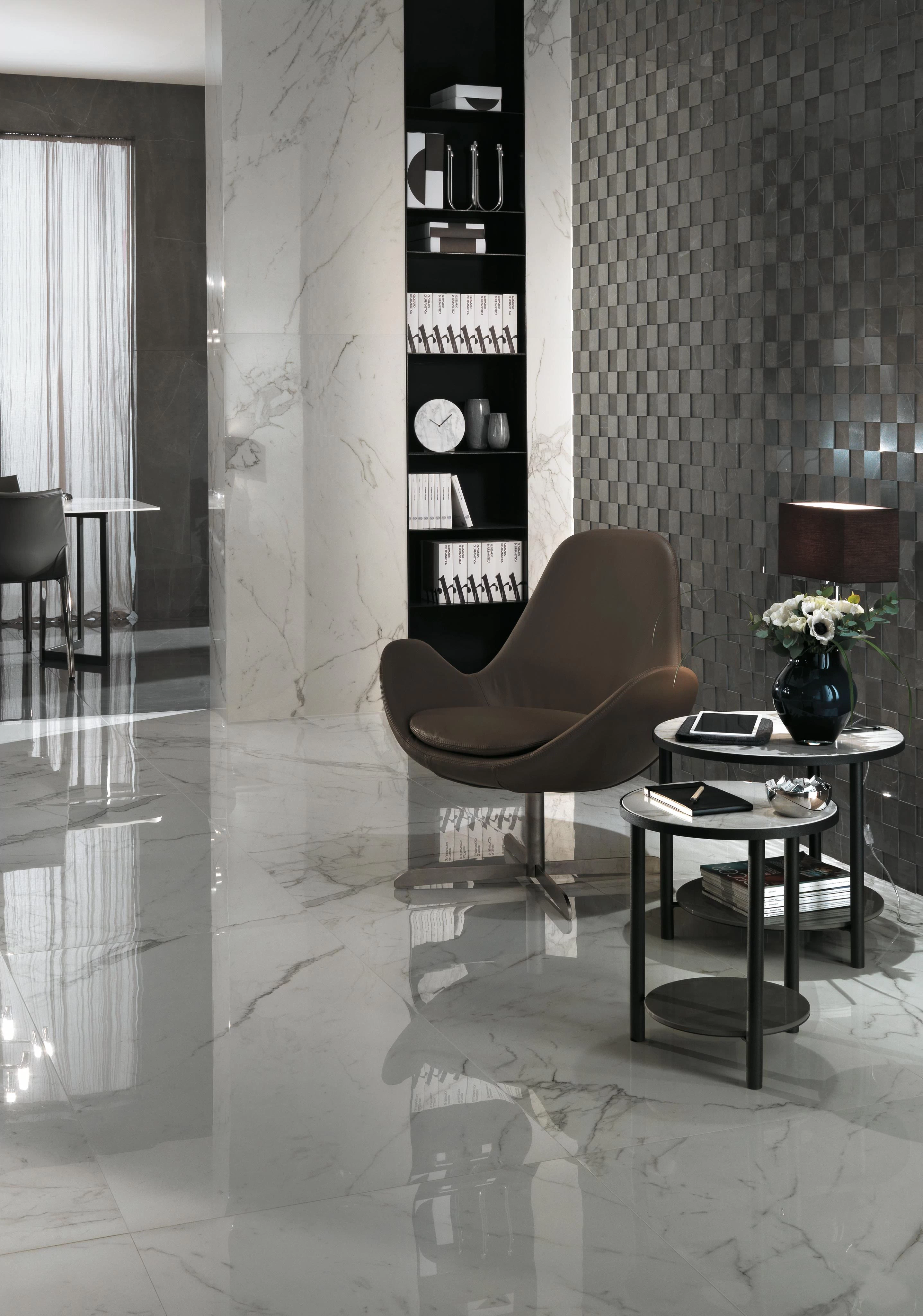 Marvel Pro
Coordinated porcelain floor tiles and wall tiles that reproduce the textures of polished and aged marble.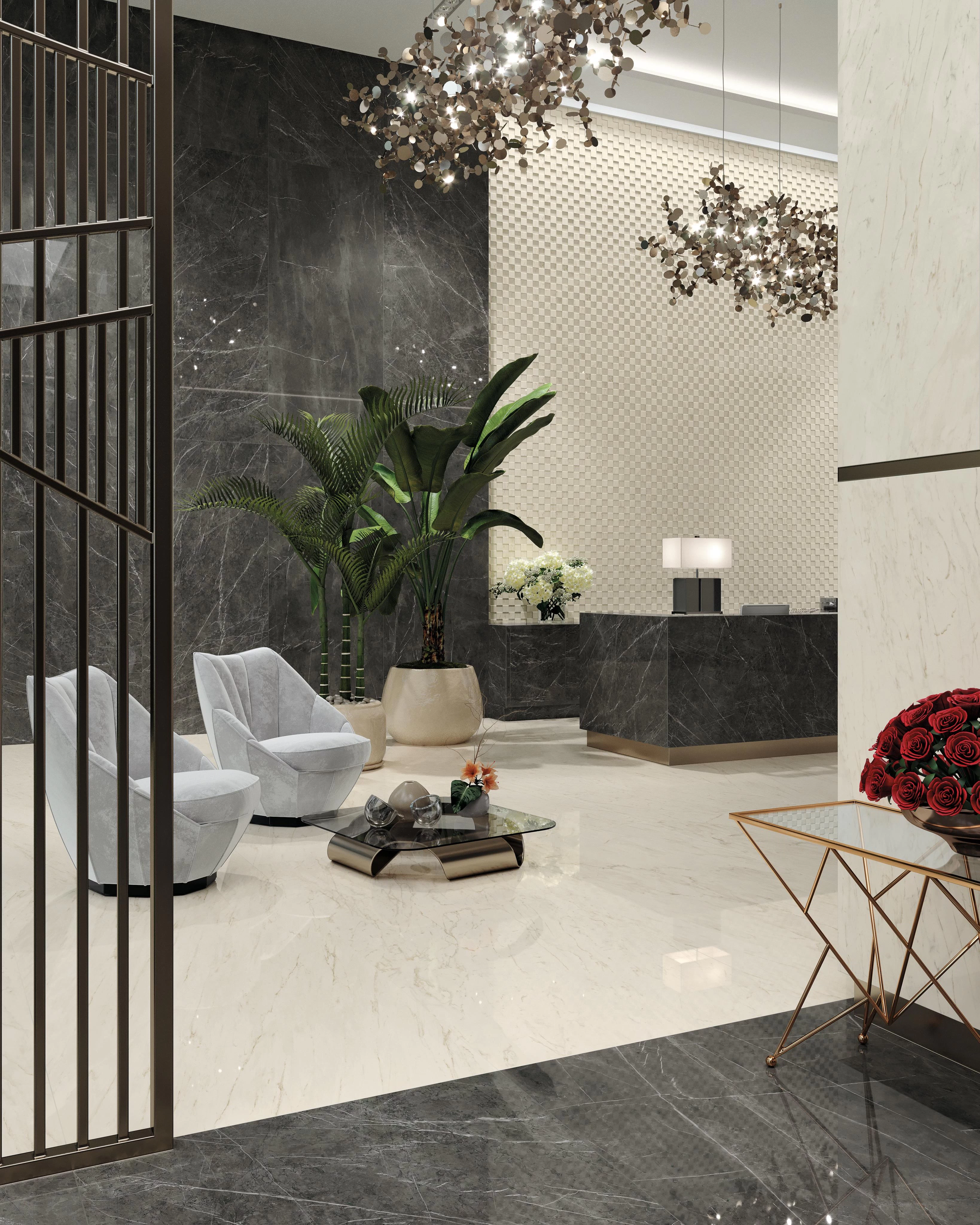 Marvel Dream
A range of marble-effect tiles inspired by quartz, gems, and lapis lazuli.
Marvel Edge
A collection of marble-look floors with warm tones and intense veining, enriched by wall tiles with unprecedented color accents.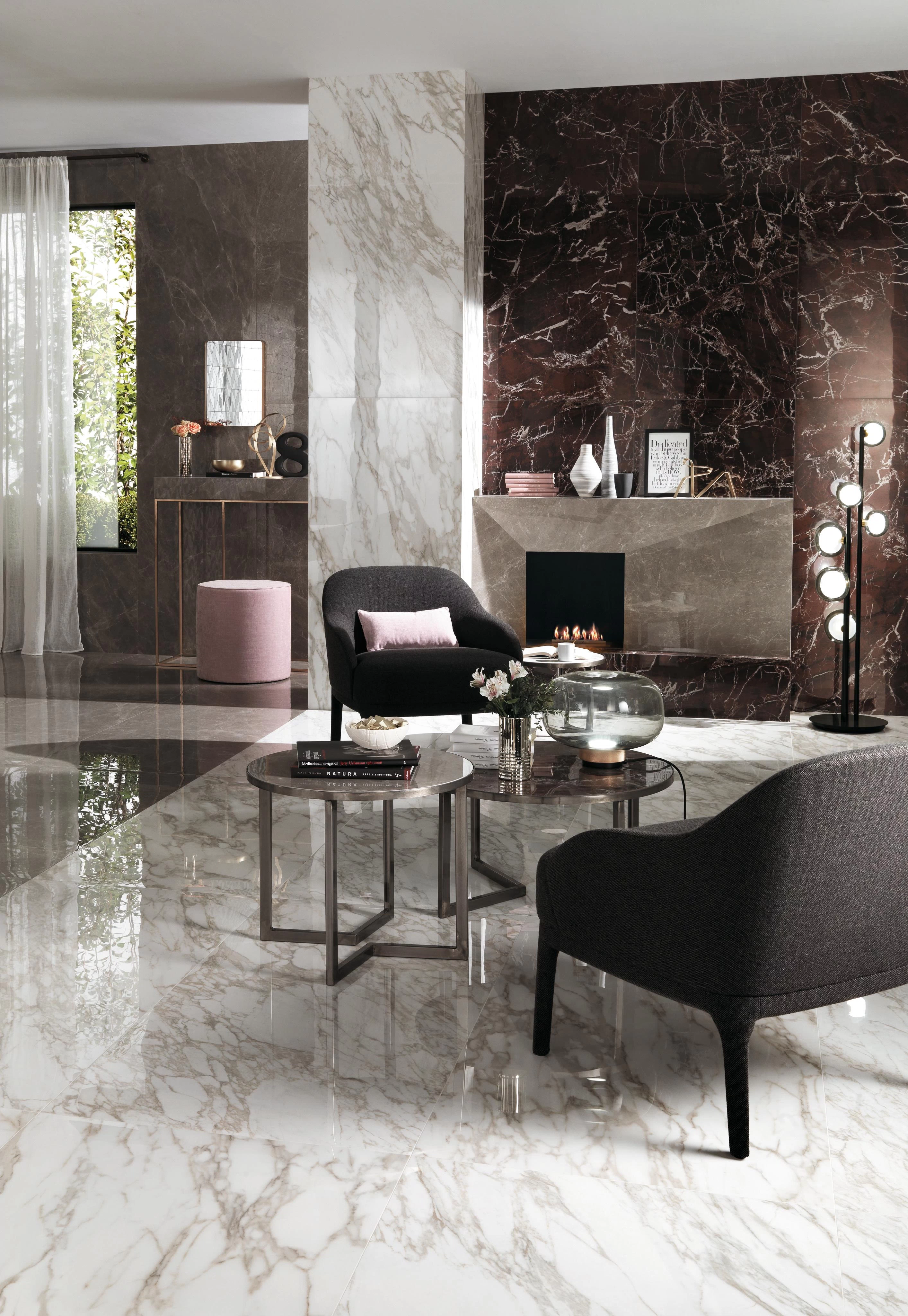 Marvel Stone
The purity of marble meets the vigor of stone on a surface with superior technical performance.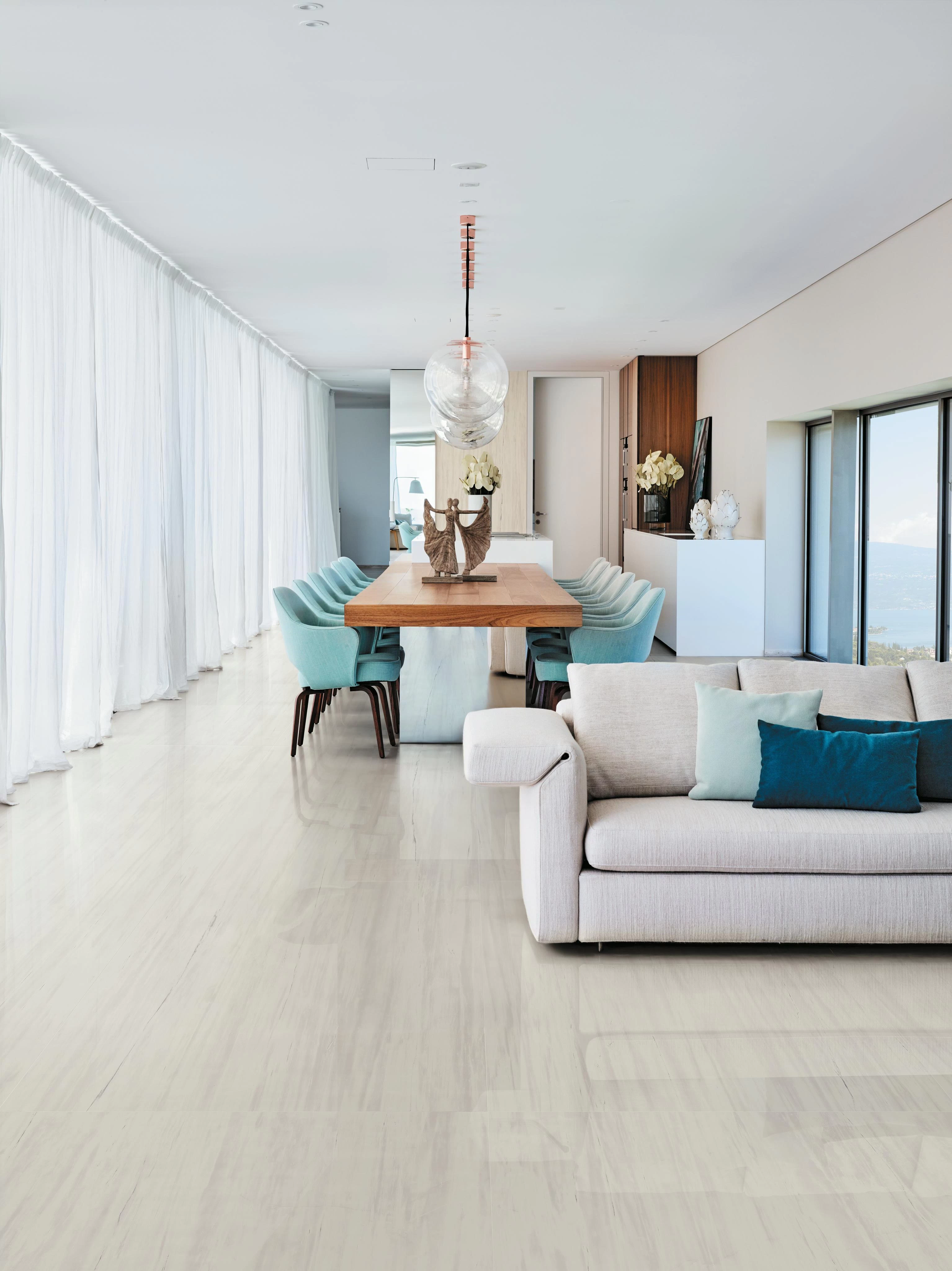 Marvel Shine
Marvel Shine is inspired by four fine white marbles of Italian artistic tradition, exploring new surfaces that are unique in their purity, color, and brightness.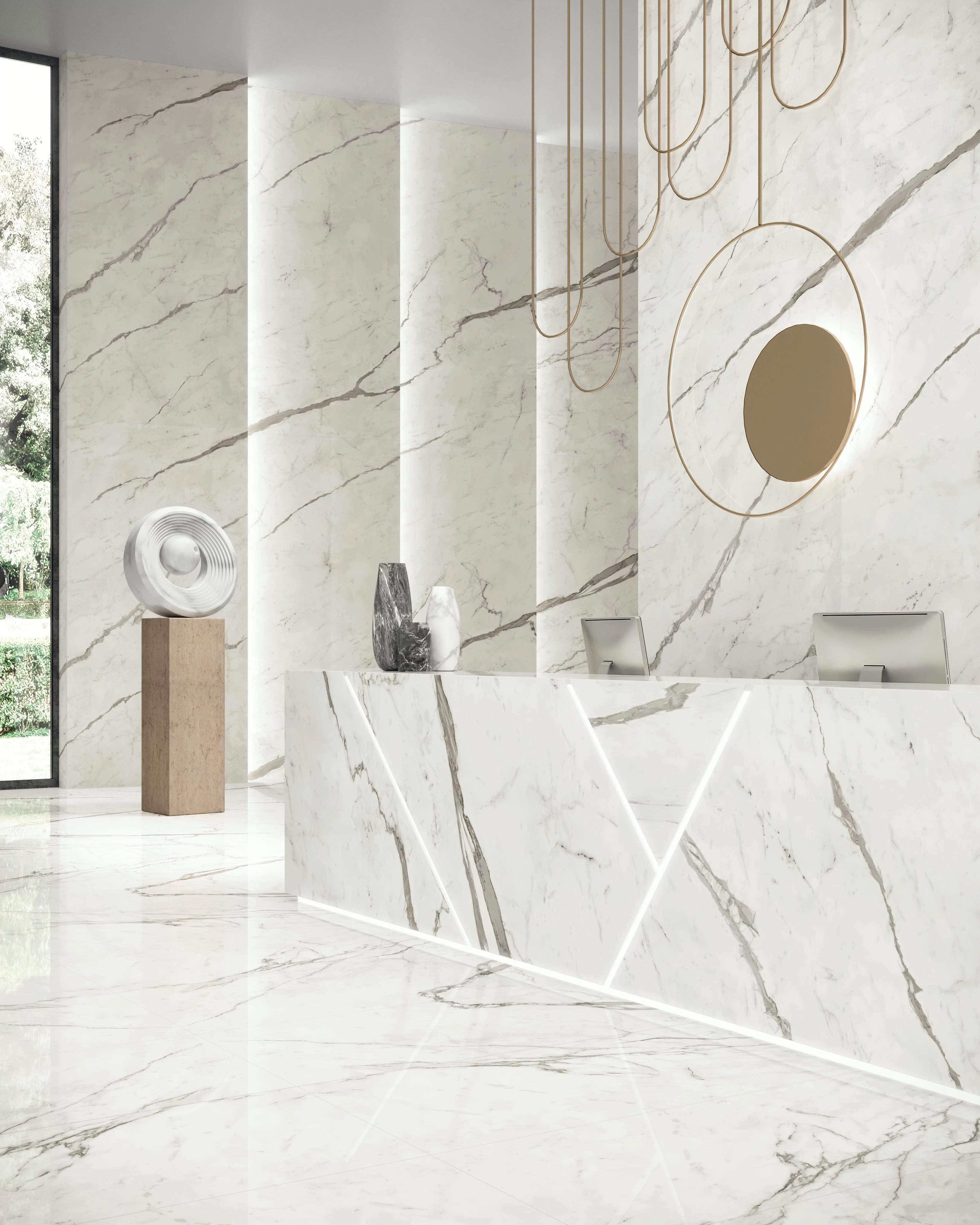 Marvel X
An attentive analysis of interior design trends and advice from industry professionals guided the selection of the five fine marbles in shades of white and gray that make up the Marvel X collection.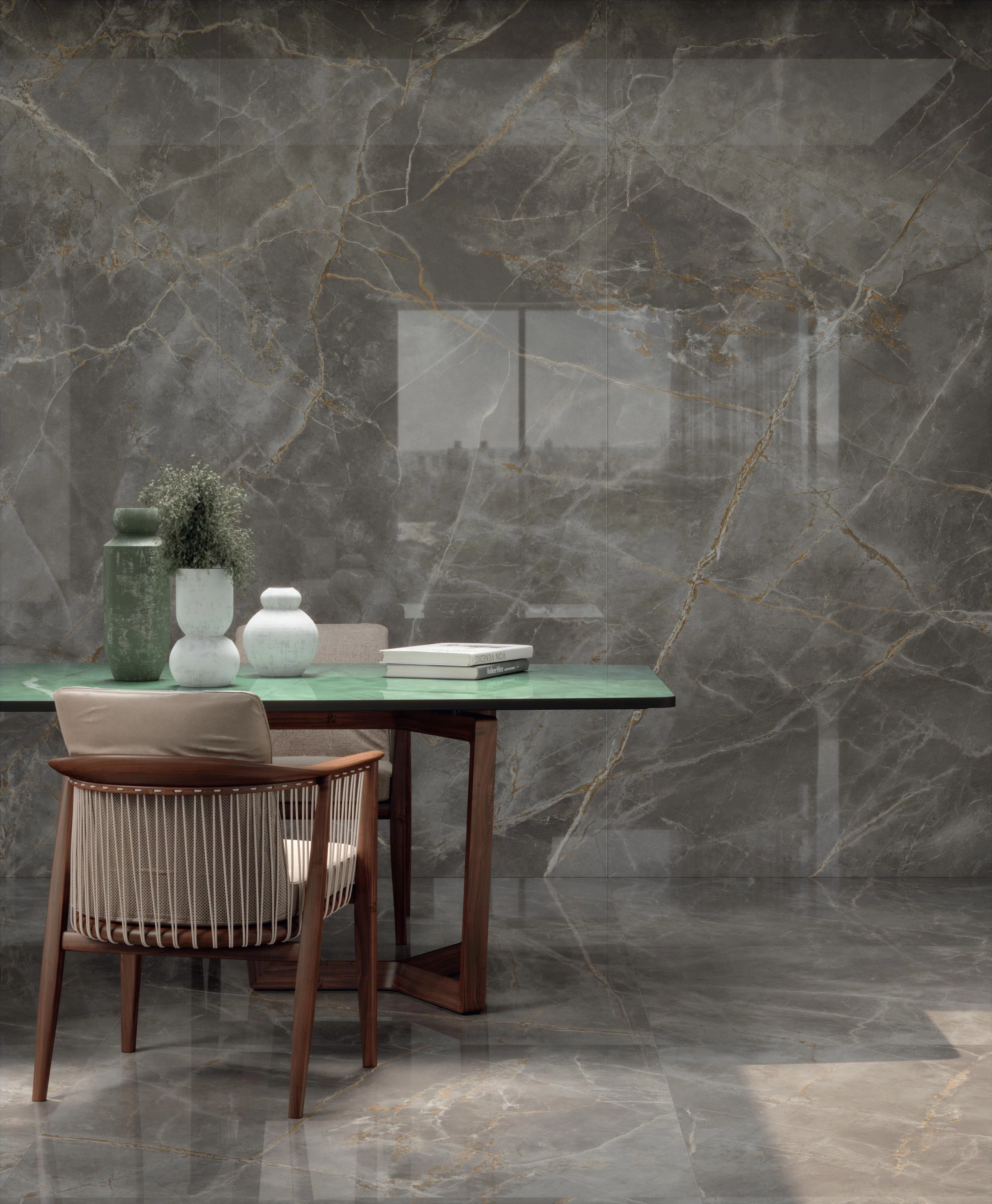 Marvel Gala
Marvel Gala is a journey through nature's most amazing masterpieces, a collection of precious stones inspired by Earth's most striking landscapes. Marbles, crystals, granites and quartzites in bright and deep colors, reproduced with extreme realism and attention to graphic detail.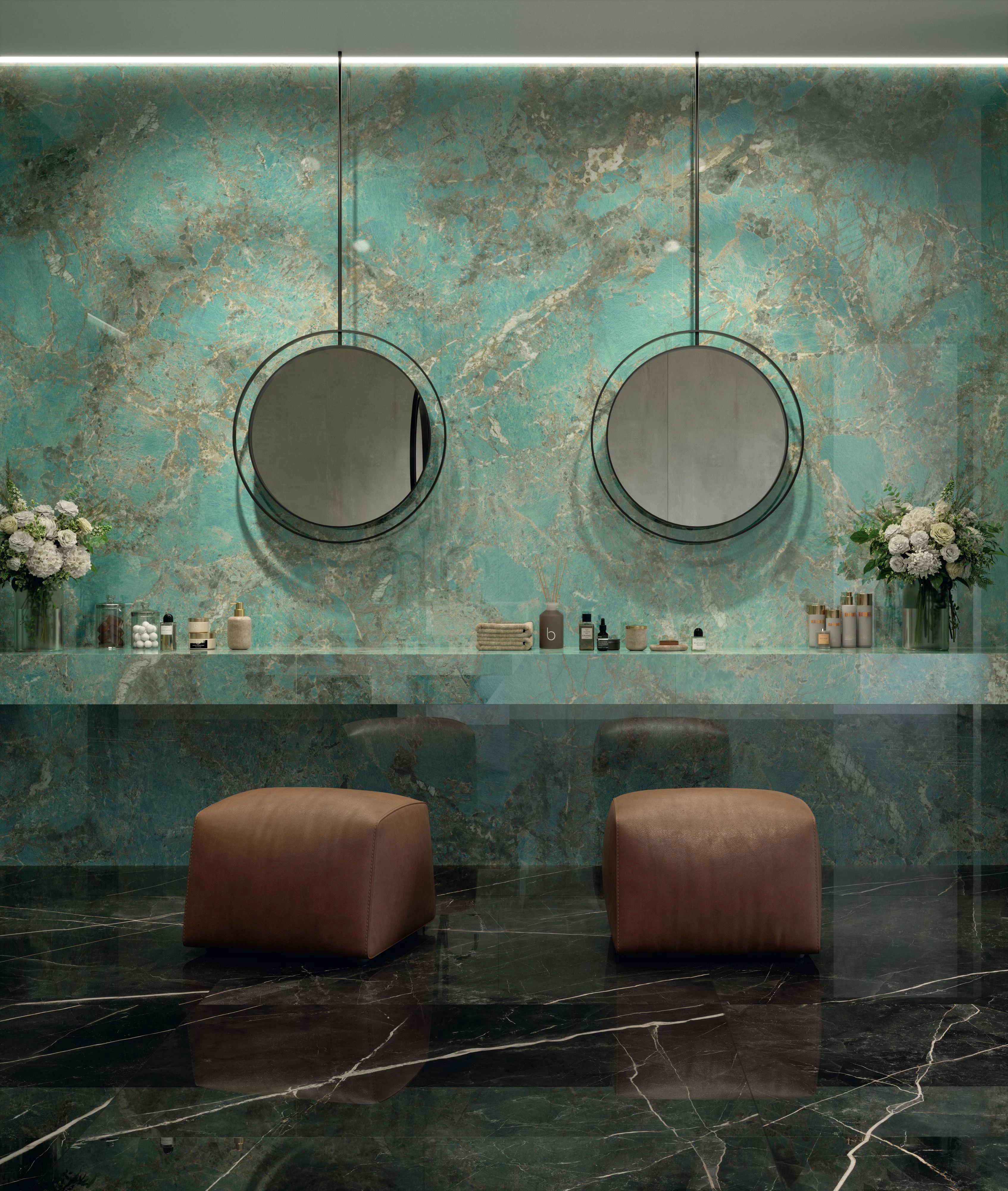 Marvel Travertine
Marvel Travertine is the porcelain tile collection with travertine effect that interprets the prestige of one of the iconic materials of classical architecture in a contemporary key, creating a collection of extreme realism and versatility of application. Marvel Travertine celebrates the prestigious collaboration between Atlas Concorde and Hirsch Bedner Associates (HBA), one of the largest interior design firms in the world, leader in luxury hotels and resorts.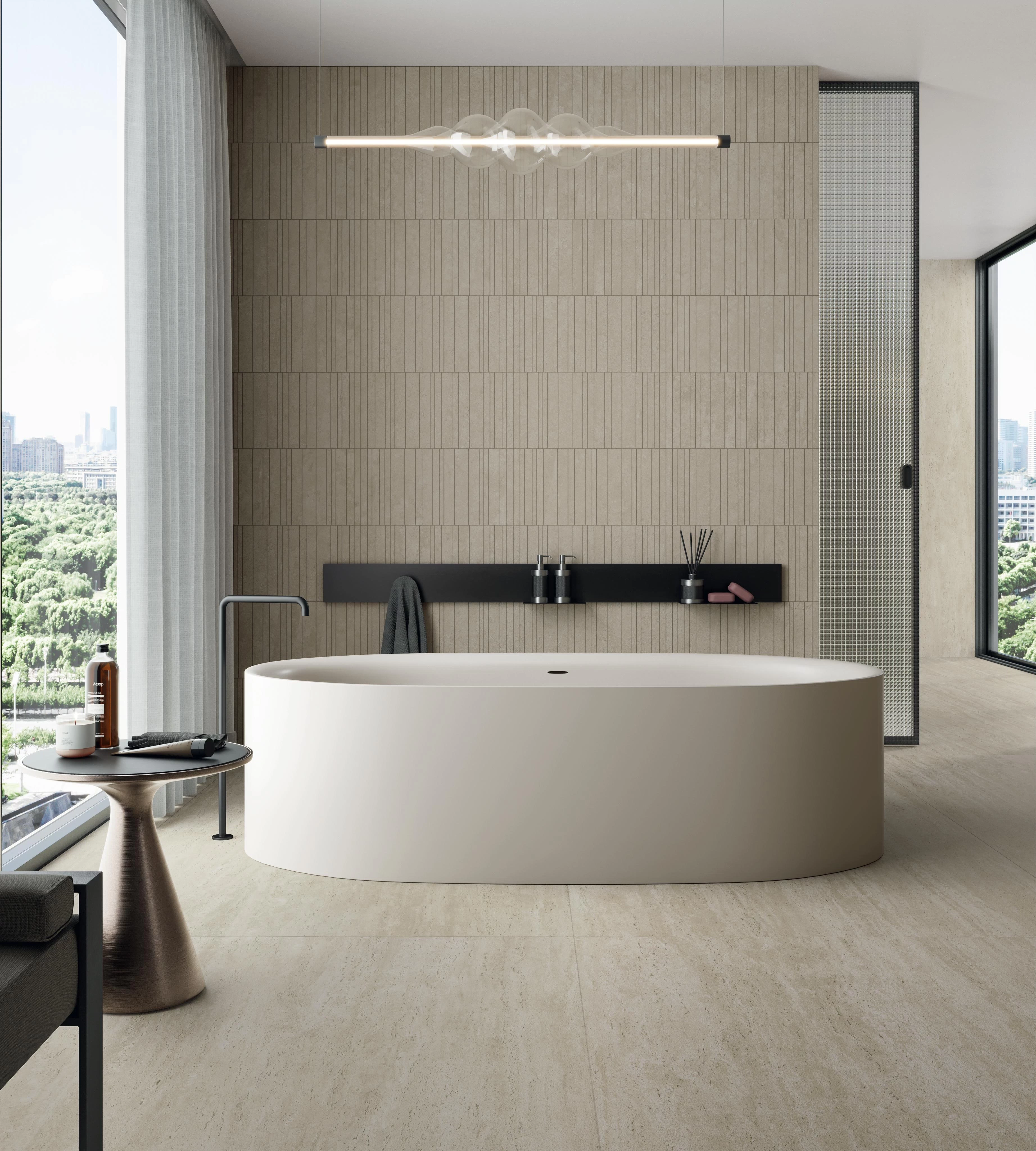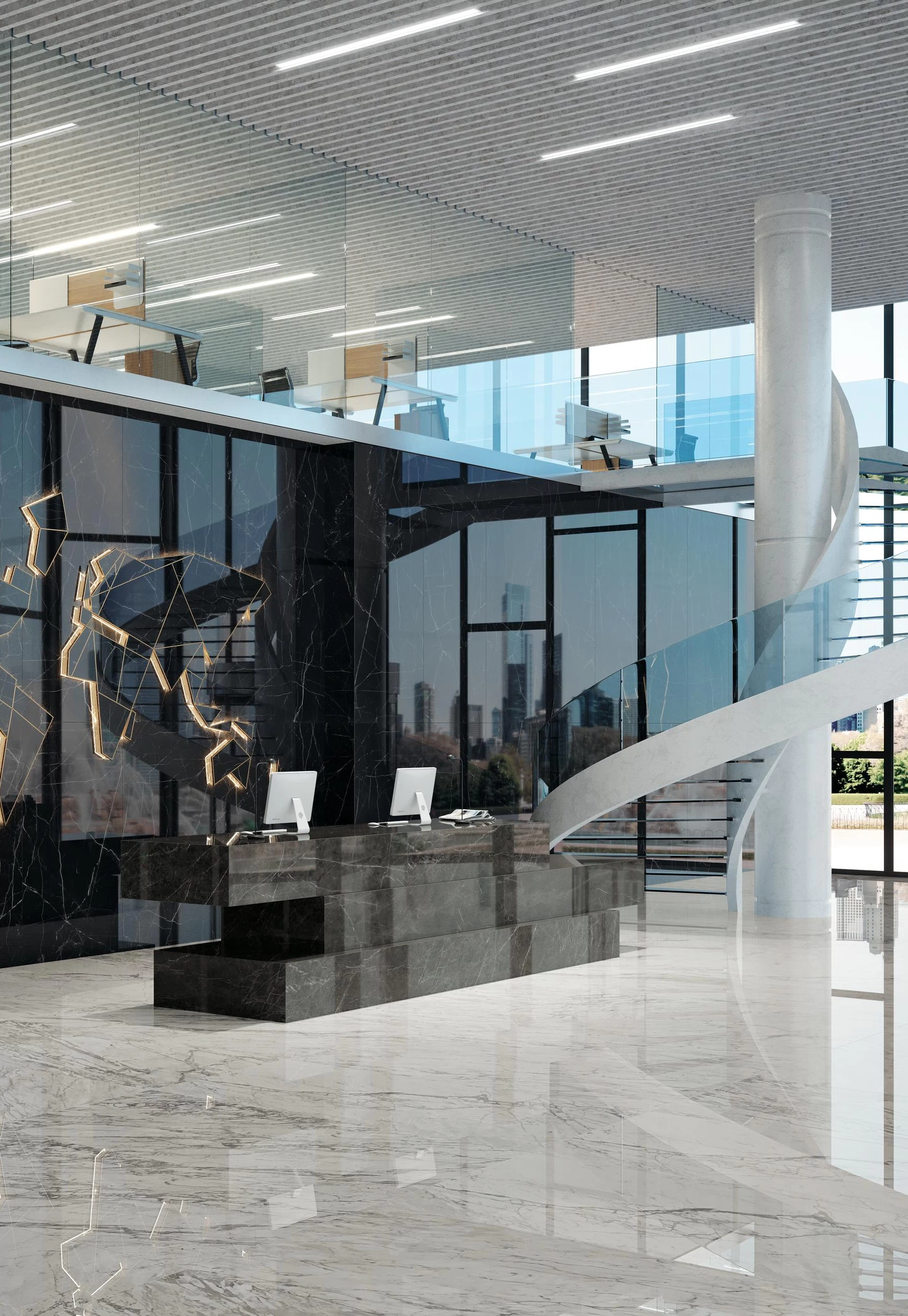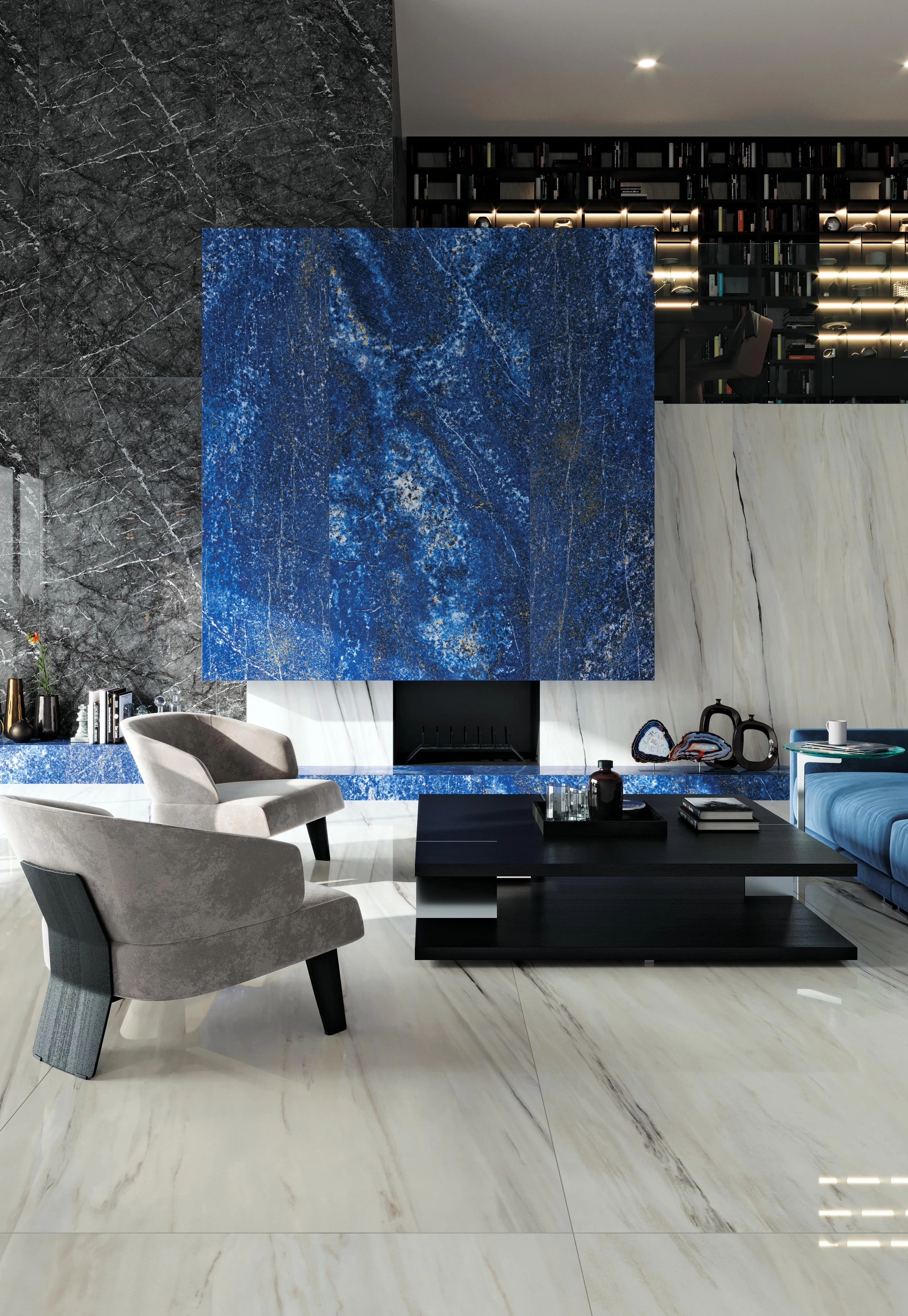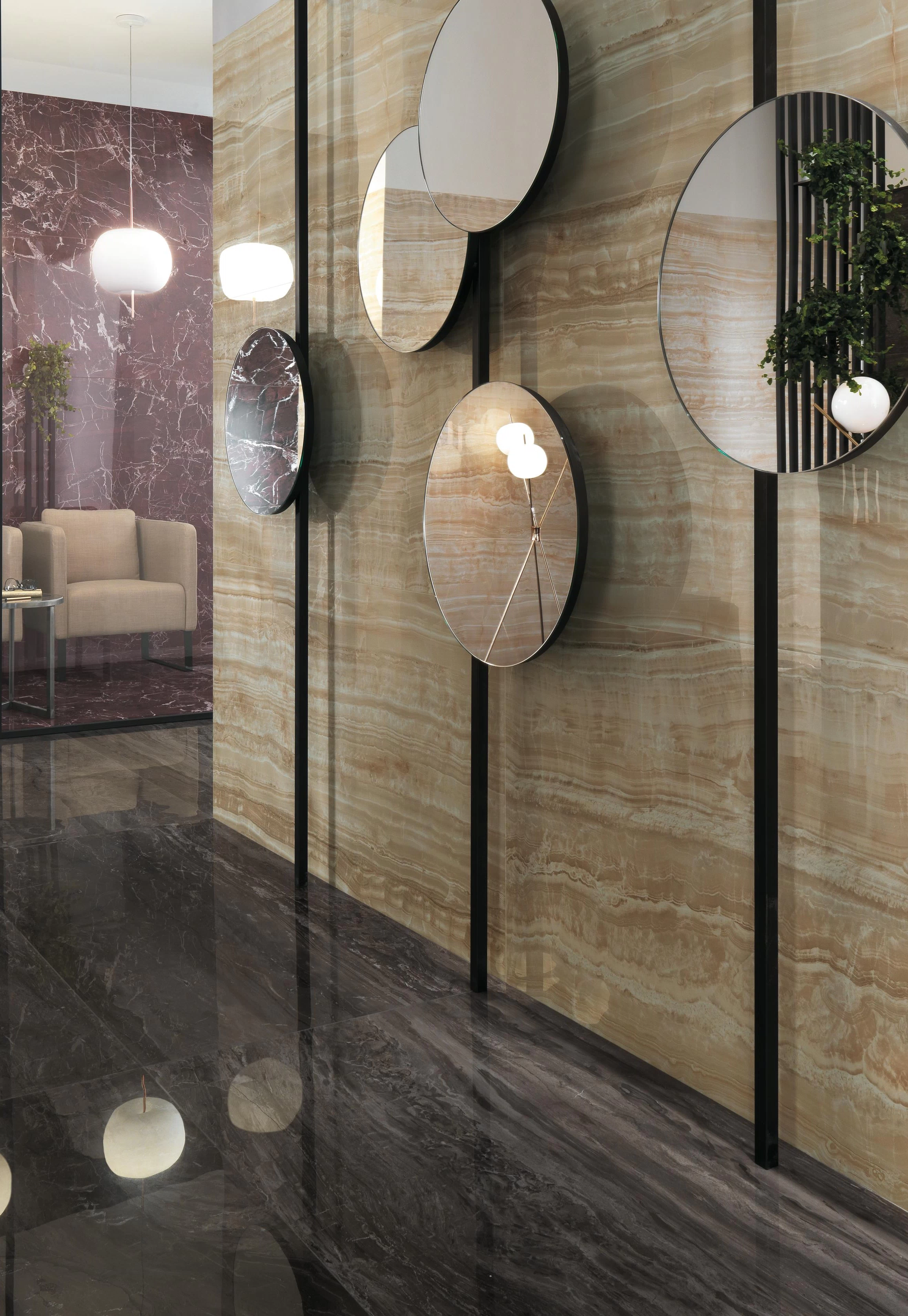 Timeless affinity
Marvel World is a project that stands out for its high level of versatility. The porcelain tiles can be combined with each other and give life to total-look marble-effect designs in residential, commercial, and hospitality settings.
Solutions for any project
With Marvel World you can use marble-effect porcelain tiles in any residential, commercial, and hospitality space to design walls, floors, and furnishing elements such as tables, countertops, splash guards, and washbasins.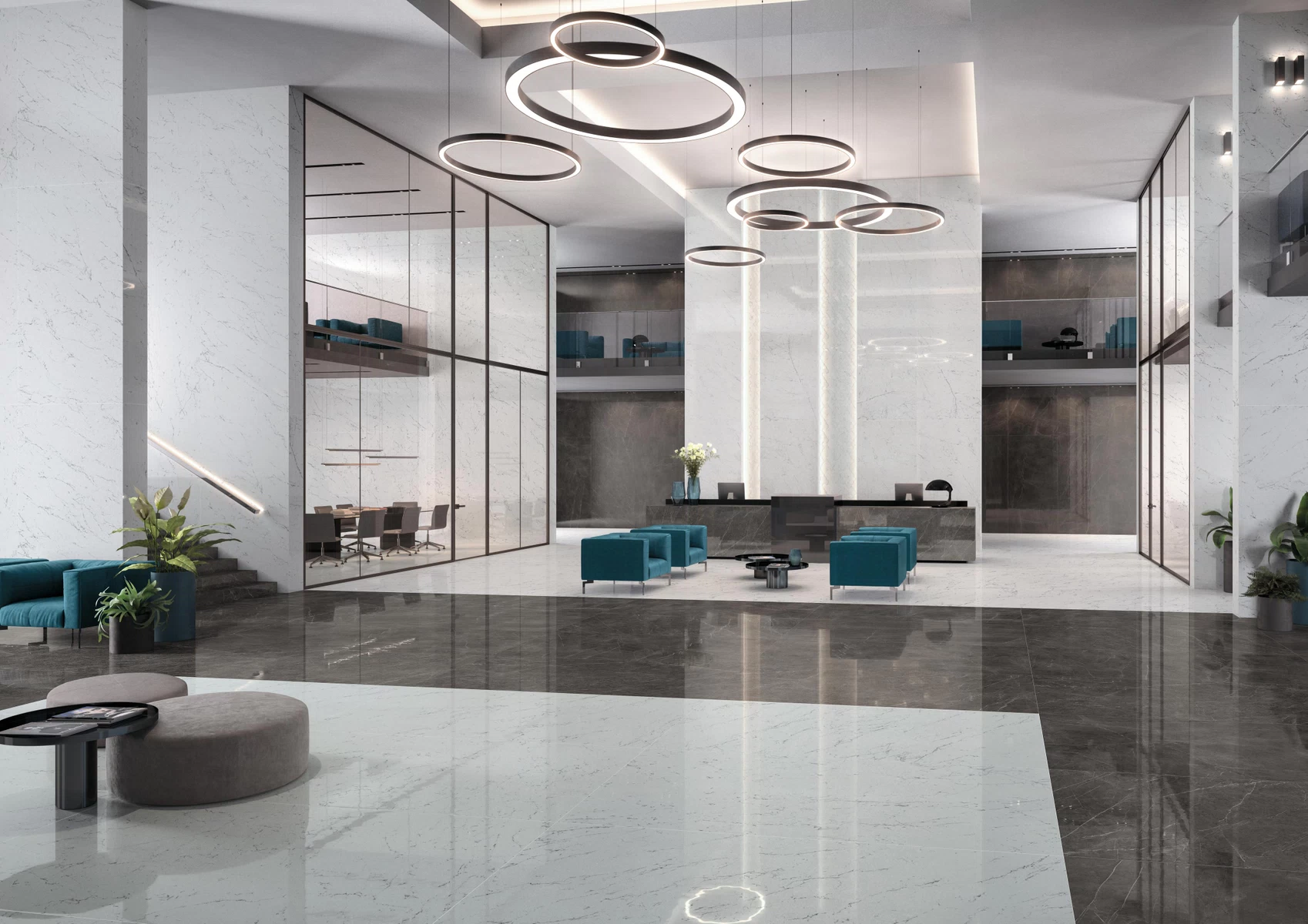 AtlasConcorde MarvelStone 015 00 Carrara-GreyStone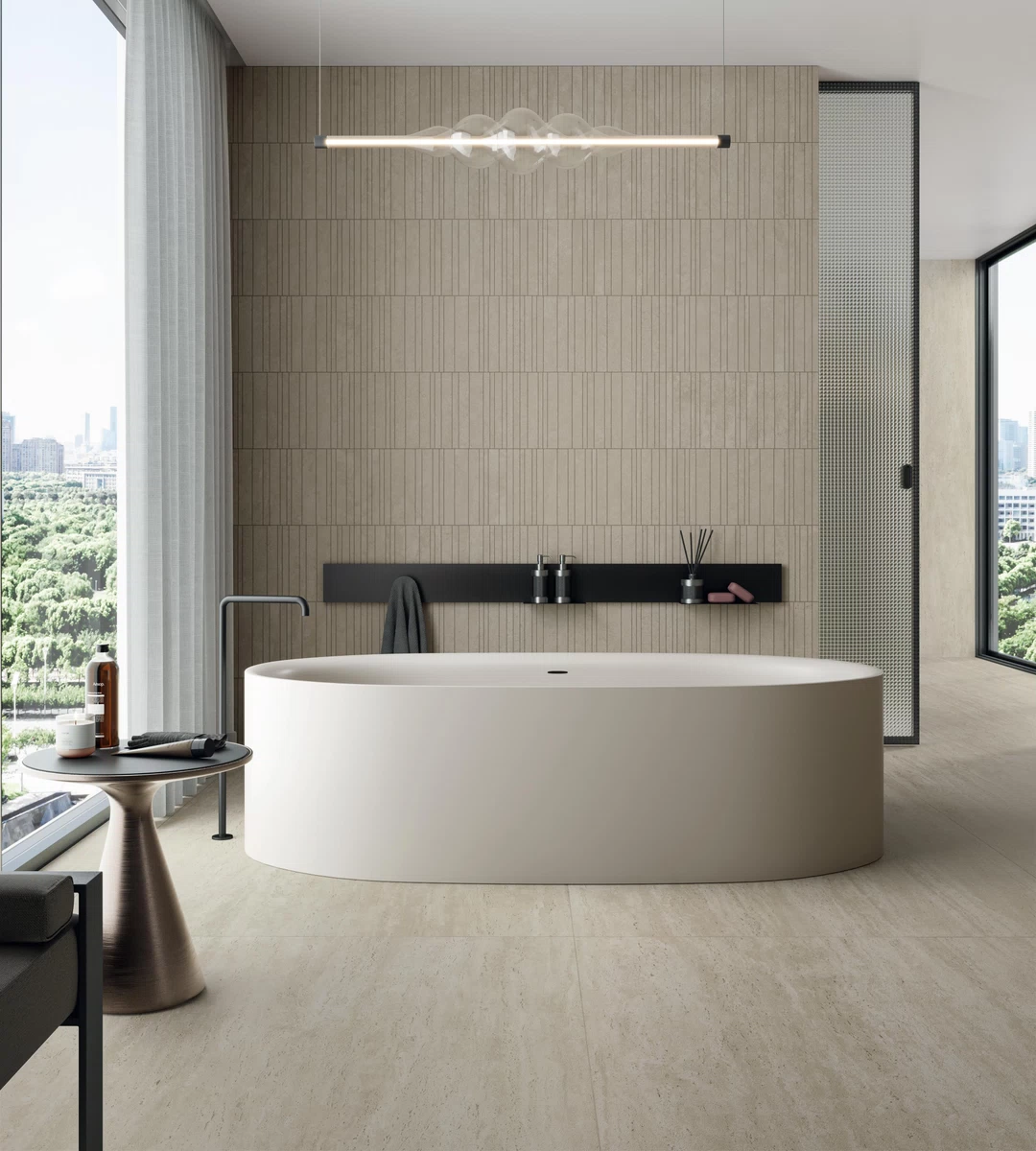 AtlasConcorde MarvelTravertine 002 02 Pearl Vein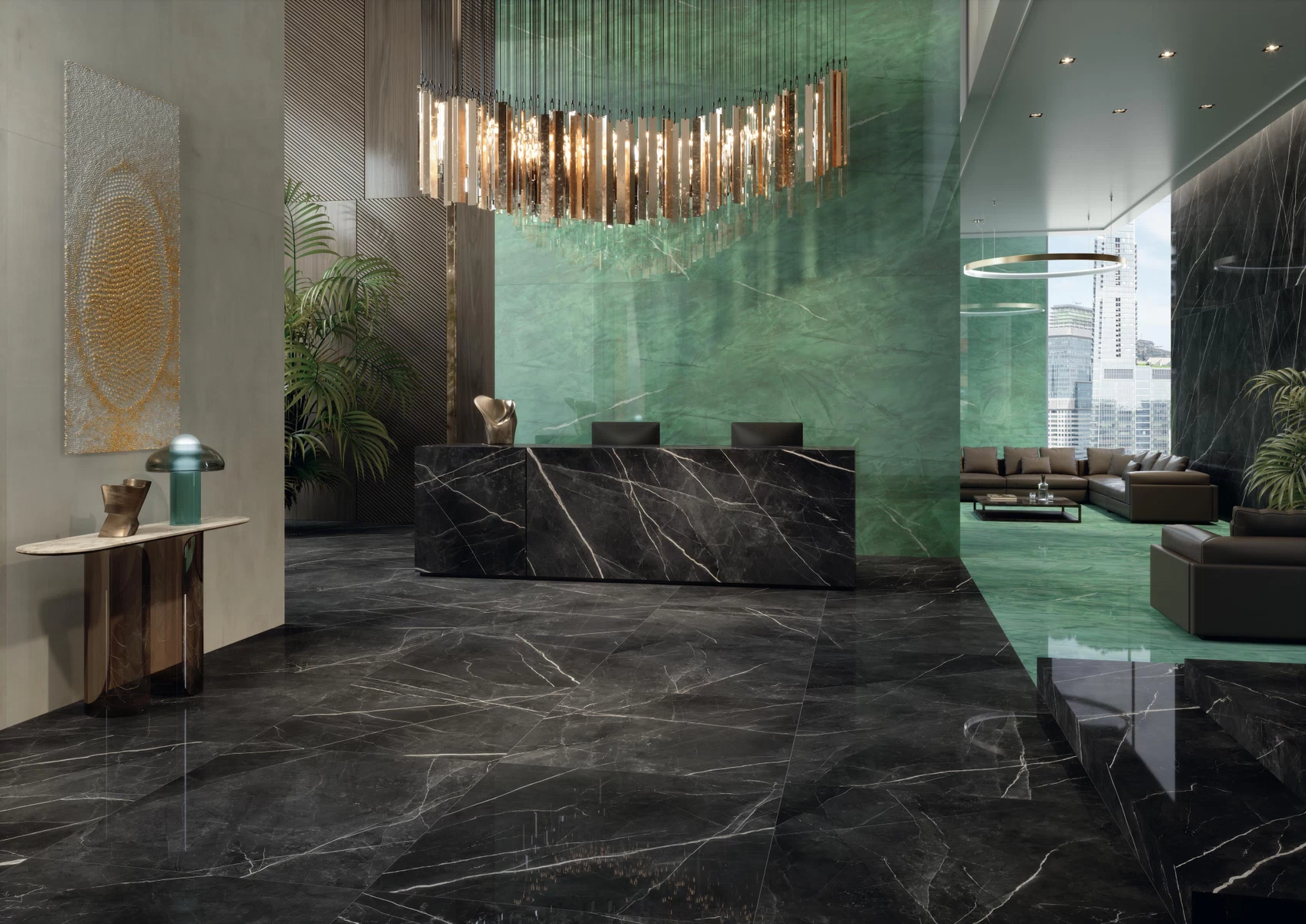 AtlasConcorde MarvelGala 004 00 ExoticGreen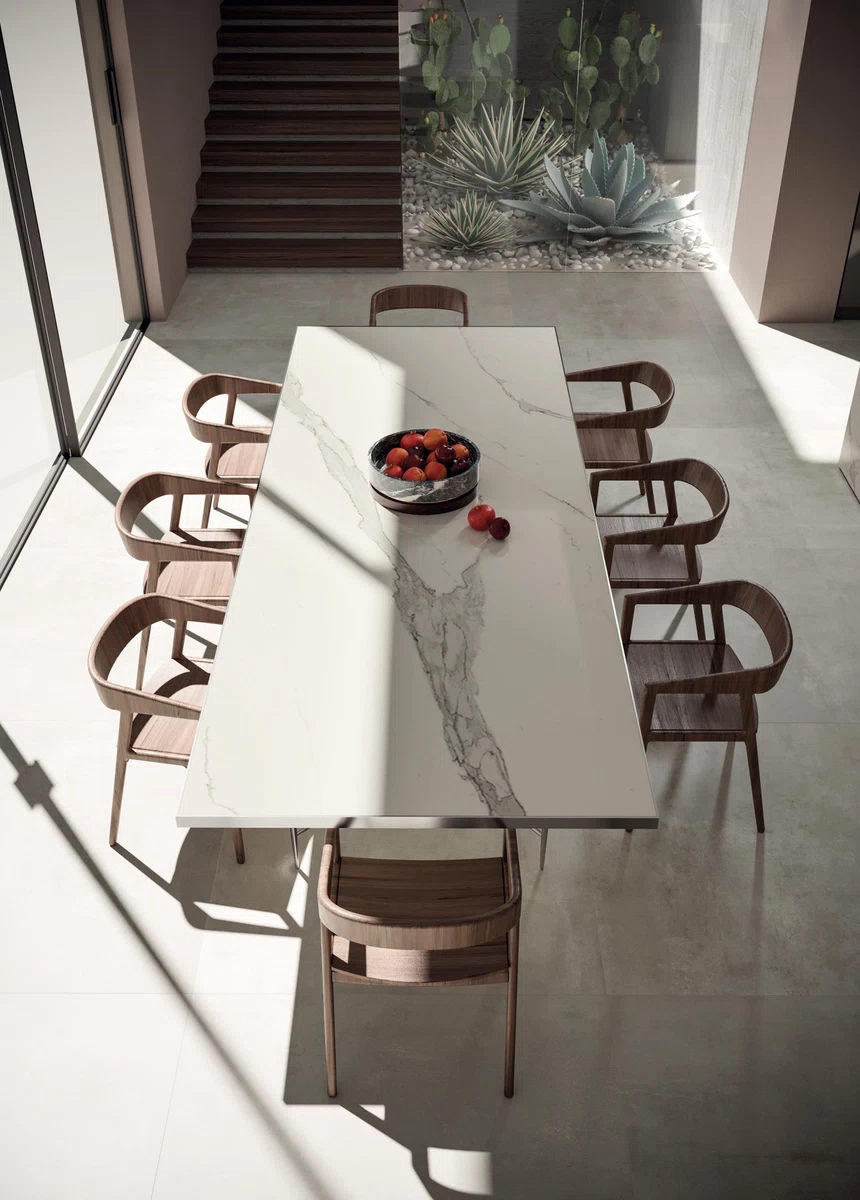 AtlasPlan 002 03 CalacattaExtra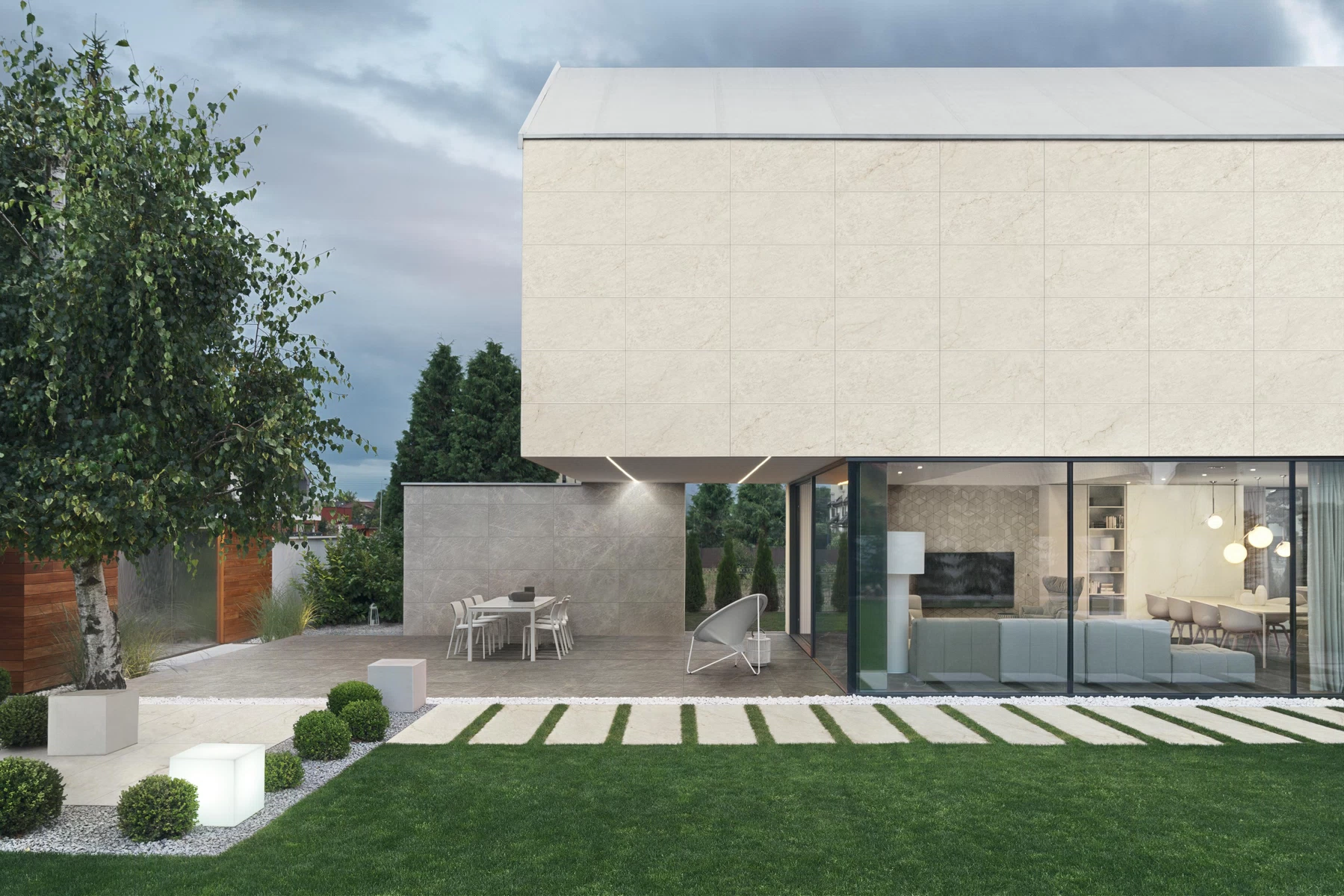 AtlasConcorde MarvelX 001 00 FdiBosco-CApuano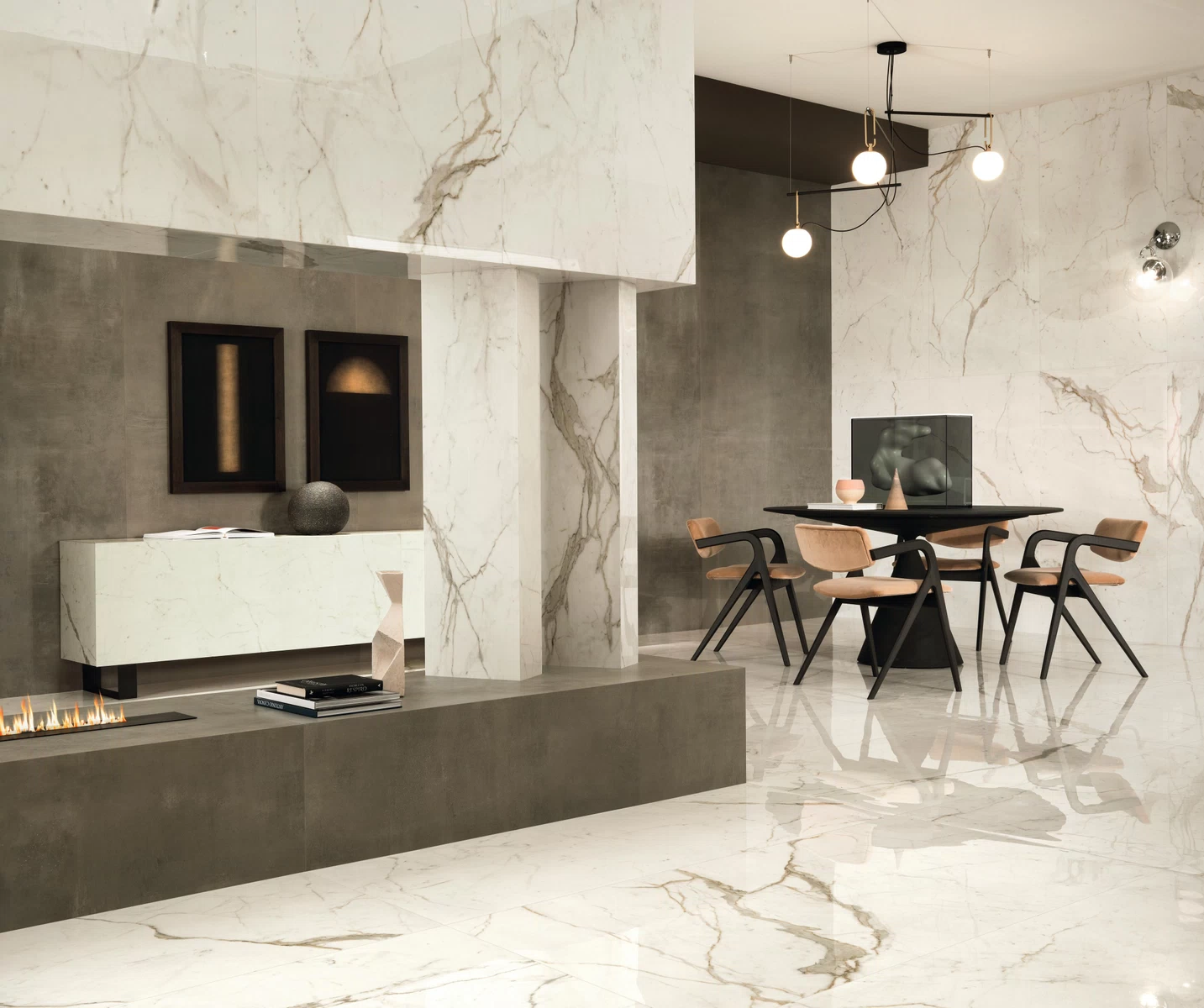 AtlasConcorde MarvelShine 001 04 CalacattaPrestigio
AtlasConcorde MarvelEdge 002 01 Calacatta-Red ADV
AtlasConcorde Marvel 015 06 Calacatta Bookmatch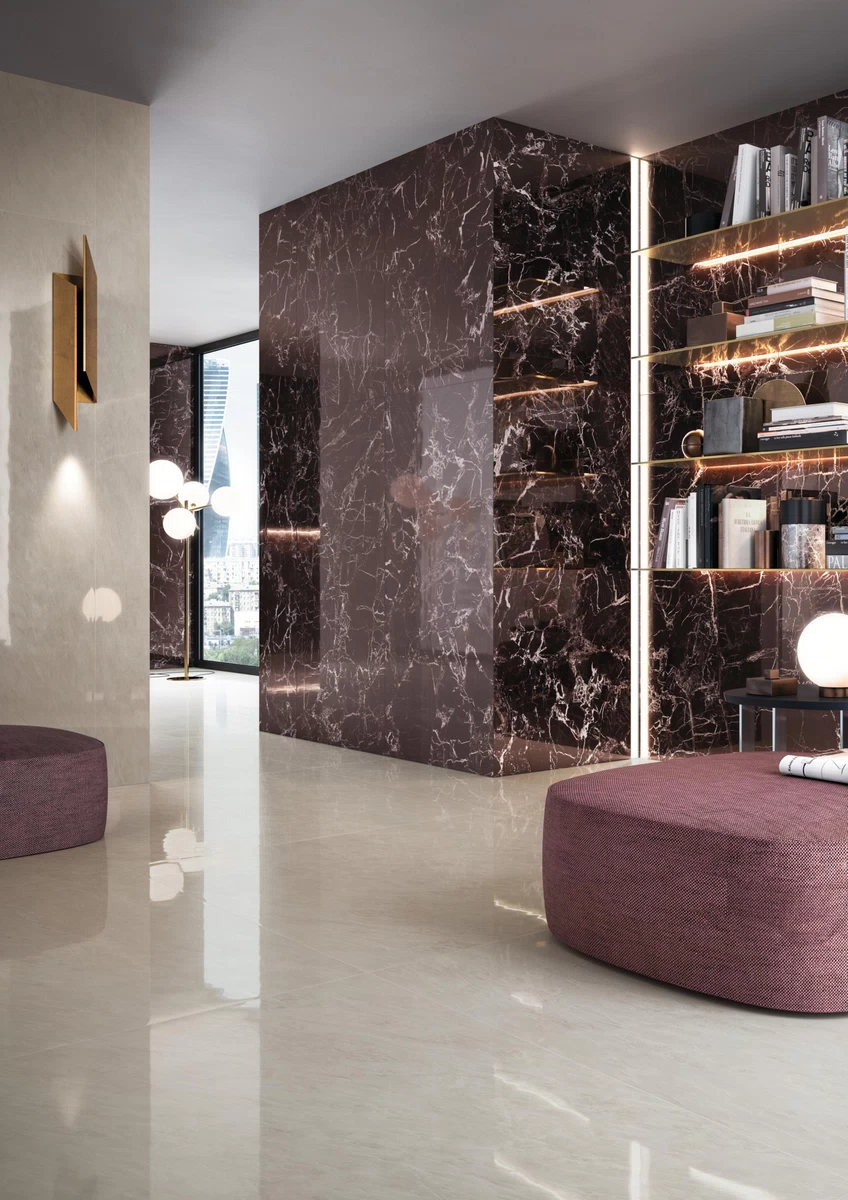 AtlasConcorde MarvelEdge 010 03 White-Red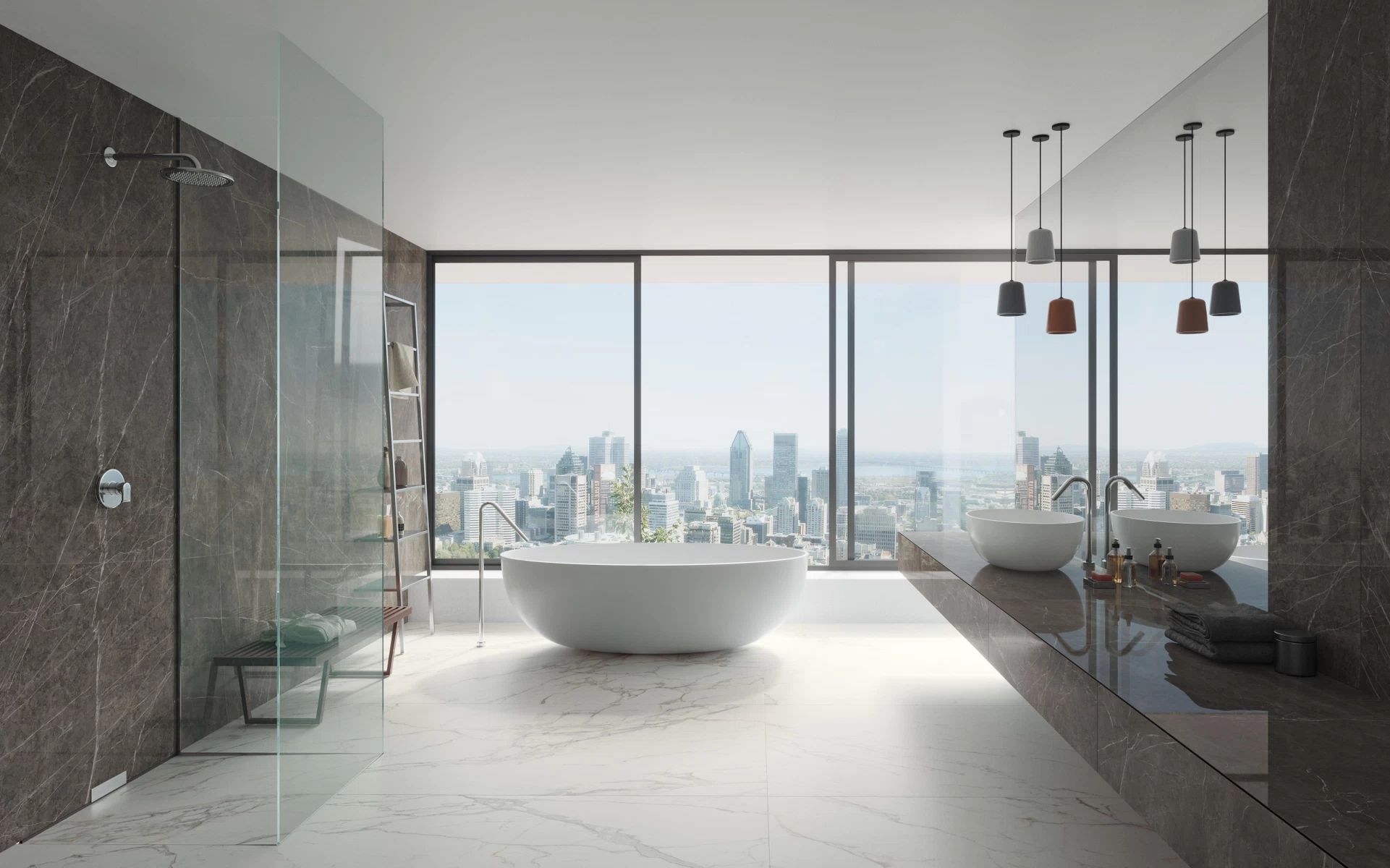 AtlasConcorde Marvel 021 00 Calacatta-Grey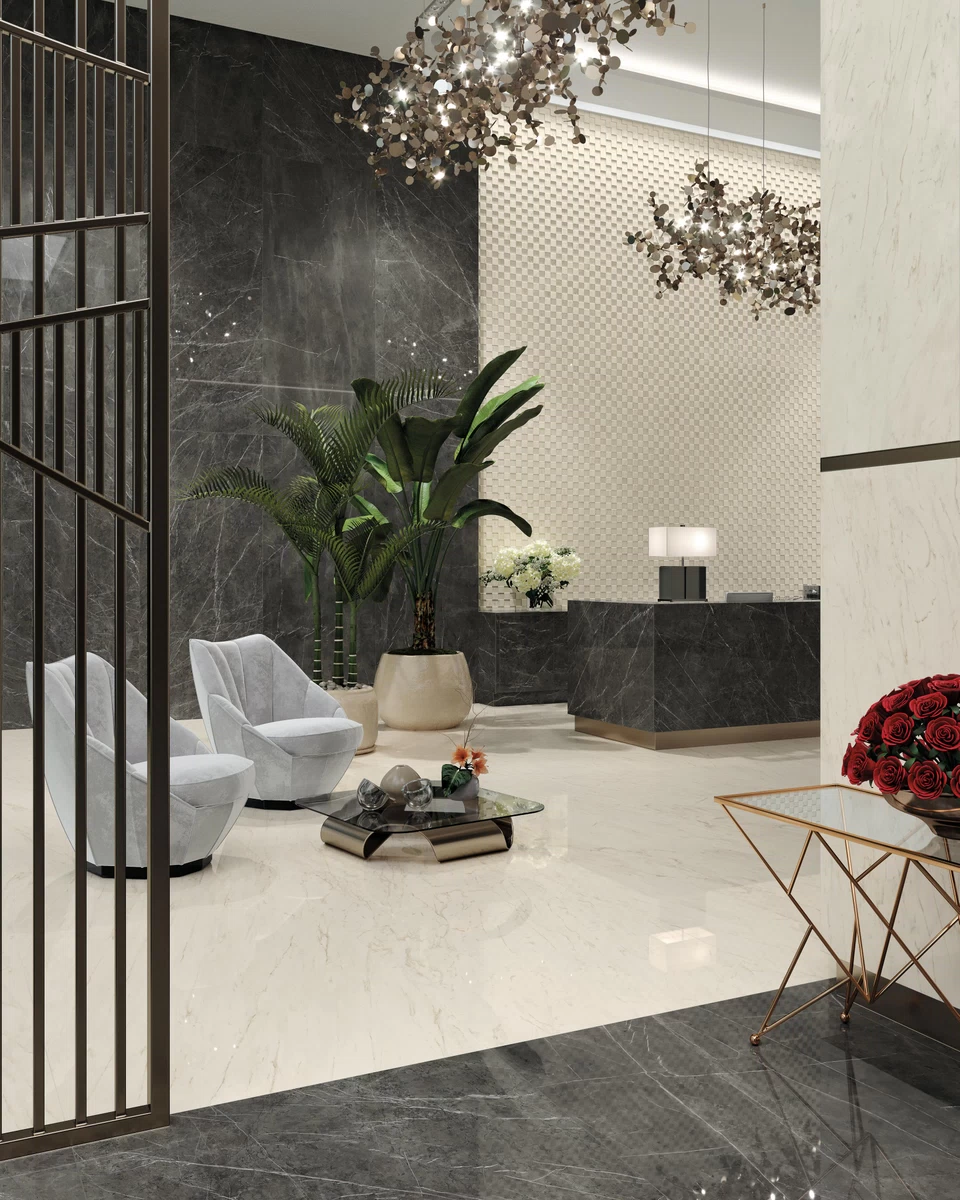 AtlasConcorde MarvelPro 016 05 Cremo-GreyStone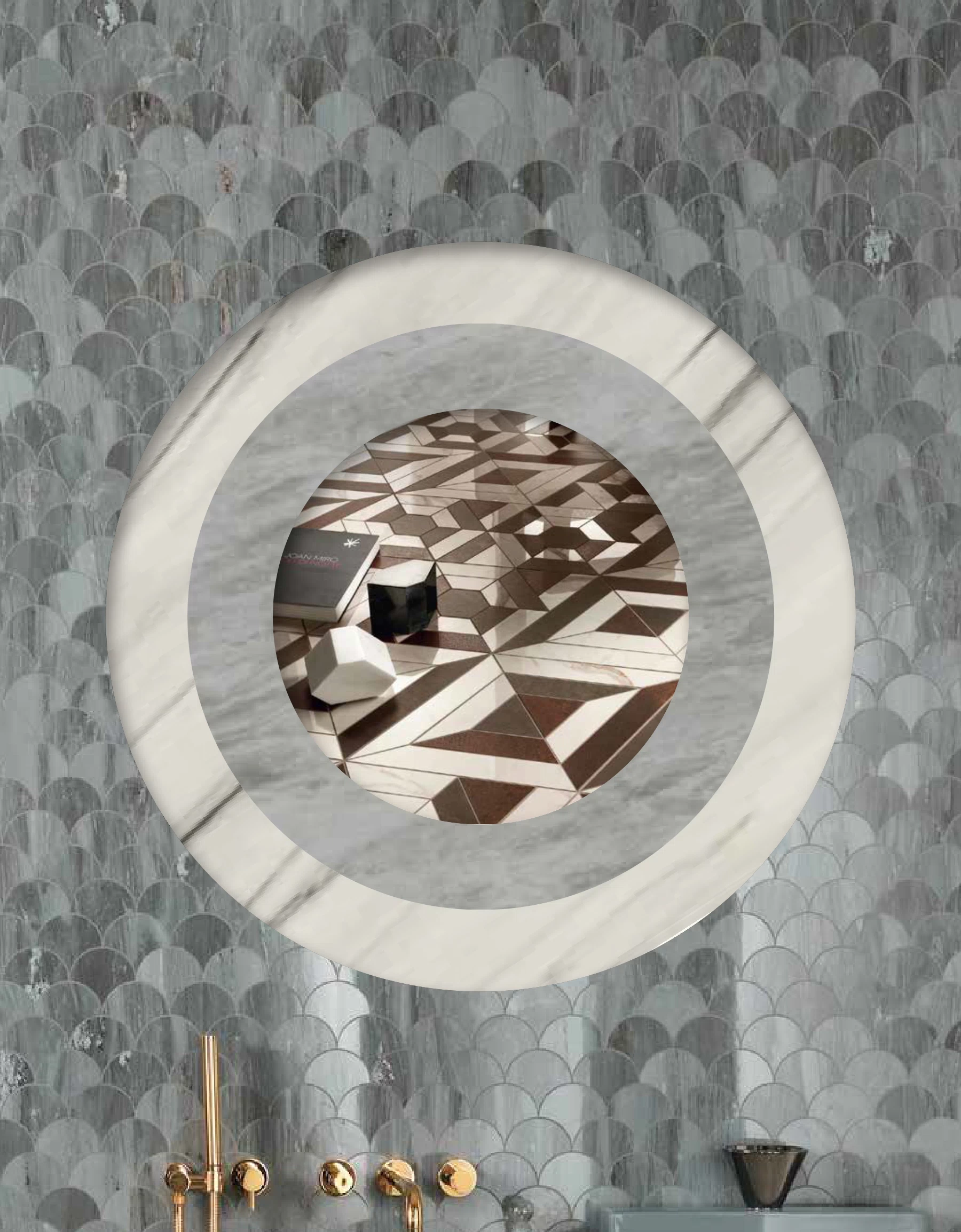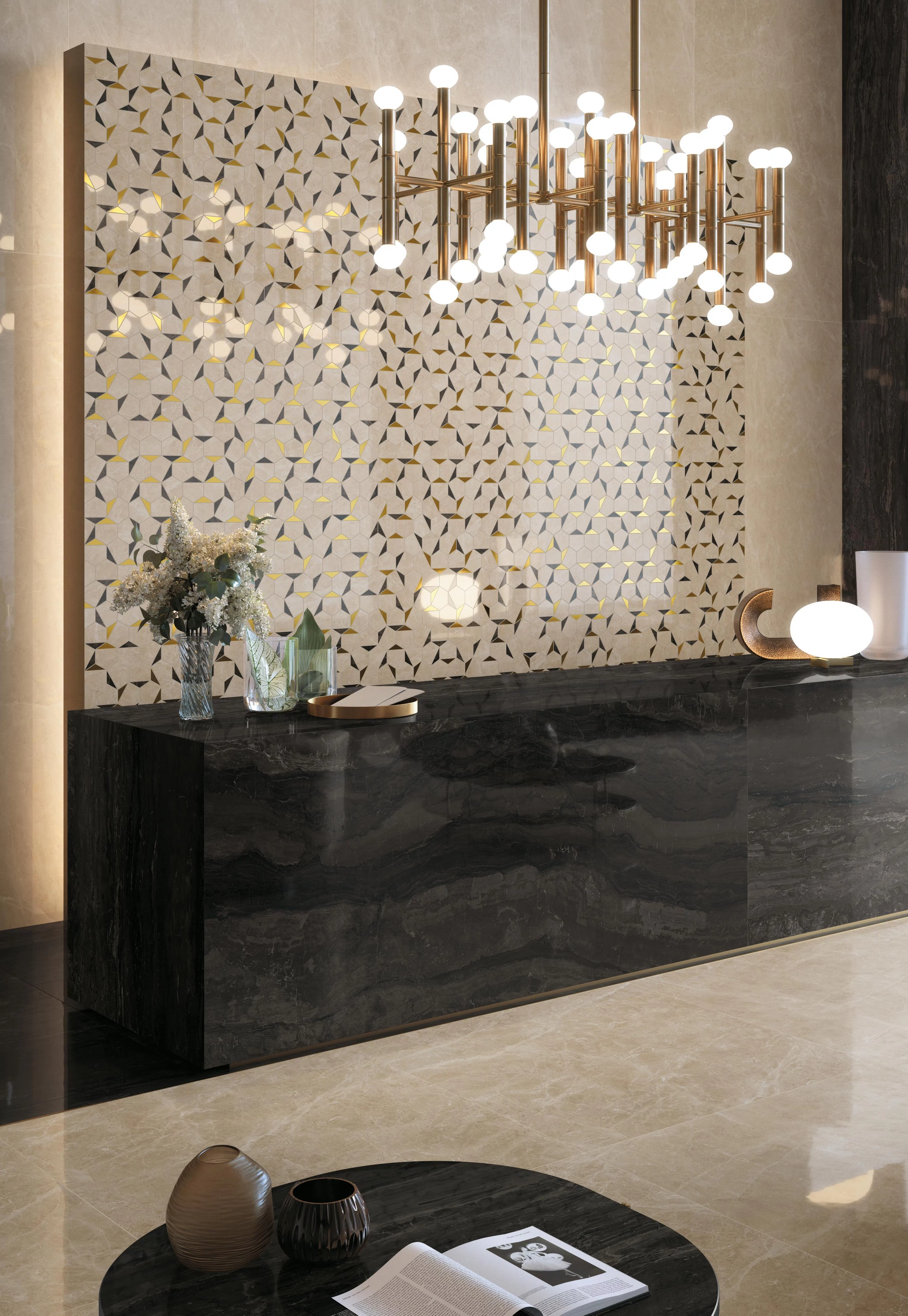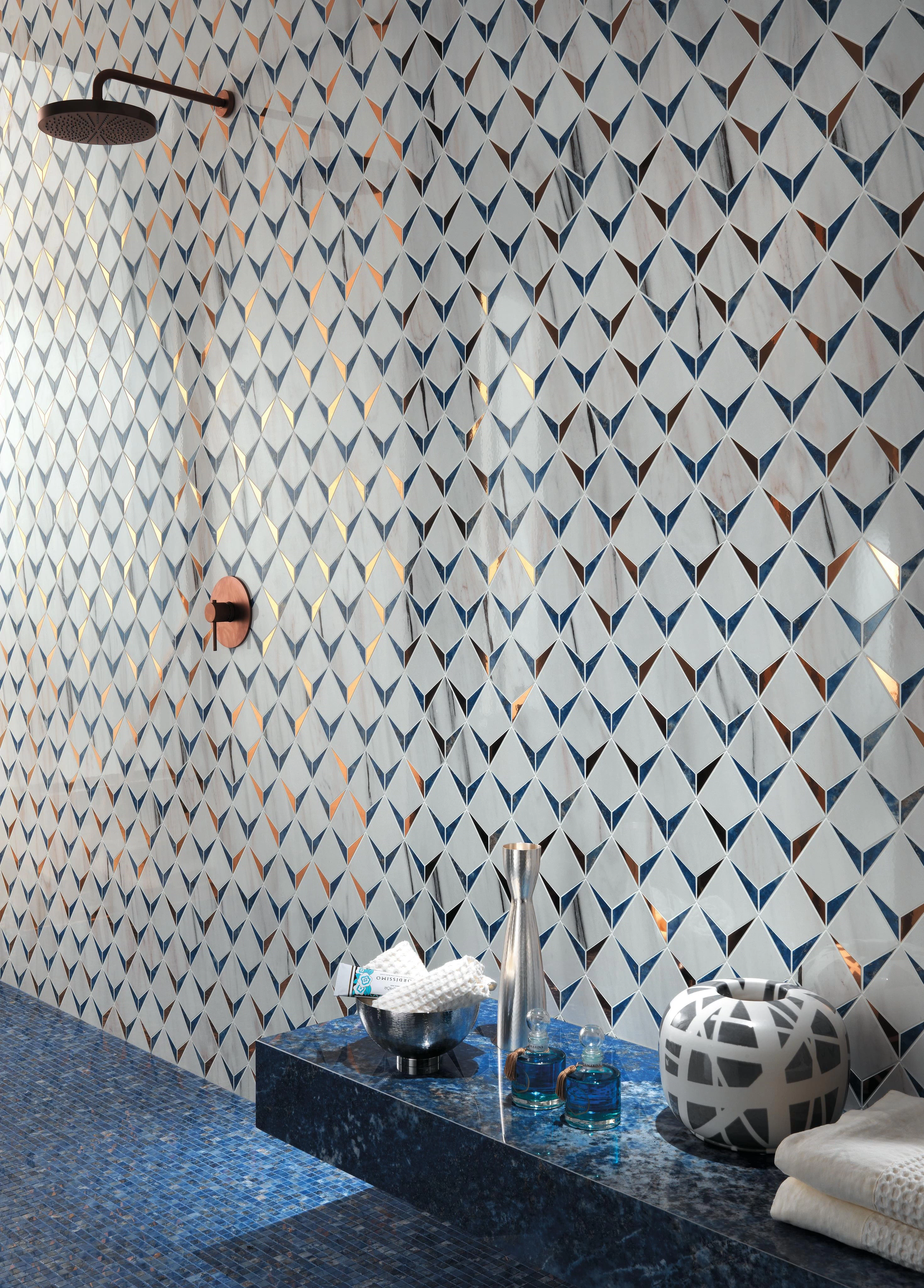 The contemporary art of decoration
An extensive selection of decors completes the range of marble-effect porcelain tiles with geometric compositions, mosaics, and precious inserts suitable for both floors and walls. A color and stylistic contrast that amplifies the beauty of the material, enriching every interior design.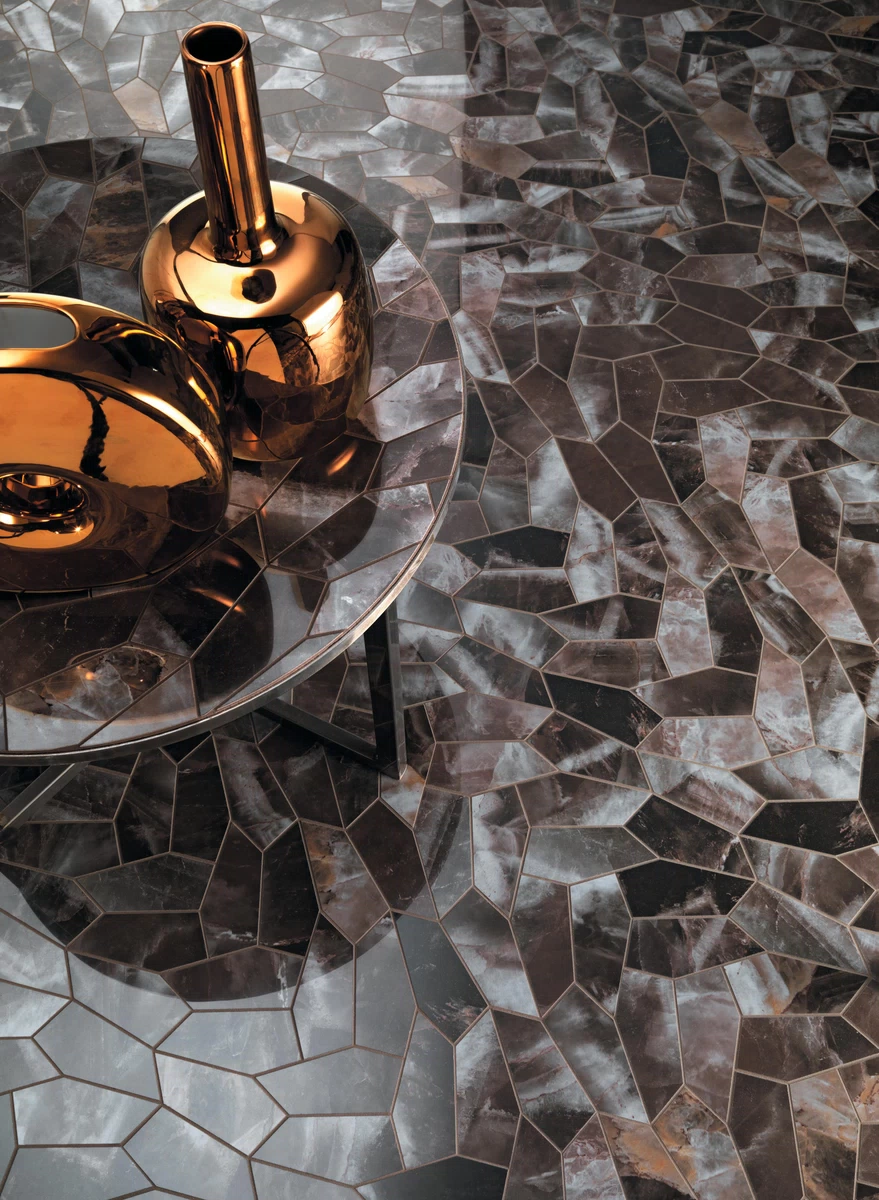 AtlasConcorde MarvelDream 002 09 Crystal Leaf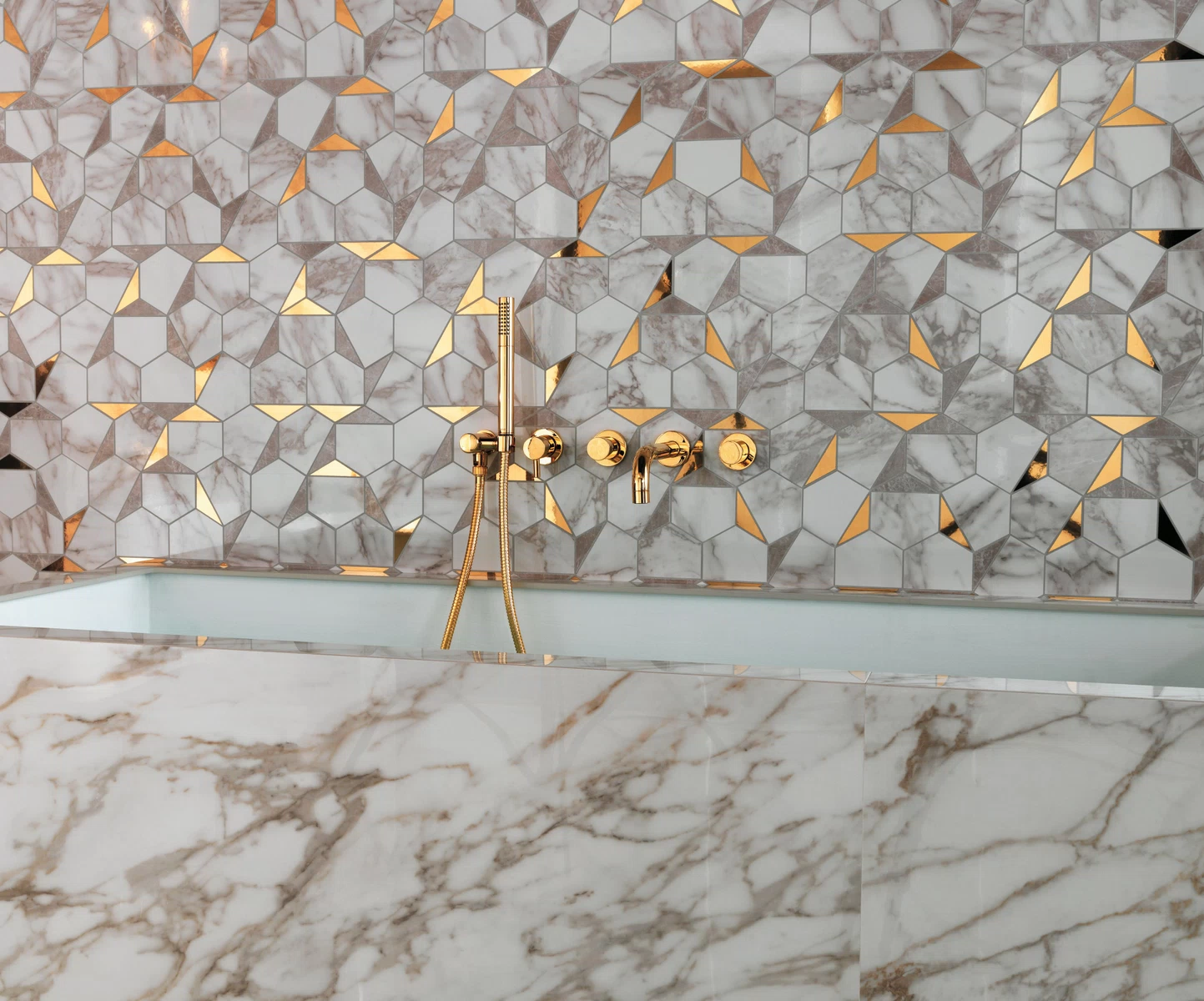 AtlasConcorde MarvelEdge 002 04 Calacatta GoldHex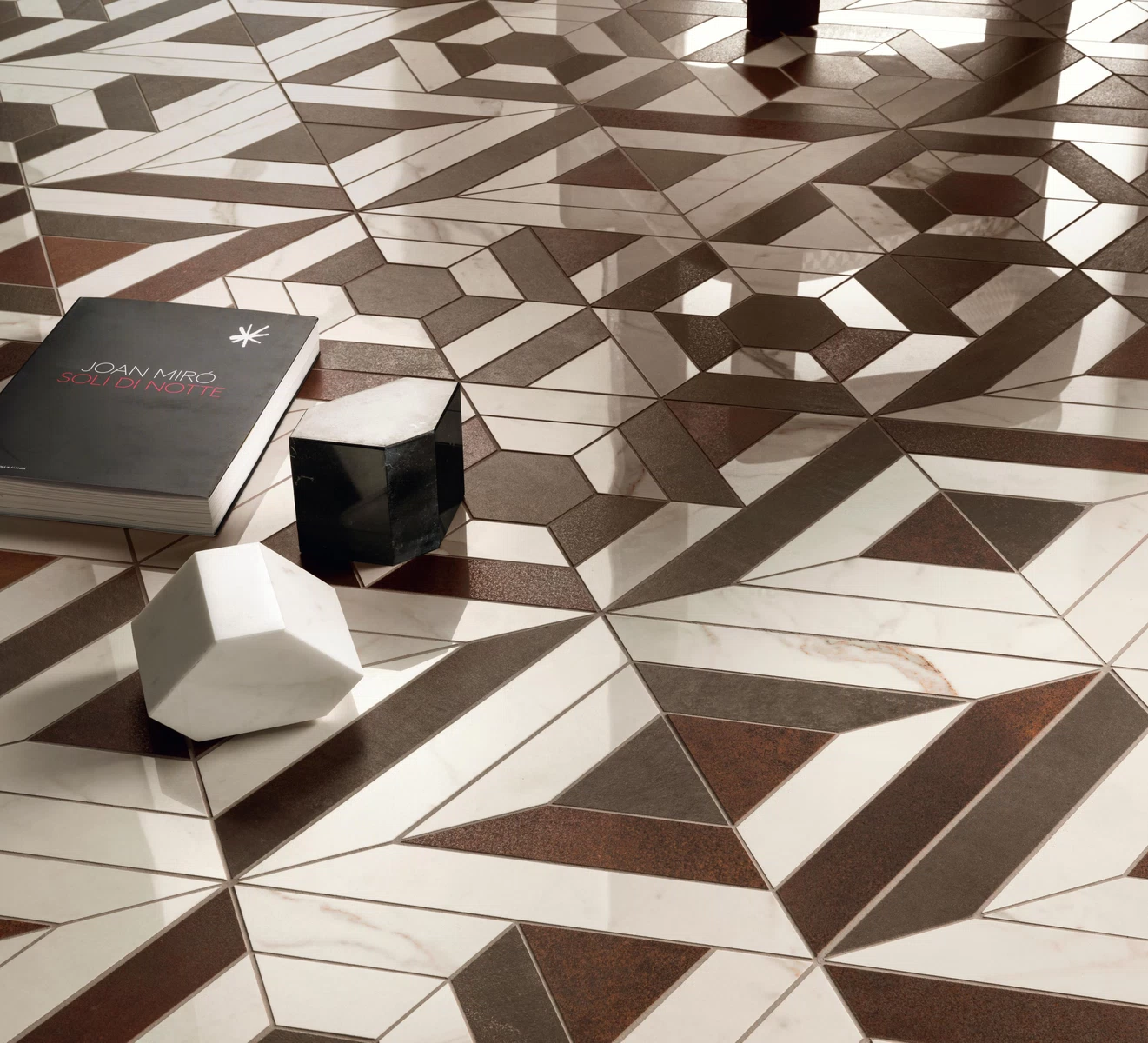 AtlasConcorde MarvelShine 001b 02 MatchMosaic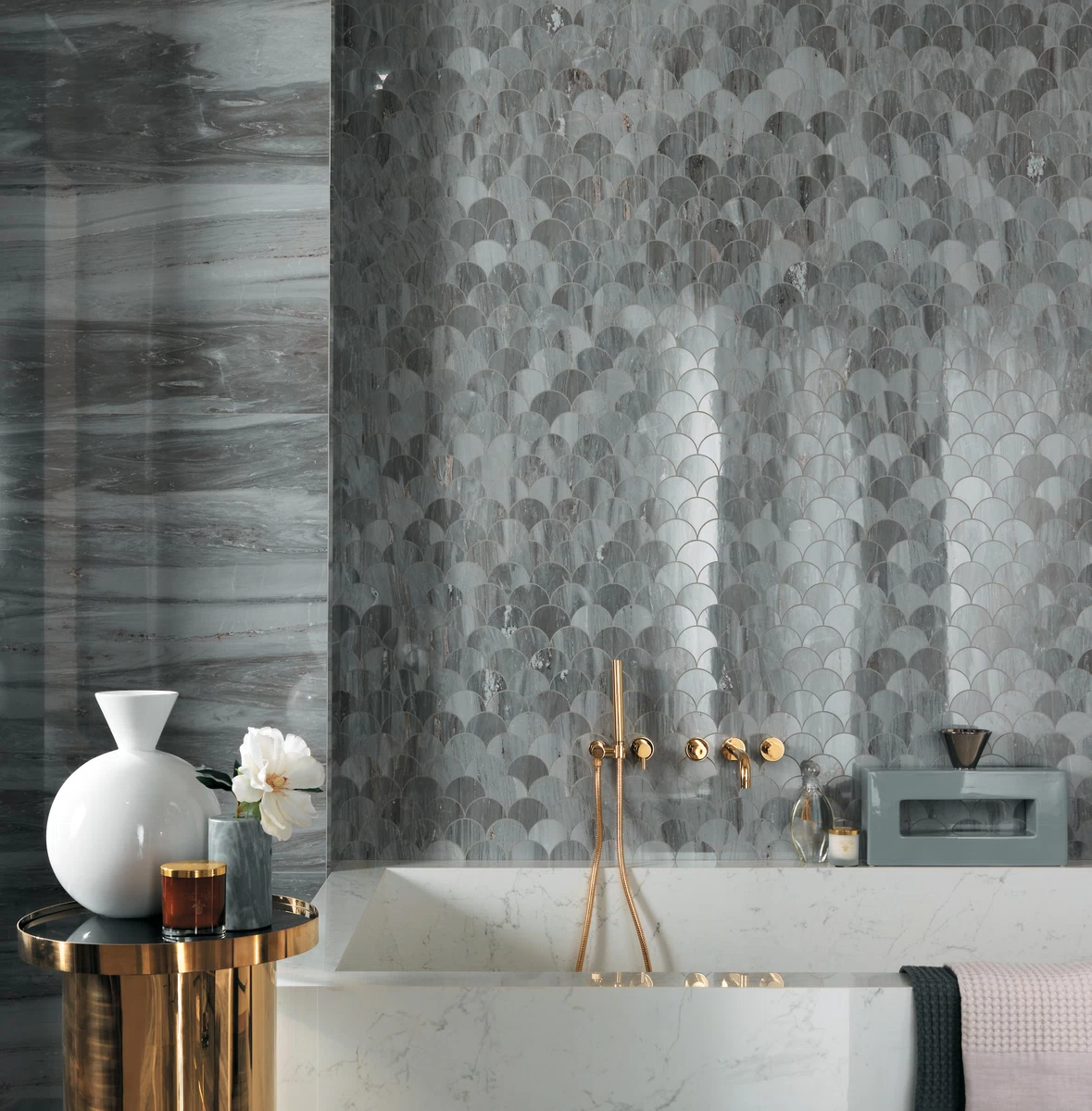 AtlasConcorde MarvelDream 003 06 MorningSky FanMosaic
The marble effect in contemporary interior design
Inspired by natural marble, the ceramic surfaces reflect their variety of colors, veins, and textures, becoming a precious creative tool for architects and designers.