Outdoor paving: the 5 trends to focus on in 2021
One of the emerging trends is "open air" life. Not just private homes but also hotels and hospitality facilities must reshape their spaces.
Over the past few years attention to outdoor spaces has grown, both in commercial and in residential settings, with an increase in private or condominium relaxation areas. This dynamic, which in recent months has accelerated due to changing working methods, makes the outdoors an absolute priority in today's architecture.
Starting from what we have seen in the recent past and based on the analysis of trends in landscape design, here are some guidelines to follow in the near future regarding styles, tastes, and design choices for outdoor architecture.
CONCRETE LOOK: CONTINUITY AND NEW ATMOSPHERES
Industrial chic concrete-effect porcelain tiles are already very popular and continue to be trendy. Indeed the Boost collection represents an undisputed benchmark in the sector thanks to its timeless look that makes it highly versatile for use in an array of settings. The element to keep an eye on in 2021 is color, which will make concrete-look porcelain tiles warmer and more enveloping, as with the Boost Pro collection, developed in a color palette that replicates shades found in wood and plants.
Multi-format pattern and rustic natural character
One area that will surely see see signicant growth is multiformat layouts, which give outdoor paving a traditional look that can blend in even with the most contemporary and metropolitan settings. Atlas Concorde's interpretation of this trend is the Dolmen Pro collection, inspired by the natural look of porphyry and available in four colors with distinct characteristics and the possibility of combining 22.5x22.5 and 22.5x45 formats for an extremely realistic final result thanks to stone-effect porcelain tiles.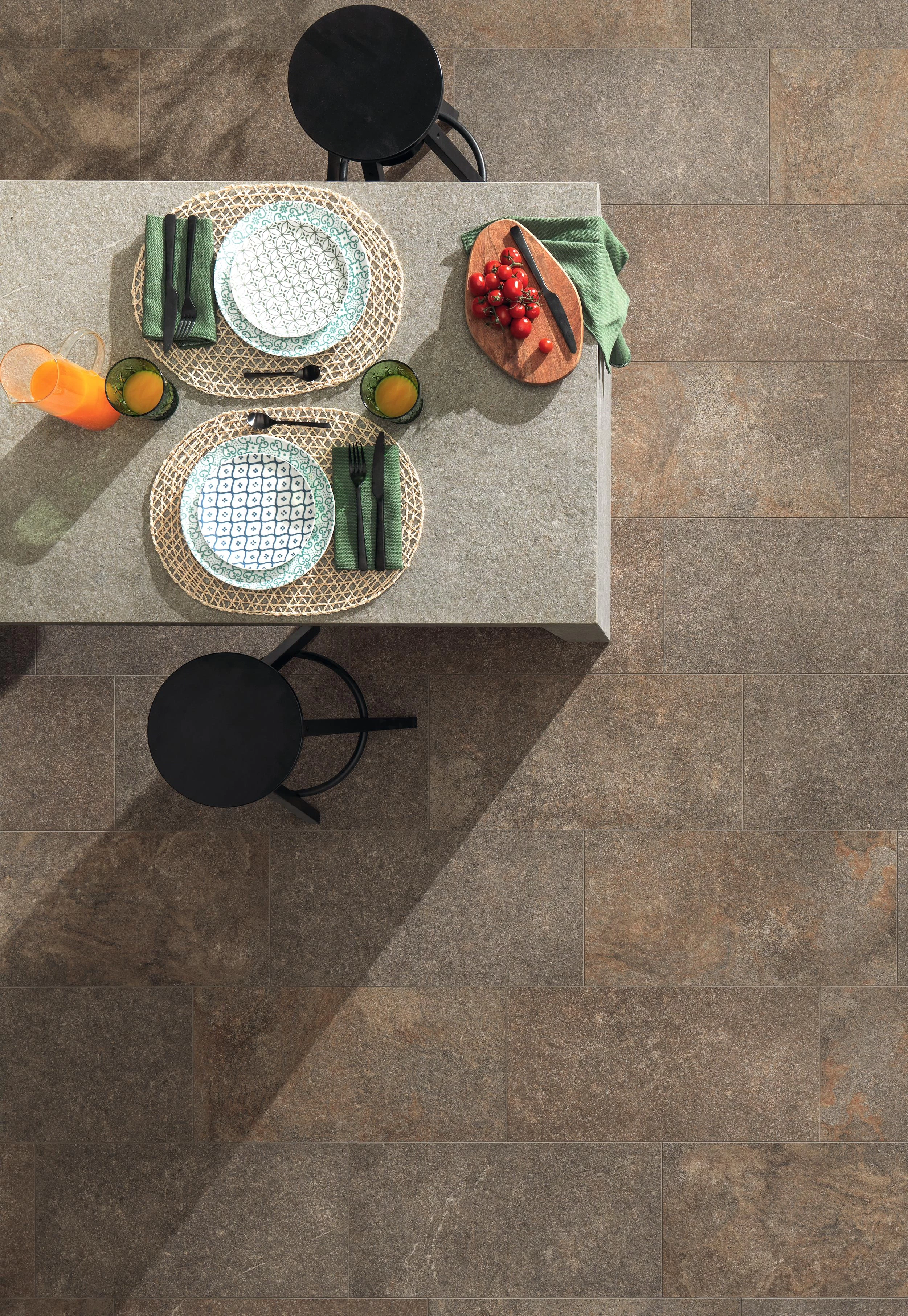 Irregular shapes for stone-look paving
The ability to integrate with the surroundings is critical for the esthetic performance of
outdoor tiles
. To make Atlas Concorde products even more similar to the original natural materials, the
Norde
collection was developed with irregular and completely natural shapes, ideal for enriching architectural solutions having a more traditional taste. As a whole the collection of stone-effect porcelain tiles is very useful for outdoor design and features
Palladiana
(9 mm thick) and
Norde Path
(20 mm) decors for walkways and outdoor areas with a new look.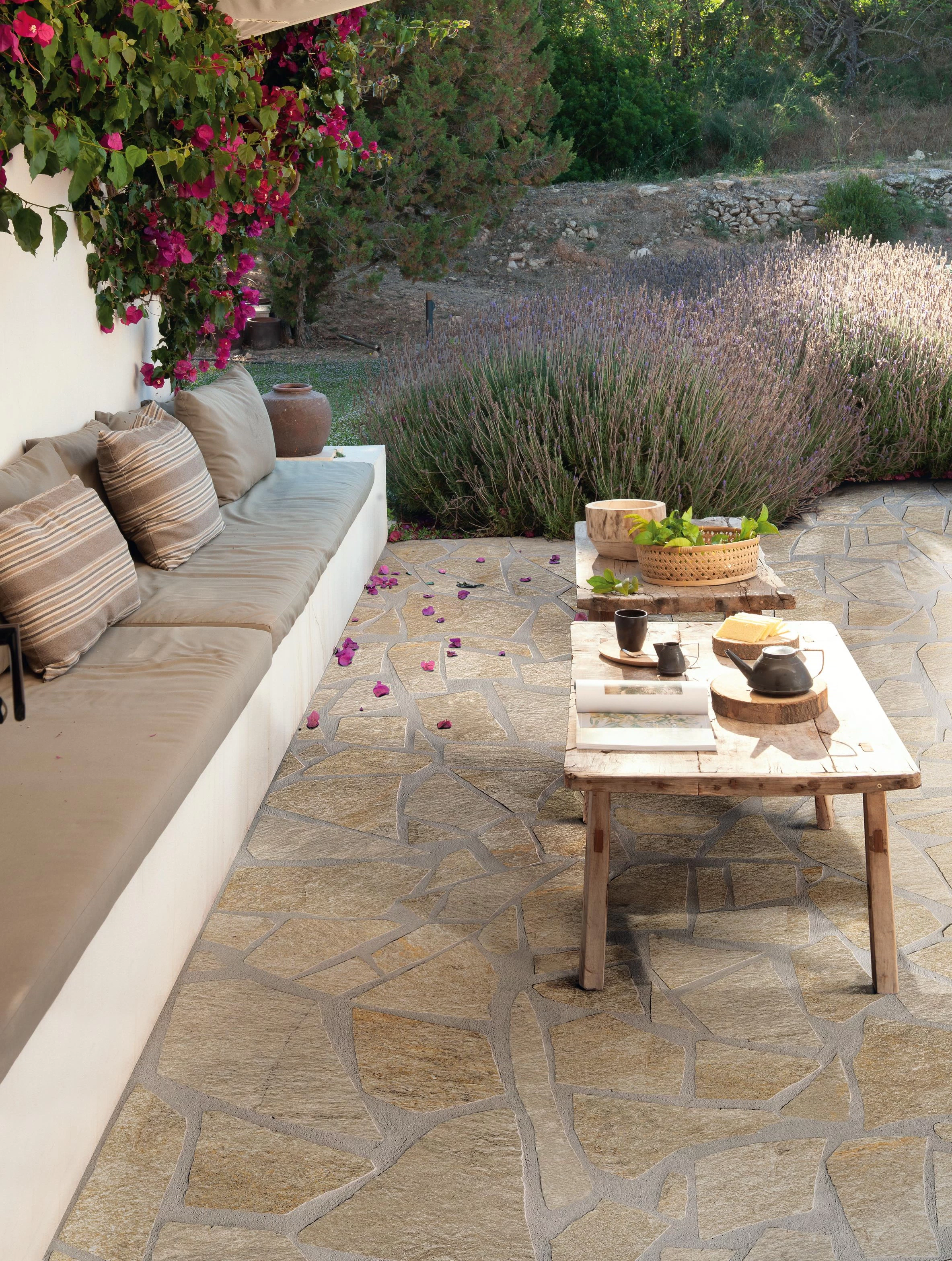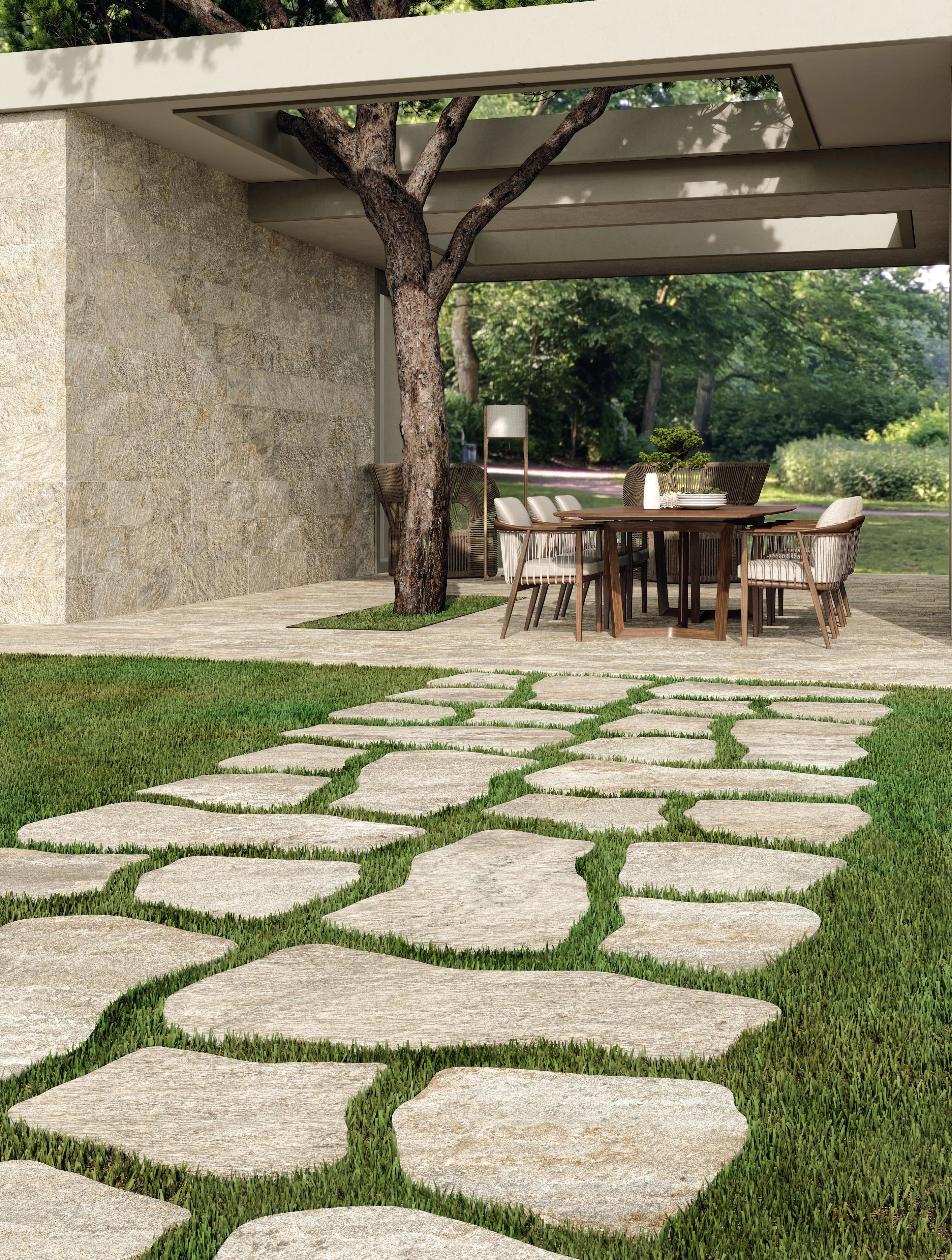 Indoor-outdoor connection
The stylistic choices of
outdoor paving
are closely linked to those for indoor spaces. Especially in the residential segment, the terrace represents an authentic extension outside the living area that completes the interior. The choice of color and format do not necessarily need to be the same for interiors and exteriors. In fact, while total looks remain quite popular, there are many designers who prefer to take full advantage of the rich range of colors and formats to give outdoor spaces a personality in continuity with the interiors but choosing colors that are in perfect harmony with the outdoor (colors of the furnishings, type of garden, plants, etc.).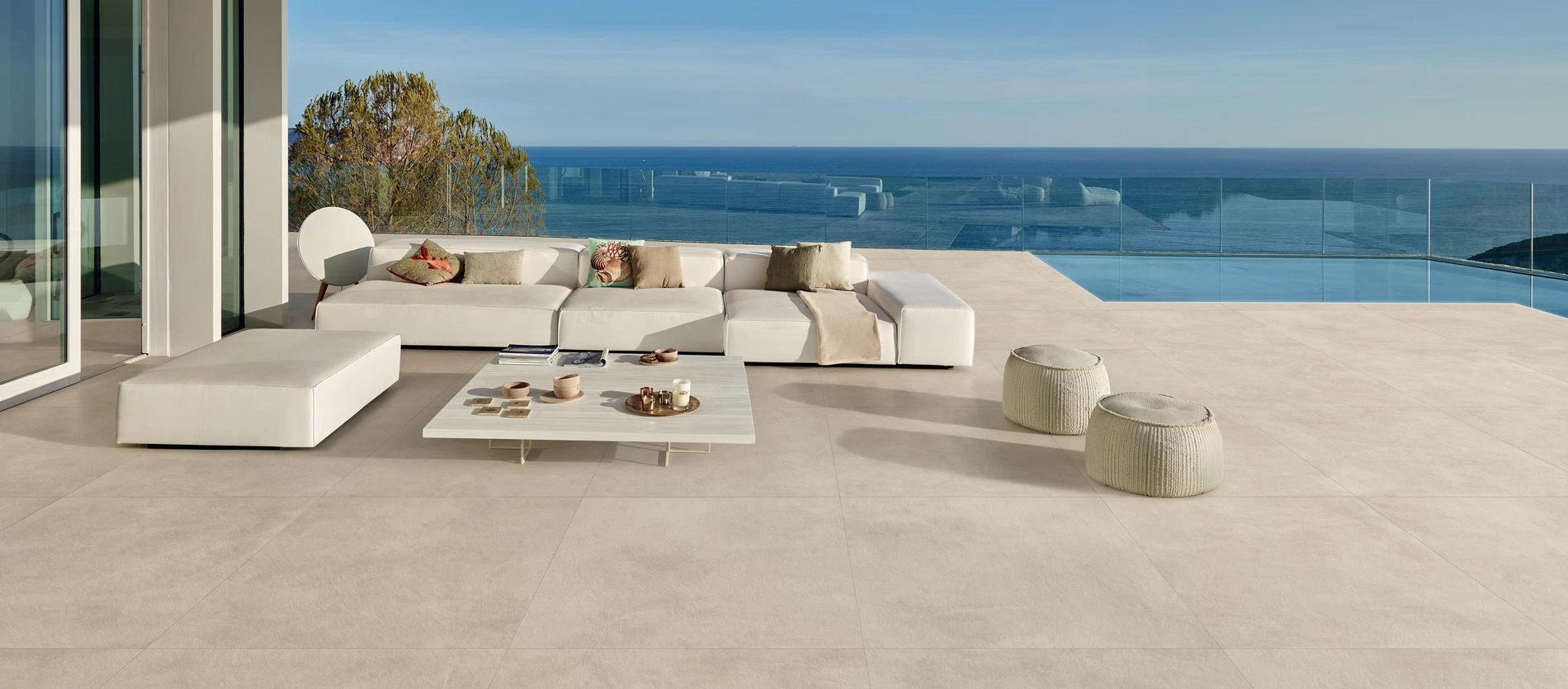 Restaurants and bars are increasingly moving their businesses outdoors, which must therefore become a functional, welcoming setting. This new awareness often implies an esthetic-design redevelopment with specific functional and budgetary needs that lead to the construction of outdoor elevations, a simple, fast, and cost-efficient solution to obtain additional space for customers. The Atlas Concorde range offers a wide variety of looks and formats with a 20 mm thickness for this type of space. The 30x120 straight course is popular in these settings as it conveys a natural character and pleasant sense of warmth.