Piero Lissoni: "I designed surfaces that vibrate in the light."
For Design Week, Atlas Concorde is proposing a collection of three-dimensional wall tiles. With the two patterns designed by Piero Lissoni, 3D Sign and 3D Squares, the designer introduces us to the concept of "controlled error": something that happens and that allows the surface to interfere with the light.
Piero Lissoni designed 3D Sign and 3D Squares, two of the five original patterns of 3D Wall Carve, the collection of three-dimensional wall tiles developed by Atlas Concorde. The line was born from the subtle alchemy between creativity, innovation, and industrial capacity, and further expands the 3D Wall Design range, which contributed to the success of Atlas Concorde wall tiles.
To design these two special patterns, Piero Lissoni explored the relationship between technological innovation, the ancient art of carving natural stone, and contemporary esthetic sensitivities to offer designers a surface rich in character. We talked about it with the Milanese architect and designer to learn more about the story behind this work, now on display at the Atlas Concorde showroom in Brera, a venue designed by Lissoni & Partners.
How do you describe 3D Sign and 3D Squares?
They have many uses. They embody many lives. These surfaces have a special tactility and vibration. I can imagine them in so many different worlds. At home, in public spaces, even places with a lot of traffic like hotels, bars, and restaurants. They weren't designed for a specific place: as a designer I don't think of objects locked into a single scenario. For me, surfaces are also objects, and as such they must thrive in different worlds.
What matters is that the light caresses them, and wherever this happens, they work.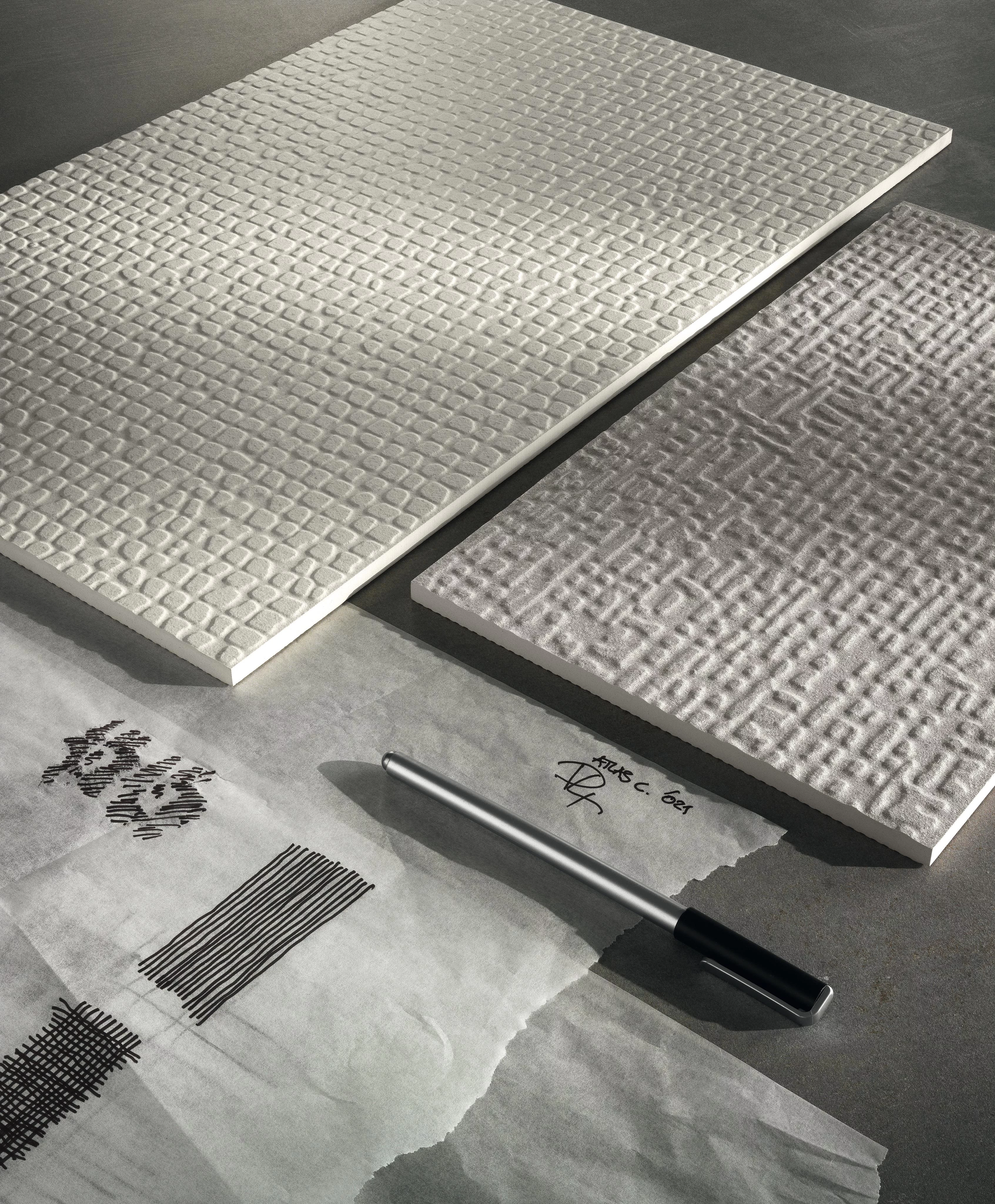 What's the creative provocation behind 3D Sign and 3D Squares? What trajectory did they follow?
When we decided to create a new generation of ceramic wall tiles projected into the future, we actually started from the distant past and an apparently different world: sixteenth-century engravings and art. In our minds we traveled back to when works began with graffiti, carvings and developed from there.
This concept involves a constant attention to technological scalability, but there's also a kind of artistic delicacy. Producing ceramic tiles is an industrial enterprise, but producing them while also balancing this more technical aspect with artistic style is a challenge that we gladly took on. And I believe we were successful.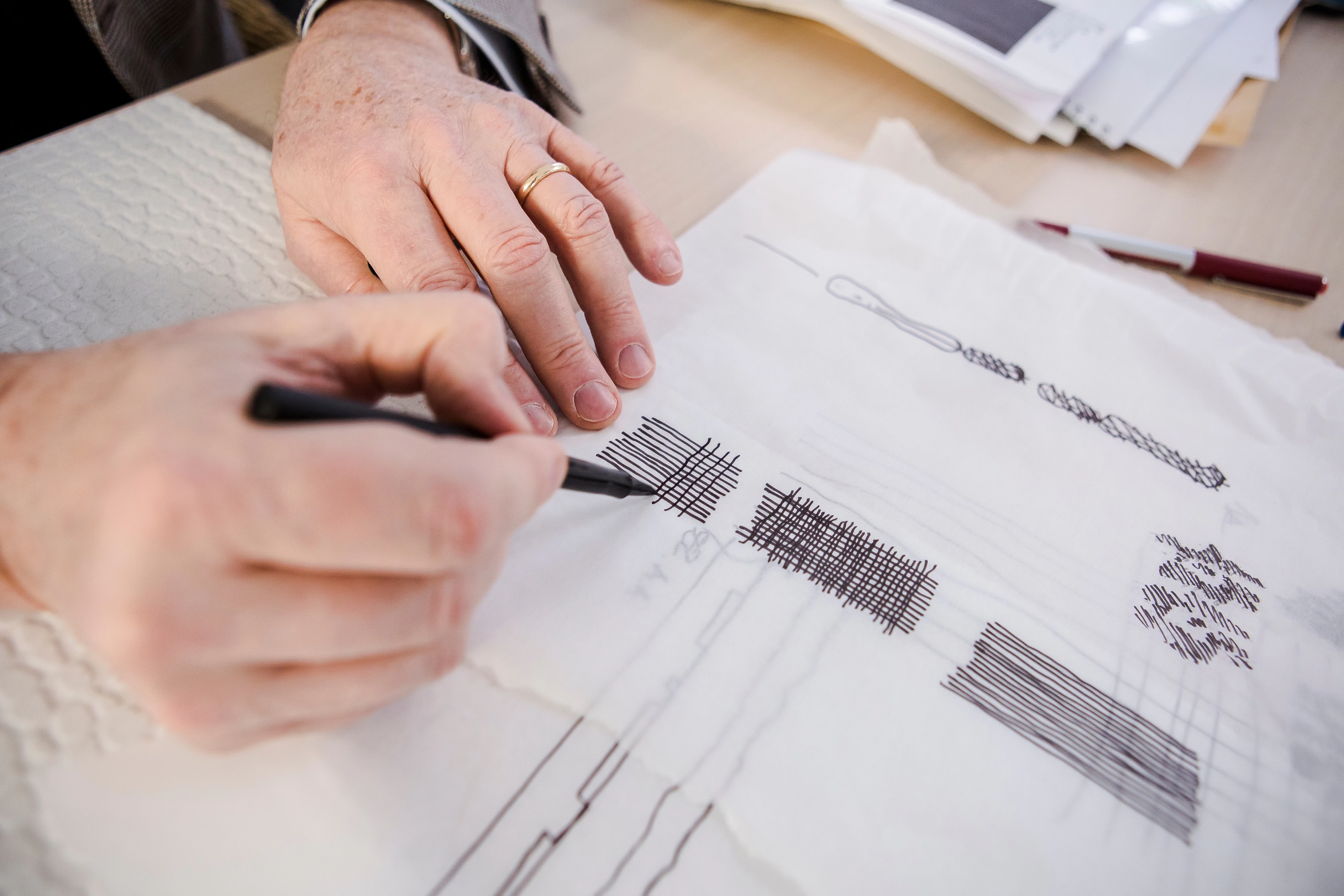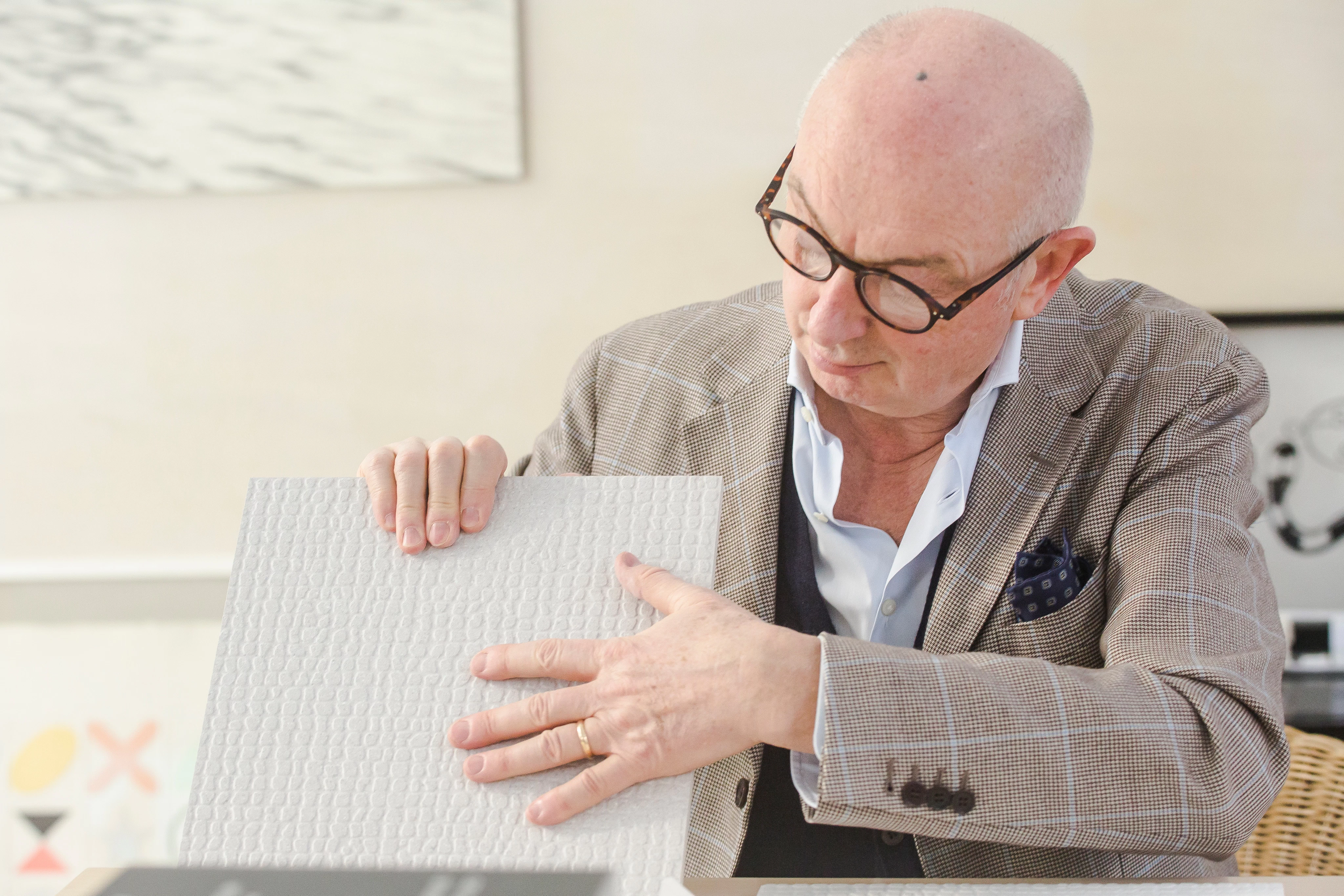 3D Sign and 3D Squares belong to 3D Wall Carve, a collection of three-dimensional wall tiles with a strong sensory impact. How did you deal with this specific subject?
Every time I imagine a world linked to surfaces, in this case ceramic tiles, I don't think of formal perfection. My mind always leads me to uneven surfaces. I imagine a sort of controlled error, something that happens, that causes the surface to interfere with the light.
How does light become the protagonist of an intense dialog with the ceramic material?
I like the idea of the vibration that occurs when light is interrupted, when lines of shadows are created and then vanish, giving voice to light, both natural and artificial. Ceramic surfaces are created with this dynamic in mind.
The new surfaces that I imagined for Atlas Concorde possess precisely this virtue: they interfere with the light. And they also interact with light's parallel element, shadows. Because in order to understand light I need shadows. By carving into surfaces, light automatically creates a new relationship with shadows. A very delicate game was born, we created a sort of game of chess between light and shadows. That's where the collection came from.
Light and shadows interact, but art and technique do as well How do 3D Sign and 3D Squares embody this dialectic?
It wasn't easy to reconcile the spirit of the collection with its technical and technological nature. As we were designing it, we constantly wondered how to produce and industrialize the surfaces we wanted so that the quality would remain impeccable, piece after piece.
3D Sign and 3D Squares were born from a desire to redesign surfaces by shaping them according to a humane, indeed, humanistic approach, because they associate an industrial model with the touch of the hand, the senses. These two projects were born to be industrial, but at the same time they were born from the hands, from the sensitivity that only hands can have when exploring a surface. The touch of the hands and technology have merged, the industrial surfaces have retained that spirit.
E' una collaborazione consolidata quella tra Atlas Concorde e Piero Lissoni, architetto e designer di fama internazionale, riconosciuto per lo stile rigoroso, l'eleganza dei progetti e l'attenzione alle proporzioni e all'armonia. Iniziata a partire dal 2019 con Canone Inverso, la prima decor collection firmata dal designer, è proseguita con il progetto dello showroom milanese di Atlas Concorde, curato dallo studio Lissoni&Partners. Un dialogo di contaminazione reciproca che ha portato Piero Lissoni a essere colour consultant della collezione effetto resina Prism.