Porcelain tiles or single-fired tiles: the right choice for every project
Each environment is unique because it reflects the personality of those who have imagined it as a setting for their daily lives. Here's the Atlas Concorde guide to choosing the best surfaces and claddings.
Imagining a space or a home means orienting the emotions of those who will live there. This is one of the strong messages that emerges from the book Dove Abitano le Emozioni (Where Emotions Live), a discussion between the architect Botta, the sociologist Paolo Crepet, and Giuseppe Zois, journalist and writer. Residences are strongly linked to the construction of the identity of those who live there. For this reason it's important to choose every element and detail carefully, assessing the benefits and perspectives of the design solutions. Speaking of surfaces and claddings, the choice between porcelain tiles and ceramic white body tiles (technically called single-fired) is often not immediate, especially for non-specialists. Atlas Concorde helps us to understand the different technical and esthetic characteristics.
Porcelain and single-fired tiles: what's the recipe?
The difference between the two is the production process. Porcelain tiles are produced through the greification of its component materials, i.e. clays, feldspar, and siliceous sands. These materials are sintered through firing in kilns heated to over 1,200°C, compacting the elements and closing virtually all the pores, thus making each porcelain tile resistant to temperatures, impacts and scratches and impervious to any liquid and chemical substances. White body or single-fired ceramic tiles start from similar raw materials such as clays, sands and some recycled materials, but there's no feldspar and the firing temperature is lower, around 1,100°C, which means there's no greification, so the final product is more porous and lightweight.
Differences in technical characteristics and performance
Greification generates the exceptional strength of porcelain tiles and becomes crucial for surfaces that are constantly under heavy stress: weight, pressure, exposure to chemical agents or temperature changes. For indoor and outdoor floors, porcelain tiles are a precious ally thanks to their characteristics. But what happens when the tiles have to be shaped, cut, or drilled to fit odd spaces in your home or rooms rich in accessories, like
bathrooms
and
kitchens
? In this case white body ceramic tiles are perfect for the job because they're easier to cut and drill, combining strength and a light weight.
The advantages of white body ceramic tiles
White body ceramic tiles are more porous than porcelain tiles due to the lack of greification. To protect the tiles' surface, during production a layer of glaze is applied that makes the surface waterproof and allows adding color to the tile. The glassy, transparent composition of the glaze renders the color even more bright and vibrant, making white body ceramic tiles the best choice when you want to achieve particularly spectacular and colorful decorative effects.
The 3D effect of single-fired surfaces
Single-fired tiles can add a marked three-dimensionality to decorative walls, giving them a contemporary accent that can decorate any type of interior with simplicity and sophistication. The 3D reliefs of white body wall tiles create interesting views. They feature geometric or abstract shapes and sinuous motifs that seem sculpted by light, creating walls of great appeal for interior design projects in wellness, hospitality, and shopping spaces.
With its rich palette of 13 colors, the Prism collection revolutionizes the world of the resin effect with a design featuring bold color combinations and color gradients. At an esthetic level,
Prism
features a realistic, three-dimensional effect that is absolutely faithful to hand-troweled resins. At a practical level, the collection offers both a wide range of decorative combinations and the technical performance of porcelain floor tiles and ceramic wall tiles.
Three-dimensional reliefs add expressive force to the wall tiles of the
Lims
collection. The classic look of the
stone effect
draws inspiration from limestone and offers delicate, decorative textures that seem to emerge from a slightly tumbled stone surface.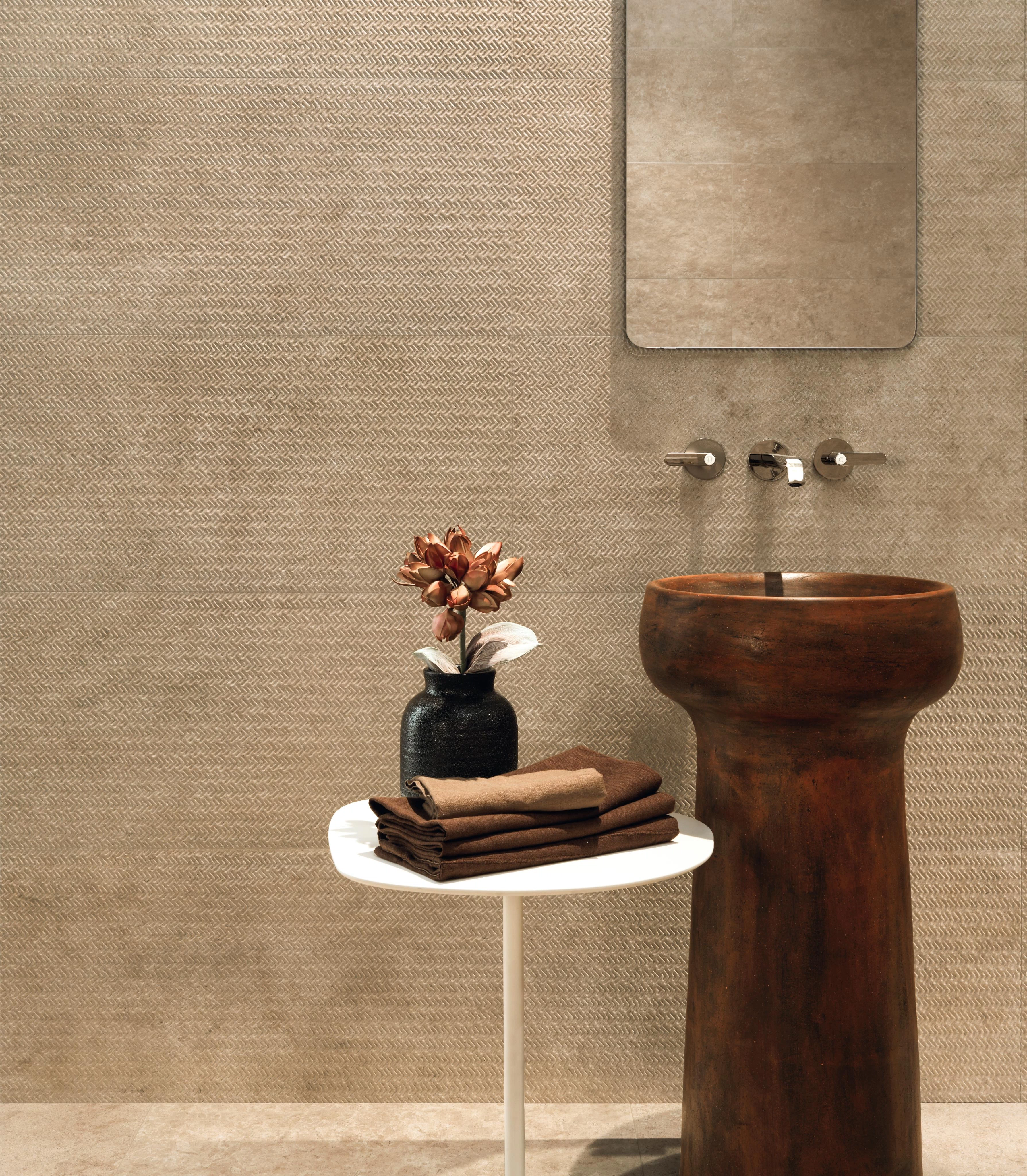 A simple project that interprets the beauty of rare natural stones rich in details.
Brave
's three-dimensional wall tiles create an evocative light-and-shadow effect. There are two variants: Blade, featuring sharp reliefs where the light and shadows blend with the graphic expressions of stone, and Wave, with soft, deep reliefs that give the wall a sculpted, natural look.