The marble effect in contemporary interior design
Inspired by natural marble, the ceramic surfaces reflect their variety of colors, veins, and textures, becoming a precious creative tool for architects and designers.
The great artist Michelangelo said, "Everything is in the marble, you just have to know how to chisel away the excess." And art and architecture have written part of their history in marble. A noble, beautiful material with timeless allure, it has always adorned prestigious architecture and interiors or embellished furnishings, from the Renaissance to the creations of the masters of Modernism and down to our days. The advent of
marble-effect porcelain tiles
, which combine esthetic and functional qualities with the ethical value of respect for nature, has been warmly embraced by the world of design, acknowledging their great merits in terms of beauty, strength, versatility, ease of application, and attention to sustainability, as the growing global demand for stone has had a strong impact on the environment.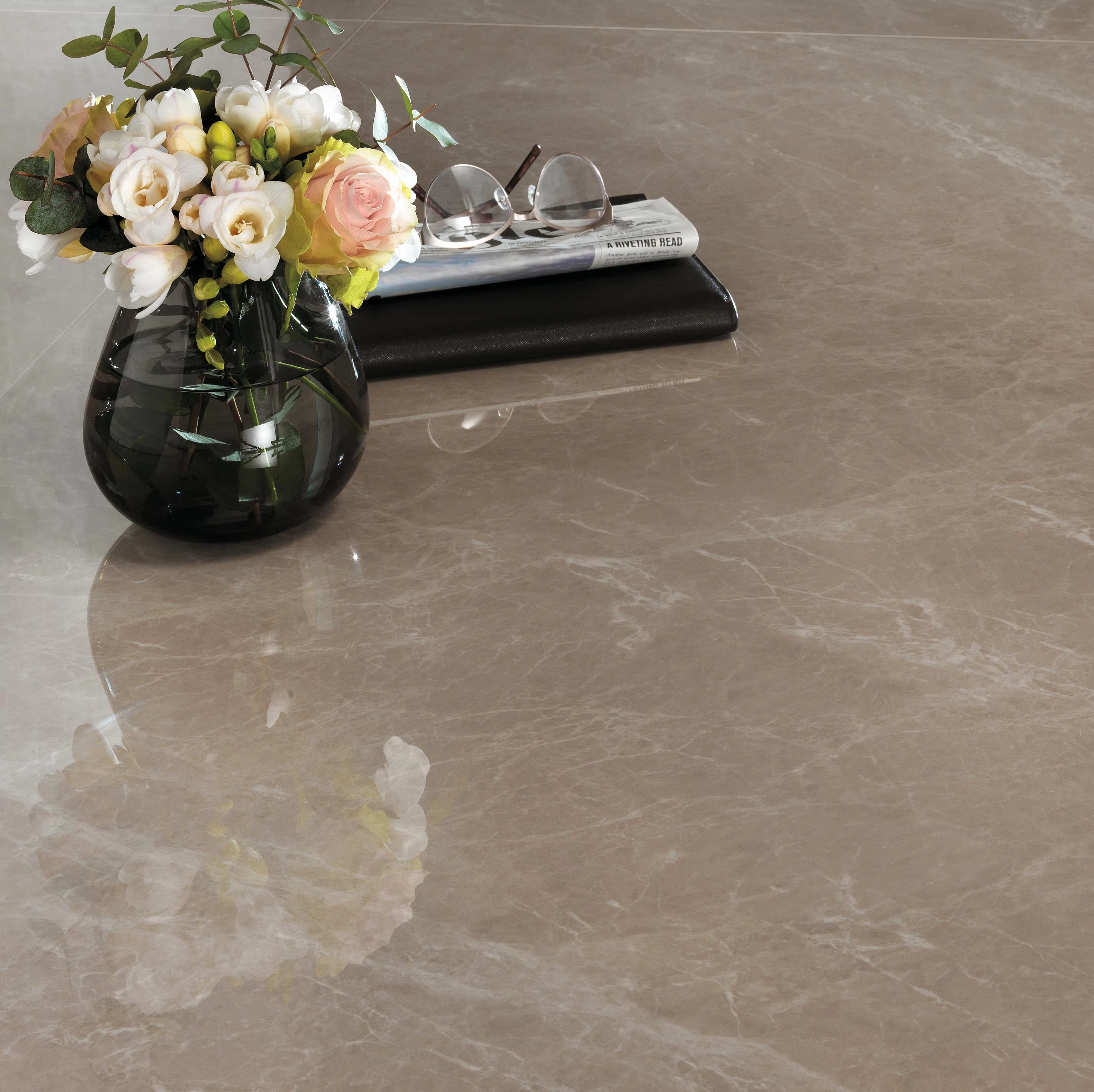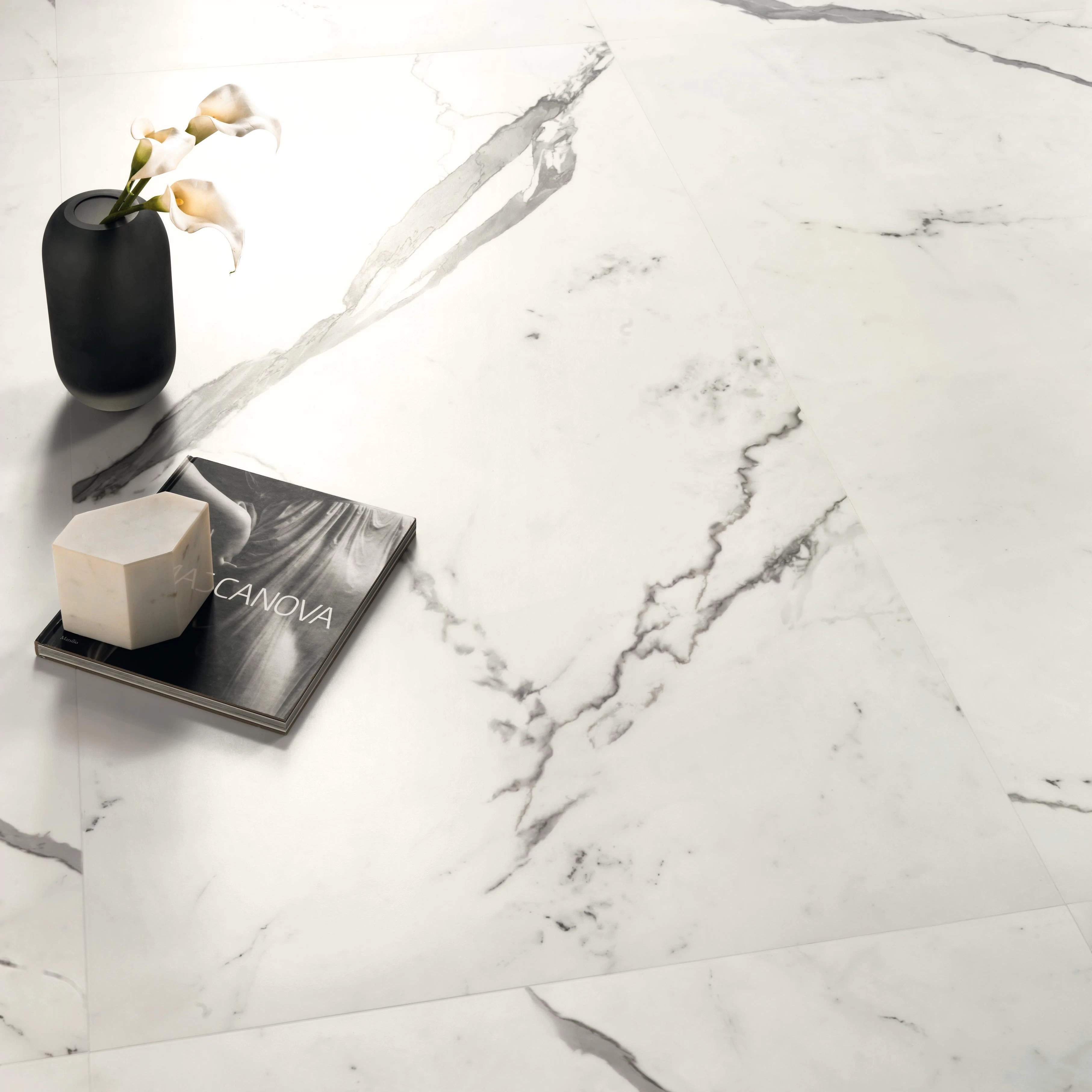 Ceramic surfaces inspired by marble have sparked a real trend in interior design, being used in kitchens, bathrooms, and wellness areas, not to mention living rooms, home offices, and high-end hospitality and retail properties. This is evidenced by countless settings captured in photos taken around the world and found on social channels, from Instagram to Pinterest, where marble becomes a protagonist of the home.
Combining the marble effect with wood, concrete, and metals
The marble effect, also available in large formats, makes every project timeless, contemporary, capable of reconciling past and present, tradition and innovation. Like real marble, it boasts such a variety of colors, veins, and textures that it can be combined with countless materials and shades, in all kinds of styles. When it comes to color, combinations with neutral tones like dove gray, white, and gray are excellent, achieving maximum elegance with the total black look.
Mixing it with other materials is also very trendy:
With the concrete effect it creates a contemporary, edgy style
With glass and metals like copper, gold, or brass it creates a contrast of materials, transparencies, flashes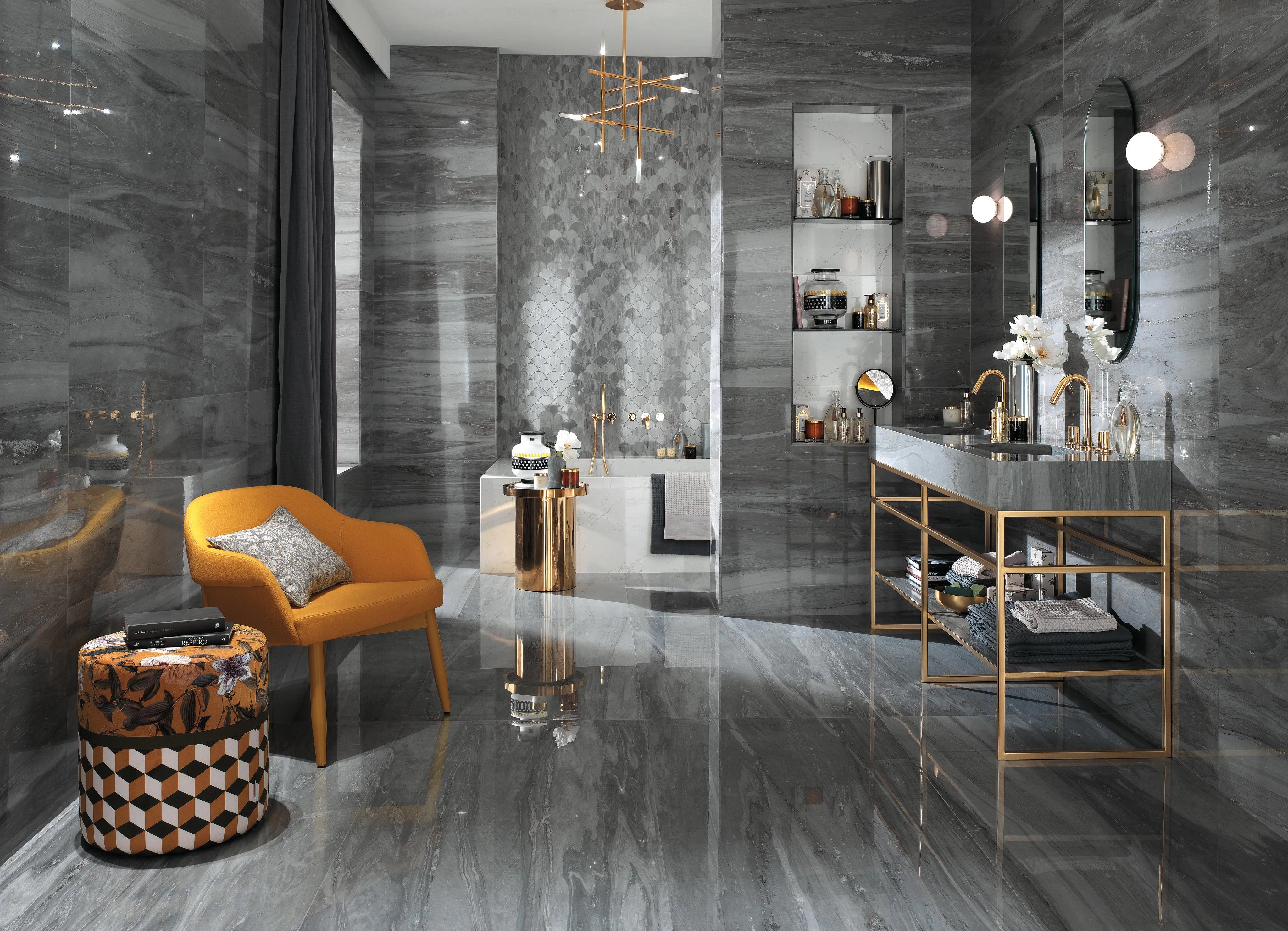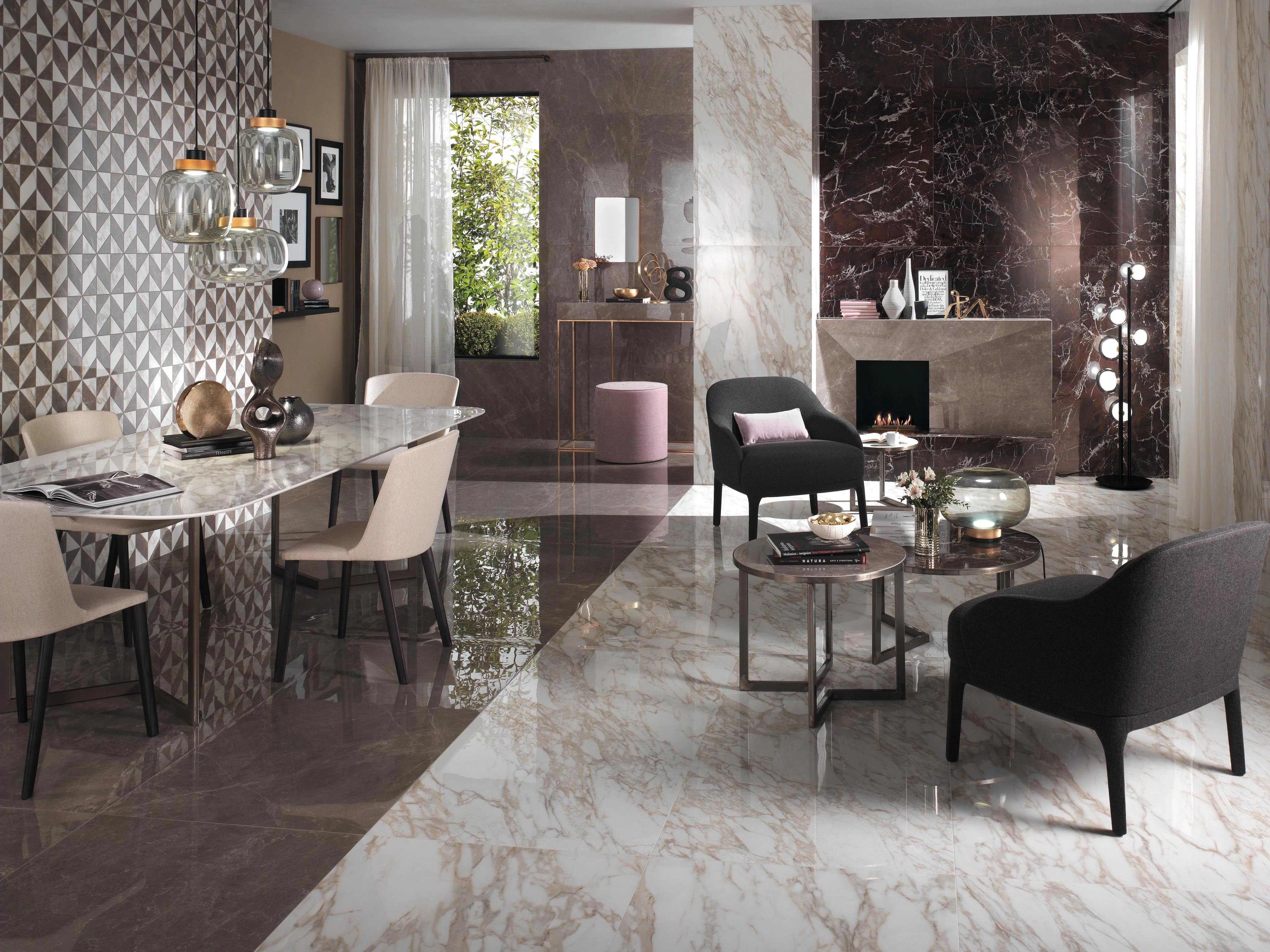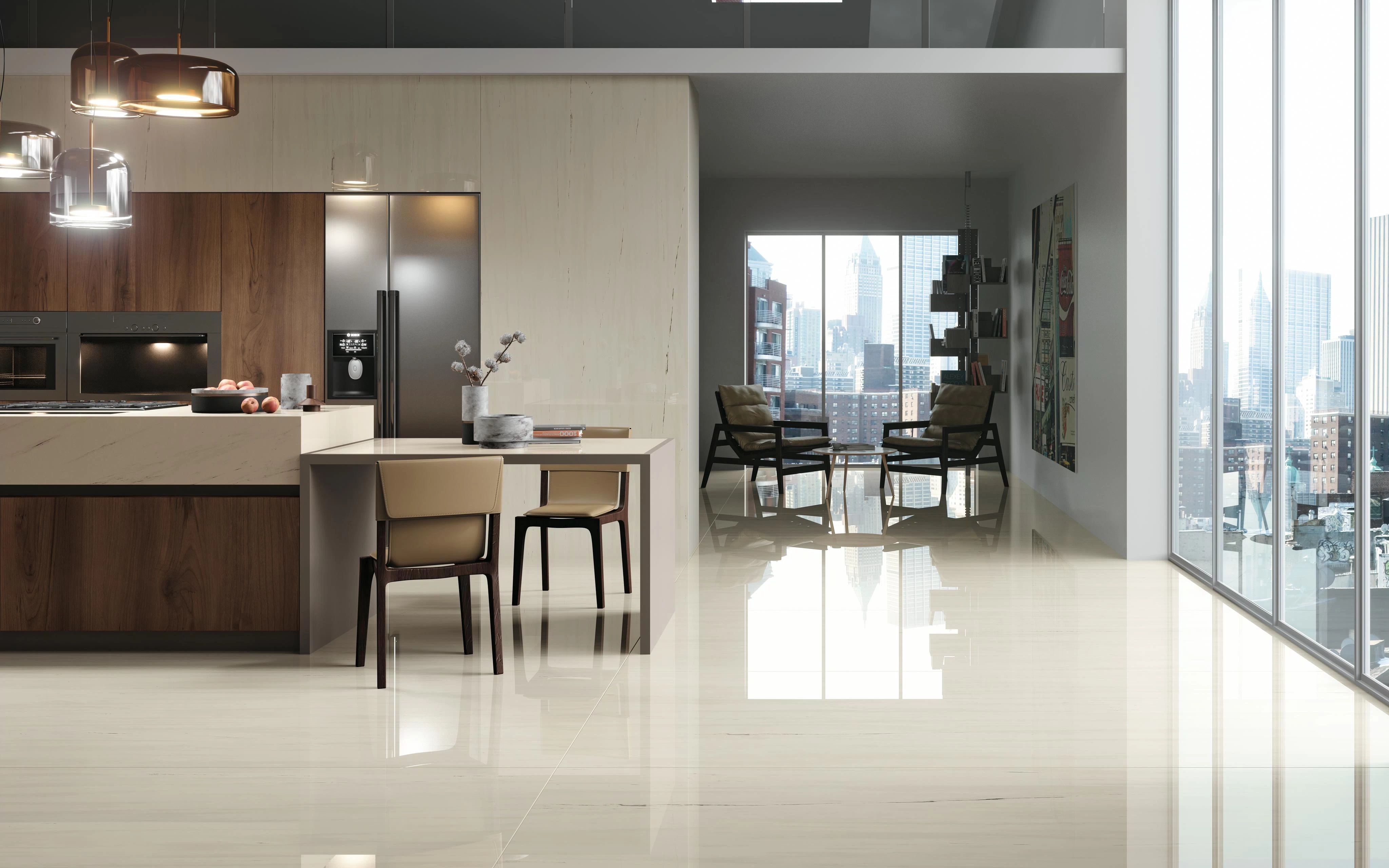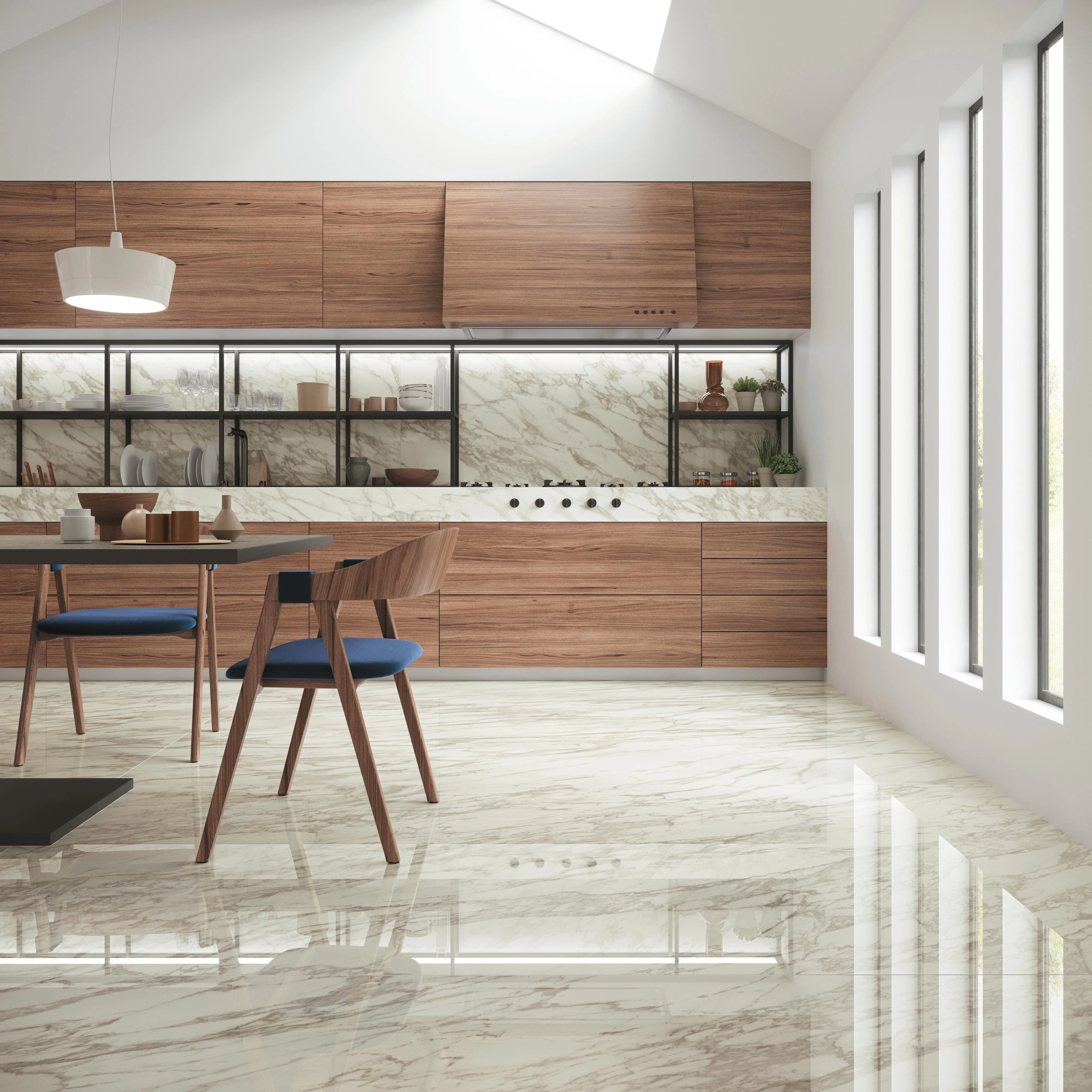 Timeless elegance: from the Renaissance to the present day
From the time of the Greeks and Romans to the Renaissance and the Neoclassical period, white marble has dominated the scene. A trend that is confirmed in modern interior design, where the whites of marble-effect porcelain tile surfaces create white box environments distinguished by the perception of a sharp, formal volume. In particular, Atlas Concorde offers ceramic surfaces inspired both by highly-veined whites (Marvel Royal Calacatta, Marvel Statuario, Marvel Calacatta Extra, Marvel Statuario Supremo, Marvel Calacatta Prestigio, Marvel Calacatta Imperiale) and those where the white background is the protagonist, only thinly veined (Marvel Bianco Dolomite, Marvel Bianco Fantastico, Marvel Calacatta Delicato).
To create rooms with a convivial, warm, and sincere atmosphere, marble-effect surfaces in shades of ivory, sand, light gray, and beige with delicate veins are best (Marvel Elegant Sable, Marvel Cream Prestige, Marvel Cremo Delicato).