Think big for your retail space
Two projects created with large sized marble-look porcelain tile, scenographic and functional, for two unique shopping experiences.
Carefully reproducing the effect of the material of inspiration, Atlas Concorde large porcelain slabs stand out for their meticulous attention to detail, for a new dimension of beauty, wider and where anything is possible.
Atlas Concorde large slabs respond to contemporary interior design needs, with a varied range of aesthetic solutions to suit any context. Be inspired by these two proposals that incorporate large marble-look slabs into two retail projects.
Large, scenographic sizes for spaces that are functional and contemporary
Design homogeneity and installation continuity characterise this project, created using Calacatta Extra and Grey Stone porcelain tiles from the Marvel collection. For the flooring, the 120 x 120 cm size has been used, while the cladding harnesses the new 120 x 278 cm size that, with its 6 mm thickness, is the ideal solution for the creation of walls with strong visual impact.
The large slabs showcase the beauty, richness and quality of porcelain tile across a wider surface, the perfect blend of luxury, functionality and design, for retail spaces with a prestigious atmosphere.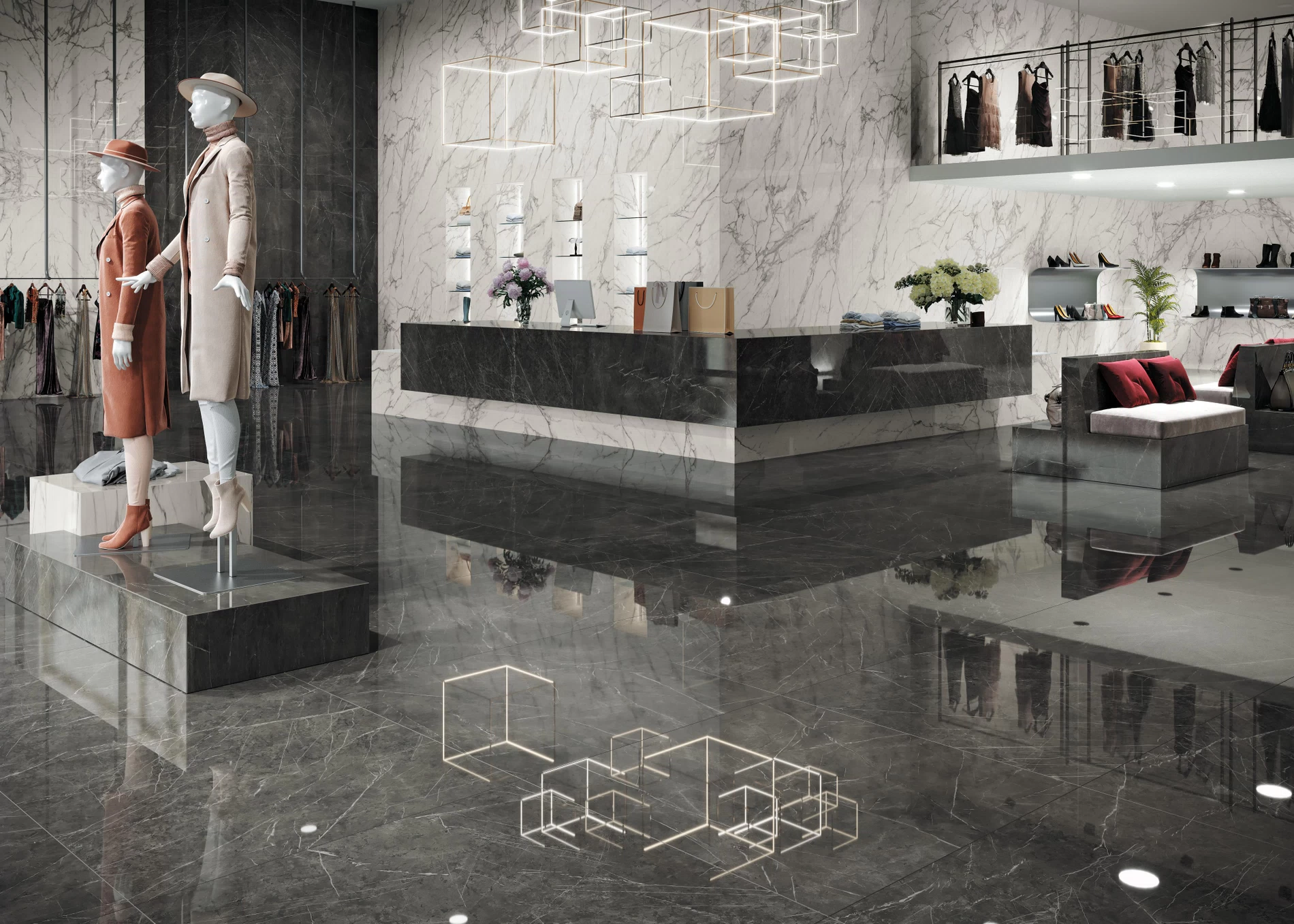 A shopping experience that is all about luxury and precious details
In this showroom created using large marble-look slabs, the natural inspiration of the Marvel Edge collection seduces, for refined interior décor and a luxurious and elegant shopping experience.
The reflective lapping of the porcelain tile enhances the beautiful graphics for a style that is classic but contemporary, going beyond any trend.