Marble Effect Tiles in Porcelain Stoneware
One of the important trends of interior design are marble-effect porcelain tiles and bathroom tiles that replicate the material that has been the protagonist of art and architecture for centuries. Marble, interpreted with modern lines and original combinations, is becoming more popular in the design of interiors, furnishings, and furnishing accessories.
Marble is becoming more popular.
Marble, interpreted with modern lines and original combinations, is becoming more popular in the design of interiors, furnishings, and furnishing accessories. Marble-look porcelain tiles made with innovative technologies combine an extraordinary fidelity to natural marble with high performance in terms of resistance to wear, stain resistance, and ease of cleaning and sanitizing with common home detergents.
Marble effect tiles have become increasingly popular in recent years. They offer a luxurious look and feel, and can instantly transform the look of any room. They are also very easy to care for and maintain, making them a great choice for busy households. If you're looking for a way to add a touch of luxury to your home, marble effect tiles are a great option.
Marble effect tiles as a source of inspiration: the colors and types.
Marble-effect porcelain tiles reproduce the most sought-after and valued marbles in the world in a rich range of colors and shades.
White marble-effect porcelain tiles are inspired by the finest white marbles of Italian tradition. Calacatta marble-effect porcelain tiles include marbles with different shades of white and veins (Calacatta Pregiato, Calacatta Delicato, Calacatta Imperiale, Calacatta Extra, Calacatta Royal). Marble-effect white porcelain tiles include Statuario (Statuario Supremo, Statuario Select) and Carrara marble-effect porcelain tiles (Carrara Pure).
The shades of white marble contrast with black marble-effect porcelain tiles (Noir St. Laurent, Nero Marquina, Black Atlantis) and gray marble-effect porcelain tiles (Bardiglio Grey, Morning Sky, Grey Fleury, Gris Supreme, Grey Stone, Grigio Intenso,).
Marble-effect floor and wall surfaces can be used in any style, from contemporary and modern to classic reinterpreted to be timeless. For a warm, welcoming style, beige marble-effect porcelain tiles (Cremo Delicato, Champagne Onyx, Creme Prestige, Beige Mystery, Travertino, Elegant Sable) go well with brown marble-effect porcelain tiles (Bronze Luxury, Absolute Brown)
Atlas Concorde's Marvel marble-effect range is constantly being expanded with new looks and variants in line with interior design and architecture trends.
Truly spectacular choices include indoor floors with green marble-effect porcelain tiles (Brazil Green), blue marble-look porcelain tiles (Ultramarine), and red marble-look porcelain tiles (Red Luxury).
Atlas Concorde marble-look collections are all part of Marvel World, a complete selection of floor and wall tiles that is unique in terms of sizes, colors, motifs, and decorations.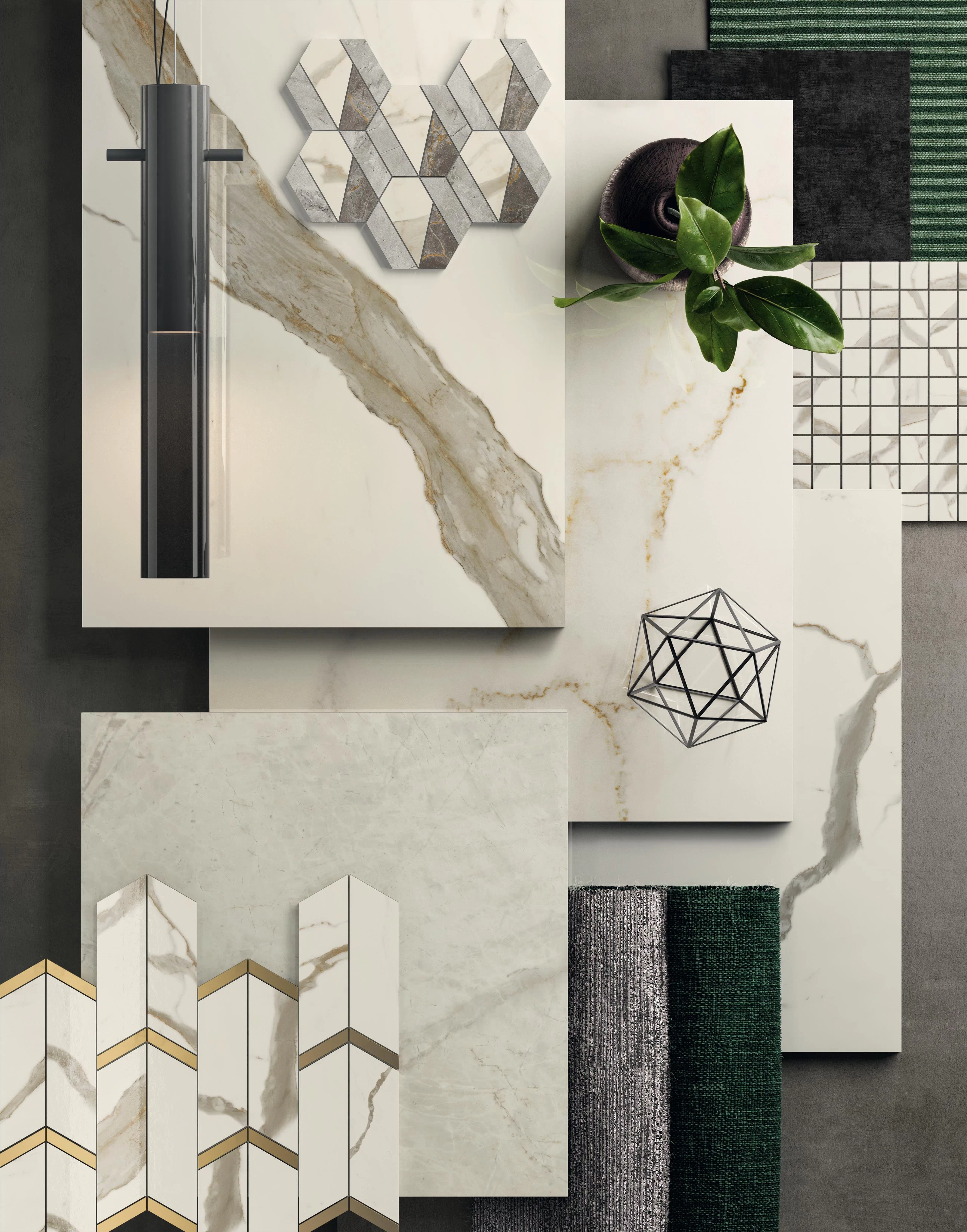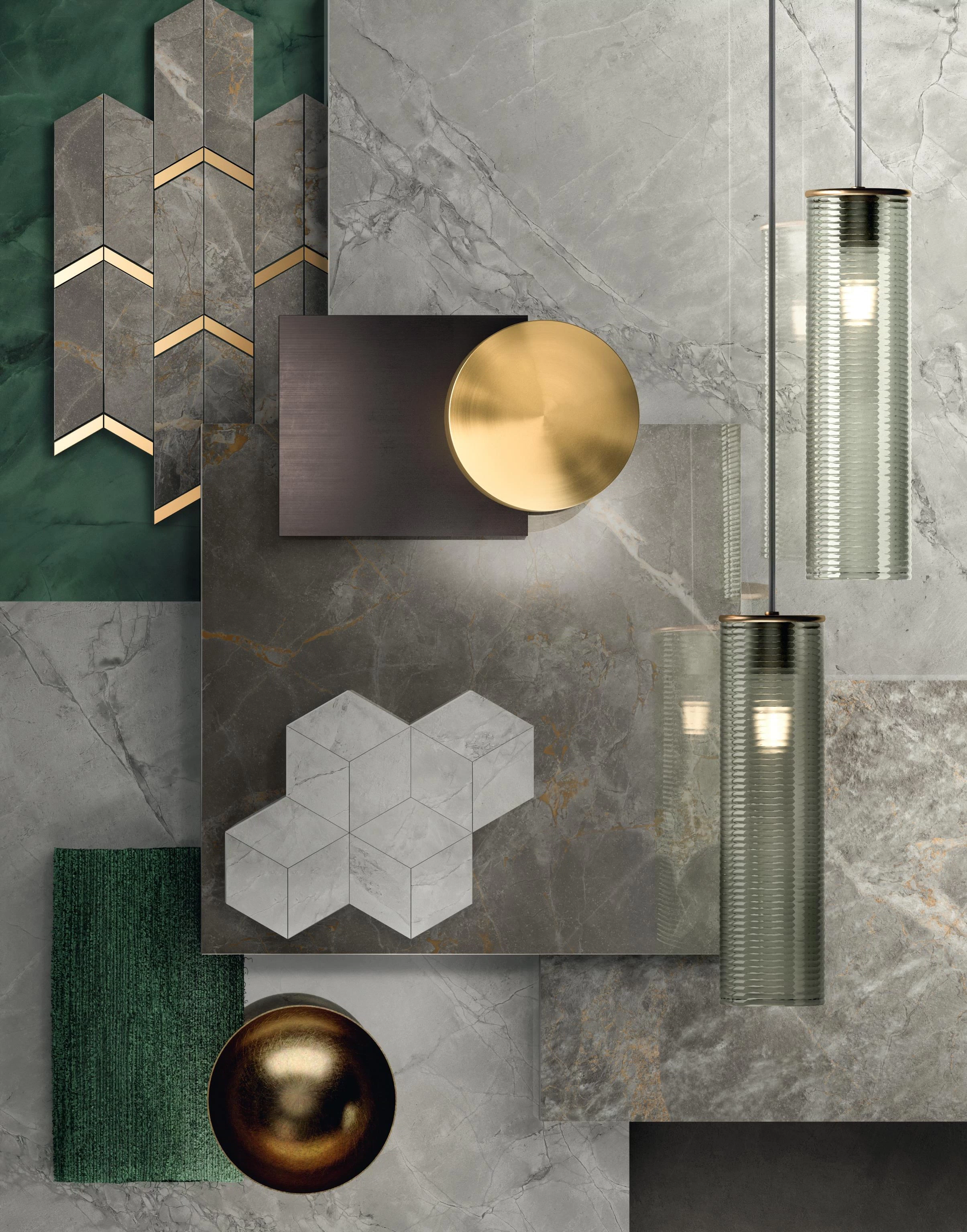 Marble-effect finishes for every style and project.
With pure colors, natural veins, intense shades, and transparent layering, each original marble is faithfully reproduced with all the
benefits of ceramic
and porcelain tiles. Marble-effect indoor floor and
wall tiles
are available in different finishes: glossy marble-effect porcelain surfaces with a polished finish or surfaces with an opaque finish. Opaque marble-effect porcelain tiles can have a matte surface or a silk finish, for bright surfaces with a soft, silky touch.
Large format marble-look porcelain tiles
Marble-look tiles are available in a wide range of sizes, from small to large formats, and in different thicknesses, including thin. The possibility of choosing from many different sizes and the availability of reduced thicknesses simplify laying and installation in any type of environment.
Marble-effect mosaics and decorations with trendy designs and shapes furnish every space of the house with a unique, personalized style.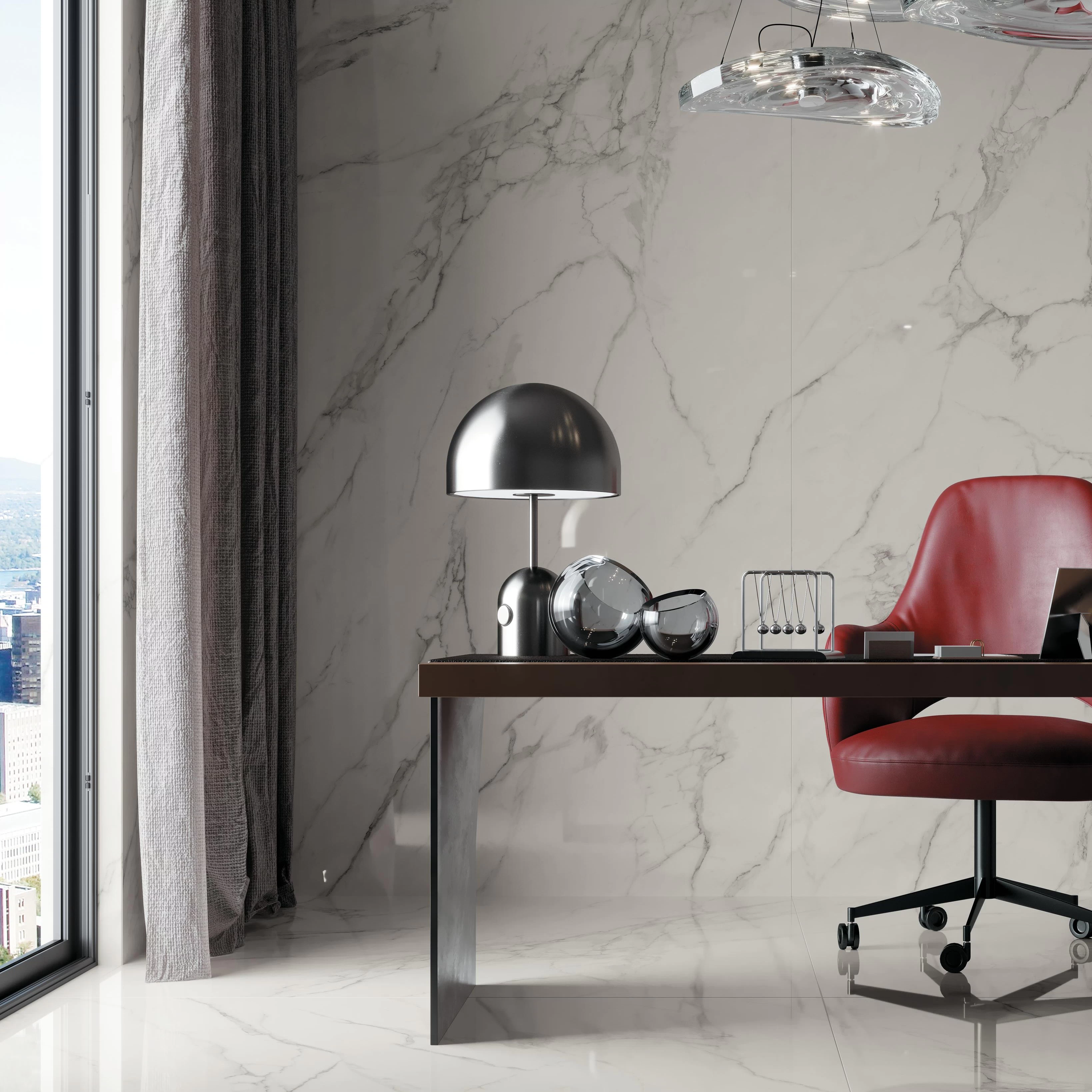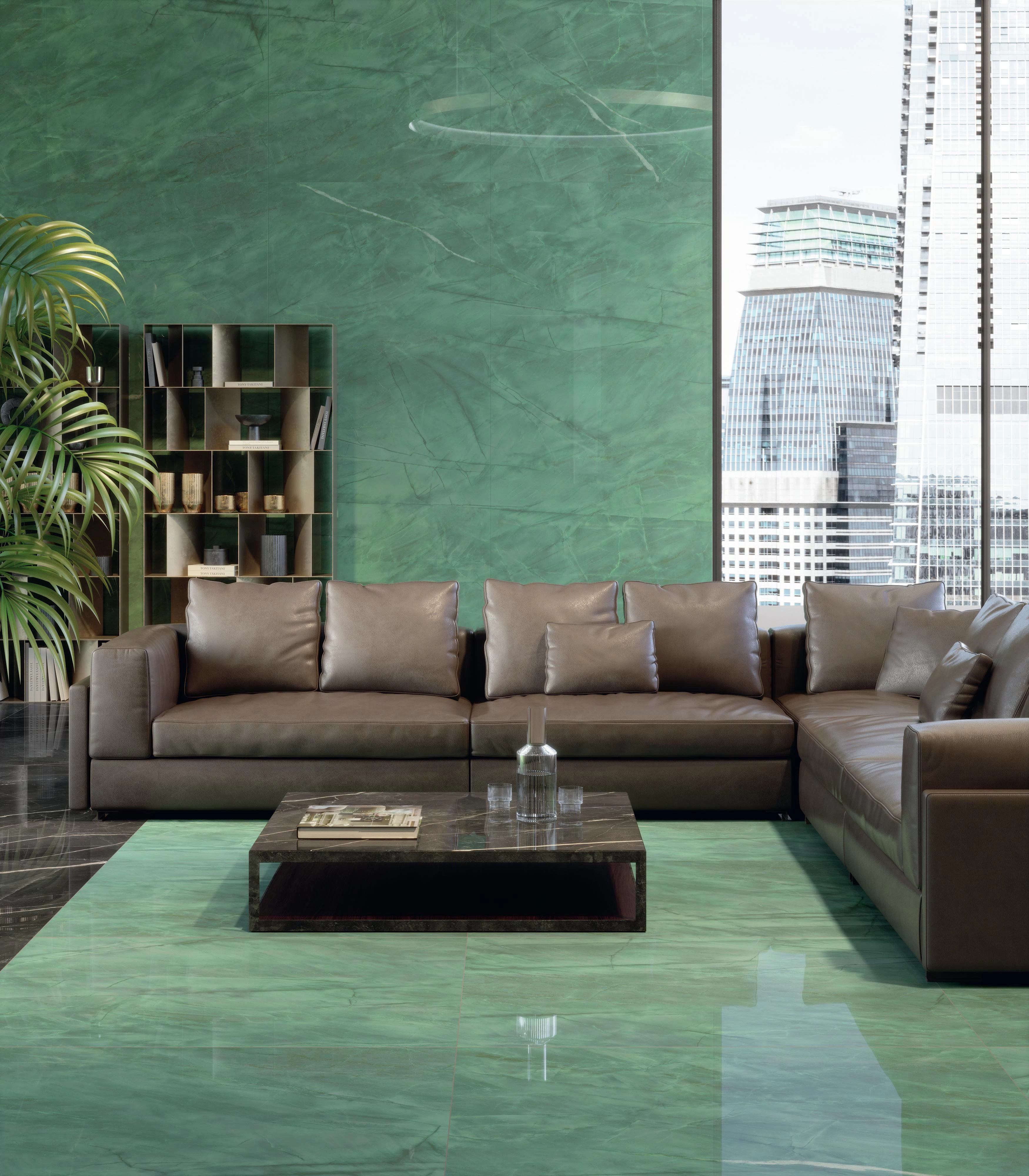 The marble effect in homes and hospitality spaces.
Atlas Concorde marble-look floor and wall tiles are very popular, allowing you to customize the various areas of your home, from the kitchen to the bathroom and living room, from the studio to the home office, from residential interiors to elegant hotel spaces and commercial areas dedicated to hospitality and business.
In the bathroom porcelain marble wall tiles transform a place dedicated to relaxation into a designer space, thanks also to the addition of trendy decorations such as mosaics, herringbone tiles, hexagon decorations, gold and precious metals, which can also enrich the shower area.
The use of the marble effect tiles is also very popular in the kitchen, from the floor to the countertop and backsplash.
When designing living rooms, the marble look tile defines environments with a unique, refined style that, thanks to elegant combinations or refined monochrome applications, extends the continuity of color and tone to the entire space, increasing its visual impact.
Thanks to its resistance to foot traffic and wear, marble-look porcelain tiles are ideal for shopping malls and stores, creating practical designer environments where you can explore the new dimensions of the customer experience.
Even in the field of hospitality there are many possible applications for the marble look: from the rooms to the bathrooms, lobby, and restaurant, in environments that reflect the classic or contemporary style of the interior design.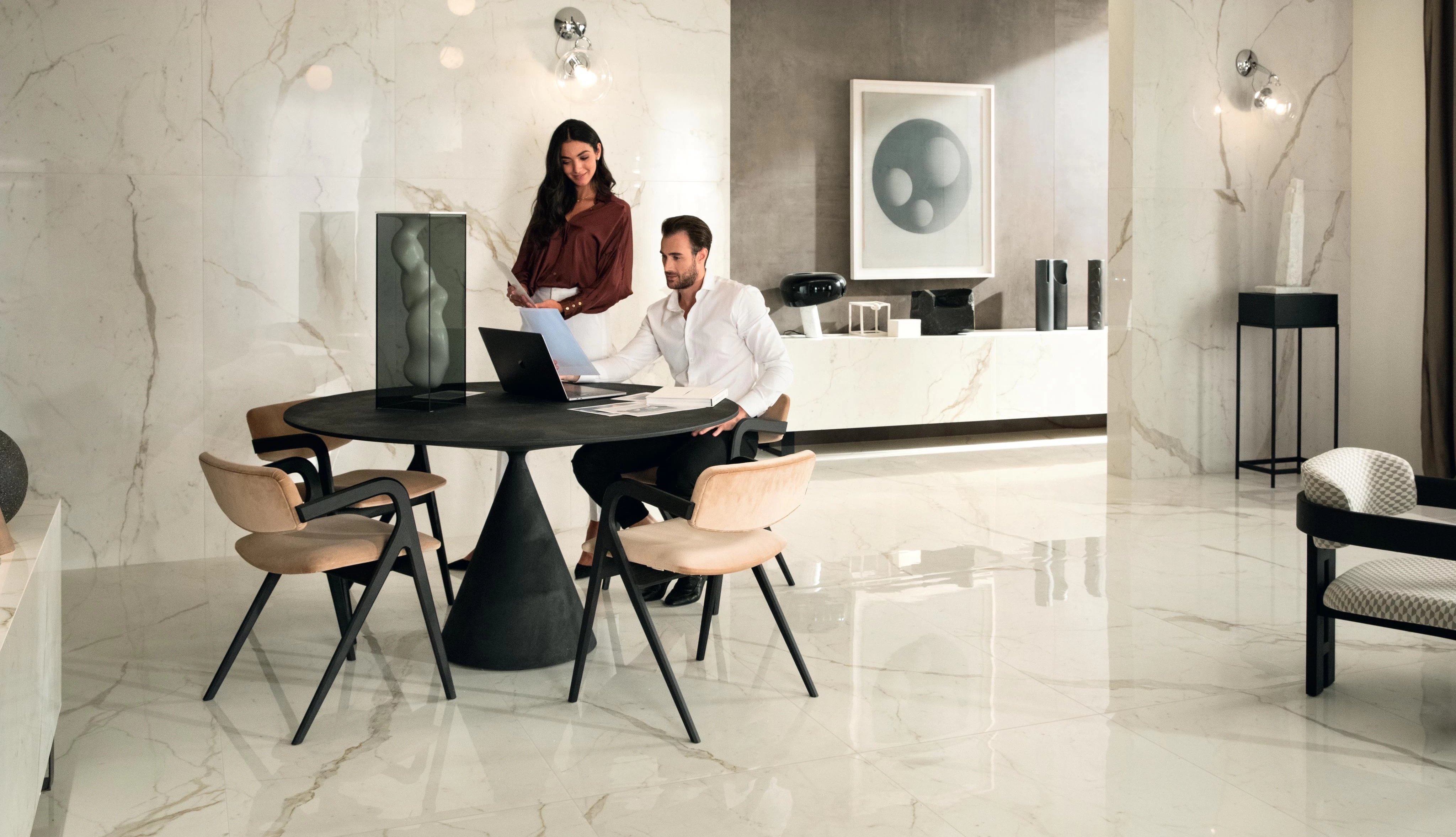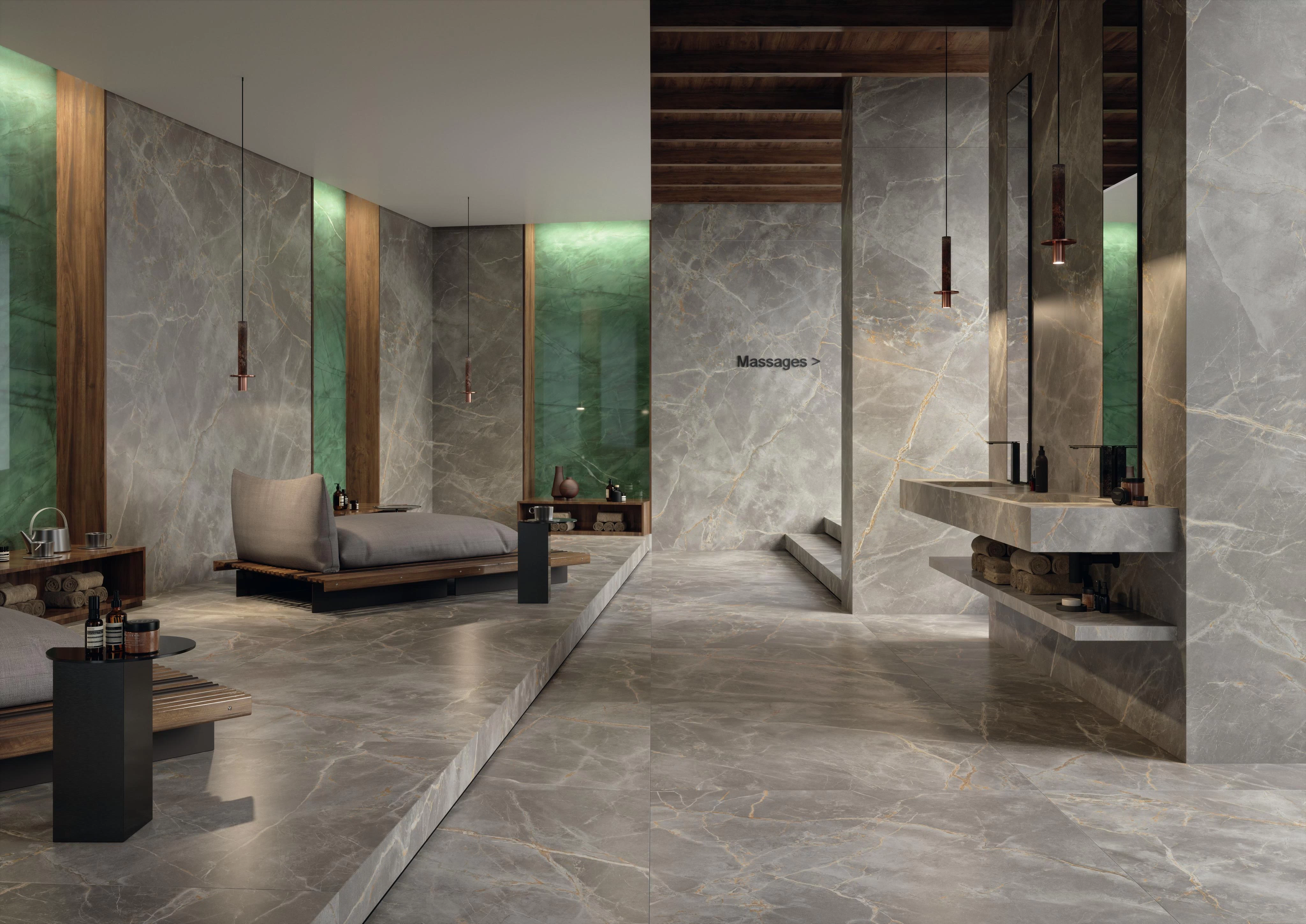 The benefits of marble-effect ceramic tiles
Marble-effect porcelain tiles are resistant, durable, inalterable over time, and easily cleaned and washed.
The many benefits of ceramics and their technical characteristics make marble-look porcelain tiles usable in any environment: kitchen, bathroom, living room, bedroom, foyer.
Ceramic tiles are one of the most hygienic materials. They are easily cleaned with all products used for cleaning homes. They are very durable, inalterable over time.
How to clean marble-look porcelain tiles?
Marble-effect porcelain tiles can be cleaned and made hygienic with all detergents and chemicals used for disinfecting and sanitizing surfaces.
Indoor porcelain tile floors can be treated with products that perform a bactericidal, fungicidal, and virucidal disinfectant action.
SEE THE ATLAS CONCORDE MARBLE-LOOK COLLECTIONS:
Marvel - Marvel Pro - Marvel Shine - Marvel Stone - Marvel Edge - Marvel Dream
Marvel: Calacatta marble-effect porcelain tiles
Marvel Pro: black marble-effect porcelain tiles
Marvel Shine: white marble-effect porcelain tiles
Marvel Stone: Carrara marble-effect porcelain tiles
Marvel Edge: beige marble-effect porcelain tiles
Marvel Dream: grey marble-effect porcelain tiles