With Boost Pro decorations go XL
Decorative art comes to life on the large 120x278 cm (47 ¼" x 109 ½") porcelain slabs of the Boost Pro collection.
A wallpaper-effect design with a strong visual impact, which expands the range of Atlas Concorde "large formats" in a perfect balance between esthetic performance, continuity of the graphic pattern, and formal simplicity.
The series of large decorations of Boost Pro draws inspiration from different painting techniques – graphite, spatula, and watercolor – that transform the walls into scenic frescoes with three motifs, Grove, Paint and Leaves featuring graphics with strong earthy contrasts conveying a metropolitan style and nature, protagonist with the beauty of tropical plants and beech trees.
Grove, nordic atmospheres
As in Gustav Klimt's famous painting, a forest of beech trees is the subject of this decoration made in Clay and Taupe tones. The design recreates a natural scene: beech trunks, each different from the other, create a graphic rich in details, thus reducing the repetitive effect of the pattern. The technique of reference is graphite, featuring strong marks but with soft, delicate contrasts.
Grove lends itself to spaces and environments where you're looking for a wallpaper effect and matches all the colors of Boost Pro.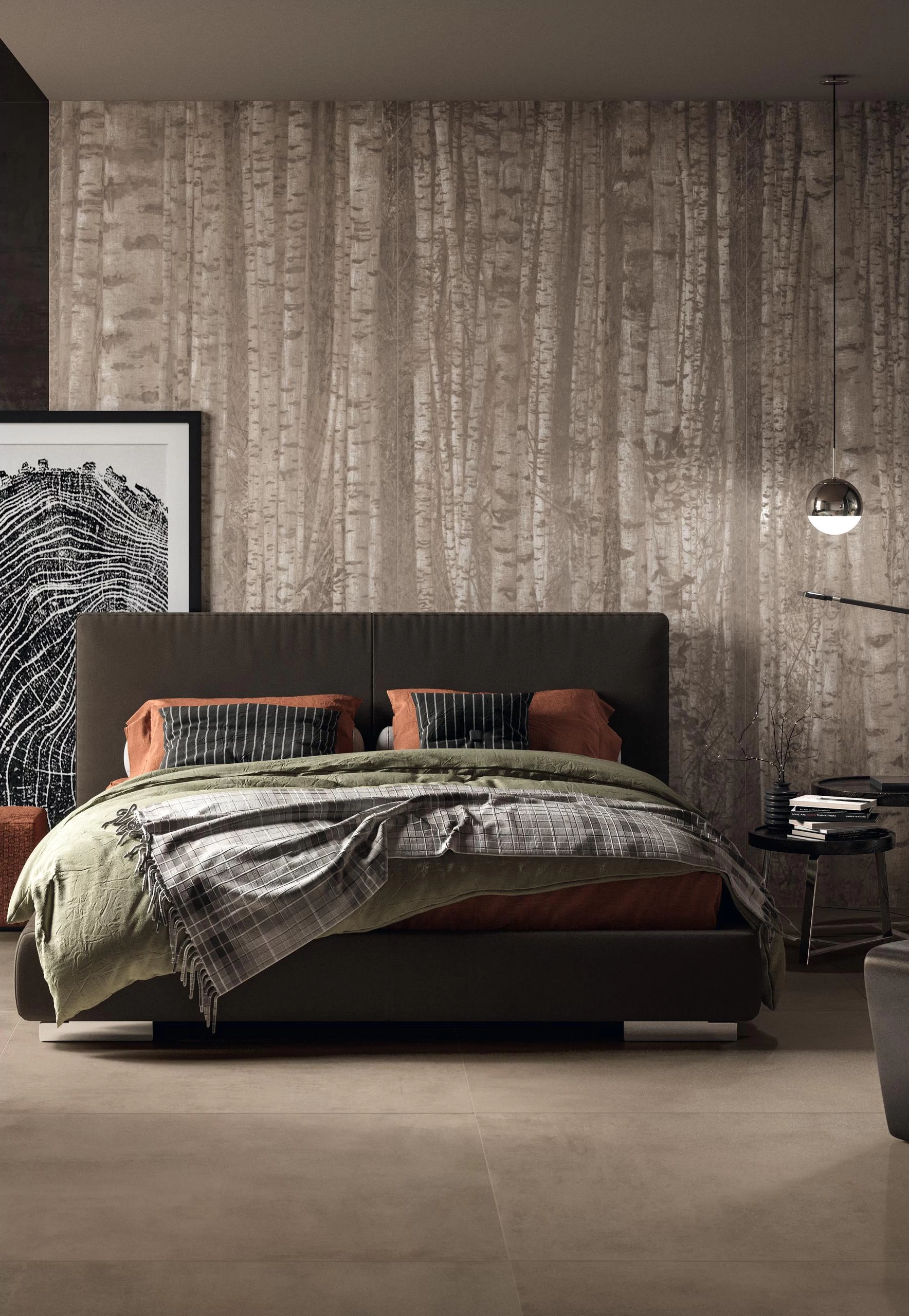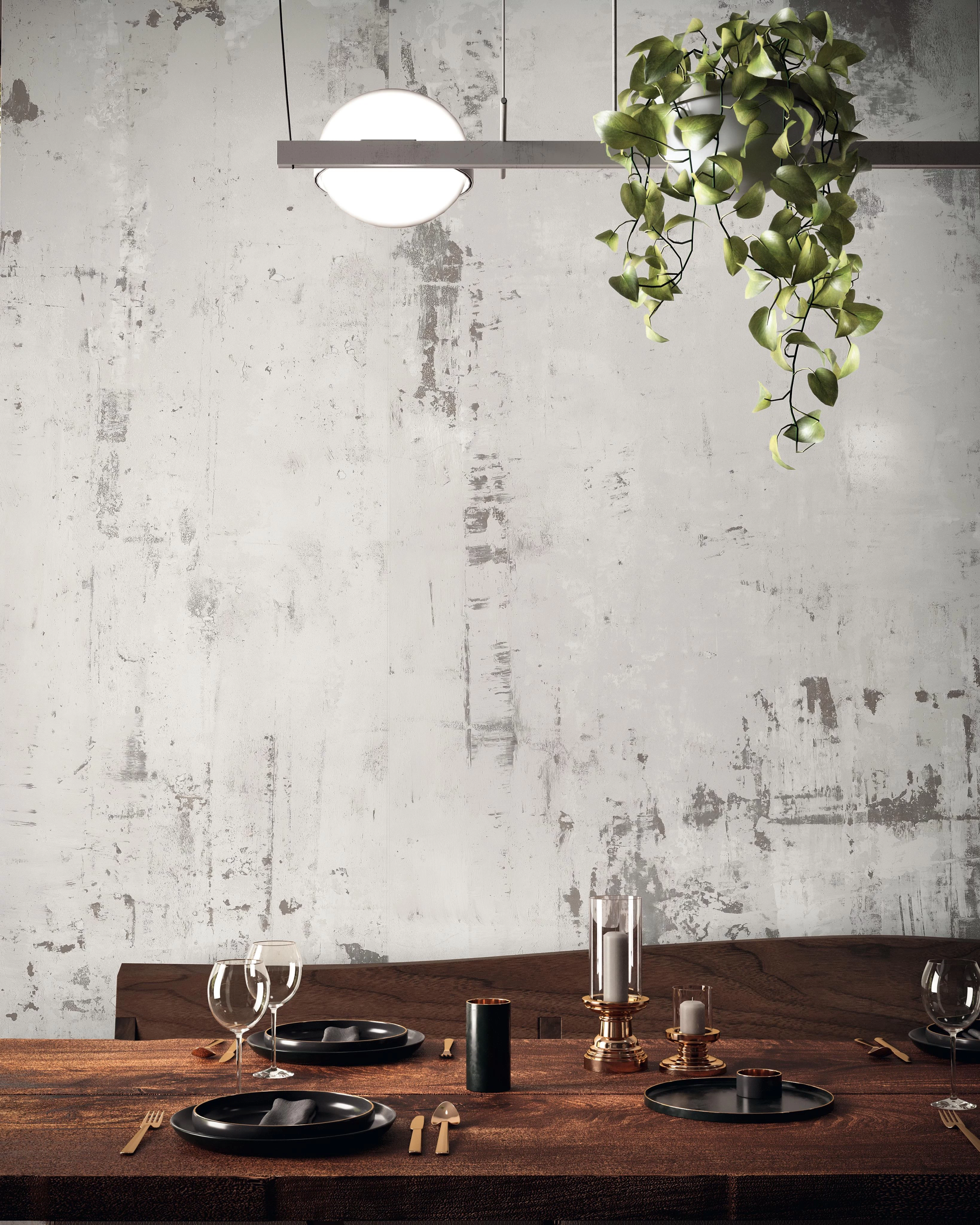 Paint, metal effects
A decoration in the warm shades of Clay, with the typical sandy shades of clay and Taupe, contrasting accents on the same tones (Clay and Taupe) and the addition of Tobacco on an Ivory background. Paint's stylistic development has resulted in very decorative graphics. The material effect on the stoneware surface recalls the spatula painting technique for a look typical of a worn tapestry, able to characterize environments with a sophisticated elegance in delabré style. Paint lends itself both to a full wall design, combined with relaxing surfaces in the Ivory, Tobacco, Clay and Taupe shades, and with different colors of the Boost collection.
Leaves, tropical inspiration
The decorations chosen for Leaves recreate tropical atmospheres reinterpreted in a contemporary composition on the large stoneware slabs of the Boost Pro collection.
Leaves is inspired by a sketch made with watercolors.
The precise production of the design ensures that no shading effects are lost, and the bright, vibrant colors add a touch of light to the entire surface.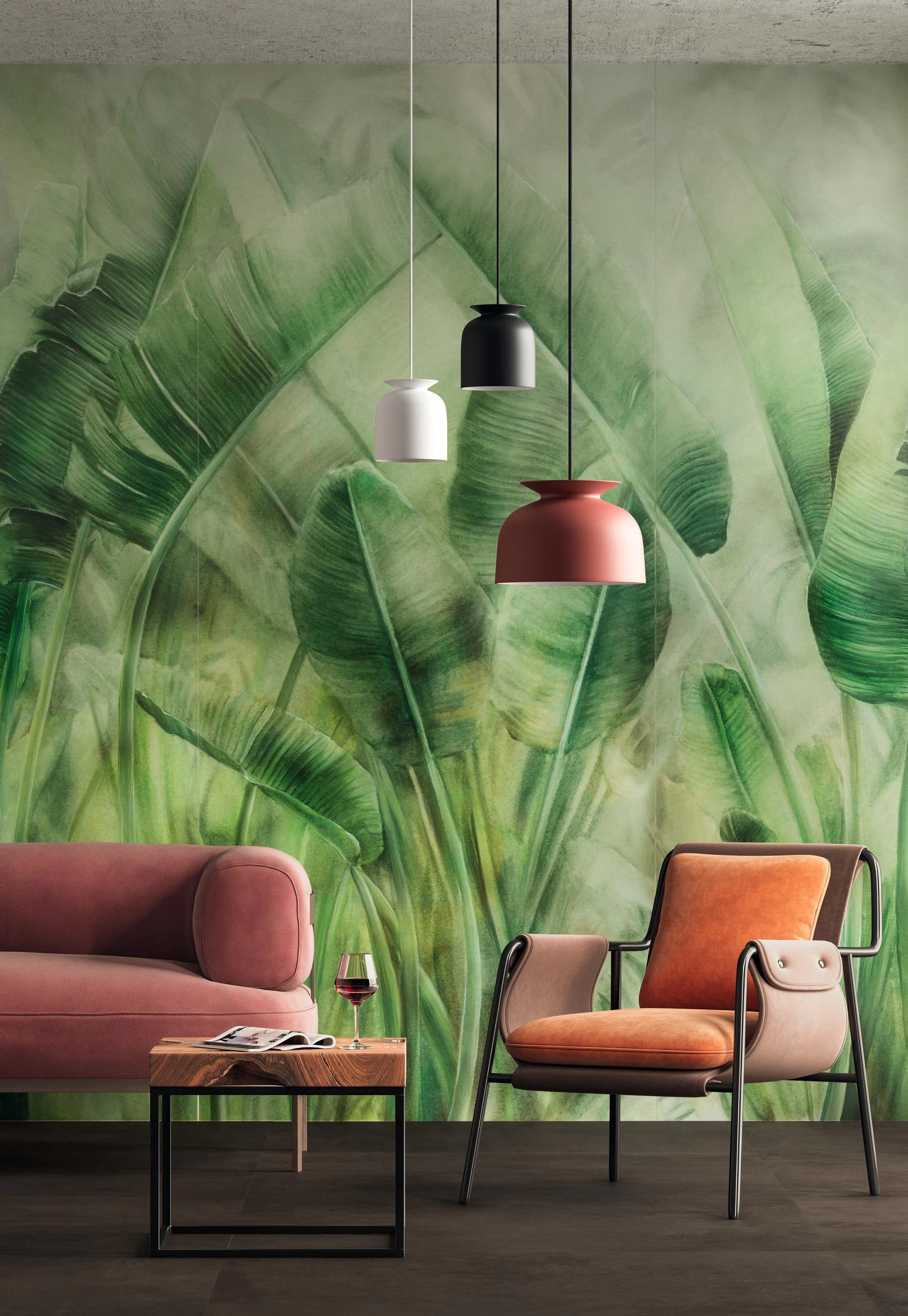 With Grove, Paint and Leaves every wall design project becomes unique, and decorations become an element of almost artistic value. Thanks to their versatility and ability to match with other Atlas Concorde collections – from Boost to Raw, from the stone effect of Lims and Kone to the metal-effect colors of Blaze – these decors offer ample freedom of experimentation for environments that convey the different stylistic languages of architects and designers or that reflect the attitudes and passions of those who live in them.