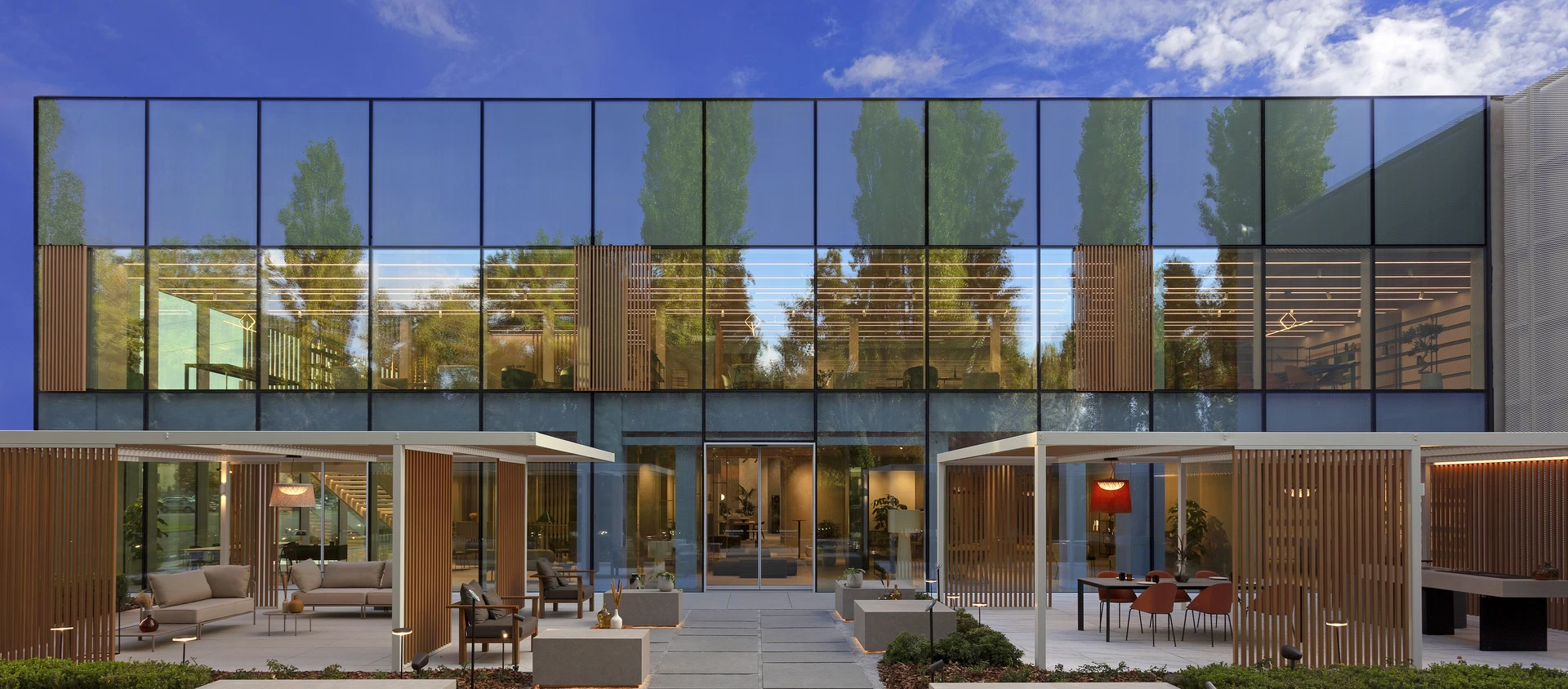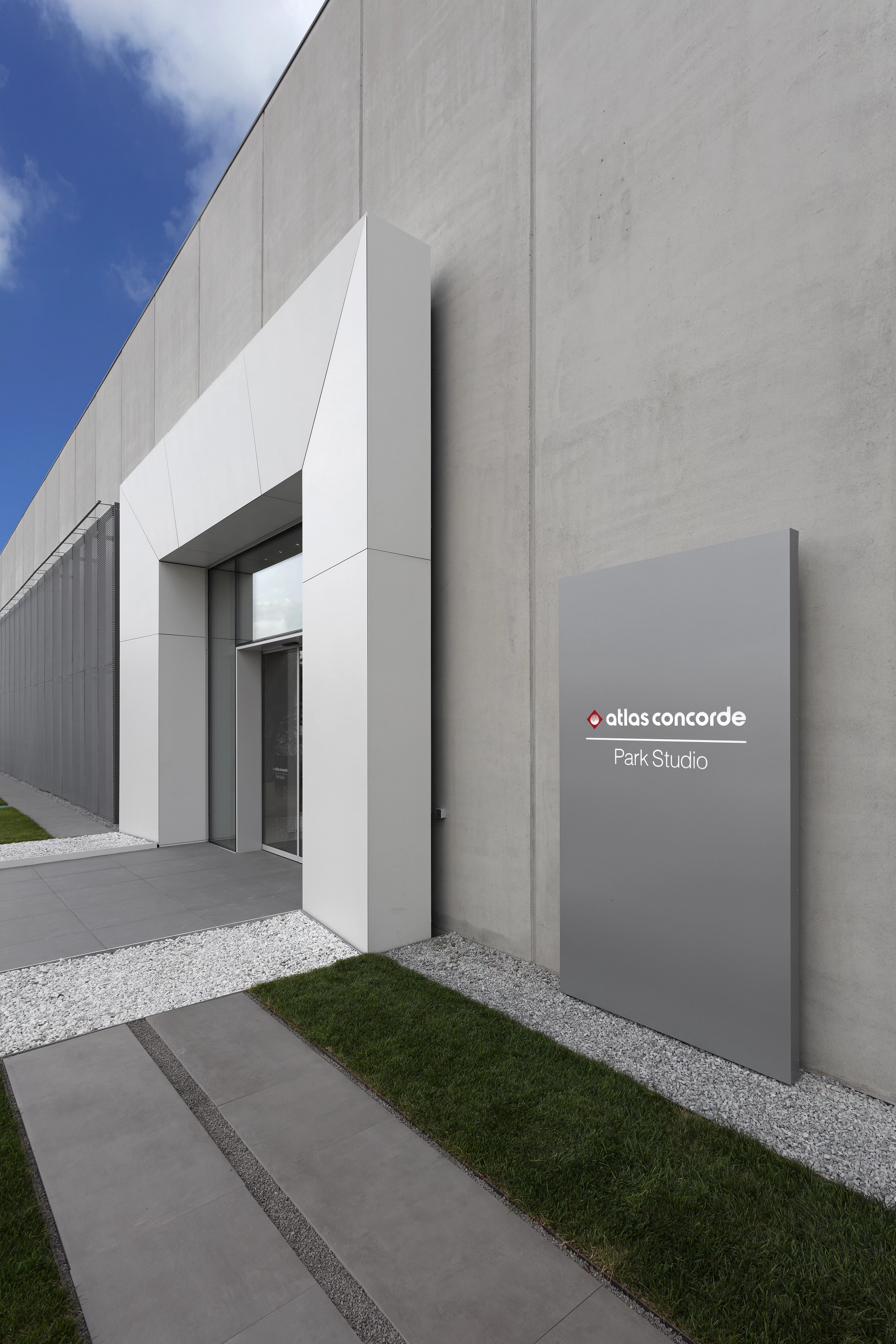 Azienda
Press release - Atlas Concorde Park Studio
Atlas Concorde inaugurates Atlas Concorde Park Studio, redefining a new visitor experience
Italy's major global player in the international ceramic tile industry inaugurates Atlas Concorde Park Studio, a new exhibition space of more than 3,000 square meters overlooking the centuries-old park of the Fiorano Modenese headquarters to offer visitors a renewed experience
A venue that will be able to meet the needs of customers and designers by promoting the unique identity and character of Atlas Concorde and its Atlas Plan and Atlas Concorde Habitat brands, as well as its complete product system
Fiorano Modenese (ITA) - Atlas Concorde inaugurates Atlas Concorde Park Studio, its new exhibition space designed to convey the essence and values of a company that for more than 50 years has been an indispensable trailblazer in the industry for those seeking excellence in performance, quality, and beauty.
The new space is situated within the HQ in Fiorano Modenese, a multifunctional complex that's also home to the production lines and the state-of-the-art automated warehouse, on the edge of a four-hectare century-old park equipped with high-end functional facilities.
Atlas Concorde Park Studio was designed as a place that blends promotion, hospitality, and inspiration, allowing guests to personally experience a wide range of products that can offer unique solutions tailored to their needs. The showroom has 3,000 square meters of floorspace, within which beauty and attention to detail tell the story of both Atlas Concorde and its brands Atlas Plan, which specializes in large slabs for kitchen countertops, tables and furnishing, and Atlas Concorde Habitat, the project dedicated to furnishings in combination with Atlas Concorde surfaces
Designed by Atlas Concorde's architectural design team in collaboration with MPArchitects and Studio Ferriani, the new space brings new life to an industrial area by changing its vocation. The exterior preserves the integrity of the existing building's silhouette, remaining fully consistent with its surroundings, and, thanks to large glass surfaces offering a scenic view of the adjacent park, brims with brightness and contemporary character. The interior is designed with a vertical development, thanks to which visitors can enjoy a unique perspective of the large ceramic slabs, perfectly integrated with the rest of Atlas Concorde's product system. Lastly, an outdoor space erases the boundary between indoors and outdoors, and in addition to completing the integration with the existing surroundings provides a peaceful place for visitors.
The exhibition's design places a wide range of ceramic collections at the center of a spectacular architectural setting, the collections being presented in a manner developed precisely to spotlight their unique traits: a succession of settings conceived to inspire visitors through a staging that underscores the potential of the Atlas Concorde range. The look and feel of the design exude an elegant, refined ambiance whose materials convey a natural, warm character and feature a color palette of warm, hospitable gray hues.
In order to allow visitors to experience the company's operations and values through the opportunities offered by interaction design, the space will also be soft-tech, a project developed in collaboration with the Dotdotdot innovation partner. By communicating with existing digital services, the innovative Atlas Concorde Platform digital infrastructure offers customer experience services that are architecturally integrated in the space.
"Atlas Concorde is much more than its excellent products. Atlas Concorde is a promise of values," observed Efrem Grasselli, Marketing Director. "This new exhibition space authentically expresses our vision of focusing on the needs of our customers, designers, and partners around the world by offering them a unique experience that responds to increasingly demanding market needs in a hospitable, inspiring setting."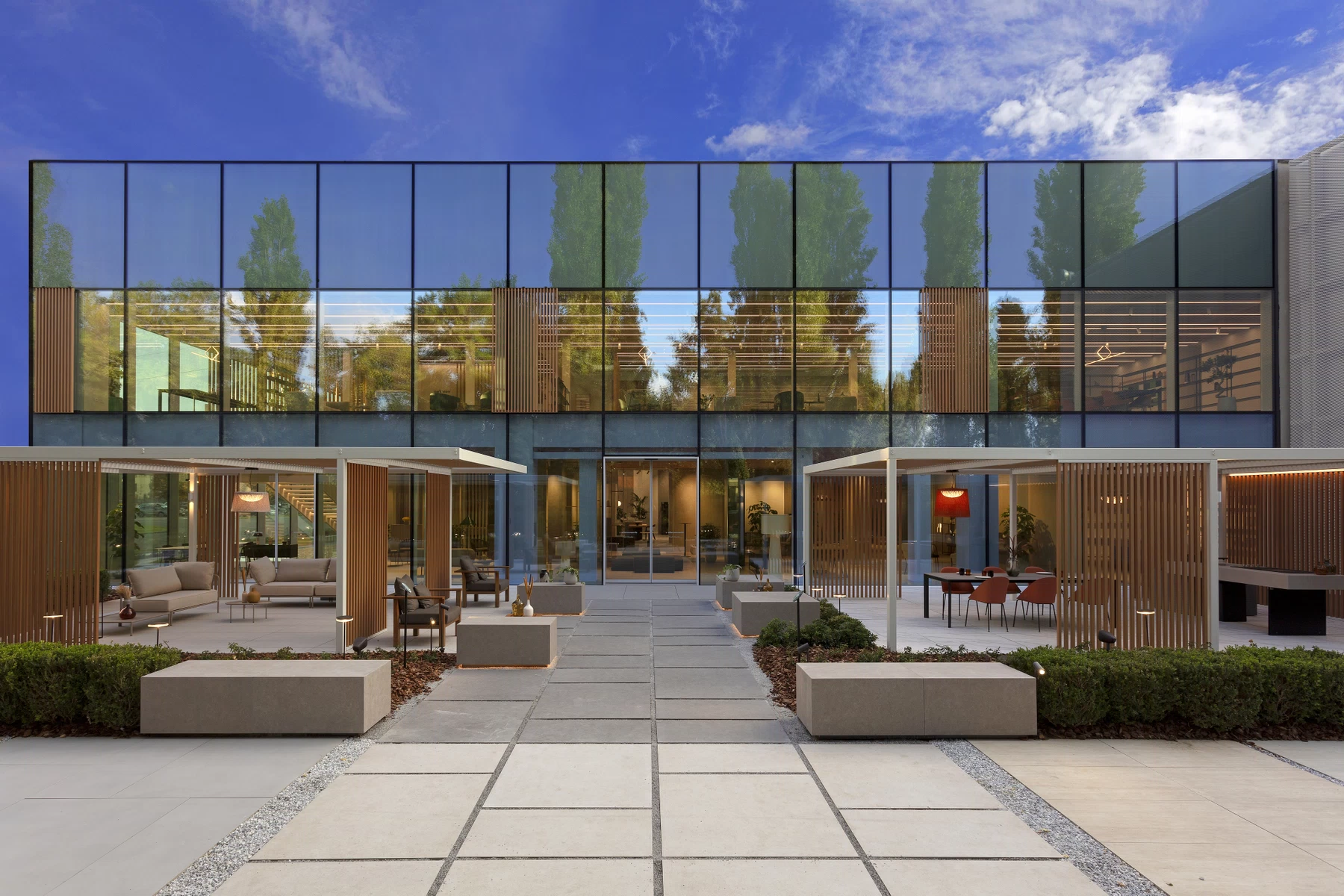 AtlasConcorde ParkView Day Blue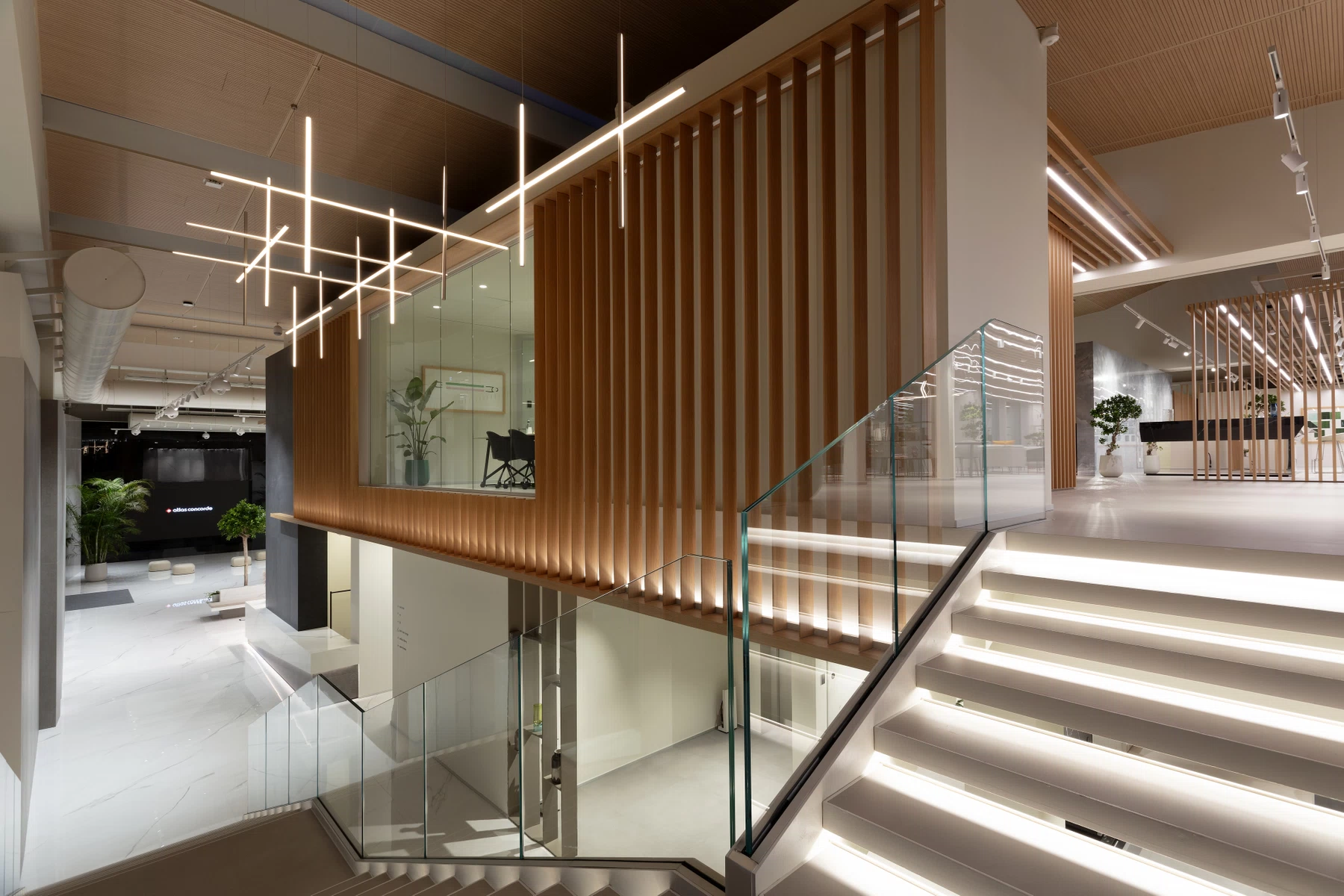 Interno 014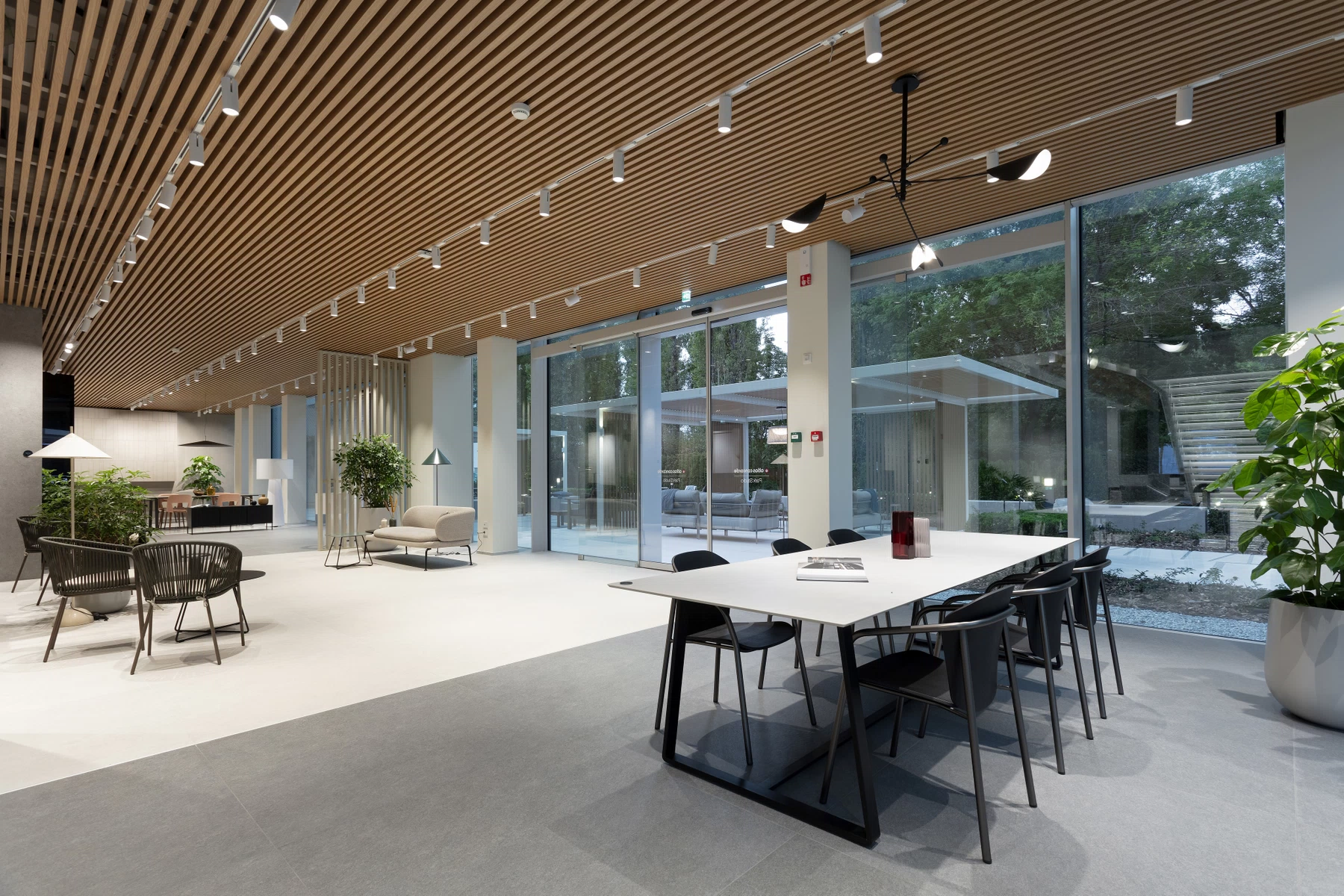 Interno 029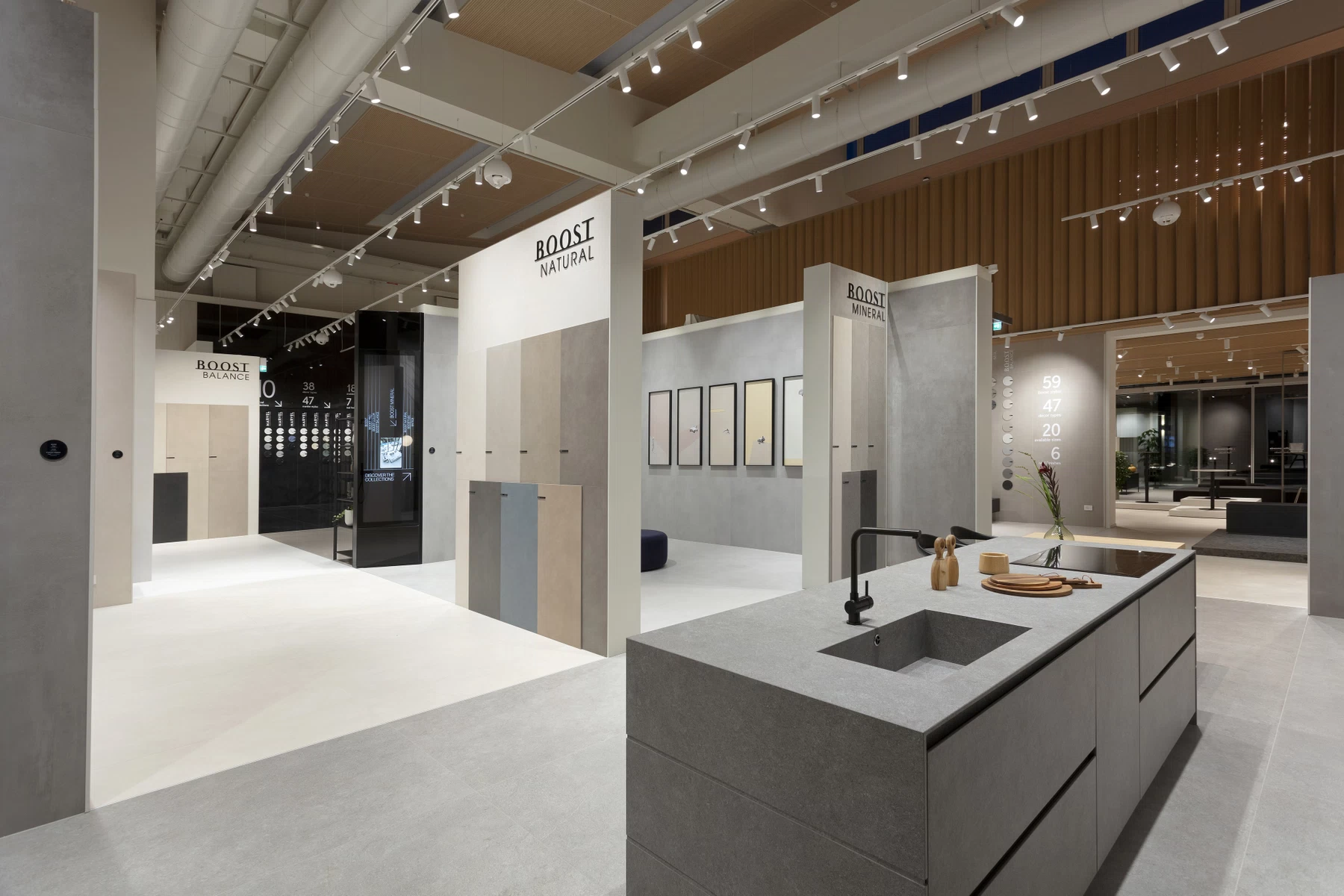 Interno 022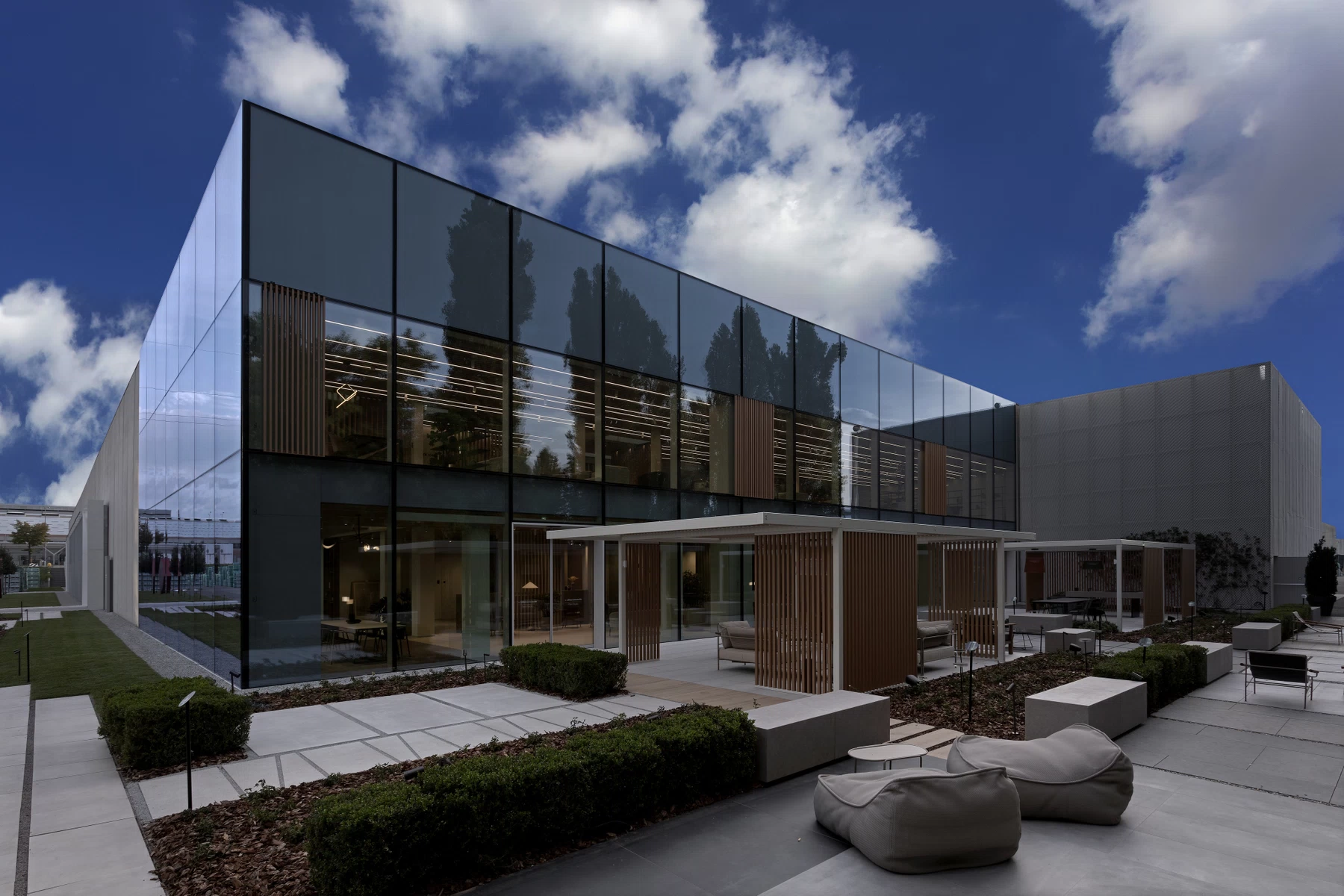 esterno giorno 007