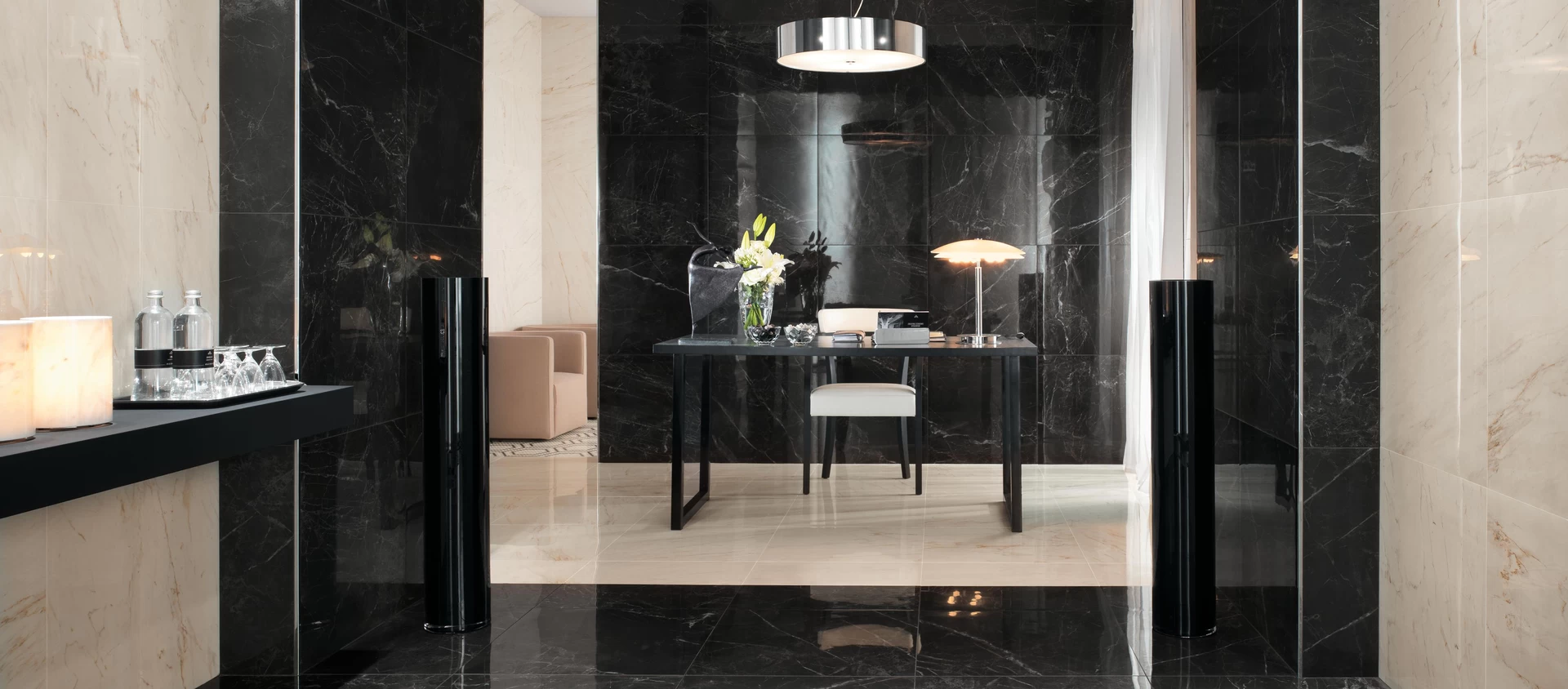 Marvel Pro
THE EXTRAORDINARY REALISM OF THE MARBLE LOOK
THE EXTRAORDINARY REALISM OF THE MARBLE LOOK
See below the summary of the colors and salient features that distinguish Marvel Pro, or learn more about the ideas and inspiration behind the project.

Solutions with very varied graphics faithfully reproduce the original material. The personality and expressive strength of the marble look combines with the advantages of stoneware, ensuring perfect reproducibility of the surface over time , and resistance to wear, marks, and contact with detergents. Intense veining, natural gradation and refined aesthetics across a careful selection of natural references that are strong and refined in character. The timeless material of marble gets an update, inspiration coming from the latest interior and exterior design trends. Marvel PRO includes a very glossy lapped finish, characterised by its extraordinarily bright and reflective surface. The
marble effect porcelain tiles
of Marvel PRO faithfully reproduces the brilliance of slightly antiquated polished marble and the small irregularities of the raw material, while ensuring exceptional technical properties, it being resistant to wear and easy to maintain.
Porcelain Tiles

Statuario Select
Noir St. Laurent
Cremo Delicato
Grey Fleury
Travertino Alabastrino
Travertino Silver
160x320 cm 63"x126"
6 mm
Polished rectified
160x160 cm 63"x63"
6 mm
Polished rectified
120x278 cm 47¼"x109½"
6 mm
Polished rectified
120x278 cm 47¼"x109½"
6 mm
Matte rectified
120x240 cm 47¼"x94½"
9 mm
Polished rectified
120x120 cm 47¼"x47¼"
9 mm
Polished rectified
120x120 cm 47¼"x47¼"
9 mm
Matte rectified
75x150 cm 29½"x59"
9 mm
Polished rectified
75x75 cm 29½"x29½"
9 mm
Polished rectified
60x120 cm 23⅝"x47¼"
9 mm
Polished rectified, Matte rectified
60x60 cm 23⅝"x23⅝"
9 mm
Polished rectified, Matte rectified
30x60 cm 11¾"x23⅝"
9 mm
Textured rectified
30x60 cm 11¾"x23⅝"
9 mm
Polished rectified, Matte rectified
Wall Tiles

Statuario Select
Noir St. Laurent
Cremo Delicato
Grey Fleury
Travertino Alabastrino
Travertino Silver
50x120 cm 19⅝"x47¼"
8.5 mm
Shiny rectified
40x80 cm 15¾"x31½"
8.5 mm
Shiny rectified
30,5x91,5 cm 12"x36"
8.5 mm
Shiny rectified
Outdoor

Statuario Select
Cremo Delicato
Grey Fleury
30x60 cm 11¾"x23⅝"
9 mm
Textured rectified
Large sizes

Statuario Select
Cremo Delicato
Grey Fleury
160x320 cm 63"x126"
6 mm
Polished rectified
160x160 cm 63"x63"
6 mm
Polished rectified
120x278 cm 47¼"x109½"
6 mm
Polished rectified
120x278 cm 47¼"x109½"
6 mm
Matte rectified
120x240 cm 47¼"x94½"
9 mm
Polished rectified
120x120 cm 47¼"x47¼"
9 mm
Polished rectified
120x120 cm 47¼"x47¼"
9 mm
Matte rectified
Download area
add Marvel Pro to my wishlist
Contact us