Concrete and Resin Effect Porcelain Tiles
From the industrial concrete-effect floor to the trendy plaster and troweled-resin looks: Atlas Concorde
porcelain tiles
reinterpret the original material, expressing its esthetic value.
In addition to simple installation, concrete-effect porcelain tile collections offer exceptional performance in terms of resistance to wear, durability, and ease of maintenance and cleaning. Resin effect tiles are a luxurious addition to any home. They are beautiful and add a touch of elegance to any room. Resin tiles are easy to care for and are perfect for high traffic areas.
Concrete-effect porcelain tiles for designer floors and walls
The wide availability of formats, thicknesses, and finishes, combined with the possibility of coordinated interior and exterior spaces and concrete-effect floors and walls, makes it possible to create refined total-look environments in line with the latest interior design trends.
The color palette ranges from neutral colors typical of most concrete or resin floors to color accents for walls, from military blue to sage green, from red tones to the most original mustard yellow, pink, and orange accents.
Concrete-effect floor and wall tiles, from the home to commercial spaces
Atlas Concorde concrete-effect porcelain tiles lend themselves both to residential applications and to the most varied commercial environments: shops, restaurants, bars and all those places where modern and industrial style must be accompanied by the advanced technical performance required of indoor floors due to high foot traffic.
There are also endless stylistic applications of concrete-effect porcelain tiles in the most diverse settings of contemporary living, from the most elegant to the most innovative.
In the kitchen, they allow you to install high-performance floors, walls, backsplashes, worktops, and tables thanks to a surface that is resistant to scratches, wear, heat, stains, and acids.
In the bedroom you can take advantage of the excellent performance of porcelain tiles with floor heating, while the use of neutral tones allows you to create a relaxing environment with sophisticated elegance.
Finally, in the bathroom, why not take advantage of the possibility of combining the neutral tones of the concrete look with a wall of colorful bathroom tiles from collections such as Prism, Boost, or Boost Pro to create a super cool environment?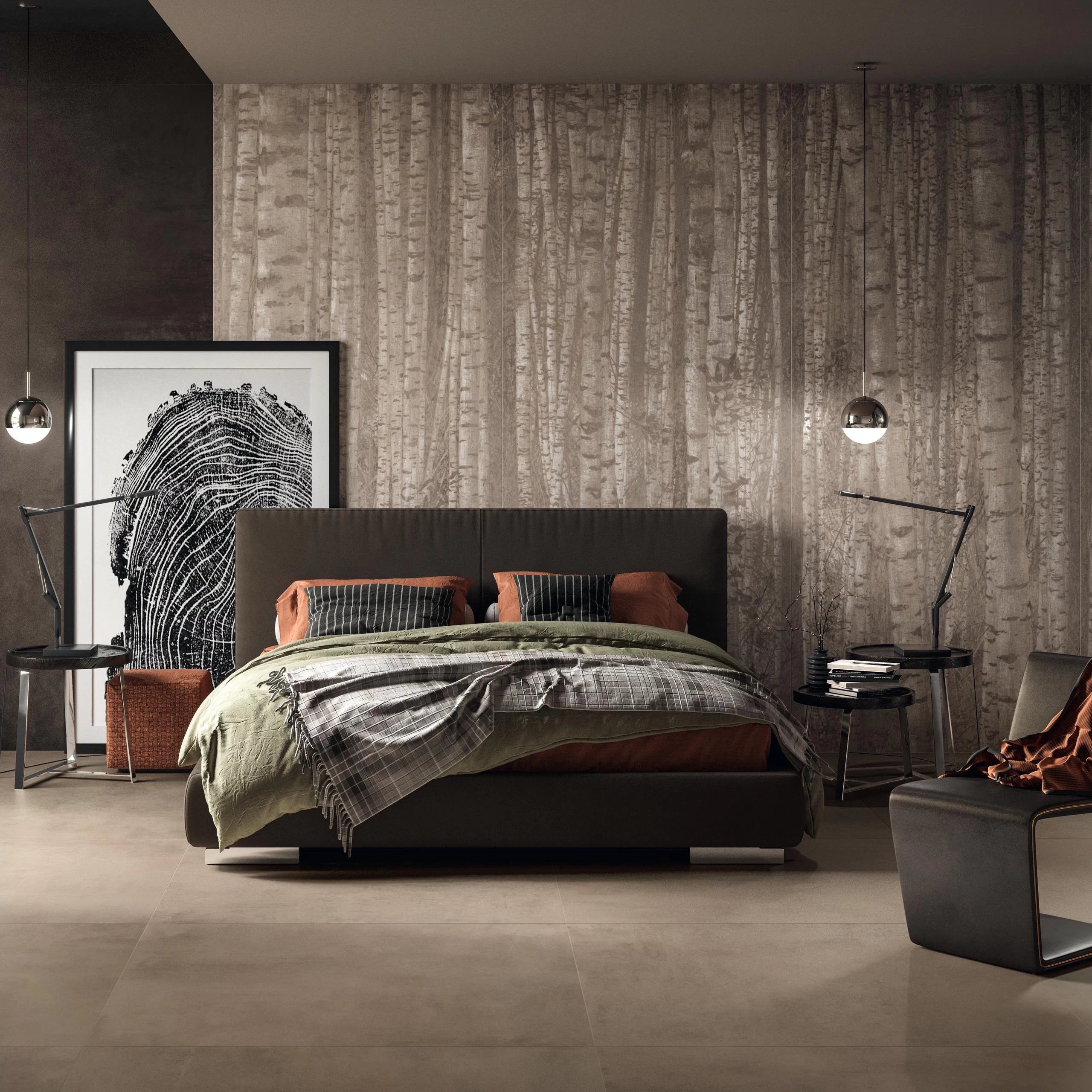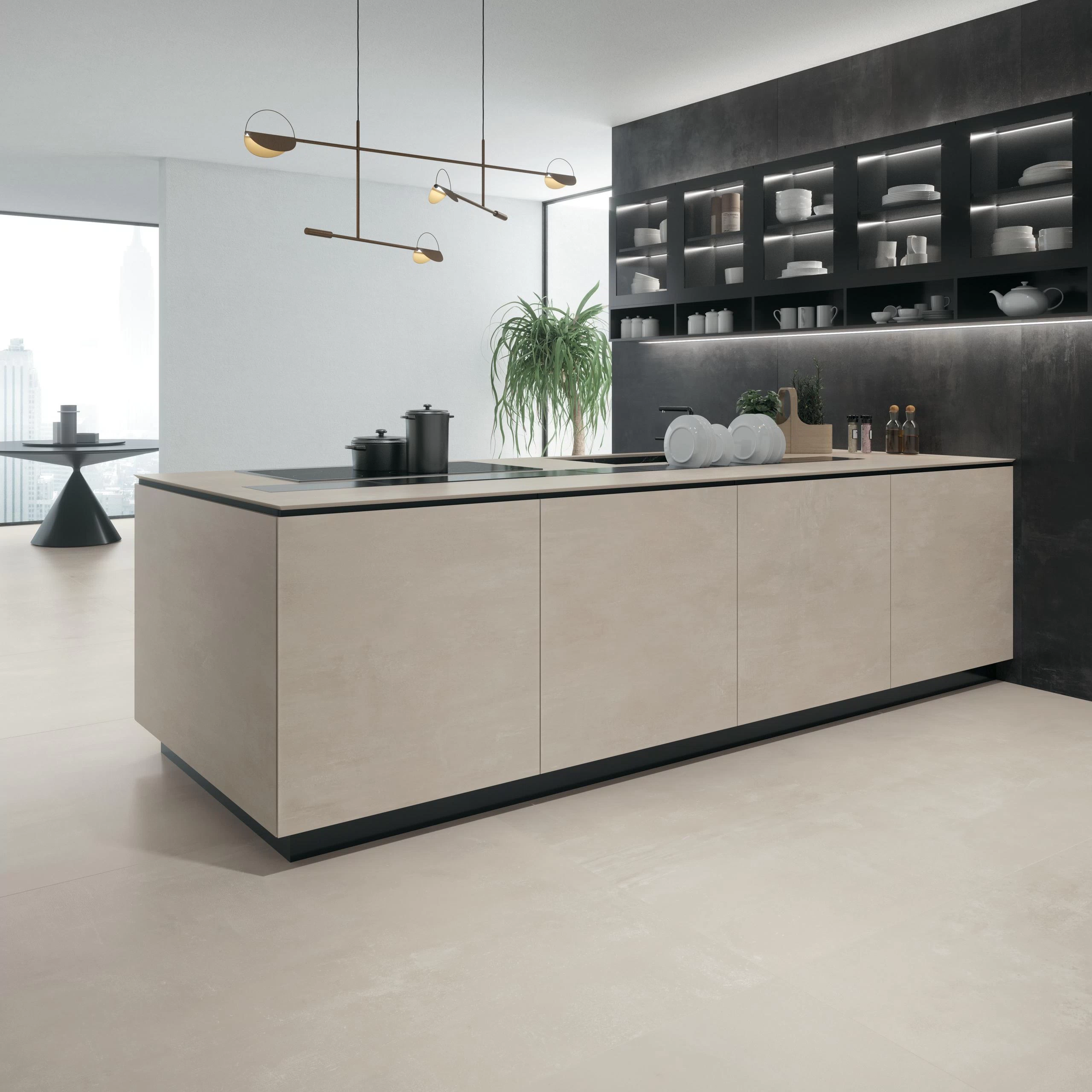 Porcelain tiles for urban chic exteriors
In outdoor spaces as well as in wet areas such as changing rooms, showers, walkways around pools, or sauna and relaxation areas, you can install concrete-effect porcelain tiles with a special "non-slip" finish, called "grip" or "textured".
Also for areas used for the passage of vehicles, such as driveways, patios, or garages, or outdoor spaces where you want to take advantage of the simplicity of dry installation on grass or gravel, there are special 20 mm thick porcelain slabs in numerous colors and formats with a cement or resin look.
An important factor when choosing is the possibility of creating coordinated indoor and outdoor projects.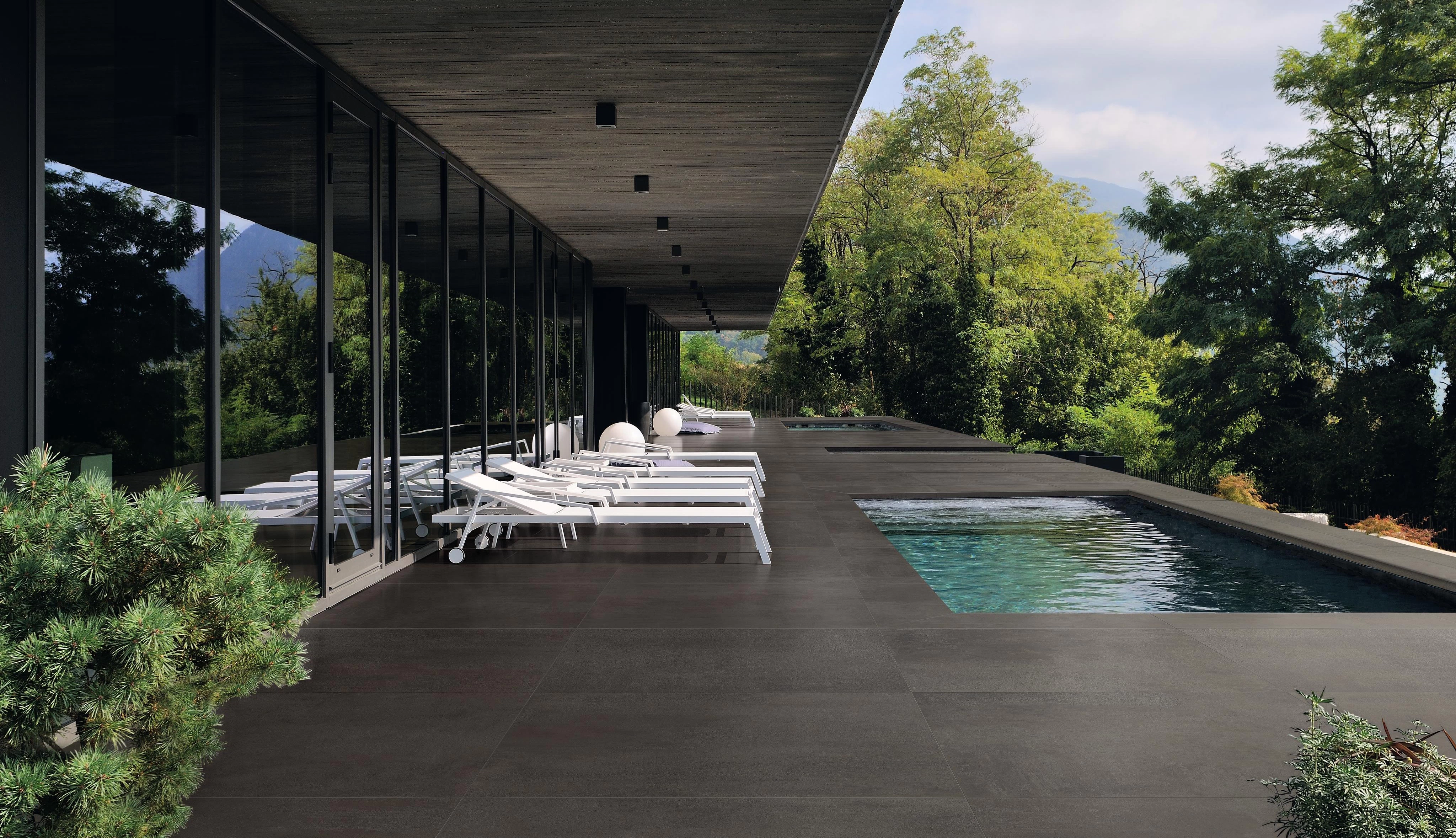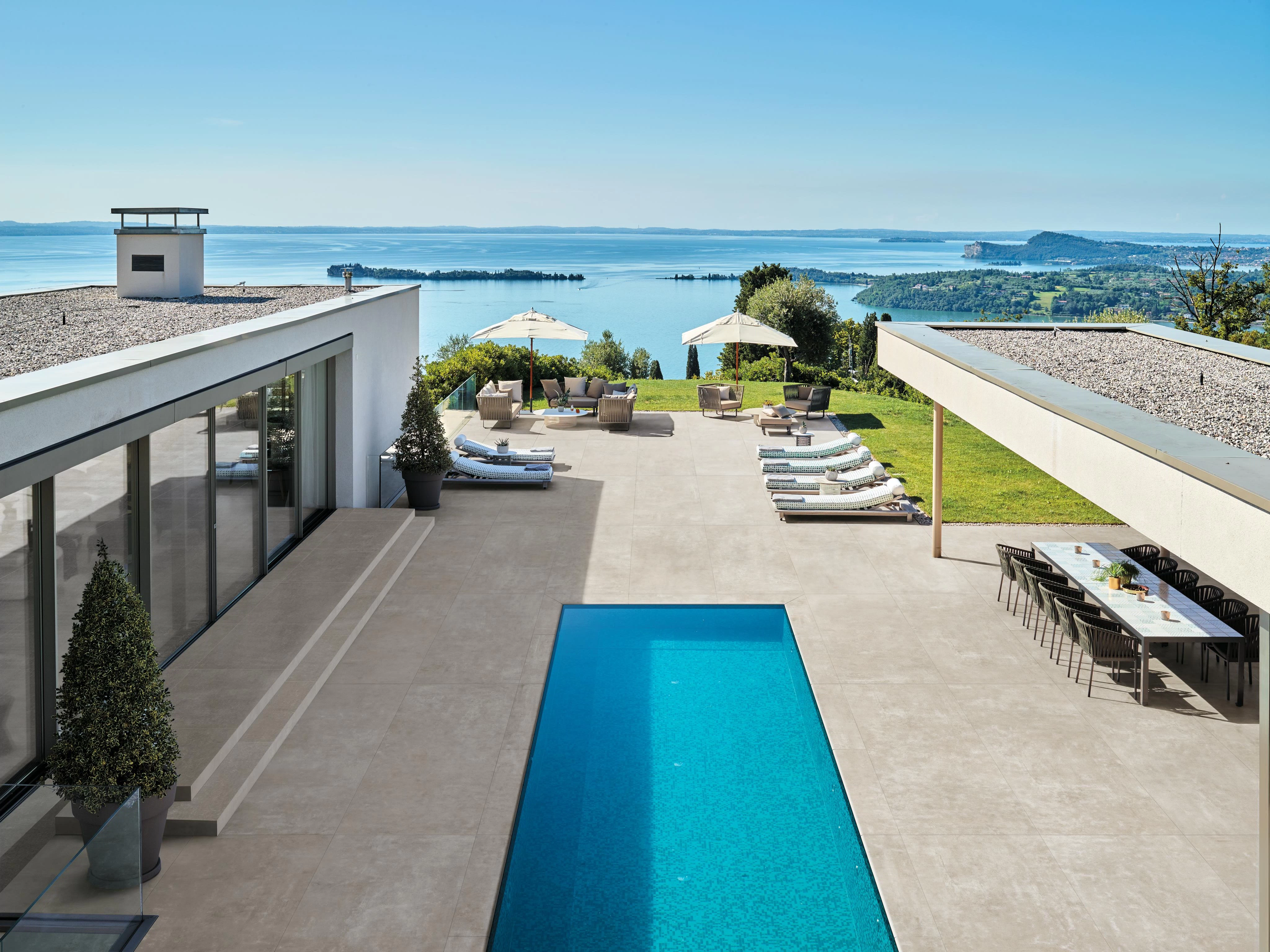 The benefits of concrete-effect ceramic tiles
Ideal for their simple installation, Atlas Concorde concrete- and resin-effect porcelain tiles combine esthetics and superior technical performance, guaranteeing great benefits like:
Durability and permanence over time.
Ease of cleaning and resistance to the most common chemicals.
Resistance to scratches and wear over time.
High stain resistance.
SEE THE ATLAS CONCORDE CONCRETE-LOOK COLLECTIONS:
Prism, Boost, Boost Pro, Raw, Arkshade, Dwell, Ewall, Mark
Prism: porcelain tiles with the look of manually troweled resin
Boost: troweled concrete-effectporcelain tiles in cool tones
Boost Pro: troweled concrete-effect porcelain tiles in warm tones
Raw: plaster-look porcelain tiles
Arkshade: minimalist concrete-effect porcelain tiles
Dwell: resin-effect porcelain tiles
Ewall: concrete-effect colored tiles