Stone Effect Porcelain Tiles
Porcelain floor and wall tiles for interiors and exteriors reinterpret the timeless allure of stone in a contemporary key, creating environments with a refined sculptural impact.
The materials that inspire stone-look porcelain tiles.
Stone-effect porcelain tiles reproduce the veins, nuances and suggestions of natural stones, offering a perfect synthesis of beauty and functionality, replicating many varieties of natural stones with great fidelity, from quartz to basalt, from sedimentary stones to porphyry, and reproducing both minimalist and contemporary stones and ancient and reclaimed stones.
A wide range of sizes and colors translates into an extensive array of solutions of
stone effect floor tiles
and stone effect wall tiles. From warm colors, linked to the Mediterranean tradition of light, white, and ivory stones through warm and cool shades of gray and gradually shifting to a more Nordic connotation, natural stone-effect porcelain tiles harmonize with the spirit of the place, in continuity with architectural tradition and local landscapes.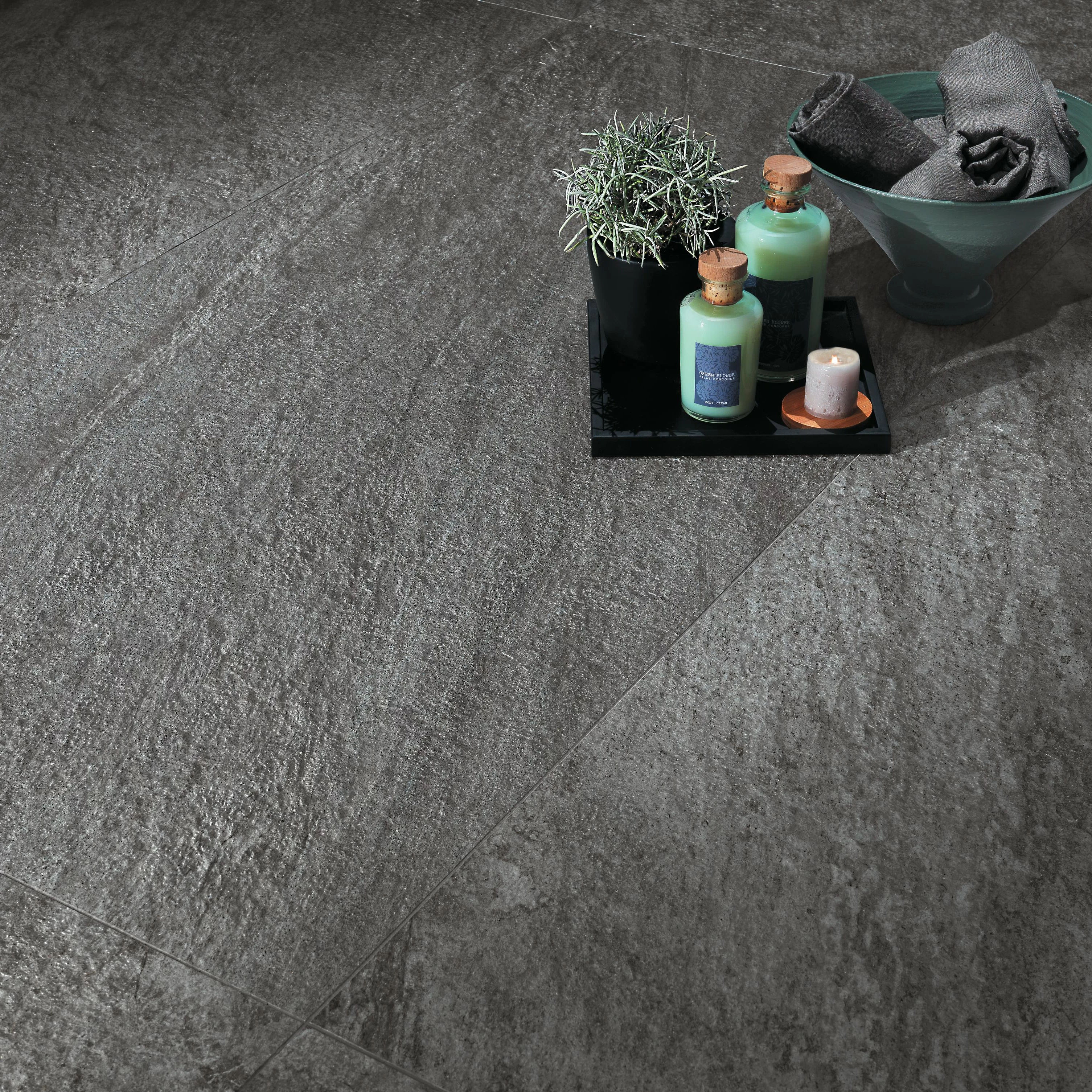 Stone-effect porcelain tiles for designer interiors and exteriors
The wide range of sizes of stone floor tiles and stone wall tiles allows you to create stone-effect spaces of all sizes. In fact, the large format allows you to seamlessly cover walls from floor to ceiling, while the thin porcelain slabs allow you to cover walls, furnishings and surfaces to create a total stone-effect look.
The beauty of porcelain tiles that perfectly imitate natural stone makes Atlas Concorde collections perfect for designing stone kitchen floor tiles, bathrooms, living rooms, and bedrooms, but also shops, professional studios and hospitality spaces, creating environments where natural character and warmth are combined with the superior performance and functionality of ceramic tiles.
Thanks to three-dimensional stone-effects porcelain wall tiles, the design becomes art on the walls with a spectacular impact, ensuring the perfect balance between living comfort, beauty and the technical and functional performance of porcelain tiles.
The finishes of stone-effect porcelain tiles.
The richness of the finishes recalls a wide range of natural stones that represent the model of reference for the surfaces of stone-effect porcelain tiles: matte finishes for interiors, non-slip finishes for the outdoors and the pool edge, finishes with three-dimensional textures (bush-hammered, chiseled, split) inspired by the traditional workmanship of natural stone.
Completing the range of stone-effect floor and wall tiles is a wide selection of decorations with great esthetic realism and refined simplicity: three-dimensional effects, walls for interiors and exteriors, mosaics to customize the shower or kitchen backsplash.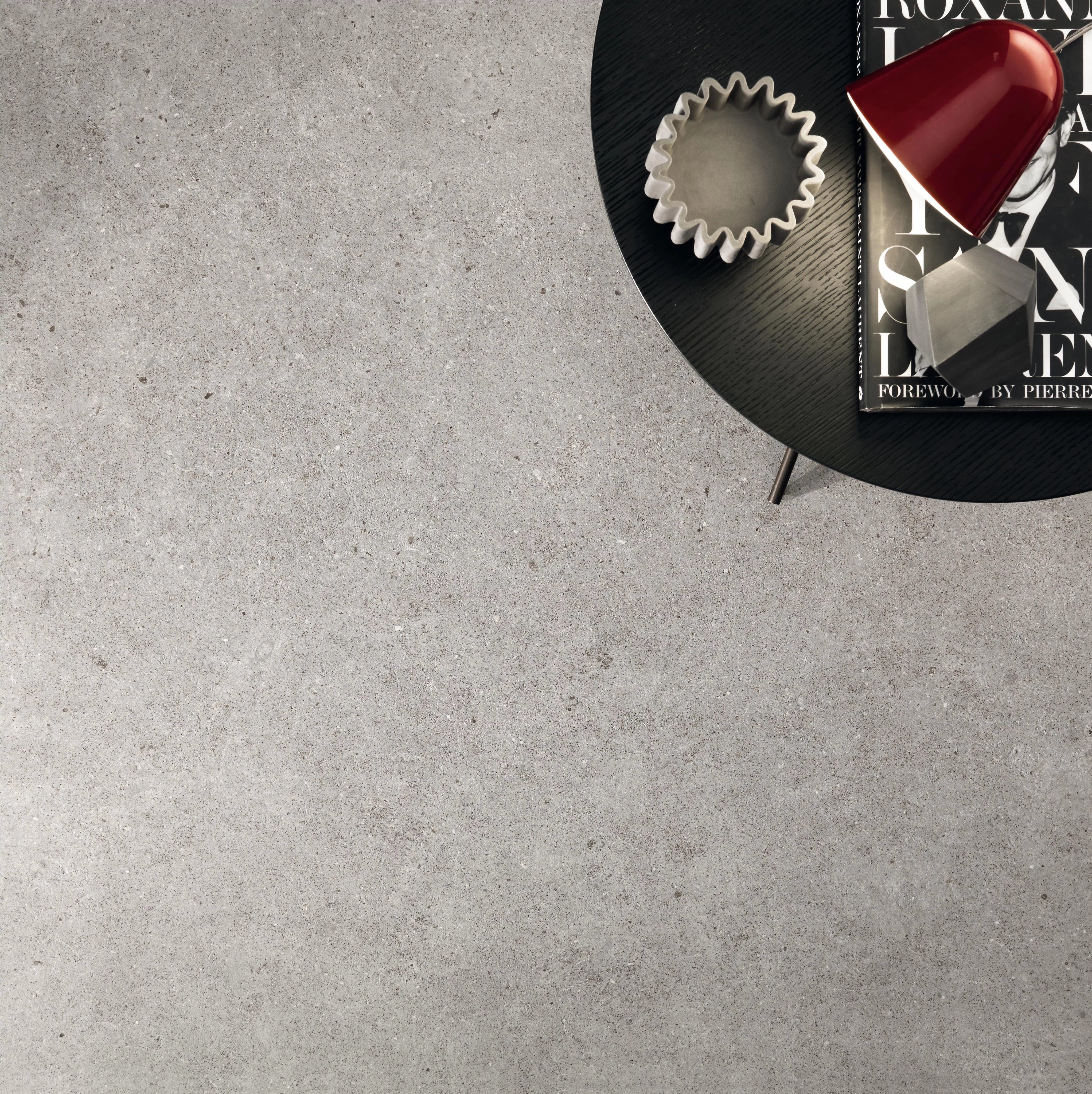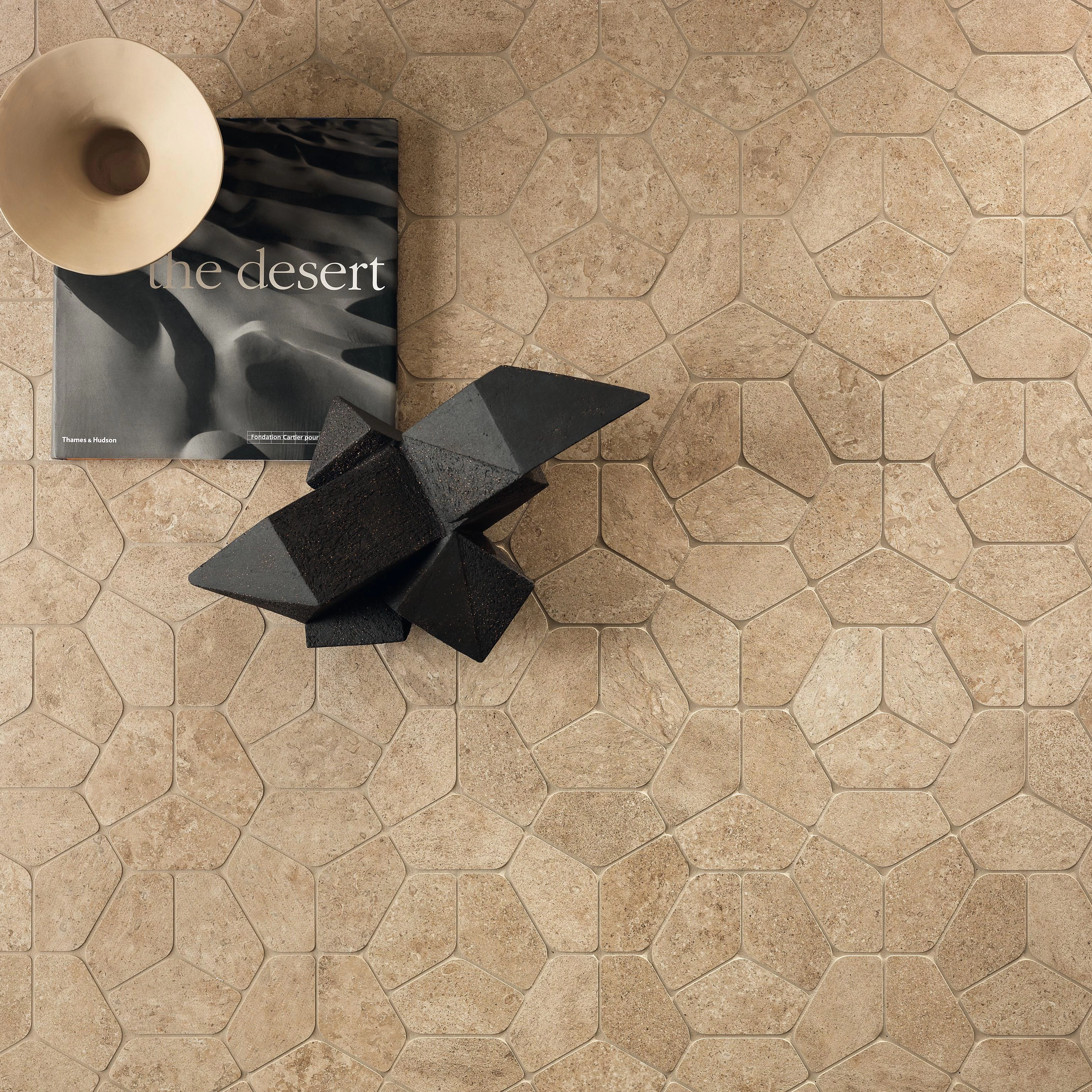 Stone-effect porcelain tiles for the outdoors.
Esthetic characteristics and versatility make stone-effect porcelain tiles the perfect surface for outdoor spaces, making it possible to find solutions that meet the design requirements of outdoor floors such as patios, terraces, pool enclosures, driveways and walkways, in perfect balance with the needs of landscape design.
In fact, given its earthy character, porcelain tiles for the outdoors express their full potential in spaces that foster a relationship with the environment, where the continuity between indoors and outdoors opens up new expressive possibilities.
Offered with a non-slip textured finish, the 20 mm thick porcelain slabs allow dry laying on gravel, grass and in all areas traversed by vehicles. The collections of stone-effect porcelain tiles for the outdoors contribute to the stylistic continuity between the indoors and outdoors, creating a perfect balance between architectural tradition, the landscape, and local needs.
Benefits and functionality of stone-effect porcelain tiles
Stone-effect porcelain tiles are resistant, durable, inalterable over time, and easily cleaned and washed. Stone-effect porcelain tiles guarantee high performance in terms of resistance to wear, foot traffic, impacts, stains, chemicals, and weather. All these benefits make them usable in any environment: kitchen,
bathroom
, living room, bedrooms, shops and public spaces.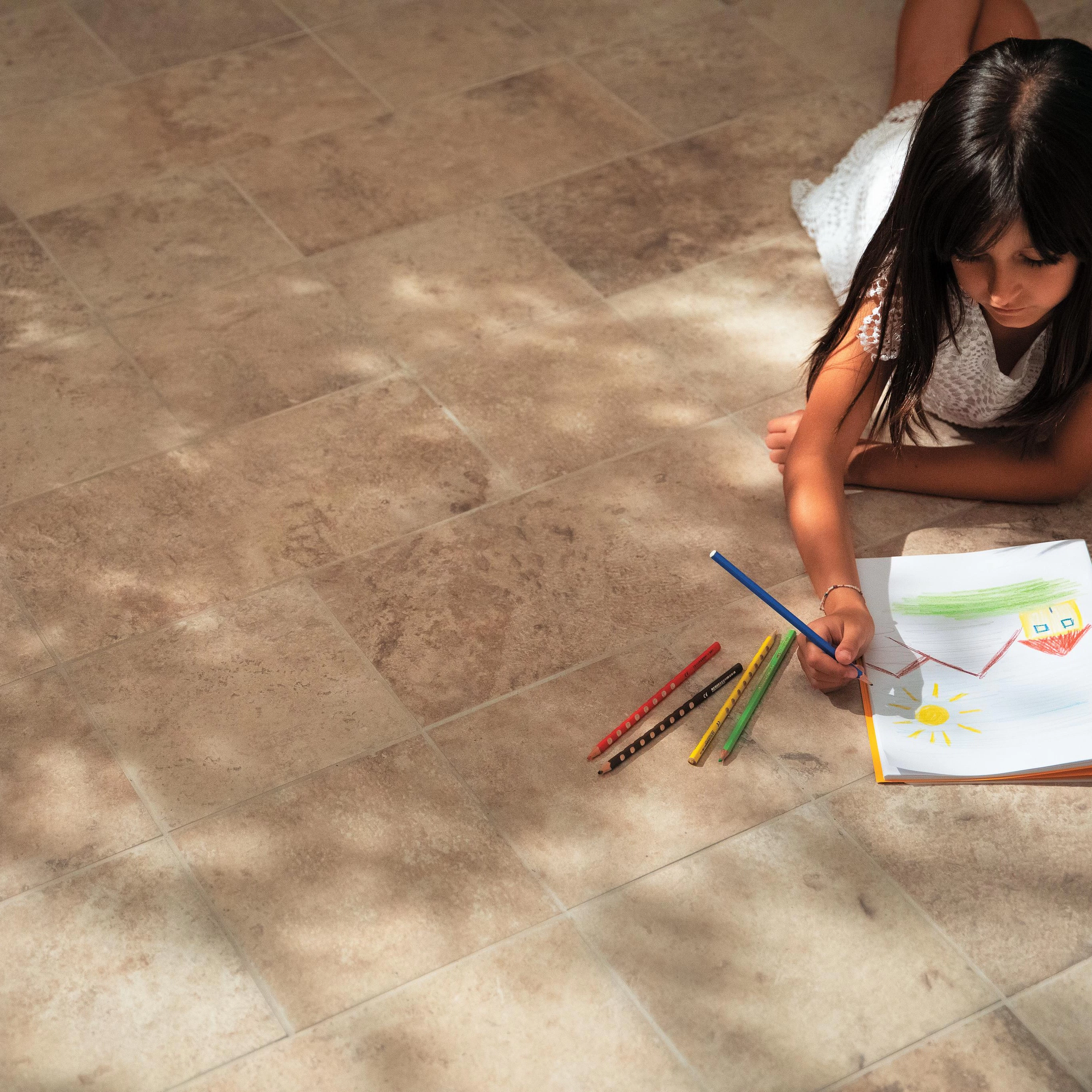 How to clean ceramic and porcelain tiles.
Bathroom tiles and stone-effect porcelain tiles can be easily sanitized with common detergents and chemicals used for disinfecting and sanitizing surfaces. Products that perform a bactericidal, fungicidal, and virucidal disinfectant action can therefore be used for the daily cleaning of outdoor porcelain floor tiles and indoor porcelain floor tiles without altering their surfaces.
SEE THE ATLAS CONCORDE STONE-LOOK COLLECTIONS:

Brave, Aix, Dolmen Pro, Lims, Klif, Kone, Marvel Stone
Brave – quartz stone-effect porcelain tiles
Aix – ancient stone-effect porcelain tiles
Dolmen Pro – stone-effect porcelain tiles for outdoorsand indoors
Lims – limestone stone-effect porcelain tiles
Klif – stone-effect porcelain tiles for outdoor and indoor walls
Kone – white stone-effect porcelain tiles
Marvel Stone – contemporary stone-effect porcelain tiles